Sensitive Content
This post includes photos some people may find upsetting.
Wendy Andersen, a veterinary technician at the Animal Clinic of Milford, was at work one morning in December 2016, when someone brought in a 10-week-old kitten who was in desperate need of medical attention. "He had bitten into a wire in a faulty or broken electrical socket and had been electrocuted," explains Wendy.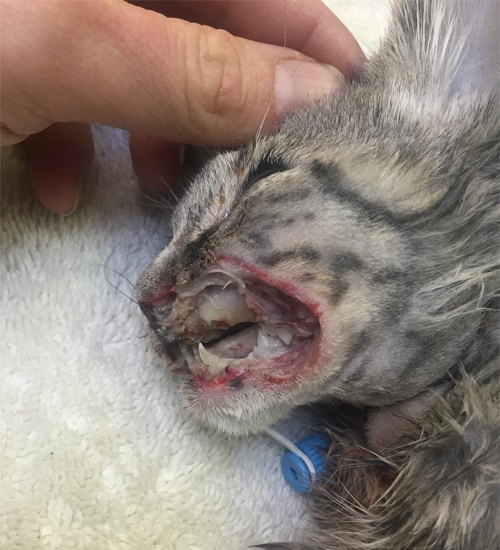 Together, Wendy and one of the vets, Dr. Sasha Golovyan, examined the tiny grey kitten, and they determined the little cat had suffered serious damage to his nose, tongue, and trachea. While the kitten's family loved him very much, they were unable to provide him with the intensive care he required, so they surrendered the1 0-week-old cat to the Connecticut animal hospital.
View this post on Instagram
"Within the first couple days after his injury, most of the tissue on his face had become necrotic and fell off, including his nose and part of his tongue," remembers Wendy. "He also had to have a tracheotomy due to damage to his trachea." In order to prevent a mucus plug from forming, which could have obstructed the kitten's breathing, Wendy and the staff at the animal hospital had to nebulize the young cat and regularly flush and clean his tracheotomy site.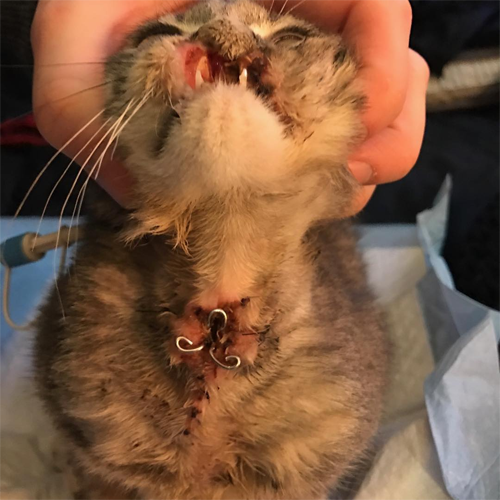 Despite being given round the clock care, there were still a few times when the kitten nearly succumbed to his injuries. "He went into respiratory arrest and had to be resuscitated," explains Wendy, who brought the little cat home with her at night. "He had to be watched 24 hours a day due to the severity of his injuries. There were many sleepless nights!"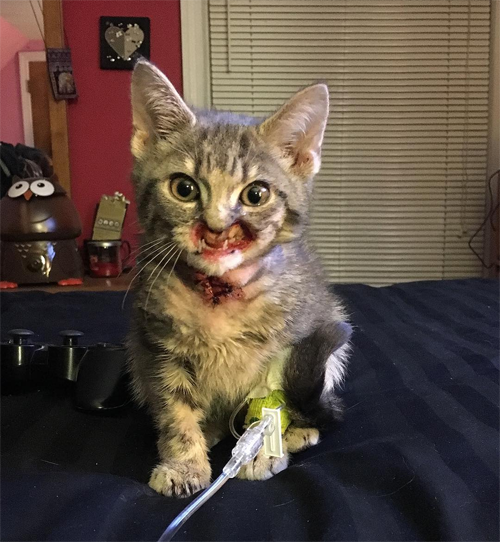 Unable to eat on his own, the kitten — who Wendy named Zapp after a character from Futurama, one of her favorite TV shows — had a feeding tube, and he was subjected to lots of different treatments. While other cats would have been miserable, Zapp enjoyed spending this time with his caregivers. "He loved getting his treatments!" says Wendy. "He seemed to really understand that we were helping him and that he would feel better afterwards.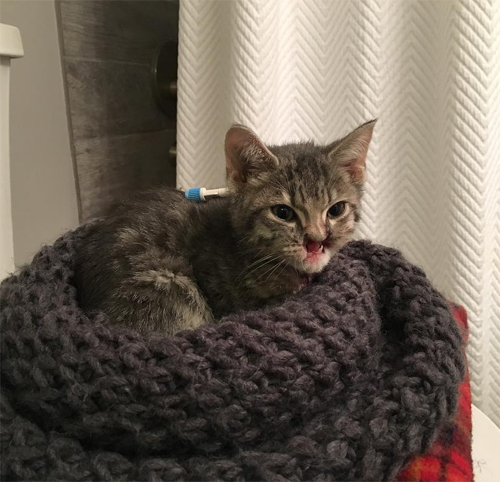 Zapp had multiple surgeries, including a trachea resection, and even went to a specialty hospital in Boston for reconstructive surgery. "Unfortunately, it didn't hold due to the severity of his injuries," says Wendy. "The doctors had a special obturator made to help keep food out out his nasal passage." Ultimately, the obturator — which was made by Dr. Thomas Maley's brother, a dentist — was unsuccessful. Zapp also went into acute kidney failure and was promptly placed on a prescription diet to manage his symptoms.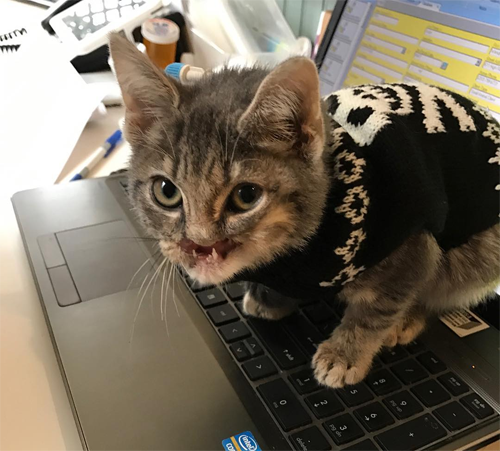 By the time he was just a few months old, Zapp has endured more health challenges than a lot of senior cats, and yet he remained loving, trusting, and incredibly content. "The whole staff at Animal Clinic of Milford put their hearts and souls into making sure Zapp was well cared for and happy," says Wendy. Everyone, including Wendy, was smitten with the happy-go-lucky kitten, so when the doctors at the animal clinic asked her if she would be willing to adopt Zapp, she eagerly agreed.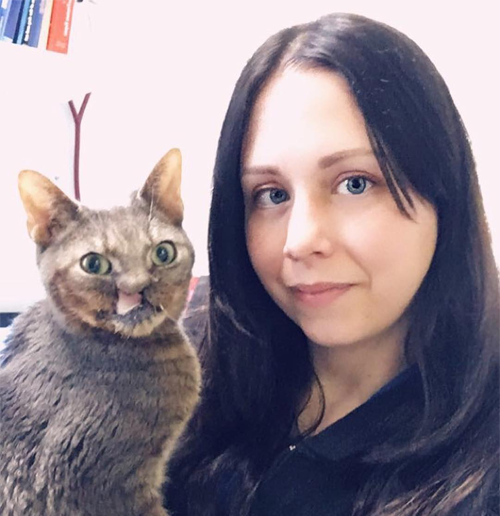 More than two years later, Zapp is thriving in his forever home, and he loves to snuggle, chase after the laser pointer, share his mom's food, play games on Wendy's iPad, burrow under blankets, and roughhouse with his feline siblings. However, because of the injuries he sustained when he was 10 weeks old, Zapp needs more care than the average kitty.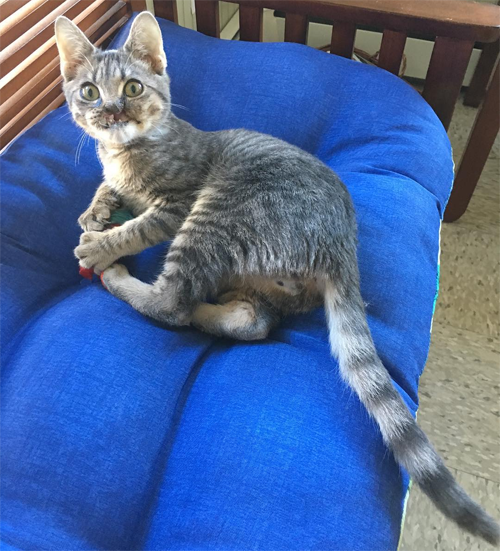 "With his facial defects it is harder for him to eat and groom," explains Wendy. "I have to wipe his face off and flush out any food that may be sitting in his open nasal passage so he doesn't get an infection." Thankfully, Wendy is more than capable of giving Zapp the extra attention he needs, and they've developed a great routine over the past two years.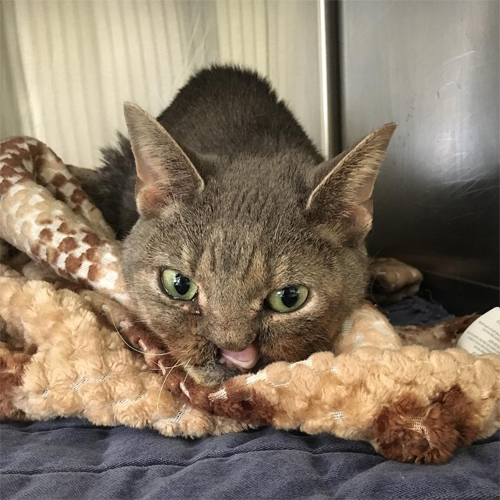 However, Wendy realizes not everyone is capable — financially, emotionally, or physically — of providing this additional level of care, but for those who are, she believes having a special needs pet can be extremely rewarding. "They are just as loving and affectionate as any other cat, sometimes more!" says Wendy. "I really don't know what my life would be like without Zapp!"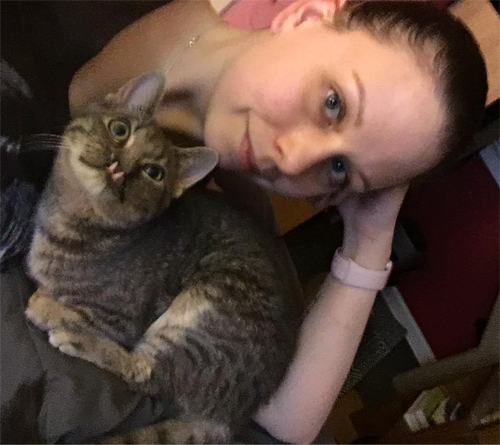 After all, caring for a cat with severe injuries not only enabled Wendy to form an incredibly unique connection with Zapp, it allowed her to learn a lot about herself, both personally and professionally.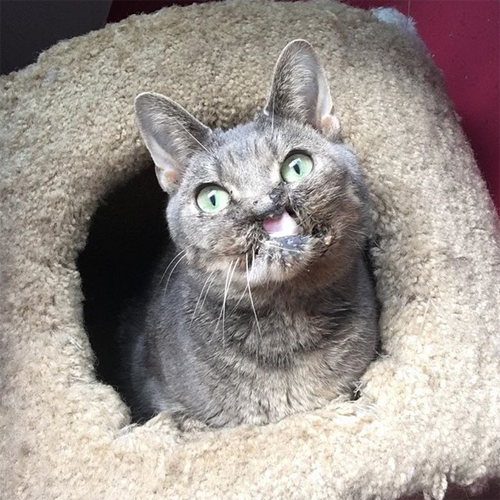 "Not only is he a snuggly, loving creature who I love unconditionally and who relies on me for comfort and care, he helped me learn a lot about myself," explains Wendy. "I've been a vet tech for 12 years and my experience with Zapp's care and treatments, and coming home with me overnight, really helped me to see my skills and confidence in myself and what I do as a tech. His case was a huge learning experience for me too. We have a very special, strong bond with each other."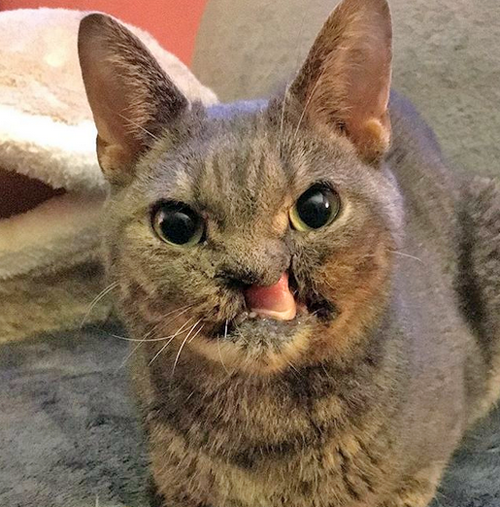 To learn more about this adorable cat, you can follow Zapp on Instagram.