On January 29, 2017, Anna and her sister were leaving a relative's house in Kuala Lumpur, Malaysia, following a family dinner celebrating the Lunar New Year, when she heard an unusual sound. "We were walking to our car," remembers Anna, "when I thought I heard a cat's mew." However, Anna's sister denied hearing the noise, and the pair continued on to their car, eager to head home as it was approaching midnight. After taking a few more steps, Anna heard the sound yet again, and she began searching in the dark for the cat she thought was responsible for the noise.
Moments later, she discovered a kitten in a storm drain, so Anna handed her purse to her sister, hiked up her skirt, and grabbed the tiny cat, freeing him from the drain. "We put him on the ground and thought that was it," says Anna. "We did our good deed and we wanted to go on our way." However, when Anna saw the tiny cat make his way underneath a parked car, she realized that he didn't move like a typical cat. Anna pulled the ginger and white kitten out from hiding place, and she quickly realized that his back legs didn't work and he was using his two front legs to pull himself around.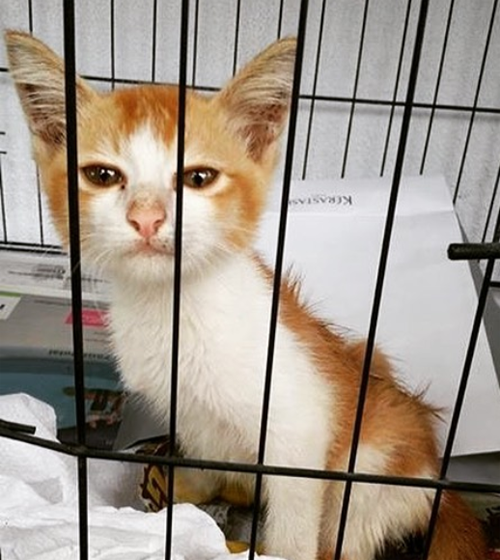 While they didn't have any experience with cats — "Our whole lives, we've been dog people!" says Anna — the sisters refused to leave the tiny orange and white kitty to fend for himself. "The poor guy felt really light," remembers Anna. "He was so thin." Not only was the kitten underweight and malnourished, the sisters discovered he had a large wound on his back and he had scrapes and abrasions on his stomach caused by dragging himself across the road. While Anna had no intention of adopting the little kitten, she and her sister brought the skinny orange and white cat home with them, determined to find a permanent family for the special feline.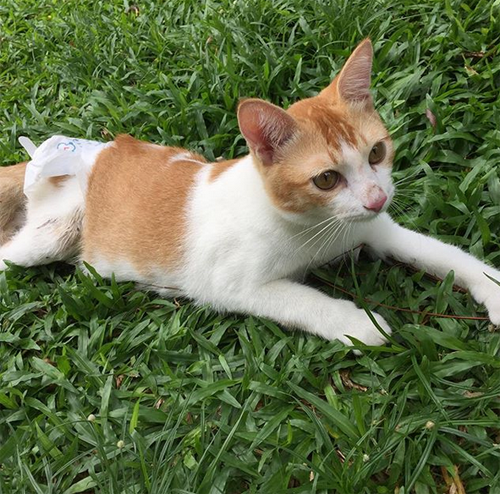 Anna introduced the kitten, who was approximately seven weeks old, to her 6-year-old nephew and asked the child what they should name the little cat. "Because of the kitten's disadvantaged background," says Anna, "my nephew promptly said we should name him Poor Cat." However, once Anna explained to her nephew that the little kitten was actually really lucky because he had a warm and safe place to stay, the 6-year-old decided that the fortunate feline should be named HappyCat.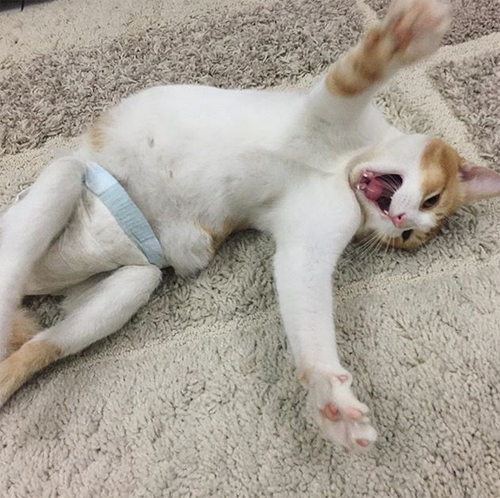 The name HappyCat stuck, and Anna and her family started looking for the perfect family for the little kitten who they believe lost the use of his back legs after he was hit by a car or a motorcycle. While lots of people thought HappyCat was adorable, Anna wasn't able to find anyone who was willing take on the responsibility of caring for a cat with hind leg paralysis.
After a few weeks, this family of dog lovers fell in love with HappyCat, and they all agreed that the little special needs kitty was meant to be their very first feline pet. "We kept praying we would find him good owners and a good home," remembers Anna. "We did find that little guy a good home and good owners — us!"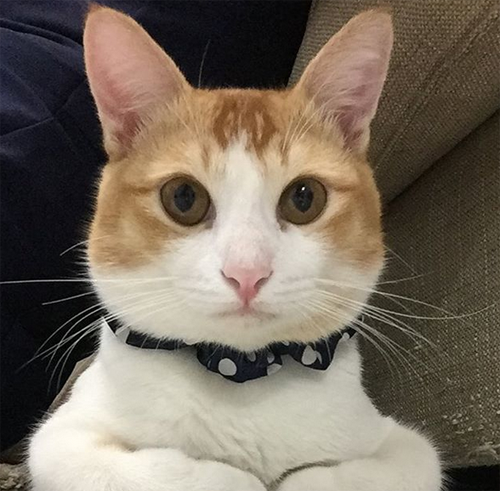 One of the main reasons other people decided not to adopt HappyCat is because he's incontinent, so Anna and her sister have to help him go to the bathroom. "Because of his paralysis, he can't use the litter box," explains Anna, "so he uses diapers and we squeeze him regularly to empty his bowels and bladder." Anna likens caring for HappyCat to looking after a baby, a responsibility she doesn't mind. "It's a commitment," says Anna, "but it really does give him a happy and fulfilled life which he would otherwise not have."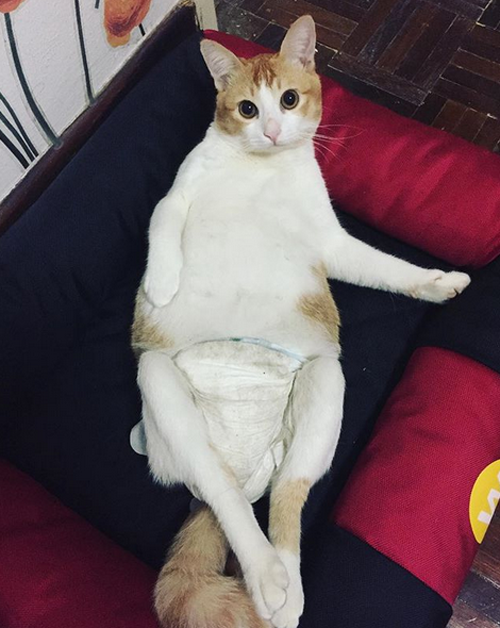 This special ginger and white cat most certainly has a fun and active life, and despite being unable to control his hind legs, HappyCat has no trouble scooting around the house. He loves chasing after Anna, her sister, and her nephew, and he especially enjoys hiding underneath a chair and then playfully attacking their legs when they walk past. "He always scoots back under the chair once he's pounced on us," says Anna. "I swear he does it for laughs." HappyCat has recently learned how to climb on furniture, even though he has no control over his back legs. "The little guy takes a run and kind of claws himself up," explains Anna, "then he looks super pleased with himself."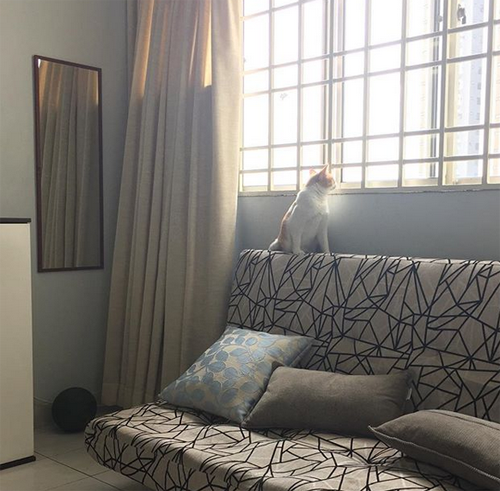 While a number of well-meaning people have expressed concern for HappyCat, telling Anna she should consider putting him to sleep, she's confident this special needs kitty is loving life. "Mentally, he is a true cat," says Anna. "He plays when he wants to and ignores you when he wants to!" Also, like a typical feline, HappyCat has lots of fancy toys, but his favorite plaything is a pebble attached to a piece of string. "He bats it, [and] chases it when it swings around," explains Anna. "We even catch him sometimes having fallen asleep but with his paws in the air as if catching the pebble."
In addition to playing with his toys, HappyCat loves spending time with his family, although Anna says he can get a little rough, sometimes leaving marks with his claws and teeth. "To his credit, he has never scratched my 6-year-old nephew," says Anna. "I guess he knows who gave him his name!"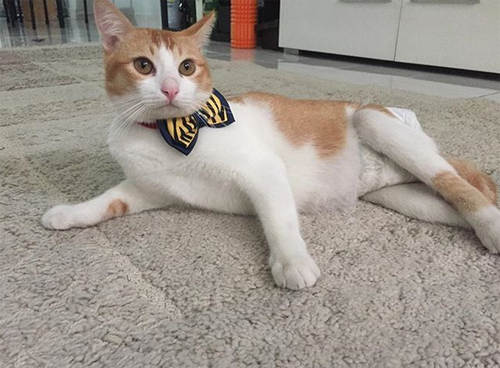 It's been nearly a year since Anna and her sister found HappyCat in a storm drain, injured, skinny, and all alone. Today, this special orange and white kitty has a loving home, thanks to the kindness and compassion of Anna and her family. However, HappyCat has also given his family a lot in return, and the way he has triumphed over adversity has taught Anna, her young nephew, and her siblings to never feel sorry for themselves. Anna says this determined special needs cat has also given her and her family a valuable life lesson: "If you want something, never believe you can't achieve it!"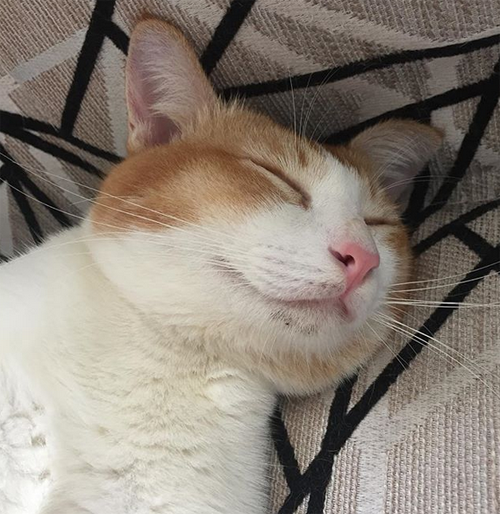 To learn more about this inspiring kitty, you can follow HappyCat on Instagram.