When Lindsey's husband Markus shared a video of Indy — an adorable incontinent cat — with her, she was immediately taken with the playful and affectionate tabby and white kitten.
View this post on Instagram
"Like most animal lovers with social media, we both follow The Dodo, and one day, the cutest video came up," remembers Lindsey. "A kitten with a diaper who loves to give kisses and bound around his foster mom's house."
View this post on Instagram
Lindsey was pleasantly surprised to learn that Markus not only thought Indy was incredibly cute, he was actually open to the possibility of adopting the fun-loving special needs kitten. "We love animals, and even more so, rescue animals," explains Lindsey, so she contacted Indy's foster mom Shanta to arrange a meet and greet.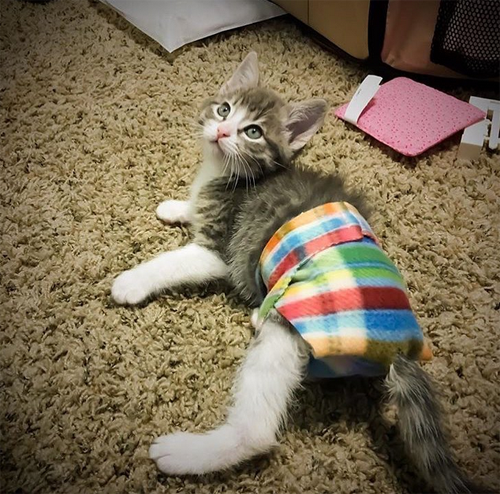 In September 2017, the couple traveled from their home in San Dimas, California, to Priceless Pet Rescue, an organization in nearby Claremont where they had both volunteered in the past — Lindsey with cats and Markus with dogs — to meet Indy in person for the first time.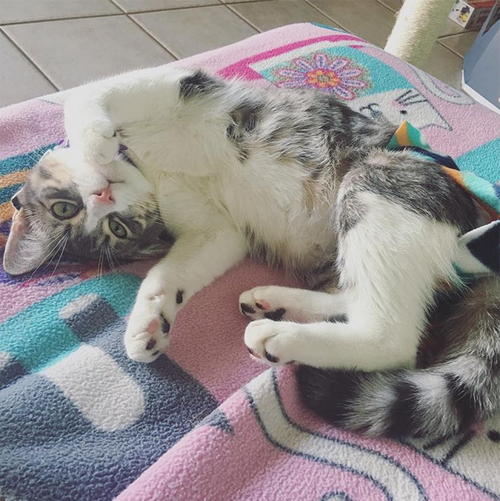 "When that day finally came, we were — of course — nervous," says Lindsey. "Excited, but nervous. We met in a small, private room where Shanta introduced herself and, of course, Indy."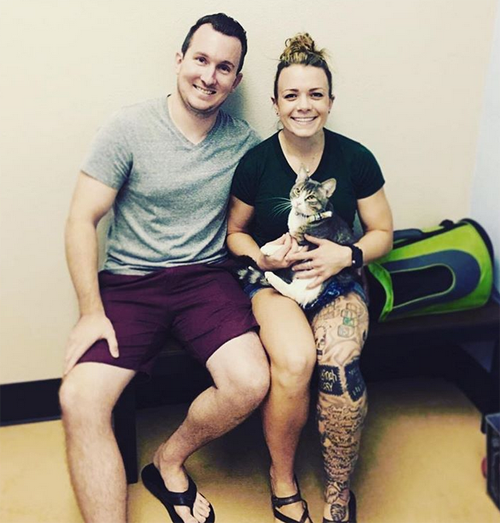 Overwhelmed by the unfamiliar environment, Indy — who was around nine months old at the time — was timid, but neither his shyness, nor his special needs, made Lindsey or Markus reconsider adopting him.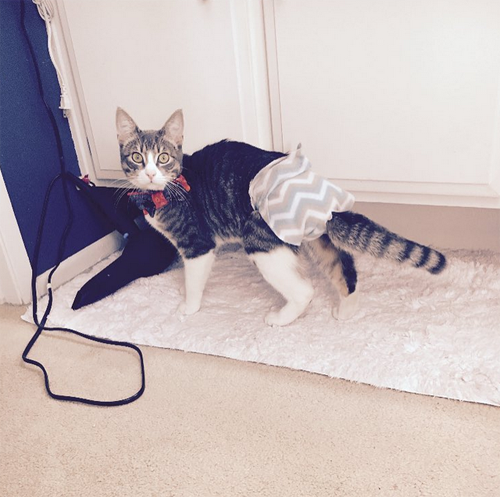 "Shanta walked us through the most important details — Indy's expressions that will need to be done at least twice a day, every day, for the rest of his life," remembers Lindsey. "It's the one thing that might scare potential adopters away. However, Markus and I had discussed it prior, and we were excited about the prospect and wanted the responsibility."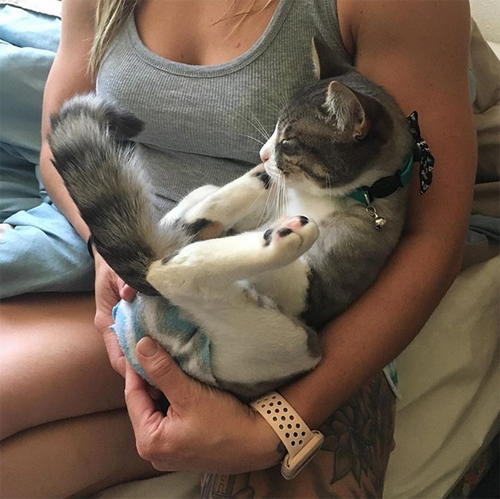 Shanta also explained that Indy's incontinence was caused by compressed discs in his spine that made it impossible for him to realize when his bladder was full. While Lindsey and Markus knew that expressing Indy's bladder might pose some logistical issues, they were confident they would be able to overcome any challenges his incontinence presented.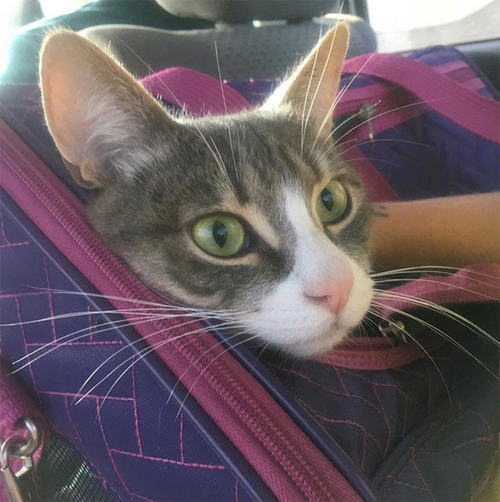 "We wanted to adopt an animal with lower chances of being adopted," says Markus. "Anyone can adopt a cute little kitten — we wanted to bring home one that we knew we'd be saving." After officially adopting Indy in September 2017, Lindsey and Markus brought Indy back to their house with them to meet Storm, the cat they'd adopted from The Ontario Rescue several months earlier.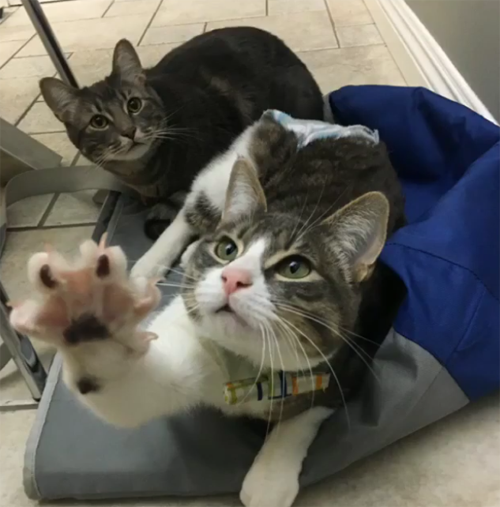 While Indy — who was named after Indiana Jones by his foster mom's children — was reserved when Lindsey and Markus met him at Priceless Pet Rescue for the first time, over the past year he has proven to his parents that he's as adventurous and energetic as his namesake. "He loves chasing the laser pointer around, and he likes it when mom changes the sheets," says Lindsey. "He and Storm play 'cat and mouse.' "
View this post on Instagram
Indy's other favorite pastimes include chasing his sister around the house, waking Lindsey and Markus up in the middle of the night to play, and of course, cuddling with his parents. Over the past year, Lindsey and Markus have mastered expressing Indy's bladder, which they insist isn't as difficult as a lot of people assume.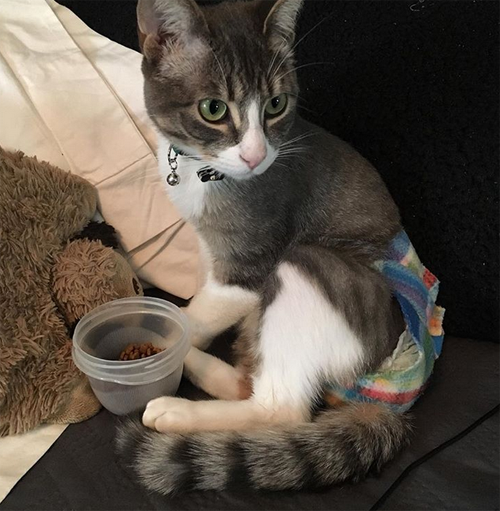 "It's really not that tough to learn how to express cats with incontinence," says Markus. "It does not hurt him to be expressed and he is a gem. He is really such a loving cat who not only needs us, but he loves us very much."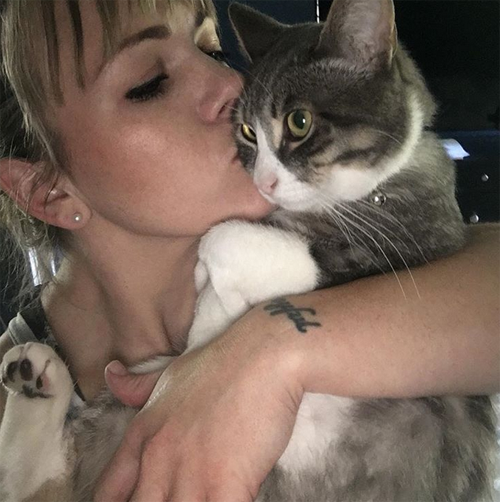 A number of well-meaning people have suggested getting a Indy a catheter to help him empty his bladder, but Markus has learned this would only be a temporary solution, so he and Lindsey are content to continue expressing this easy-going special needs cat twice a day.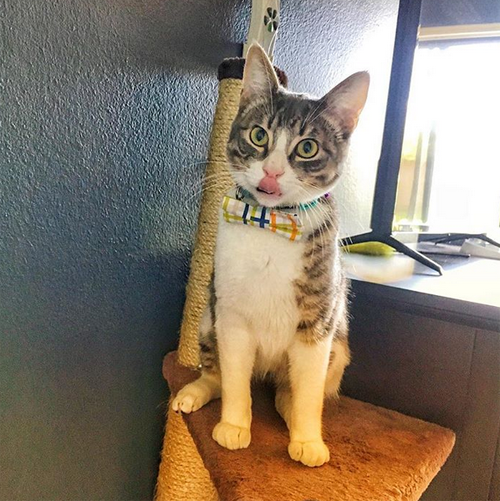 While they're happy to provide Indy with the care he needs to thrive, Markus and Lindsey have encountered people who believe incontinent cats like their boy aren't worth the extra effort they require. "A number of people have said that we should have put him out of his misery," says Markus.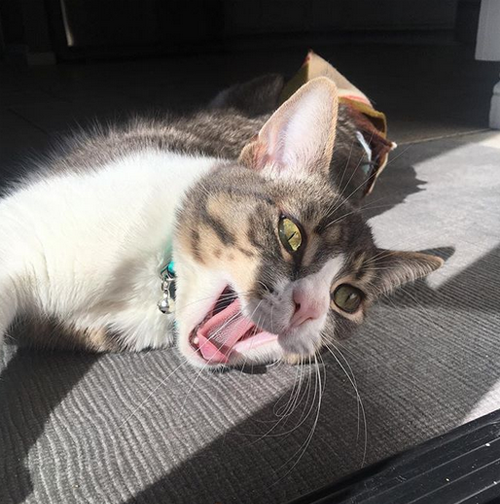 Fortunately, this dedicated couple knows Indy — who spends most of his playing and cuddling —  is anything but miserable. However, his incontinence does make it harder for them to go on vacations because they need to find someone they trust to his express his bladder, but it's a minor challenge compared to the joy Lindsey and Markus get from this incredibly affectionate cat.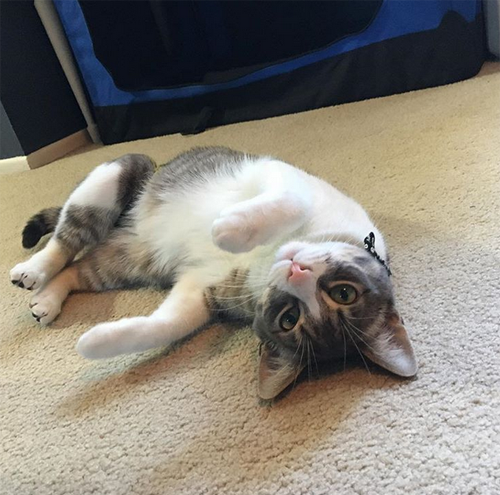 "Indy is a gem," says Markus. "He is loving, adorable, and with his big green eyes, you can see into his soul! Indy means the world to us. Both our cats mean the world to us."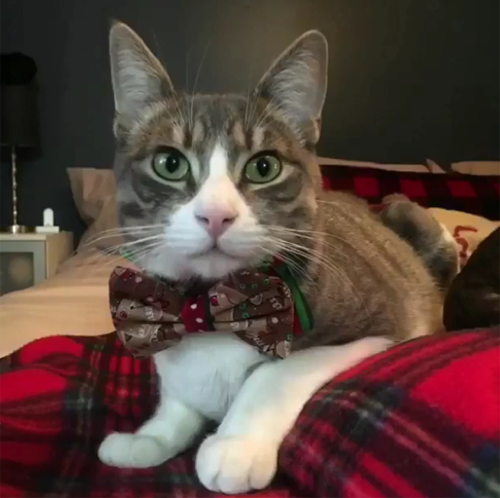 To learn more about this adorable cat, you can follow Indy on Instagram.