After losing two of her beloved cats, Mary Ann began following various Instagram accounts for pet rescues and foster parents in 2017, hoping that one day she would feel ready to adopt another pair of feline friends. "I had lost my beautiful 15-year-old Emily the year before to a supposed blood clot and my beloved Claudia seven months after to lymphoma," explains Mary Ann. "I was totally brokenhearted."
In September 2017, Beth Stern — who has helped hundreds of cats with her husband Howard — started fostering a trio of kittens who had been found living in the engine of an old car at a dealership in Hollywood, Florida. "All three kittens were starving, emaciated, sick, and frightened, with ear mites and infected eyes," says Mary Ann.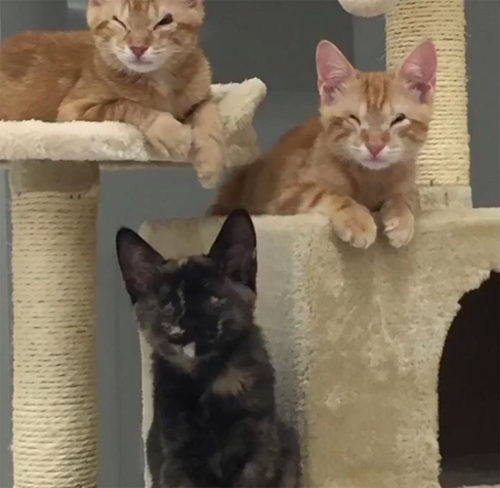 Thankfully, the young woman who discovered the kittens found an experienced rescuer who was able to take the three siblings, giving them baths and bringing them to the vet. A thorough examination revealed two of the kittens — ginger cats Sylvie and Jules — were born without eyelids, a congenital condition known as feline eyelid agenesis. "Their eyelashes were growing into their eyes, causing them pain and discomfort," explains Mary Ann.
Fortunately, Sylvie, Jules, and their sister Jolie, a blind tortie cat, attracted the attention of Beth Stern, who has a lot of experience caring for special needs animals, and she offered to foster them until they found forever homes. "Beth flew them from her Palm Beach home to her home in the Hamptons where they were loved, nourished, and given all the additional medical attention that was needed," says Mary Ann. "They lived happy, safe, and well-cared for lives with Beth for about four months while their medical issues were addressed."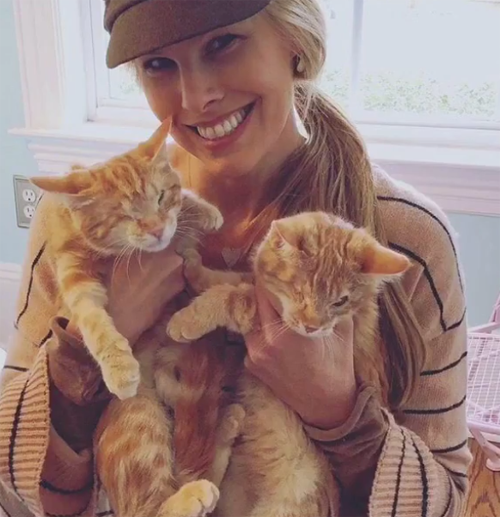 Beth took Sylvie and Jules to see Dr. Sapienza, an ophthalmologist at Long Island Veterinary Specialists (LIVS), and he determined that each of them needed to have an eye removed. Dr. Sapienza also performed crysosurgery — the process of freezing and removing hair — on their remaining eyes in order to stop the hair around their eyes from causing injury or irritation.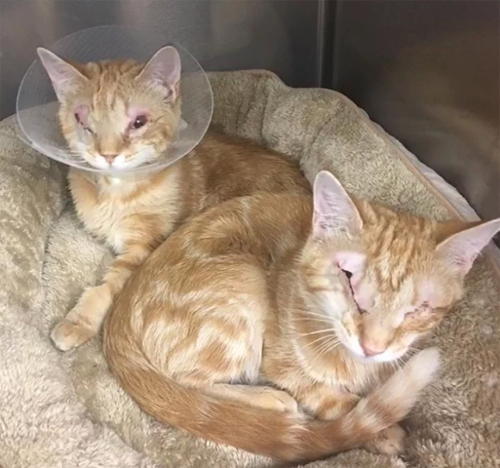 Following cryosurgery, Dr. Sapienza determined Jules and Sylvie had limited vision in their remaining eyes, and they would require cleaning and lubrication two times a day for the foreseeable future. "I watched these little 'perfectly imperfect' angels go through all their ups and downs as they were loved and cared for by Beth," remembers Mary Ann. "I decided to email her to inquire about their status. I explained my story, my brokenheartedness, and my love of animals. She felt the two would be a great match for me."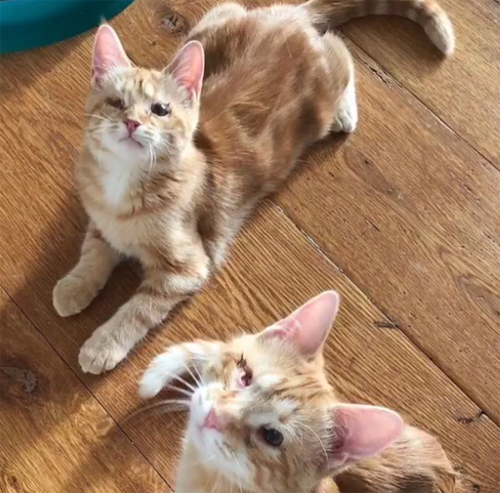 Jolie — Jules and Sylvie's sister — had already been pre-adopted by another family, but Beth wanted the two ginger kittens to find a home together as they had developed a strong bond with one another. Fortunately, Mary Ann had been looking to adopt a pair of cats, so Jules and Sylvie joined her family in early 2018 when they were approximately five months old.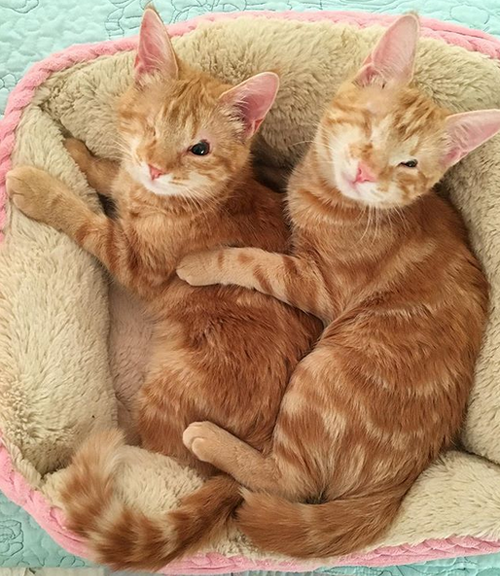 "Beth and her assistant lovingly delivered them to me on Super Bowl Sunday last February," says Mary Ann. "I was filled with joy and so grateful to Beth for all she had done in the name of love for these two innocents. They are among the lucky ones." These incredibly fortunate cats quickly settled into their new home with Mary Ann, cuddling and playing with one another and racing around the house.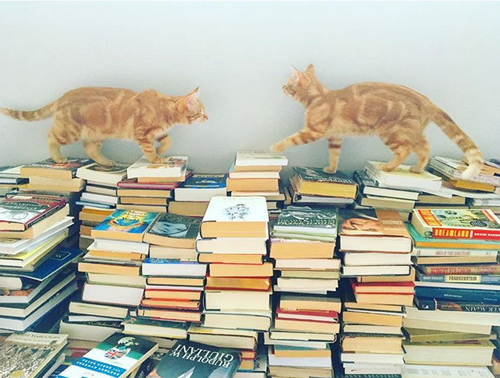 However, a month later, Mary Ann noticed that Jules was acting strangely, attempting to mount his sister, which was highly unusual as he had been neutered long before he was adopted. "Beth had us go directly to LIVS where it was found — through much testing — that one of his testicles was not removed, therefore he was still intact!" explains Mary Ann. Jules was diagnosed with cryptorchidism, or undescended testicles, and he had to have exploratory surgery to remove the remaining testicle.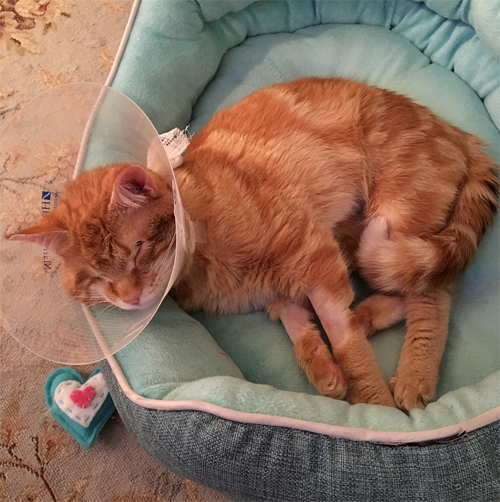 "Sylvie also had to have a second cryosurgery as her first procedure was not satisfactory," explains Mary Ann. "So we had a rough couple of months back and forth to LIVS, which is two to four hours away depending on traffic." Fortunately, Sylvie and Jules are both in excellent health today, and while neither of them can see very well, it doesn't stop these adorable cats — who recently celebrated their first birthday — from having happy and active lives.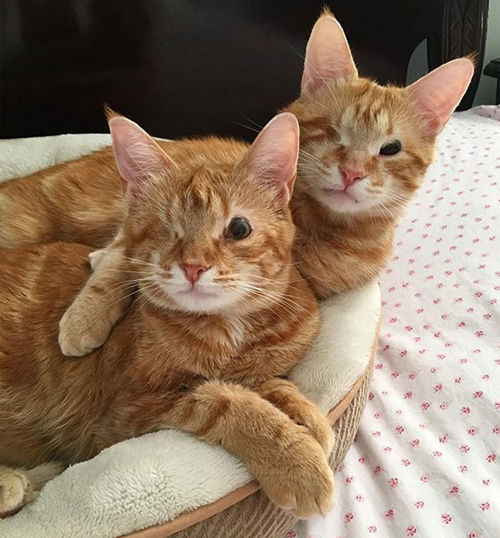 Dubbed "The Love Bugs" by their foster mom, these cute and capable special needs kitties are definitely living up to their nickname. "Jules is a shy kind of guy," says Mary Ann. "He is very sweet, gentle, and quiet, while Sylvie is more active and outgoing but sweet as ever as well! They are such cozy, darling angels!"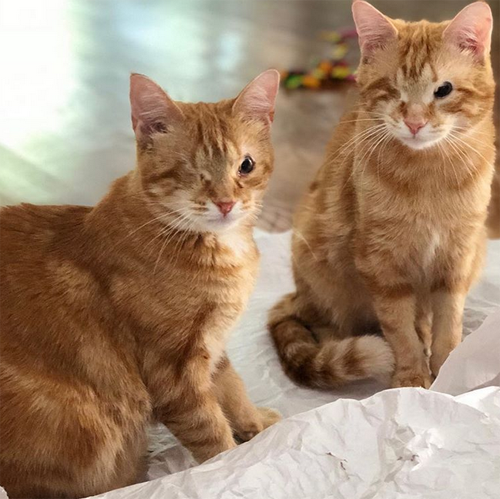 Mary Ann, who learned about Sylvie and Jules through social media after the loss of her two beloved cats, Emily and Claudia, is thankful she was able to adopt this extraordinarily affectionate and resilient pair. "I love these very special kitties so much!" says Mary Ann. "It is truly a match made in heaven!"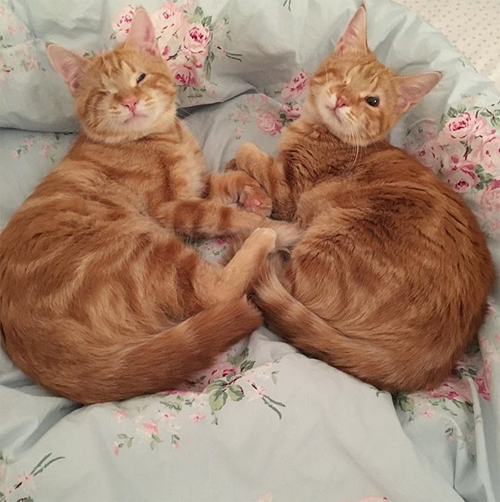 While she didn't set out looking to adopt cats with special needs, sharing her life with Sylvie and Jules has inspired Mary Ann to become an advocate for animals who have difficulty finding homes because they have medical issues. "We encourage folks to consider adopting beautiful special needs kitties and pups as they are so filled with love and are often overlooked," says Mary Ann.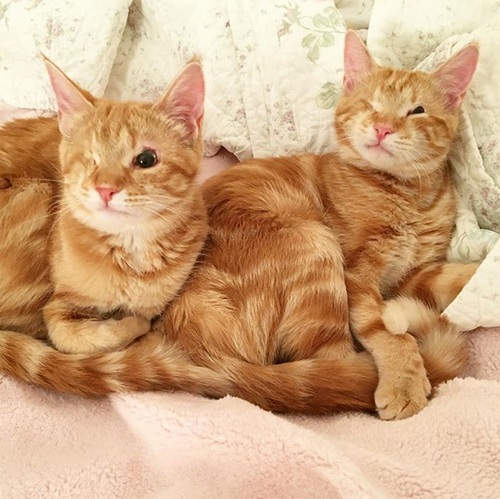 Fortunately for Sylvie and Jules, who were rescued from the engine of a car when they were just a few weeks old, someone has always been there for them, willing to give them the love and care they needed to thrive. Along the way, many people have been charmed by these remarkable cats, but there's no one who adores Sylvie and Jules more than their mom, Mary Ann. "They are delightful and the most gentle and loving kitties ever!" says Mary Ann. "My 'perfectly Imperfect' kitties are pure love!"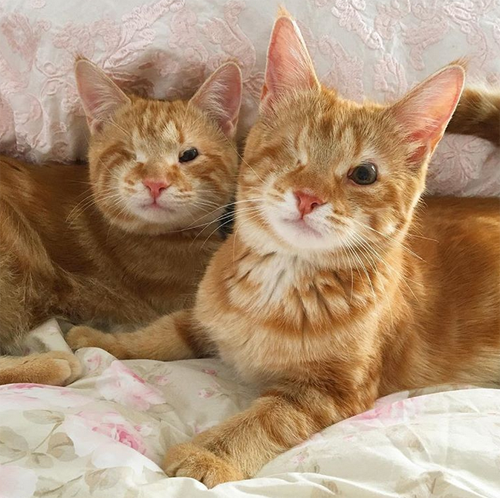 To learn more about these adorable cats, you can follow Jules and Sylvie on Instagram.