Samantha Bell DiGenova was working as the Cat Behavior and Enrichment Lead at Best Friends Animal Society in Los Angeles in May 2014 when the organization rescued a mother cat, Pashmina, and her six newborn kittens — Packard, Posh, Pillam, Pamela, Perla, and Precious — from the city shelter. "Pashmina was very sweet and all of the kittens were so purry and friendly," remembers Samantha. "They turned dog people into cat people, they were so sweet!"
Not long after the feline family arrived at Best Friends Animal Society, the staff at the rescue noticed that one of the kittens — Packard, a grey and white boy — was lethargic and had a large lump on the front of his head.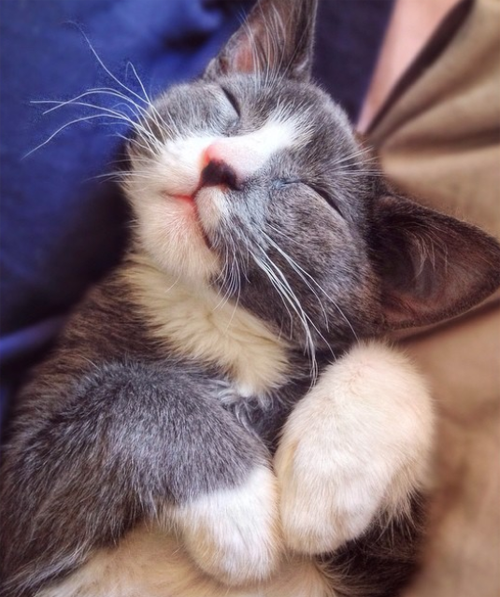 Packard was immediately moved to the rescue's clinic where doctors determined the lump was an abscess. "They drained the abscess on his head many times, but it would not go away," says Samantha. "He had a fever of 107 which lasted several days and left him deaf." The young kitten began to exhibit symptoms of neurological damage: he was unable to hold his head up and he also tilted his head to one side.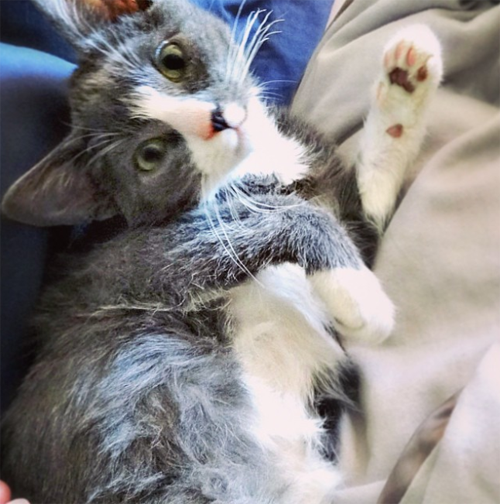 Despite being incredibly young and vulnerable, Packard continued to fight for his life and remained on an IV in the clinic for weeks. Throughout the harrowing ordeal, he never lost his sweet and friendly personality, making Packard a favorite among the staff and volunteers at Best Friends Animal Society.
"Everyone who worked with us — even the dog team staff — loved to visit him," says Samantha. "He was the happiest little guy despite being so sick. If you opened his cage, he would jump onto your shoulder and purr and nuzzle into your neck."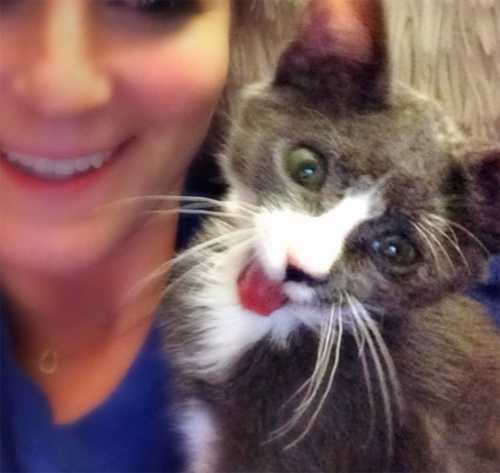 Packard eventually stabilized, although no one was certain exactly what was wrong with him, and Samantha — thinking the young kitten probably wouldn't live to see his first birthday — made the decision to adopt him. "We all just assumed he didn't have long to live," explains Samantha. "I decided to adopt him so that I was certain he would have a loving home in which to pass away."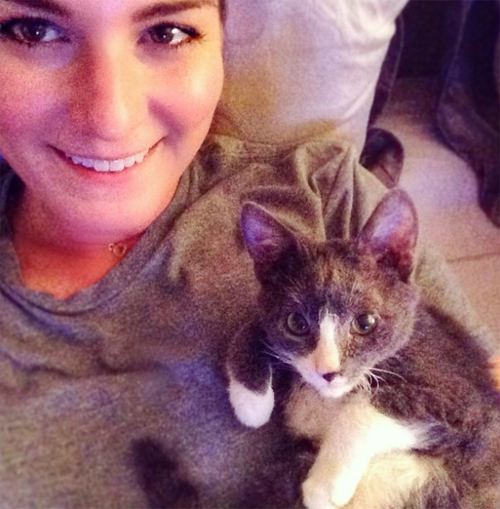 On August 18, 2014, Samantha officially adopted Packard, who was approximately four months old at the time, and she went to her vet to seek treatment for the stubborn abscess on his head. "She did the same thing the vets at our rescue did," says Samantha. "[They] opened up his head and sewed a drain in for the abscess to drain."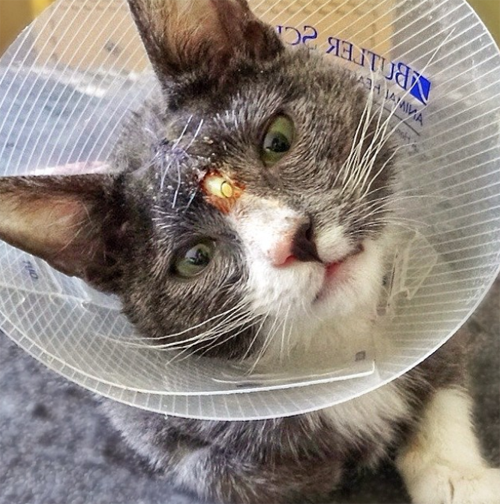 However, when the abscess returned a month later, Samantha took Packard to a specialty surgeon who discovered a bacterial sinus infection was actually destroying the sweet grey and white kitten's skull. Packard had intensive surgery on his sinuses, followed by weeks of antibiotics, and four years later, the abscess hasn't returned, although this handsome young cat is unable to hear and he has permanent neurological issues.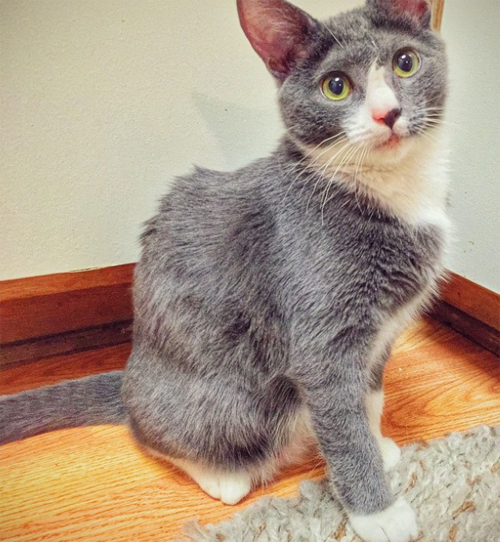 Despite being deaf, Packard is a fairly typical cat, and Samantha does her best to accommodate his lack of hearing. "I just try not to startle him when he's asleep," says Samantha. "I tap the surface he's sleeping on — rather than touch him — to wake him up gently." Also, because Packard is deaf, his mom carries him to his meals to make sure his brothers — who have excellent hearing — don't eat all of his food before he gets to his bowl. "They can hear the sounds of cans opening and come running," explains Samantha, "while he just sits there oblivious, poor kid."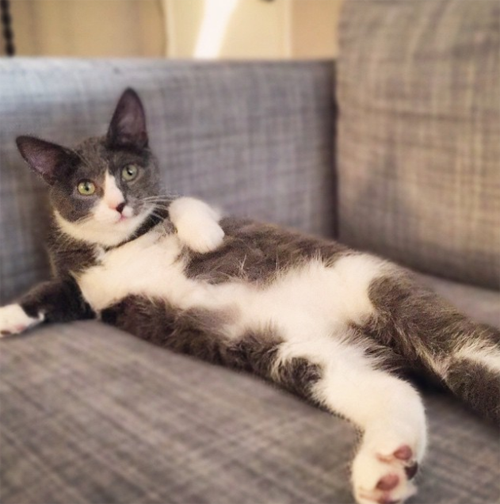 While Packard still tilts his head to one side, Samantha says his other symptoms — such as poor balance and coordination — lessen every day. "He used to fall down in his litter box, and now has no problems in there!" says Samantha. Even though Packard has more challenges than his siblings, he's still incredibly smart and capable and his mom has been able to train him to do many of the same tricks his brothers can perform. "He is an expert at 'sit' and 'high-five!" says Samantha.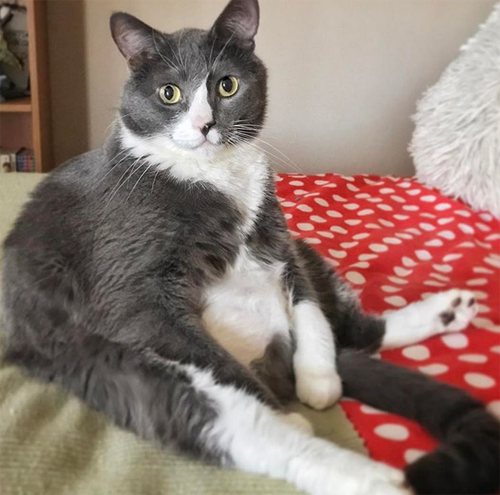 When Packard isn't showing off his skills, this nearly four-year-old boy loves running on his cat wheel, chasing after the laser pointer — "Being deaf, he is very visual!" says Samantha — taking naps, and nomming his raw food. While a lot has changed since he was a tiny kitten, Packard is still as loving as ever, and he showers everyone he meets with affection. "He will kiss any stranger that walks in our home," says Samantha. "He is such a love!"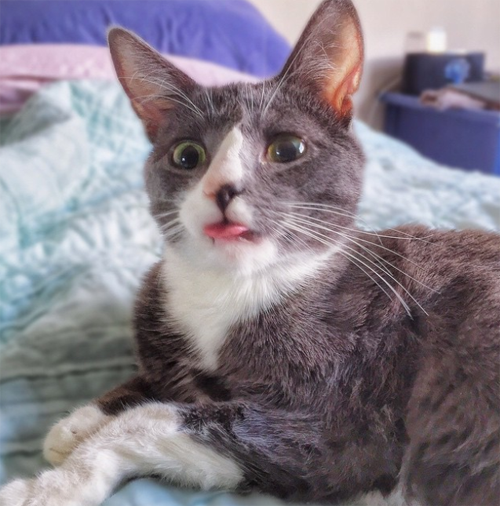 When Samantha made the decision to adopt Packard in August 2014, she — nor anyone else familiar with his health issues — thought that he would be going strong nearly four years later. While Samantha didn't expect this handsome grey and white cat to live more than a few months when she brought him home with her, she's incredibly thankful that Packard is by her side today, and she hopes other people will be inspired to adopt special needs kitties like her boy.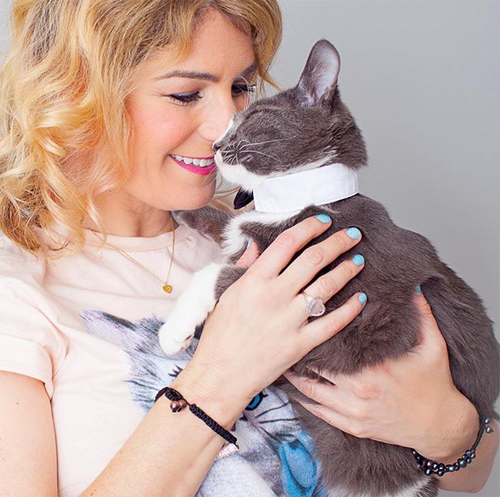 "Opening your home and giving your heart to special cats is one of the most rewarding acts you can do!" says Samantha. "Whether deaf, neuro, hospice, shy, etc., these cats are often overlooked by adopters and [they] really need you!"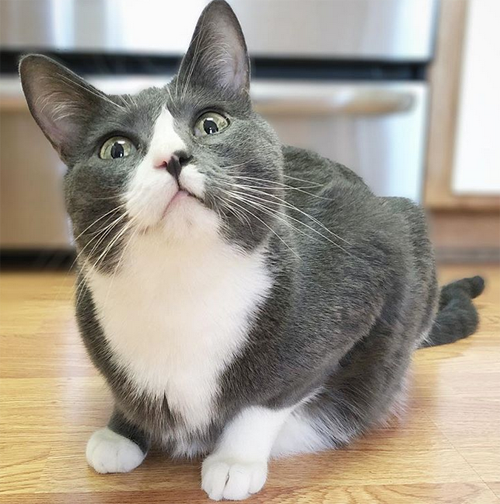 While Samantha has given so much to Packard — including the surgery that most likely saved his life — this resilient and remarkable boy has gifted his mom with a lot in return. "I love him so much that I sometimes cry just thinking about him," says Samantha.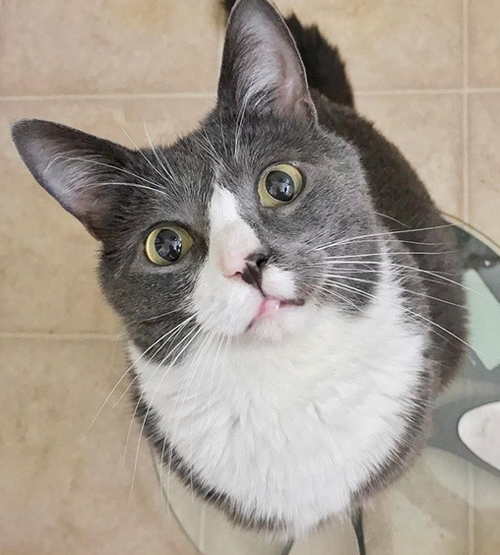 In addition to the impact Packard has had on his mom, Samantha insists that this adorable special needs cat has touched the lives of all the people who have been fortunate enough to make his acquaintance. "Packard is love," says Samantha. "He embodies pure, innocent love. Everyone that meets him feels it. He is my heart."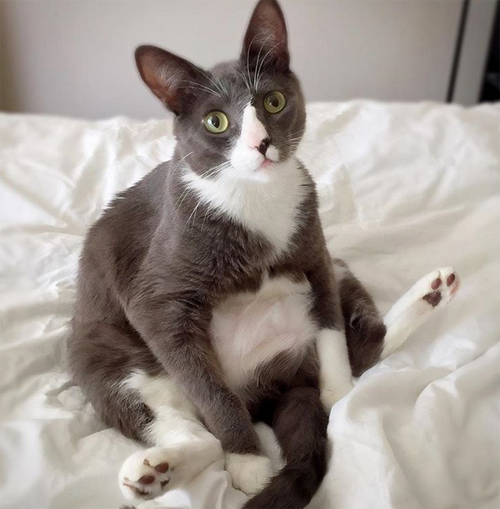 To learn more about this remarkable cat, you can follow Packard on Instagram.