While Katja and her boyfriend Tobi were browsing the internet, they saw a cat had recently given birth near their home in Berlin and her family was trying to find people to adopt her kittens. At the time, the couple wasn't actively looking for a pet, but they immediately warmed to the idea of getting a pair of kittens. "We both had cats before," explains Katja, "but weren't ready for new ones for over 10 years."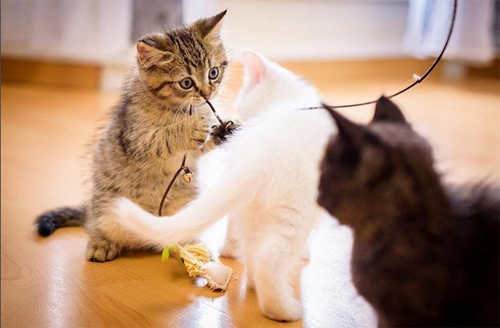 Katja and Tobi contacted the family and set up a meet and greet with the kittens who were available for adoption, hoping they would feel a connection with at least one of the fluffy felines. "We immediately fell in love with Leeno and because no cat should live as a single cat — especially not as a kitten — we decided to take Poncha with us as well," remembers Katja. "Or maybe he decided it, because on decision day he just jumped on my boyfriend Tobi's lap for a nap and the rest is history."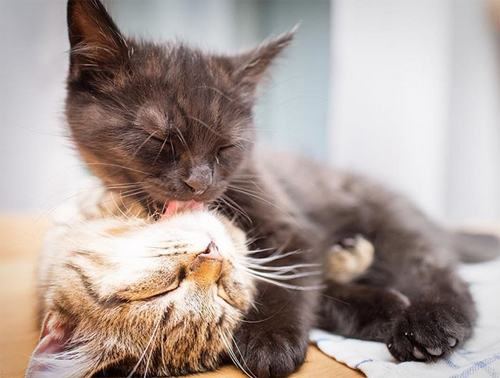 In October 2017, Katja and Tobi officially adopted Poncha and Leeno when they were 11 weeks old, and these adorable siblings didn't waste time settling into their new home in Berlin.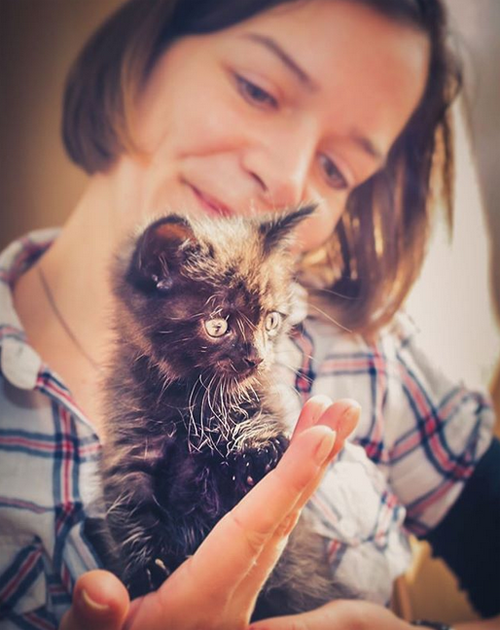 However, not long after the cute kittens joined their family, the couple noticed that Leeno — the handsome tabby brother — appeared to have some respiratory issues. "We noticed in the beginning at our home that Leeno tended to breathe quickly after playing or breathed with his mouth open," explains Katja. "We were not worried immediately, but we were trying not to play too fast with him."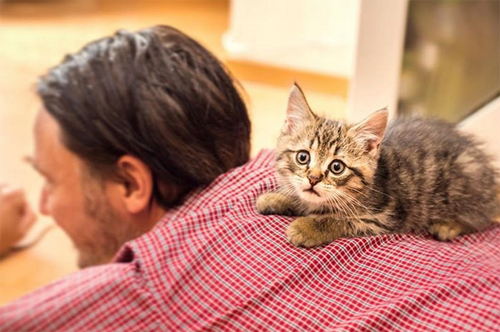 However, Leeno continued to have shortness of breath with even light physical activity, as did Poncha, the adorable black kitten, so Katja took them to the vet for a thorough examination. "After an x-ray which showed that [Leeno's] heart and lungs didn't have enough space and looked quite tight, we were told to wait a couple of months because he was still young and with him continuing to grow this problem could solve itself," says Katja.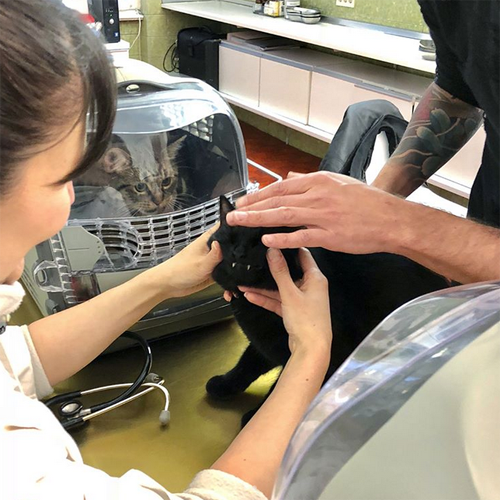 Initially, Katja and Tobi were relieved, but it wasn't long before Leeno and Poncha began having other health problems. "One or two times a week it seemed like they wanted to vomit but nothing came out. No hairballs, nothing," explains Katja. Concerned, Katja began researching their symptoms online and learned that it was possible both Leeno and Poncha had asthma, so she decided to take them to a new animal clinic to get another vet's opinion.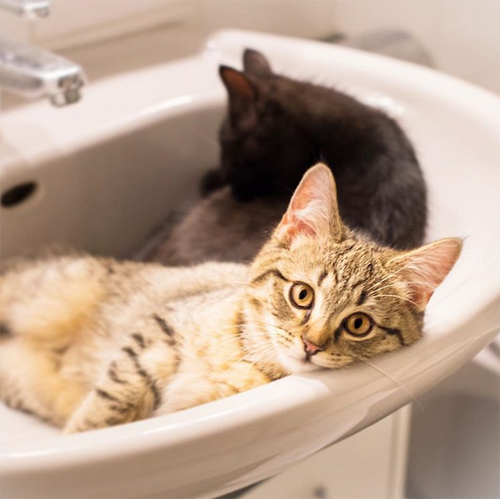 "We went through the whole diagnostics — because asthma is diagnosed by exclusion only," says Katja. "First more x-rays, then a cardiac ultrasound with echo, then a bronchoscopy with lavage." Following all of these procedures, doctors were able to rule out the other potential causes of the kittens' breathing issues — including a respiratory infection or lung worms — and both Leeno and Poncha were diagnosed with feline asthma.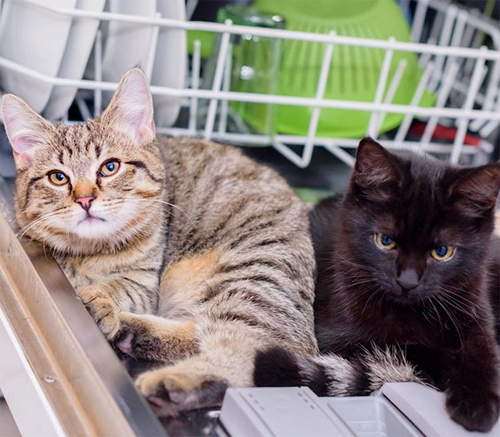 The vet also found Leeno had mild hypertrophic cardiomyopathy (HCM), a disease of the heart muscle in which the walls thicken and the heart enlarges.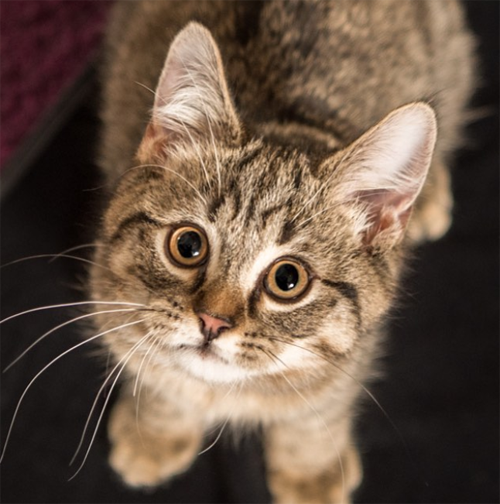 "We did some allergy tests too to see if it's maybe allergic asthma so we maybe could have changed some things in their environment to help attacks not to appear that often," says Katja, "but it's not. It's just asthma." While the exact cause of Leeno and Poncha's asthma is unknown, the veterinarian explained that their breathing issues could be genetic or because neither the kittens — nor their parents — were given adequate medical care before Katja and Tobi came along.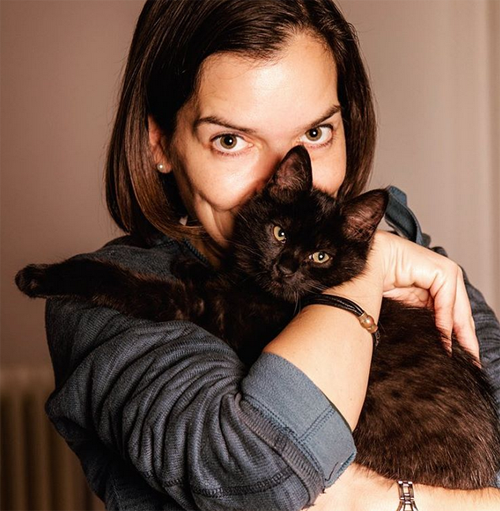 After Leeno and Poncha were diagnosed with asthma, the vet prescribed a bronchiodilator that Katja and Tobi would have to administer to the kittens using an inhaler designed especially for cats.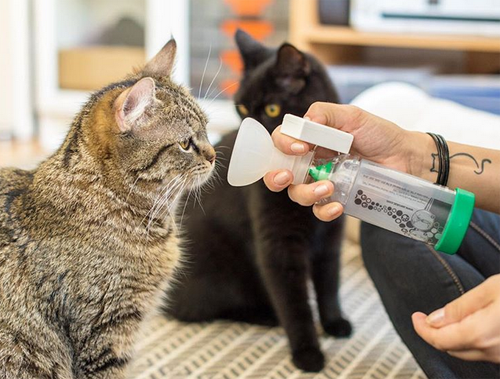 "When we knew we would have to use the AEROKAT inhaler on them twice a day for probably their whole lives, we were like, 'Okaaaaay. Wonder if we would could ever get them to sit still for that,' " remembers Katja. "They're not cuddly cats that chill on your lap; they're more like a pair of insane racing rockets."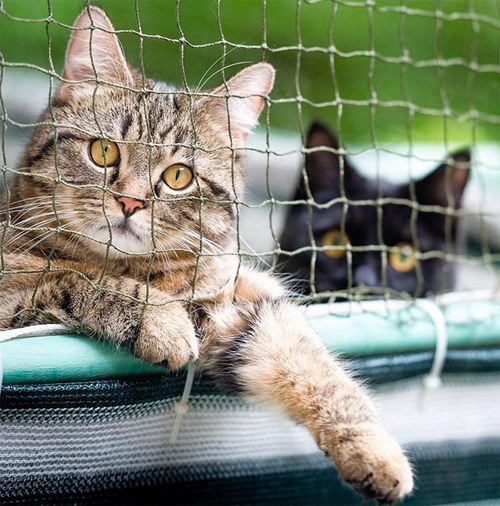 Fortunately, Katja and Tobi started clicker training Leeno and Poncha when they were very young kittens, so it ended up being surprisingly easy for the couple to give the feline brothers their medication.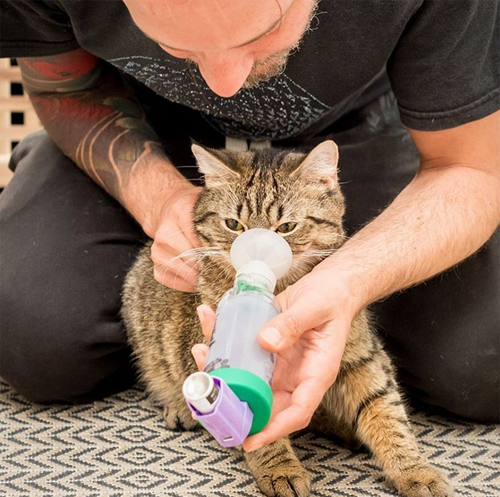 "We've been doing it for maybe two months now and as soon as it's 9pm, Poncha comes to me and reminds me by meowing that it's time for their treatment," says Katja.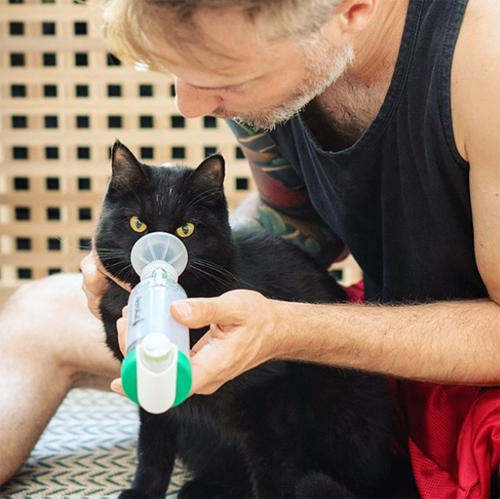 Since beginning the medication, Leeno and Poncha have improved significantly, and they're now able to play without getting out of breath. "They love to hunt each other and do some wrestling and they love to play fetch," says Katja.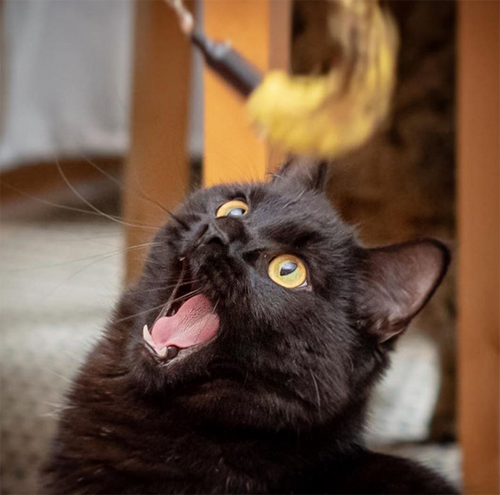 Like typical cats, Poncha and Leeno — who will turn one on August 4, 2018 — love to eat and sleep, but they're also particularly fond of water, making them a bit different from the average kitties. "In this summer heat the're actually spending a lot of time in the mini pool we got them," says Katja.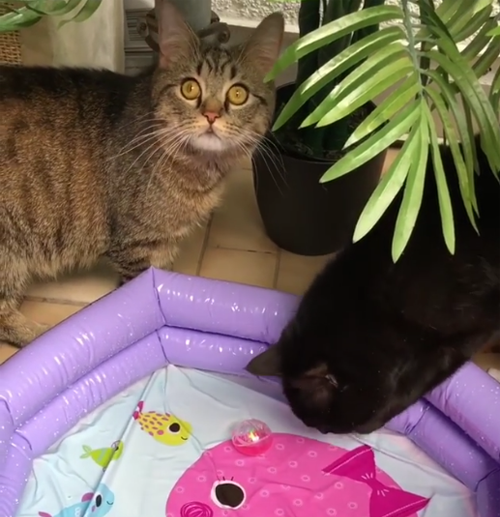 While Poncha and Leeno are doing great, Katja worries that feline asthma often goes undiagnosed because pet owners don't recognize the symptoms. "It's said that only 1% of cats have asthma but it's probably many more," explains Katja. "It just doesn't get diagnosed because people don't see a need to go to the vet because of some retching. But when it starts to happen regularly and not only once a year, it's definitely a sign that needs to be checked."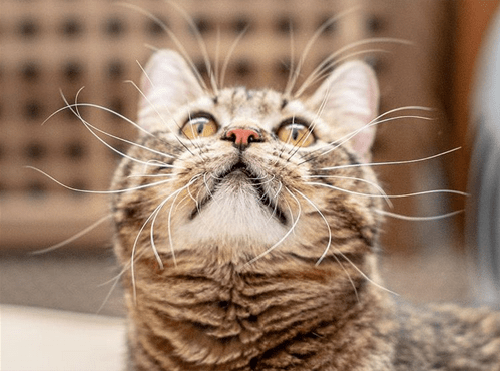 Katja hopes that by sharing Leeno and Poncha's story, more cats with feline asthma will get the treatment they need. "People who don't know tend to misinterpret an asthma attack for retching and think their cat is trying to throw up a hairball or something like that," says Katja. "It looks pretty similar indeed, but the cat is in fear of dying because of breathlessness."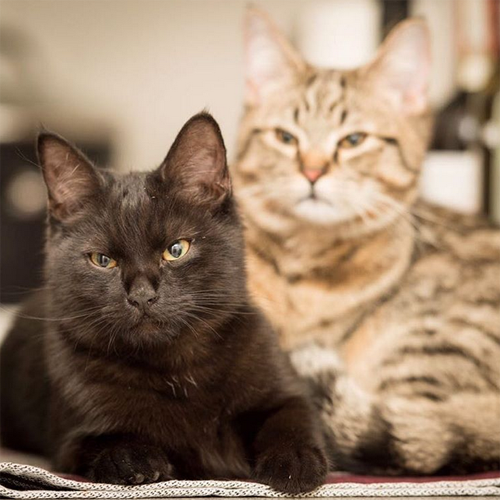 Thankfully, Katja and Tobi recognized that Leeno and Poncha were having breathing troubles — not just trying to cough up hairballs — and they didn't stop until they got these adorable brothers the treatment they needed to have happy and active lives. While having two asthmatic cats comes with a few challenges, Katja and her boyfriend are more than happy to give Leeno and Poncha the care they deserve.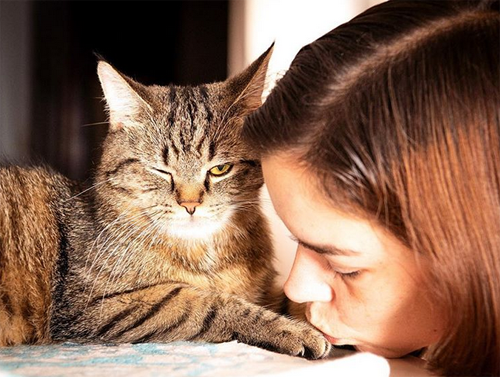 "We might have a less complicated life without the asthma  — we always have to be home at special times to make sure they get the inhalation — but we wouldn't trade them in for healthy cats — ever!" says Katja.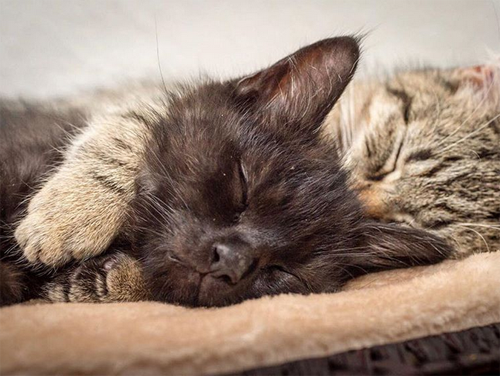 While Poncha and Leeno weren't born into the best of circumstances, these sweet and spunky siblings found themselves the perfect home with parents who are willing to sacrifice both their time and money to give these special needs cats the best lives possible.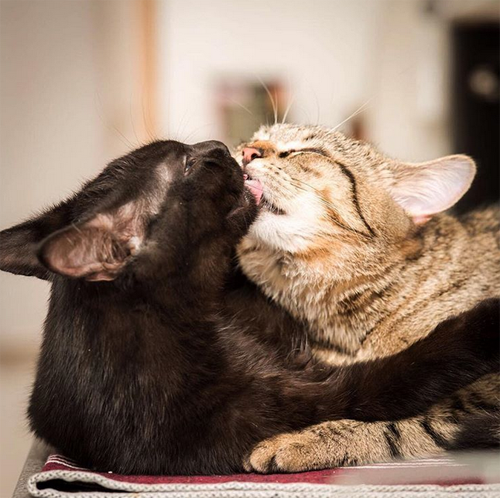 "They always come first," says Katja. "We don't know how long they'll live or if the asthma will ever get better or maybe shorten their lives. So they should have the best time of their life. Every day."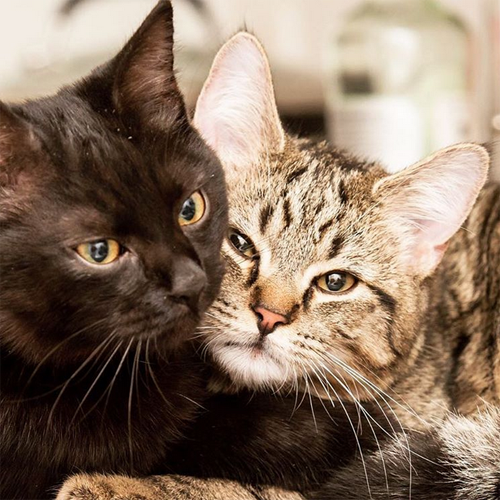 To learn more about these adorable cats, you can follow Poncha and Leeno on Instagram.
If you would you to help these special boys get the care they need, you can donate to their GoFundMe or make a donation through PayPal.