Shortly after Sarah's uncle moved into a new house in Spokane, Washington, he noticed a cat hanging around his home. "He figured out that she must have belonged to the previous owner of the house who had passed away," explains Sarah. "He took her in because it was very cold outside and she was clearly an indoor cat." When Sarah and her mother met the friendly feline for the first time, they were struck by how sweet and affectionate she was, so they decided to adopt her, naming her Olive.
Olive quickly settled into her new home, but it wasn't long before Sarah and her family noticed that she seemed to be getting bigger everyday. "We took her to the vet who confirmed our suspicions," says Sarah. "She was pregnant!" A few weeks later on March 9, 2018, Olive gave birth to a litter of six kittens, and all of the newborn cats were in poor health, indicating their mom hadn't received adequate medical care or nutrition during her pregnancy.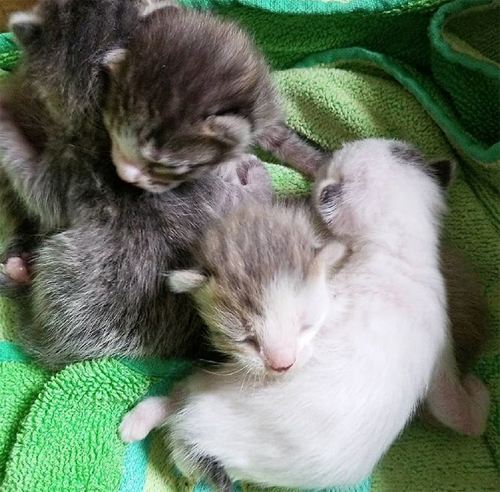 "All the kittens were very underweight and so cramped inside the mother, so four of six kittens had some kind of deformity," explains Sarah. The runt of the litter, a tiny tabby and white kitten, had severely malformed hind legs, and he was in really bad shape when he was born. "I had to rub him with a washcloth to get him to start breathing," remembers Sarah, "and from then on he's been such a fighter!"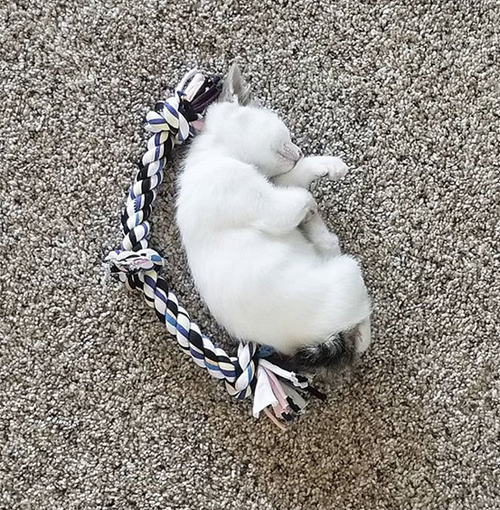 Not only was the little kitten with the twisted back limbs determined to survive, he was incredibly affectionate, causing Sarah to name him Churro. "Churro's name originally came to me because I thought all churros were twisted," says Sarah. "Also, because he is as sweet as can be."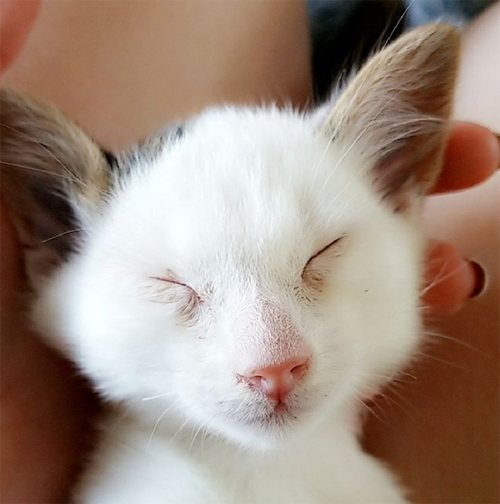 While Sarah  adored Churro, Olive — his biological mother — was overwhelmed by caring for her litter of six, and she was malnourished herself, making it difficult for her to nurse her kittens. Thankfully, Sarah and her family were willing to do everything in their power to give the kittens the best care possible, and they ended up bottle feeding the tiny newborn cats.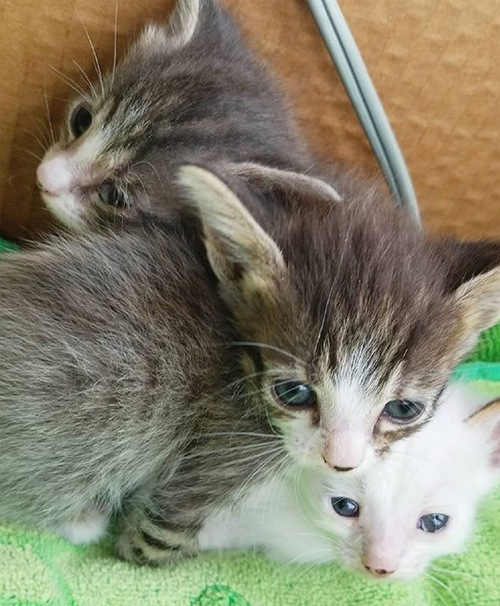 Sadly, they were unable to save all of the kittens, and within a matter of weeks Olive and half of her litter passed away, leaving just Churro and his sisters Charlotte and Frea. While Sarah was devastated by the loss of the four cats, she was determined to continue helping the three little kittens, giving special attention to Churro as he was the smallest and had the most malformed legs.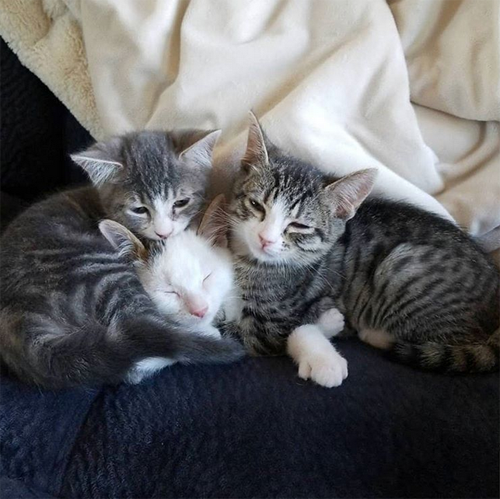 "We were extra careful with him at first, but we soon realized he had no pain and had no trouble acting like a normal kitten!" says Sarah. "We fell in absolute love with this little boy with such a big heart and personality." Because they had never cared for a special needs cat before, Sarah and her family weren't sure what to expect with Churro.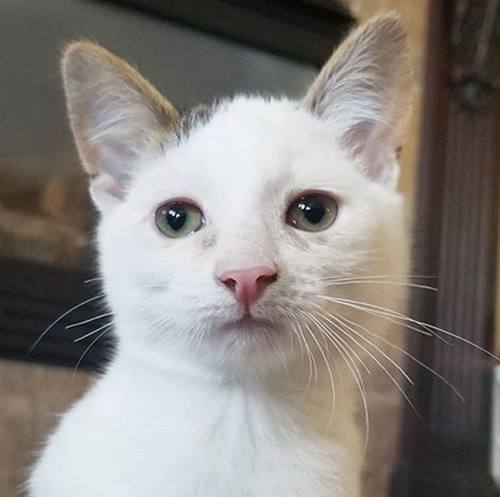 While he moved a bit differently from a typical cat, Churro quickly proved to his family that he was a relatively typical kitten who didn't need as much assistance as they had anticipated. "We figured that he would always need help," explains Sarah. "We were totally wrong — he loves to be independent and do things on his own!"
As Churro got bigger, he began exploring his home, and he figured out how to get where he wanted to go without help from anyone else. Today, Churro — who is approximately five months old — has no trouble getting around Sarah's house. "He climbs up the couch with his two front legs — one of which turns at a right angle," says Sarah, "and hops down whenever he wants — and sticks the landing every time — and uses the litter box with no accidents!"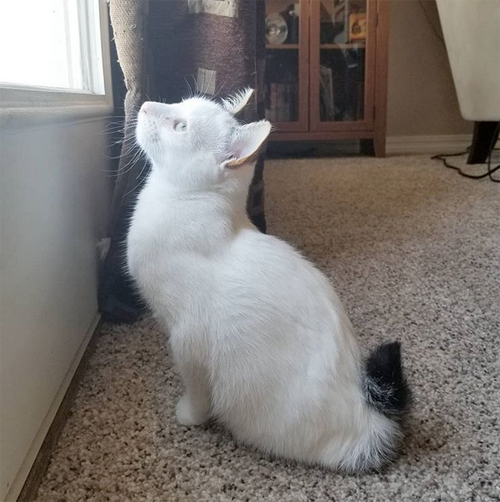 Even though Churro doesn't move like the average cat — he hops more than he walks — he's just as healthy and happy as most kittens his age, although Sarah believes his unique way of getting around has made him stronger than his fellow felines. While Churro doesn't necessarily want his human family to coddle him, he actually welcomes assistance from his canine and feline siblings. "He is best friends with my dog and his sister kitty, Charlotte, who we're also keeping," says Sarah. "They help him out and take care of him."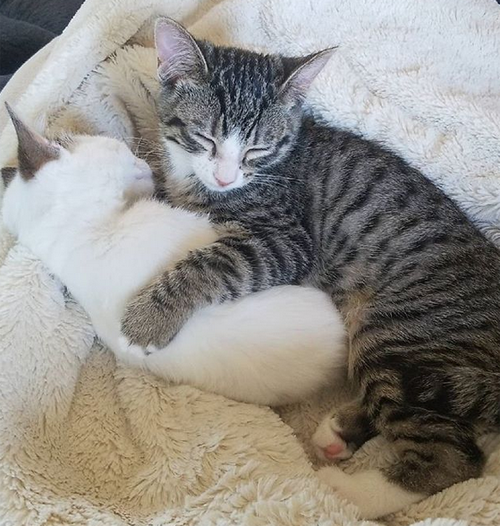 While special needs cats like Churro may need a little extra help and might not look like every other cat, Sarah is confident that they make wonderful companions. "I wish more people would give handicats a chance and not dismiss them immediately when looking to adopt because they can be the sweetest cats!" says Sarah. "He has a purrsonality of gold, and he is the best part about coming home."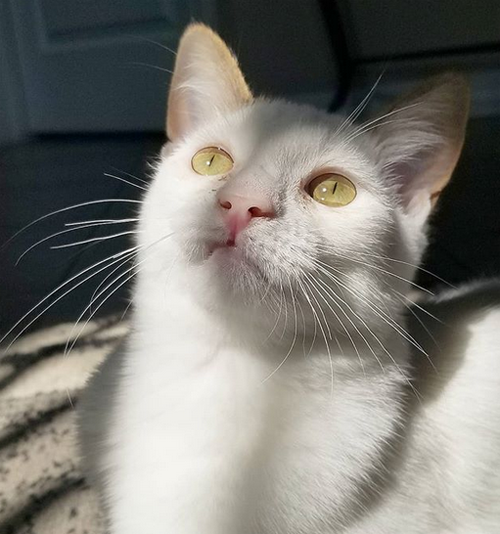 When Sarah and her mom decided to adopt Churro's mom Olive, they didn't realize she was pregnant, nor did they have any way of knowing that the majority of her kittens would have special needs. "The vet didn't give any official term for Churro's deformity," says Sarah. "They just stated that it was basically a birth defect from being so crowded in the womb."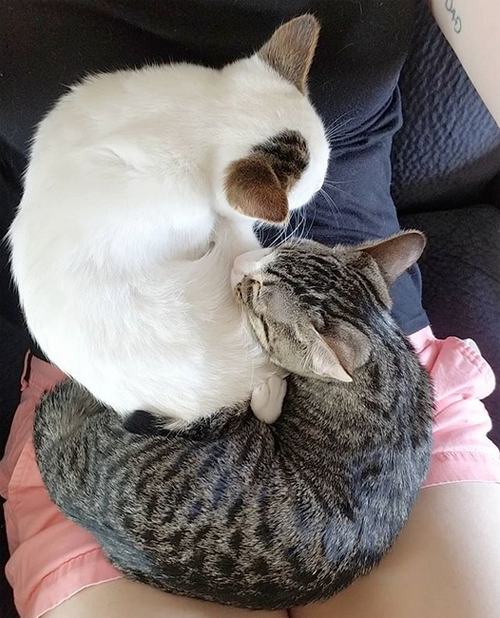 However, when faced with six little newborn cats to take care of, they stepped up to the challenge, determined to give them the chance they deserved. While not all of the kittens survived, Churro and two of his sisters are still alive thanks to Sarah and her family, and it's obvious this special little guy is very grateful for everything they've done for him. "Churro loves to play with his sister, Charlotte, cuddle our dog, Artie, and of course he loves to sleep on mom and purr. Loudly," says Sarah.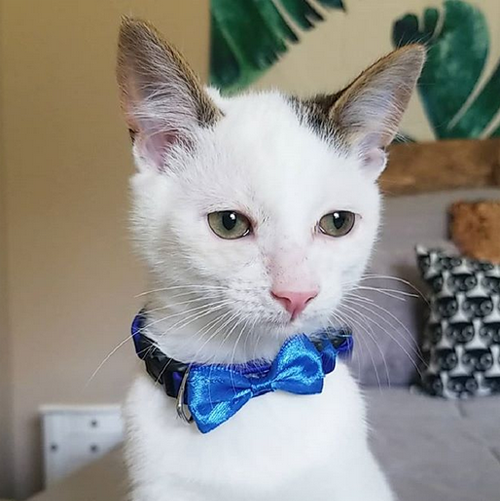 Not only does Churro give his family — people he has known since the day he was born — endless affection, he provides them with lots of inspiration, showing them how to overcome obstacles with positivity and determination. "He inspires me every day," says Sarah. "The way such a little kitten can kick so much butt. He makes it look so easy, but you know it's not for him. He's had to adapt and figure out new ways to get around and live his happy kitty life. So yeah, he is pretty amazing!"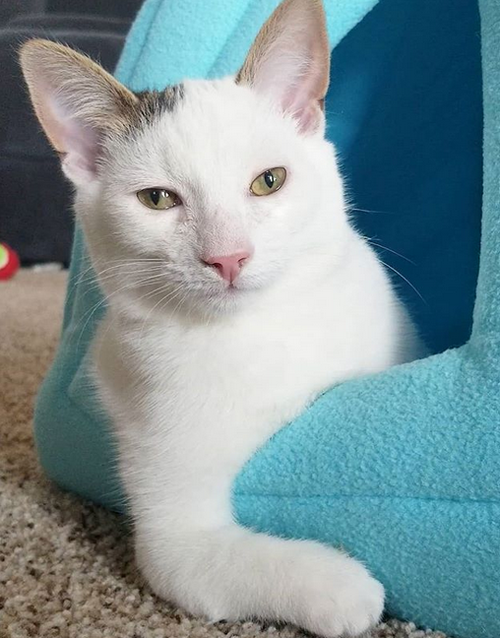 To learn more about this adorable kitten, you can follow Churro on Instagram.