When Jessica Ruf, an experienced foster mom for Maneki Neko Cat Rescue, got a call from a friend about a newborn kitten who had been abandoned by his mother in someone's yard, she was eager to help the tiny feline. "They had left him overnight in case the mother came back," explains Jessica, "which she never did."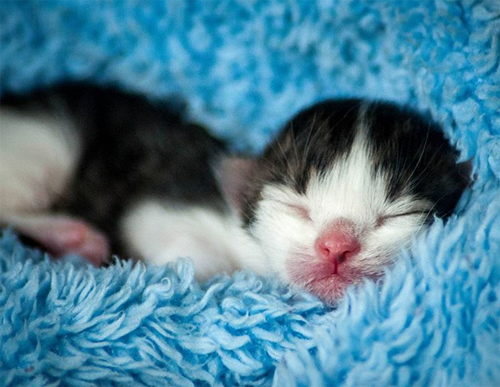 Far too young to be on his own, the kitten arrived at Jessica's home in Victoria, Australia, on October 2, 2017, when he was just 24 hours old and weighed a little over three ounces. "He came to me covered in fly larvae and with an open wound," remembers Jessica. "He was freezing cold and almost unresponsive."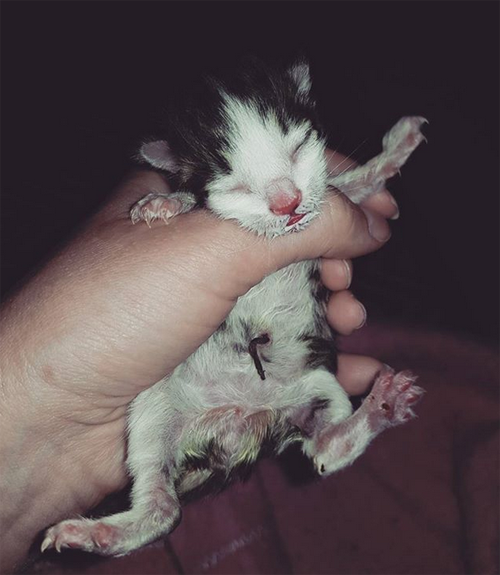 Jessica worked quickly to warm up the diminutive kitten and removed the fly larvae from his fragile body before she began bottle feeding him kitten formula using a syringe. With the help of her Instagram followers and one of her other foster kittens, Jessica named the newborn cat Pickles.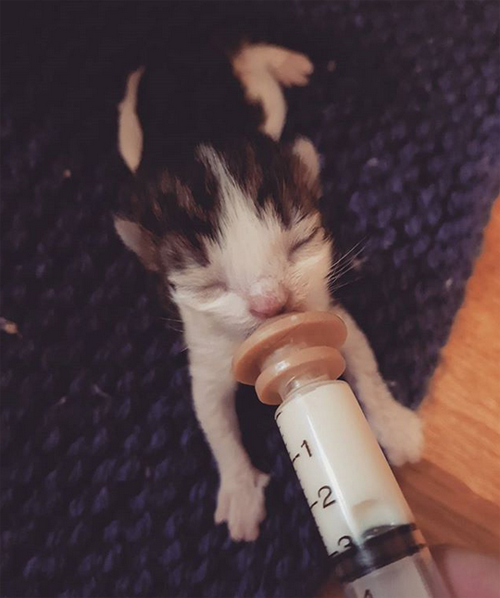 "I had announced a naming competition where people could pay to add their choice of name," explains Jessica. "I then collected the names and placed them in a bowl and had Wolfie the kitten pick a name out." Sadly, Wolfie later passed away from feline calicivirus (FCV) when he was eight weeks old, but his legacy lives on through Pickles, the kitten he helped to name.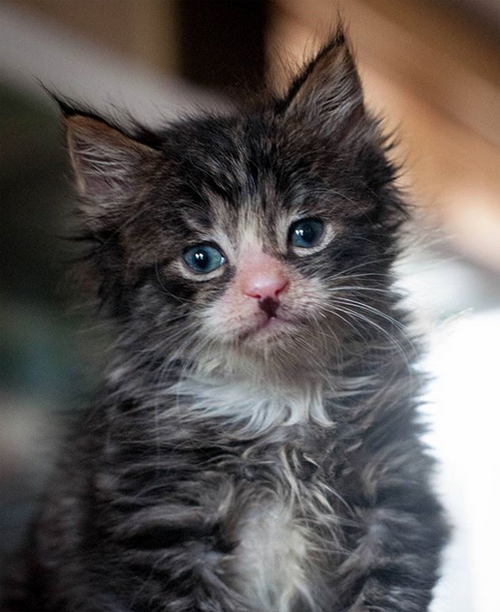 The day after Jessica met Pickles for the first time, she took him to the vet where he received an antibiotic injection for the open wound, the first of his many trips to the doctor for medical attention. For the first few weeks of his life, Pickles had a number of health problems, including a bacterial infection, vomiting, watery eyes, and weight loss, and he had to be fed through a tube inserted into his stomach because he was unable to eat on his own.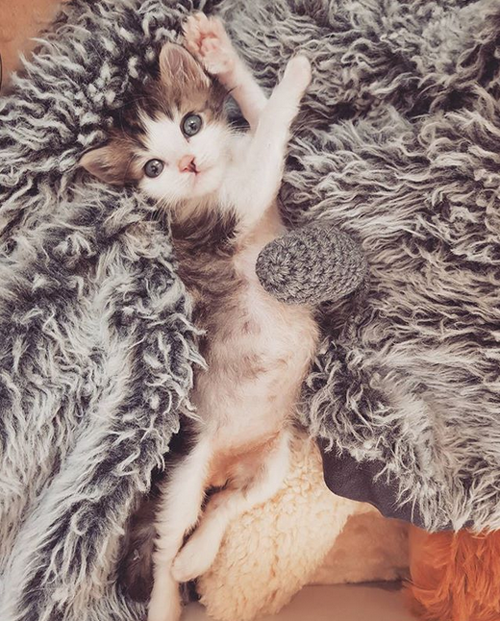 "He eventually started eating on his own around age four weeks," remembers Jessica, but around this time he became extremely ill. "He was rushed back to the vet with a high temperature and he was given antibiotics and an-anti inflammatory and he needed subcutaneous fluid injections throughout the day."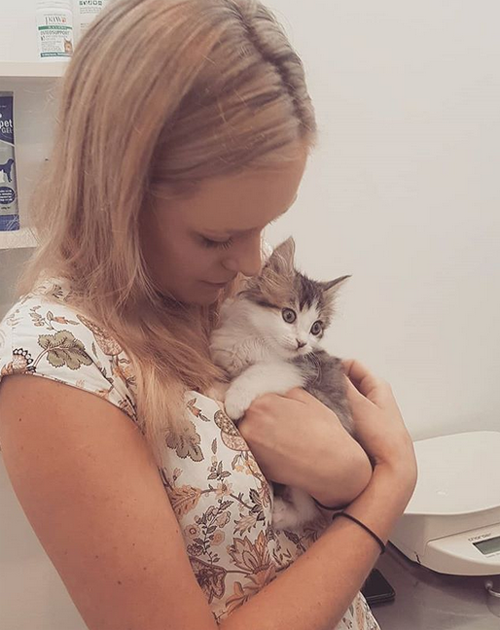 At six weeks old, Pickles weighed 16 ounces, the typical weight of a four-week-old kitten, and then his vomiting increased to several times a day and his already low weight dropped. The young cat underwent a number of tests, including an ultrasound and an x-ray, and he was eventually diagnosed with chronic gastritis, an inflammation of the stomach lining. "For about a month Pickles was constantly vomiting," says Jessica. "I eventually tried feeding him a raw meat diet and Pickles's stomach tolerated it."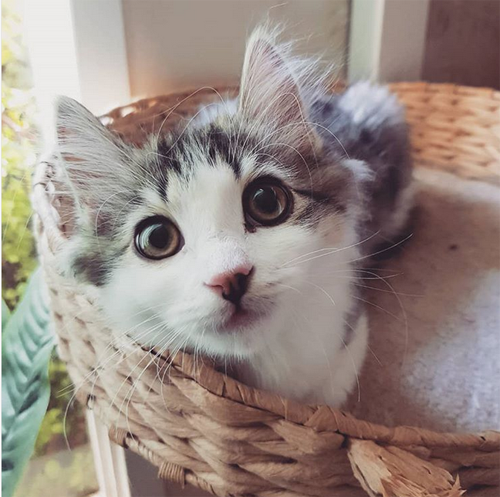 However, when Pickles was three months old, he began coughing frequently, and Jessica noticed that he seemed to get out of breath very easily. "He couldn't play for longer than five minutes without getting very exhausted," says Jessica, and when Pickles was neutered at four months old, he had another x-ray that revealed his airways were inflamed and he was diagnosed with feline asthma.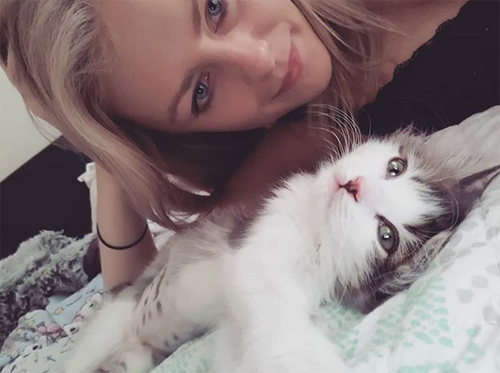 At first, Pickles was prescribed steroids, but when they failed to relieve the inflammation, Jessica raised the money to get him an inhaler, or spacer. With the help of the inhaler, Pickles finally got some relief, and while he has to use the device twice a day for the foreseeable future, this once chronically ill kitten is now in good health.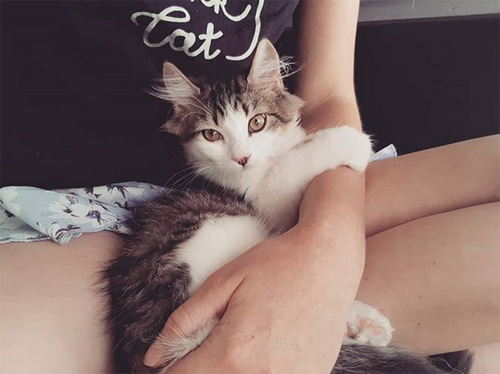 Not surprisingly, Pickles has formed an incredibly strong bond with Jessica, the person who has been by his side for the past 10 months, taking care of him since he was 24 hours old. "Pickles absolutely adores me and will constantly follow me around," says Jessica. "When I get ready for work in the morning he stands on his hind legs, his front paws reaching onto my legs, meowing at me to pick him up and have me hold him over my shoulder while I get ready. Talk about multitasking!"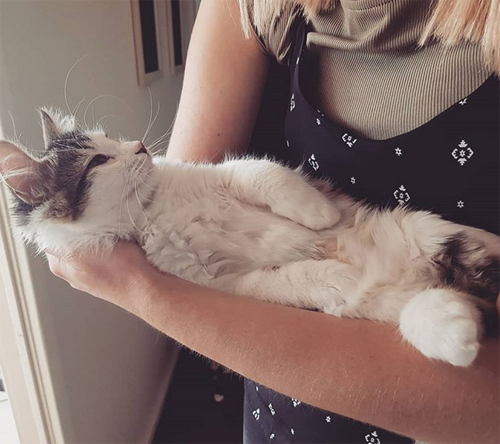 Today, Pickles is a very happy boy, but due to his asthma he's not able to jump like a typical cat and his foster mom has to make sure he doesn't overexert himself. Without a doubt, this adorable kitten has overcome a lot of obstacles, being abandoned by his mother as a newborn and then having to endure a number of serious health problems.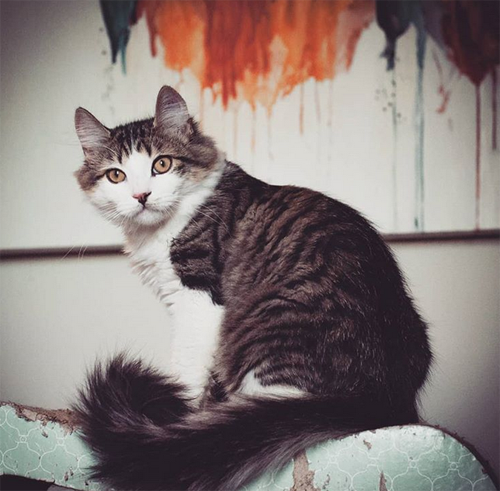 "Many challenges were faced with Pickles," says Jessica. "After almost losing him so many times — he's already used so many of his nine lives and he isn't even a year old — trying to afford the medical bills was the biggest challenge."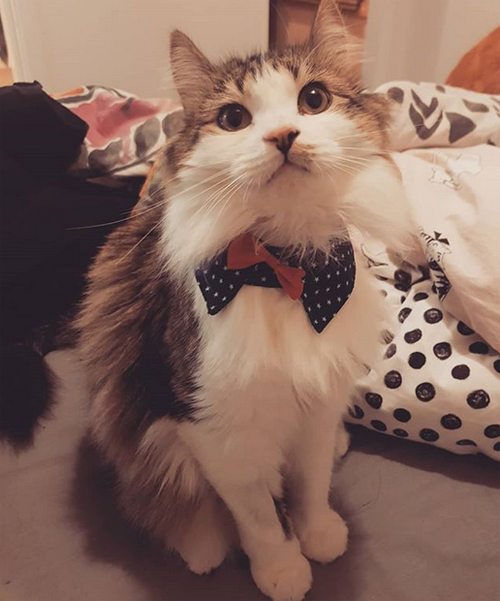 While caring for Pickles hasn't always been easy — or cheap — Jessica is so thankful she's had the opportunity to watch this sweet and loving cat grow up. "Because he came to me when he was 24 hours old, our bond is like a human and baby," explains Jessica. "He definitely thinks I'm his mumma!"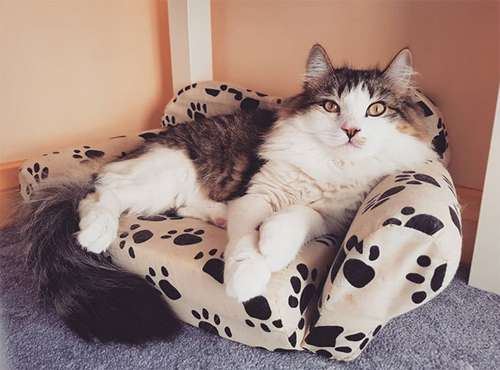 Needless to say, Jessica and Pickles have formed an amazing bond, and helping him become the stunning young cat he is today has taught her a lot about caring for kitties with health challenges. Not surprisingly, Jessica recently decided to adopt Pickles, ensuring she will be by his side for the rest of his life. "Special needs cats are so unique and special and have so much love to give," says Jessica. "Pickles means the absolute world to me."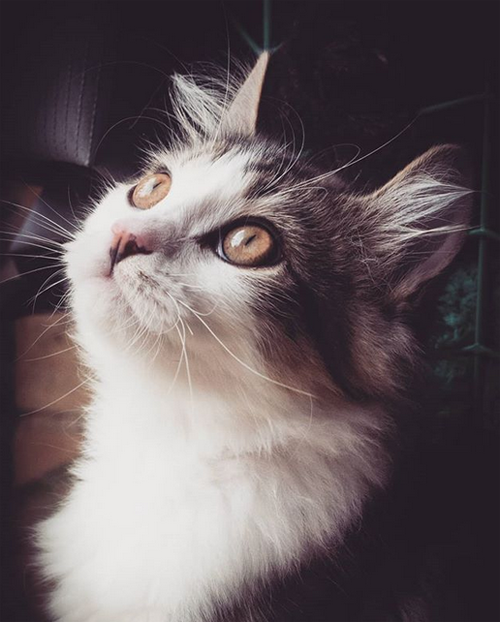 To learn more about this special cat, you can follow Pickles on Instagram.