When Emily Blythe was volunteering at the Lake County Animal Shelter in Tavares, Florida, a female tabby cat with healed facial injuries arrived at the facility, in need of someone to take care of her until she found her forever home. "I volunteered to take her in and the rest is history," remembers Emily.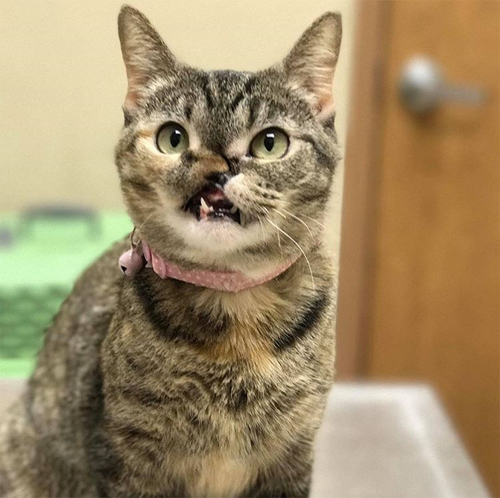 The cat — who was named Petunia by the staff at the shelter — and her kittens ended up at the facility after they were rescued from the streets by a good Samaritan. "The vets at the shelter first thought that she had a cleft palate," explains Emily, but they eventually learned that Petunia had actually suffered serious injuries to her face as a kitten.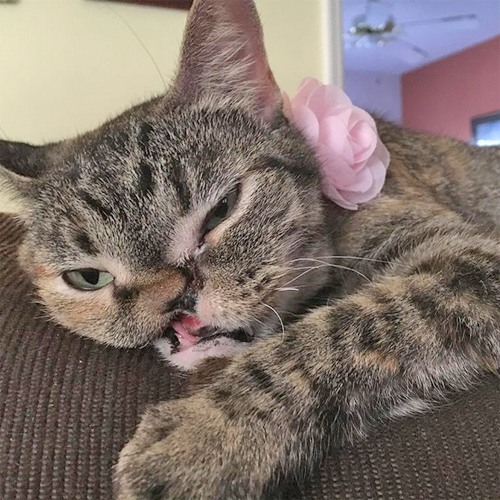 "She was shot by her owners when she was a kitten because they thought she was a rat," says Emily. "Petunia lost a good proportion of her left upper lip area and her nostril."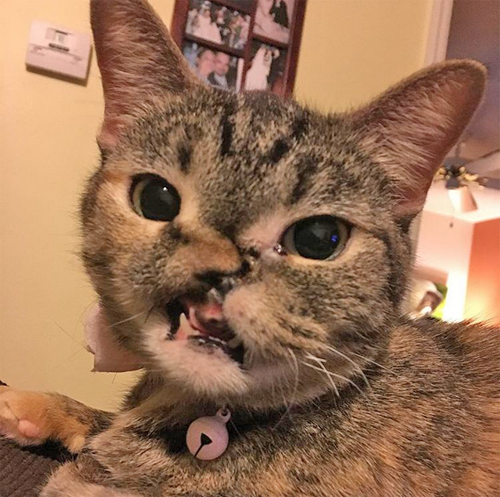 While no details are known about the treatment Petunia received following the incident, she went on to have a couple litters of kittens before she and her babies were rescued in early 2017 when she was approximately three years old. Due to the injuries Petunia had suffered, she was left with a number health issues, including breathing challenges and facial sensitivity.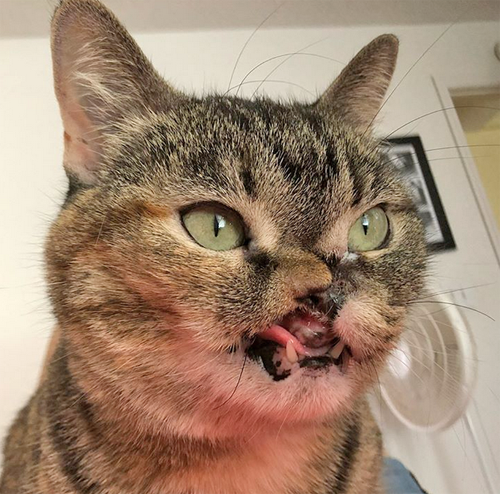 While Petunia needed a bit of extra attention, Emily — who began fostering her on February 16, 2017 — didn't mind making special accommodations for this adorable tabby. In fact, Emily enjoyed caring for Petunia so much, she eventually decided to adopt her, giving this unique cat a loving forever home. More than a year later, Petunia is doing very well, and she hasn't had any major medical challenges.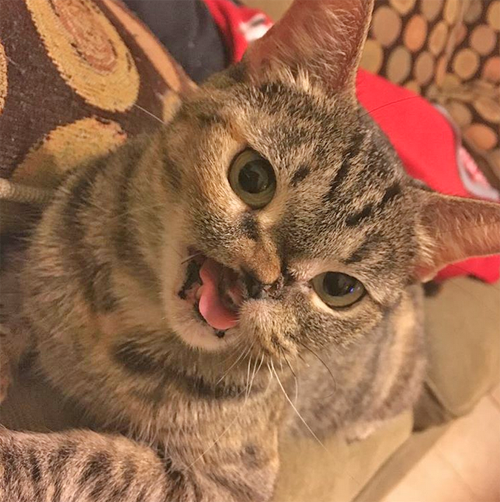 "We have to be careful health wise because of her breathing issues," explains Emily. "She is prone to upper respiratory infections. Eating can be a challenge as she eats with her right side only." Also, the area around Petunia's chin is a bit sensitive, so Emily and her family avoid petting this part of her face. However, she's an otherwise typical young cat who visits the vet twice a year for checkups to make sure that she's in good health.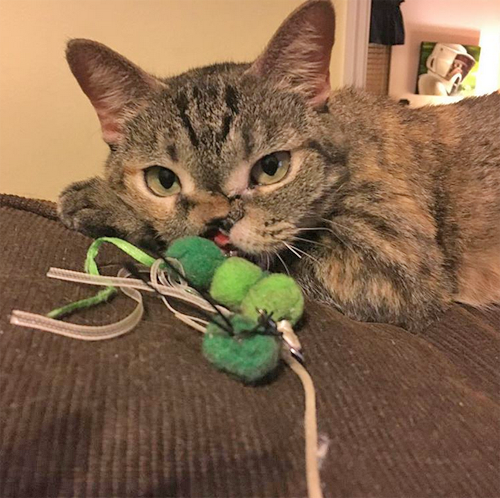 Due to Petunia's unique appearance, people often assume she is mean or standoffish, but Emily has found her to be nothing but incredibly affectionate and friendly. "She is very loving," says Emily. "She likes to snuggle and rub her face against yours, so much so that you can smell her breath."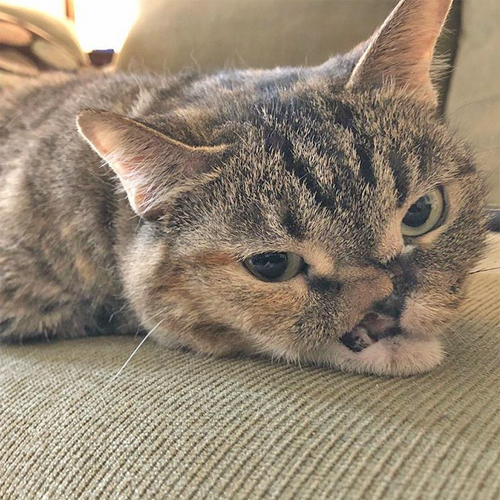 When Petunia's not cuddling with her family, this cute girl enjoys finding a cozy place to take a nap. "She loves to sleep in my son's bean bag chair," says Emily. "You can find her there at all times of the day."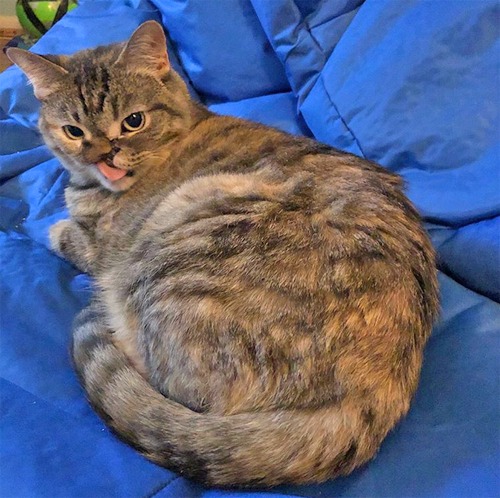 Emily, who now works at the Lake County Animal Shelter, continues to foster cats and kittens for the organization, but Petunia remains the only foster feline she and her family have ended up adopting. While Petunia isn't a big fan of the foster cats her mom often brings home from work — many of them kittens — she tolerates them, perhaps because she instinctively realizes that they are desperately in need of help just as she once was.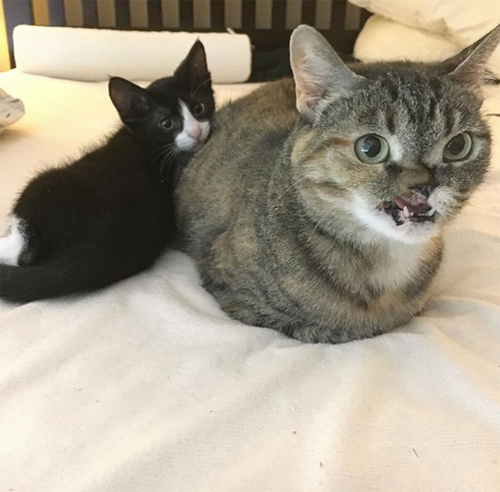 "We call Petunia — and animals like her — perfectly imperfect. The animals that come into the shelter everyday that are passed over — too young, too old, mother cats, the scarred ones, the sick and injured," explains Emily. "Petunia and other animals have so much love to give, but are often overlooked."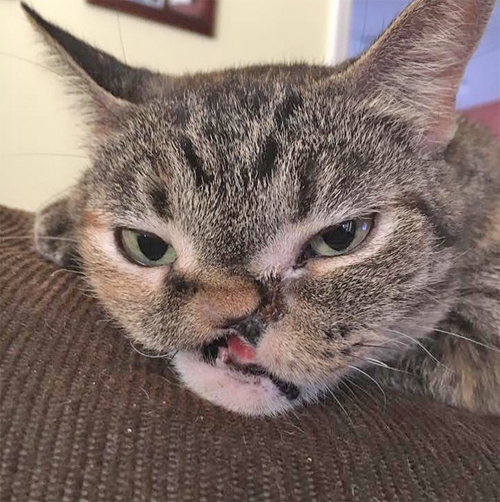 Thankfully, Petunia — who was permanently injured when her former owner shot her in the face — wasn't passed over, and today, she has a happy, loving home and a family that gives her the care and attention she deserves. "Petunia has gone through so much in her short life, and through all that she still loves fearlessly," says Emily. "She is just a happy cat and we love her so!"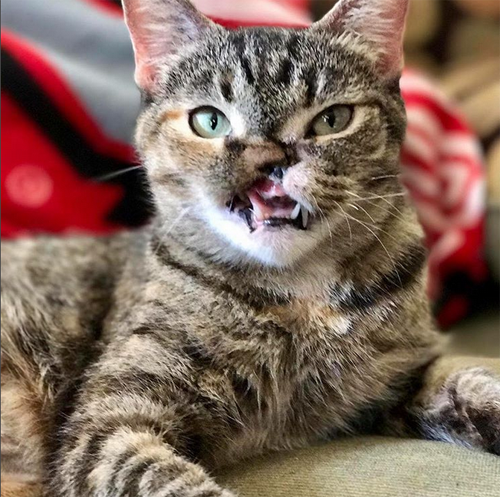 To learn more about this adorable cat, you can follow Petunia on Instagram.