When Amanda Sawyer saw a post about an adorable tabby kitten with cerebellar hypoplasia (CH) in a Facebook group for pre-veterinary studies, she was immediately drawn to the little special needs cat. Amanda — a college student who works at a wild life rehabilitation center every summer — was eager to learn more about the young cat, and she quickly discovered the kitten had been found in a barn by a veterinarian who was visiting the farm to check on livestock. "She was on her own, emaciated, very weak and unable to really move at all," says Amanda. "The vet was going to euthanize her when one of his assistants stepped in."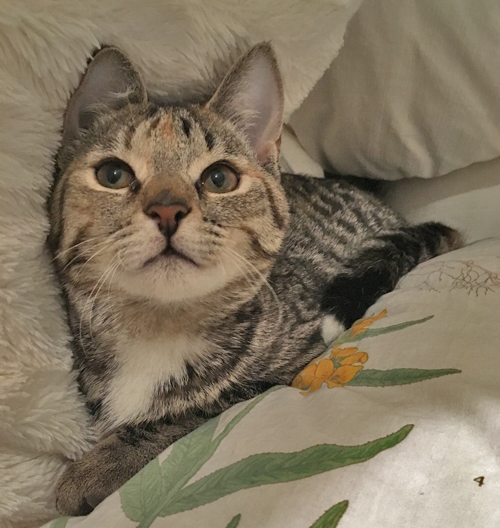 The veterinary assistant was familiar with cerebellar hypoplasia, a non-progressive neurological condition that impacts balance and coordination, and agreed to foster the kitten, who was just a few weeks old when she was discovered in May 2017. Cerebellar hypoplasia occurs in utero, often when a cat is malnourished or exposed to a virus or toxins during her pregnancy, causing her kittens to be born with underdeveloped cerebellums. "The other members of her litter were fine," says Amanda. "CH effects the entire litter, but can vary in degree from each kitten."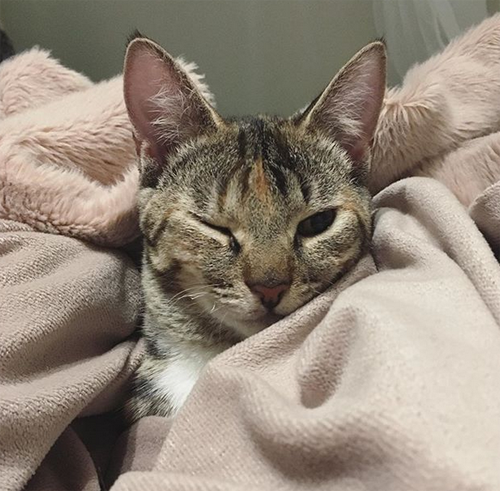 After seeing the Facebook post about the little special needs cat, Amanda arranged to meet the tabby kitten in person. "When I first met her, I was a little terrified," remembers Amanda. "She couldn't even stand up and I felt like I may have been a little over my head, but I was already in love with her." Amanda adopted the CH cat, naming her Koshka, and brought the special needs kitten to her home in Guelph, Ontario, Canada, where she attends school.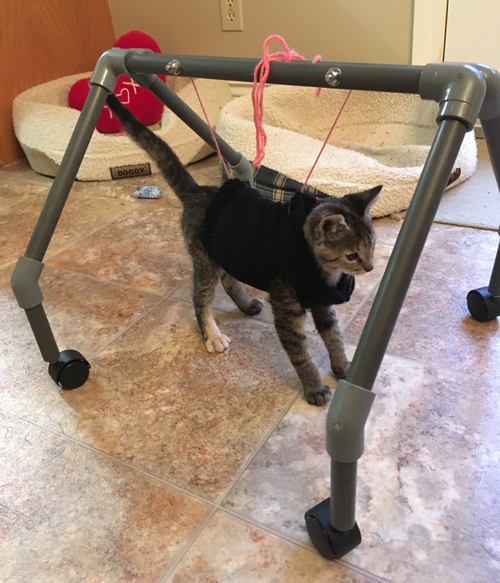 "Since her brain was still developing when I got her," says Amanda, "I was actually able to do some physiotherapy with her — that I learned while at the sanctuary — and her condition did actually improve a lot." Koshka, who was unable to even stand when Amanda met her nearly a year ago, is much more steady on her feet today, and she can even run! In fact, this adorable CH cat is incredibly active and even a bit wild, and she loves bouncing around on her mom's bed and playing with Lucy, Amanda's pug.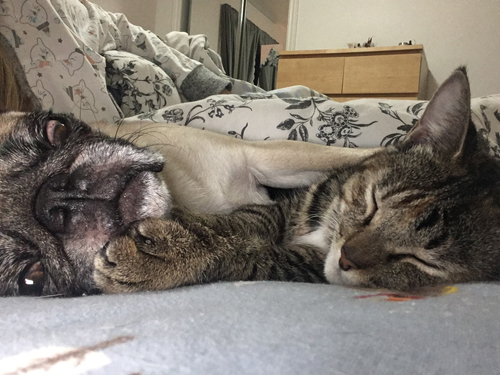 Koshka also enjoys watching animal videos, especially birds and fish, and this little cat even has her own phone for playing her favorite mice games. Plus, this energetic girl has a sweet and affectionate side, so she loves cuddling with her mom and her best friend, Lucy the pug. "Lucy is so gentle and careful with her," says Amanda. "When they sleep together they have to be right next to each other, snuggled up."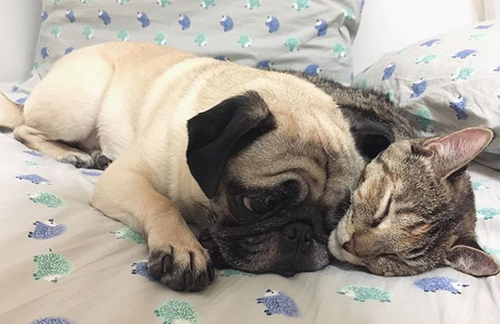 Today, Koshka — who was found malnourished and alone less than a year ago — is a happy and healthy kitten, although she did end up having all of her her teeth extracted due to chronic dental problems. Amanda believes because Koshka's mother wasn't given proper medical care while she was pregnant, this special needs cat was born with malformed teeth that chipped very easily and caused her a lot of pain and discomfort. "She is so much happier without them!" says Amanda. "She loves gum and jaw massages now!"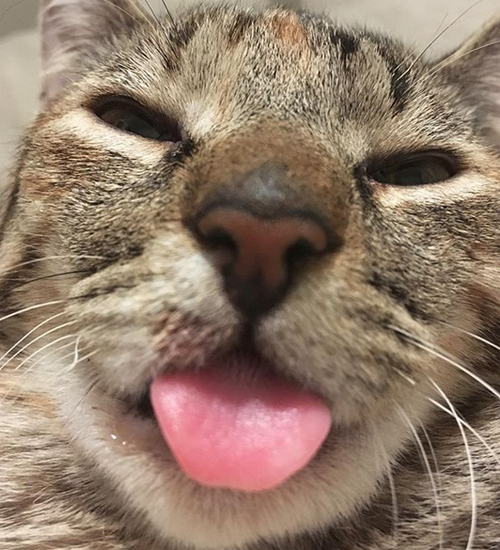 While some people feel sorry for Koshka, largely because she wobbles when she walks and falls over more than a typical kitten, Amanda is confident this special tabby is as content as can be. "She has an amazing quality of life and she is very, very happy," says Amanda. Indeed, Koshka is an extremely bright spot in Amanda's life, and this special needs cat has helped her mom through her struggles with depression, anxiety, and the demands of living away from home and attending college.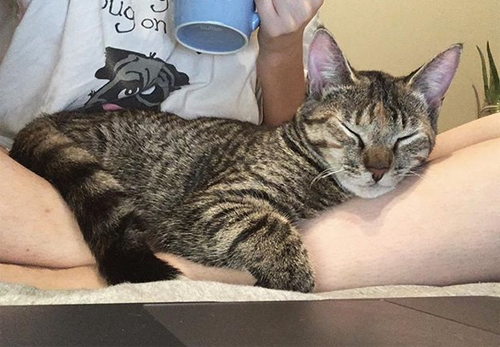 "She fills my life with so much love and happiness," says Amanda, and she is forever thankful for the veterinary assistant who refused to euthanize Koshka, and instead offered to give the little CH kitten a temporary home until her forever family came along. "I am so grateful for Koshka," says Amanda. "She truly means everything to me."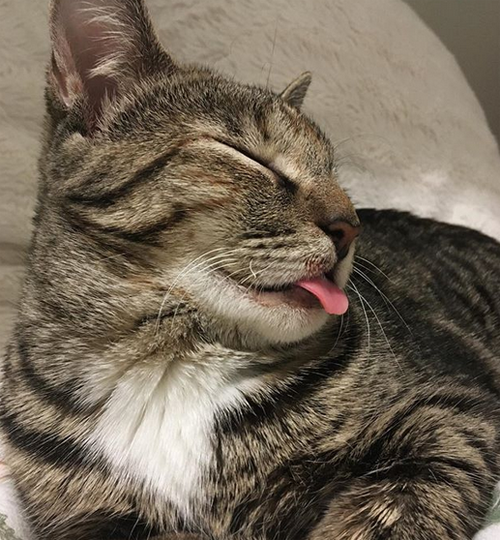 To learn more about this adorable kitten, you can follow Koshka on Instagram.
This article was made possible thanks to sponsorship from PrettyLitter, the health monitoring kitty litter!