When Alexandra learned that her aunt's friend was looking for a good home for a Siamese kitten who had been born with cerebellar hypoplasia (CH), she didn't know very much about the condition. Plus, Alexandra was still grieving the loss of her beloved cat, Schorsch, who had passed away less than a year earlier on December 21, 2011, but — being an animal lover — she agreed to help the special needs cat. "She asked us to take him because she knew our cats aren't allowed to go outside — only on the catio and in the garden," remembers Alexandra, "so our home was the perfect place for [him]."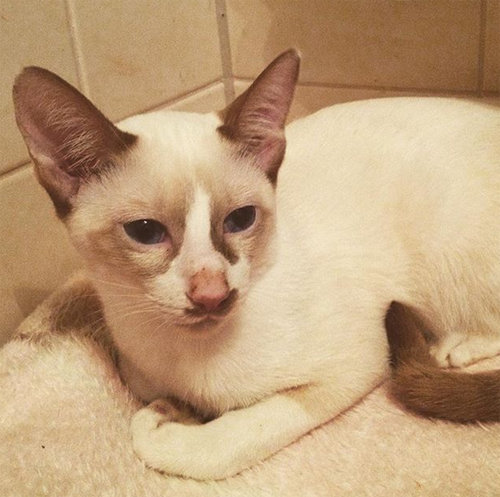 On October 13, 2012, the young kitten, who was approximately six months old at the time, arrived at Alexandra's home in Böblinge, Germany, and she named the little kitten Odin, an ode to the widely revered god from Norse mythology. "It turned out this name really fits," says Alexandra, "cause he is a little independent fighter." While Alexandra knew a bit about cerebellar hypoplasia, a non-progressive neurological condition that impacts balance and coordination, she wasn't sure how much it would impact Odin's day to day to life.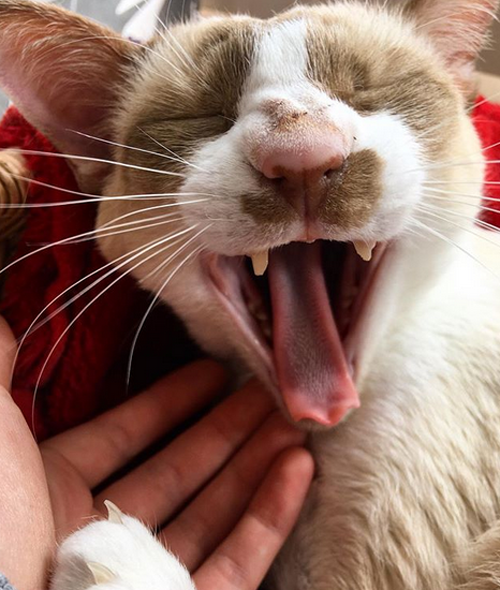 However, Odin quickly demonstrated that while he has a wobbly walk, he is a happy and active cat, although there were definitely a few challenges in the very beginning. "Nobody took care of him until he was brought to us," says Alexandra. "He was infected with giardia and roundworms." Consequently, for the first two to three weeks in his new home, this handsome Siamese cat had diarrhea, which is unpleasant under any circumstances, but particularly challenging for a wobbly kitten like Odin. "When he used the litter box," says Alexandra, "he often fell into his poop, so we had to wash him."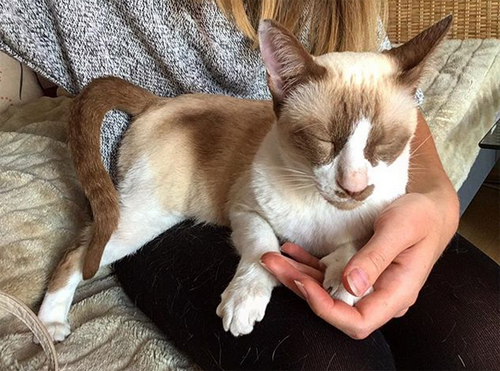 Thankfully, following successful treatment for the parasites, Odin's diarrhea disappeared, putting an end to this problem. In order to make it easier for this wobbly cat to get around his new environment, Alexandra attached carpet to the steps in her home, but otherwise, she had to do very little to accommodate Odin's special needs. "That wasn't really a challenge," says Alexandra, "but a matter of course to make his daily life a bit more easy."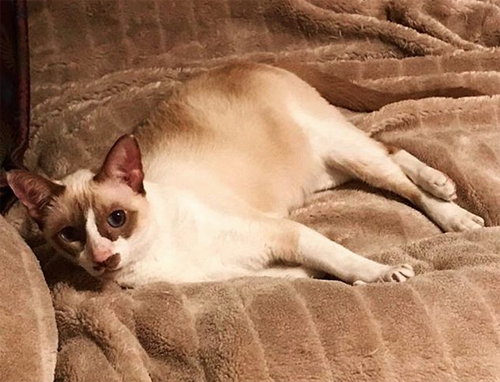 It's been more than five years since Alexandra decided to open her home to Odin, and this adorable Siamese boy has truly flourished with his family. "Odin has a very friendly and happy spirit," says Alexandra. "He wants to make friends with every single animal he meets."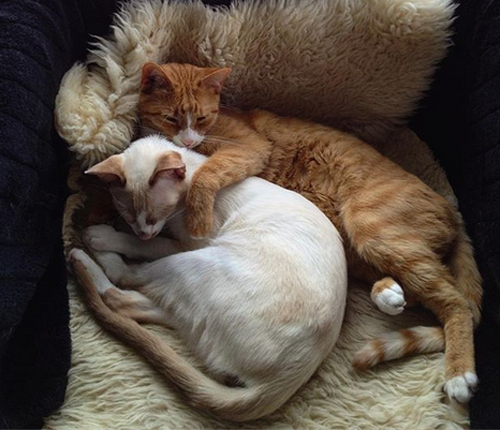 One of this wobbly cat's favorite pastimes is playing tag in the backyard with Fritz-Carlos, one of Alexandra's pet rabbits, and he absolutely loves spending supervised time outdoors. "When it's too cold to go outside," says Alexandra, "he loves to sit by the fireside," but there's nothing this sweet special needs cat enjoys more than when his mom gives him a fully body massage.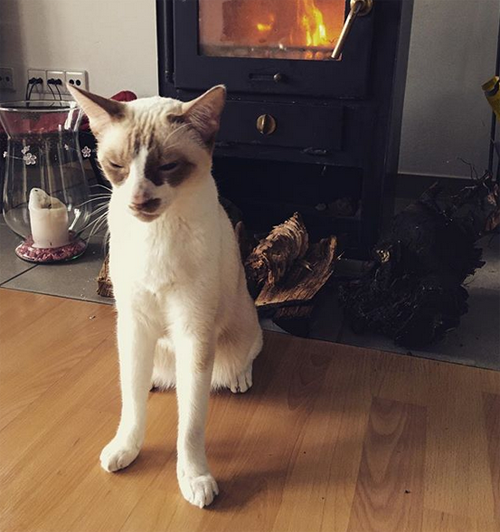 Odin also likes hanging out with his cat siblings, and Alexandra thinks that for the most part, he doesn't realize he's different from other felines. "Odin feels totally normal," says Alexandra. "He fights and plays with his mates and also plays tricks on them."
However, Alexandra believe that Odin, who is unable to jump to high places like other cats, occasionally notices that he has some limitations his siblings don't share, but this adorable Siamese cat doesn't seem to let this get him down. "He recognizes he can´t do everything," explains Alexandra, "but that doesn't keep him from finding his own way to get where he wants."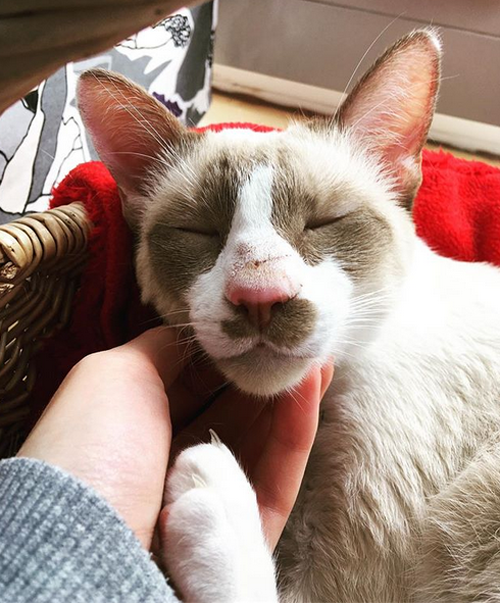 While the public is becoming increasingly aware of cerebellar hypoplasia — a neurological condition that occurs in utero when a cat is malnourished or exposed to toxins or a virus during pregnancy — Alexandra has dealt with people who question Odin's quality of life. "I still remember one moment when I told one of my colleagues at work about Odin," says Alexandra. "He didn't — or did not want to — understand Odin has lust for life too, and [he] asked if it wouldn't be better to euthanize CH cats." Thankfully, Alexandra realizes that Odin is a happy and healthy boy who just happens to have a wobbly walk, and she thinks animals like her special needs kitty are far better at coping with disabilities than most people.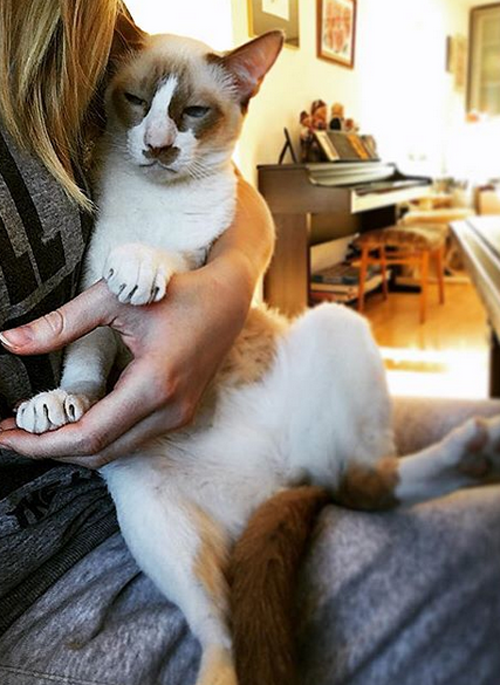 Not only has this wobbly cat taught his mom about overcoming challenges and persevering when obstacles seem insurmountable, this beautiful kitty has also helped Alexandra cope with the loss of her beloved cat Schorsch, who passed away just months before Odin was born. "This left a very deep hole in every single room of the house and in my heart," says Alexandra. "Though Schorsch was the most quiet and reserved of all four cats, I could feel the emptiness he left when I entered the house."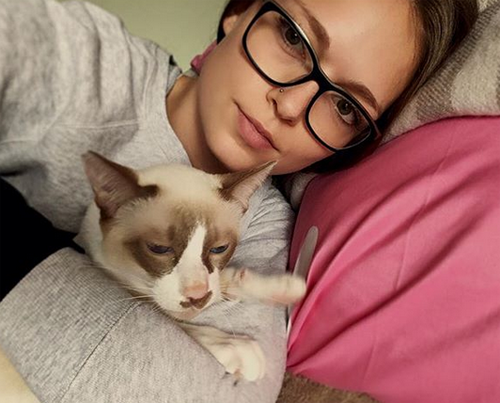 While Odin — who couldn't be more different from Schorsch if he tried — could never be a substitute for Alexandra's irreplaceable pet, this special needs cat brought her some much needed light during a dark time. "I met Odin," explains Alexandra, "and he filled this emptiness step by step with his loud meow and his funny, loving character. Odin also taught me a lot about life."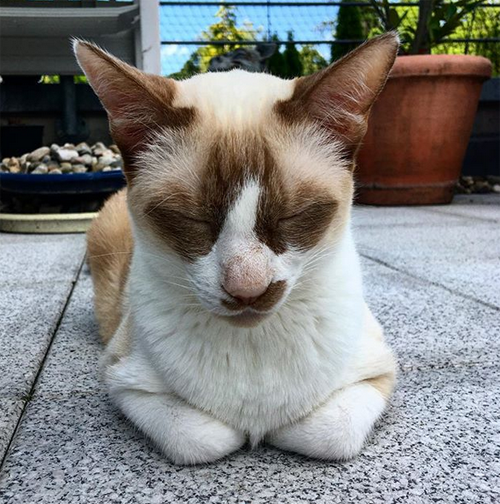 To learn more about this remarkable cat, you can follow Odin on Instagram.