When Ashley, an experienced foster cat mom, saw a Facebook post about a newborn black kitten who had been abandoned by her mother, she knew she had to help the tiny cat. "[The kitten] had been crying all day, and no mother ever came for it," says Ashley. "The person who found her had no experience with kittens and was very nervous for her."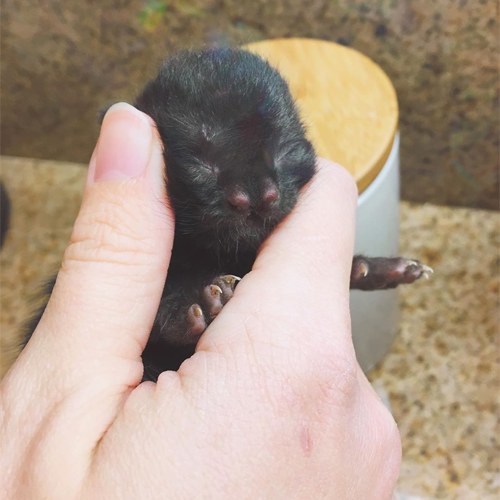 On April 4, 2020, Ashley left her home in Oxnard, California, and made the 30 minute drive to collect the little black feline. She knew the young cat was approximately 18 hours old, but because it was dark when she arrived to pick up the neonatal feline, Ashley didn't get a good look at the kitten until she returned to her house. "Once I got home and examined her under the lights, I noticed right away that her nose was different," remembers Ashley. "I realized then that [her] mama had most likely abandoned her due to her abnormal appearance and odd cry."
View this post on Instagram
Initially, Ashley thought the kitten had both a cleft nose and a cleft palate, but over time she learned the diminutive black cat actually had very mild hydrocephalus, a neurological condition characterized by a build-up of fluid in the brain, and a tiny cleft, or opening, in her palate.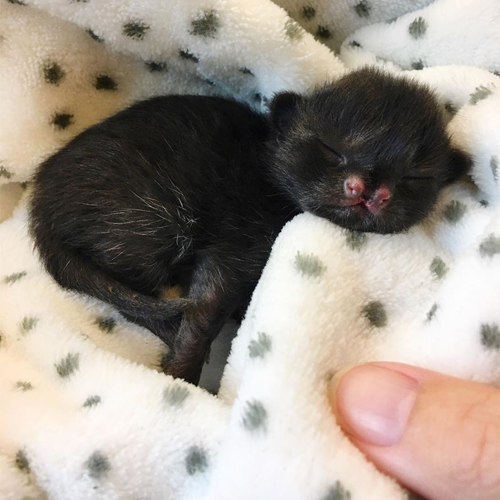 While it took a while for the unique cat's congenital conditions to be diagnosed, her strength and tenacity was apparent to Ashley right away, prompting her to name the brave feline Aela. "One of my favorite video games has a character named Aela who is a fearless, strong huntress and warrior," explains Ashley.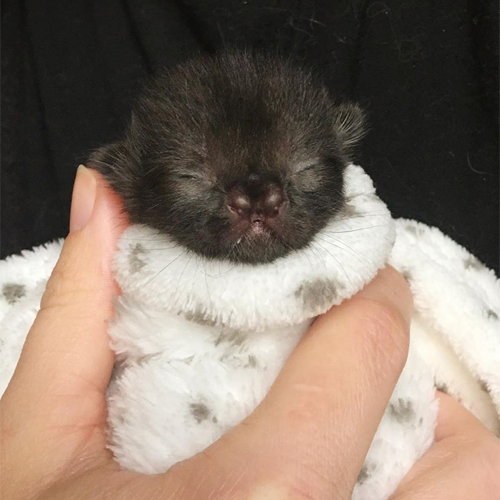 Shortly after bringing Aela home, Ashley attempted to feed her kitten formula from a bottle, but the tiny special needs cat struggled to get the hang of being bottle-fed. Thankfully, Ashley had experience with tube feeding, a delicate process that involves inserting a catheter — attached to a syringe filled with kitten formula — into a cat's mouth and guiding into their stomach.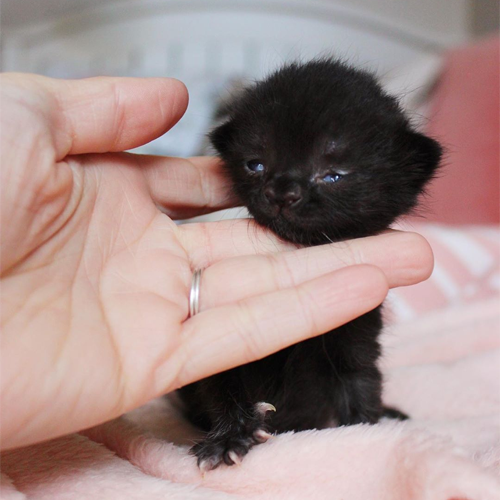 "I had to tube feed her until she was able to safely eat from a syringe," says Ashley, and Aela also had to be treated for an eye infection she had developed before she was rescued.
View this post on Instagram
Thankfully, the infection cleared up with the help of medication, and Aela eventually learned to eat on her own. Approximately two months after she was rescued, this beautiful special needs kitten is doing great!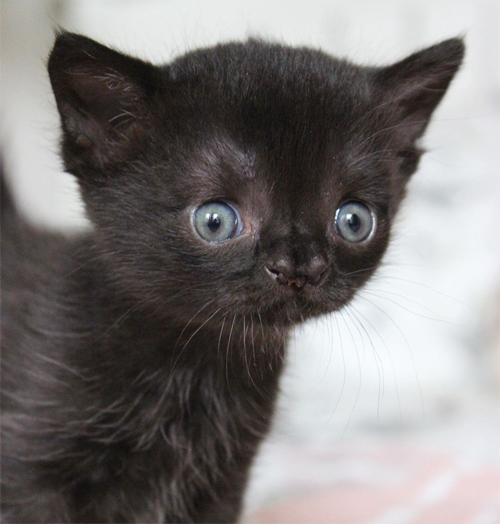 Like a typical cat, Aela loves to play, especially with wand toys, and she enjoys popping around corners to surprise the adult cats who share her home. "She will literally play with anyone in the house," says Ashley. "We have two dogs and she will 'crab walk' up to them, swat the tags on their collars, and play this weird writhing game with one of them. He drops to the ground and writhes around on his back while she watches, then she writhes around while he watches."
View this post on Instagram
While she may look a bit different from the average feline, Aela has no trouble eating or using the litter box, and she's just as smart, healthy, and active as any other cat. "She has no neurological symptoms so far," explains Ashley, "and she has hit every developmental milestone either on time or slightly delayed."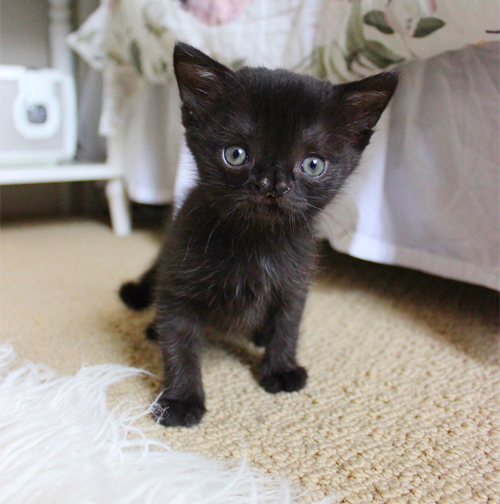 However, due to Aela's unique appearance, people often assume she's in pain, but her foster mom is confident this fun-loving kitten isn't the least bit uncomfortable. "She thrives and plays and loves just as hard as any 'normal' kitten," says Ashley. "She is a little bit wacky, but that's just her personality, and it's not necessarily a result of her conditions."
View this post on Instagram
Still, it can often be difficult for cats with congenital conditions to find forever homes because there are people who wrongly believe it's impossible for them to have happy and active lives. "People tend to be afraid of adopting special needs cats, but they are missing out on the love and laughter that these cats give," says Ashley.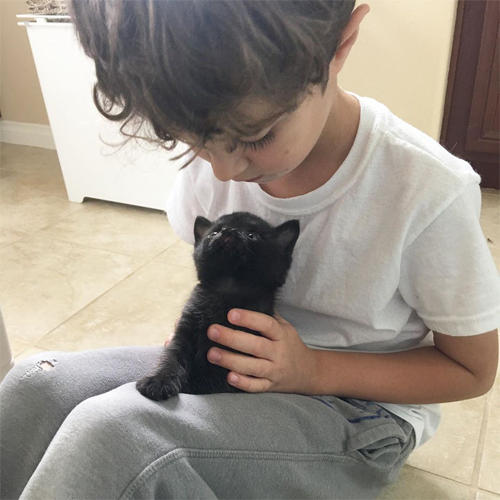 There are also individuals who assume all special needs cats require a lot of extra care and expensive treatments. While this may be true for some felines, it isn't the case for Aela. "Due to her abnormal nose, we do have to monitor her for upper respiratory issues," explains Ashley. "But so far, she really hasn't had any major issues!"
View this post on Instagram

However, it's possible medical challenges might arise in the future, so at the advice of her neurologist, Aela won't be available for adoption until she's at least six months old. "Her neurologist advised she stay here until that time to monitor for any possible new developments with her hydrocephalus," says Ashley.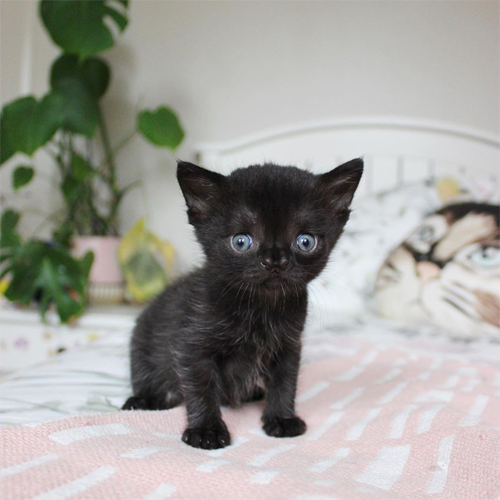 Hopefully, Aela will have continued good health, but any potential adopters will need to be willing and able to provide her with the care she might eventually need, including surgery and regular medication. Also, because this little girl is very social, her foster mom would like her to find a home with other at least one other cat, as well as with people who will be able to give her the time and attention she needs to thrive. "We do not anticipate her being the kind of cat you can leave alone for work for 10 hours a day," says Ashley.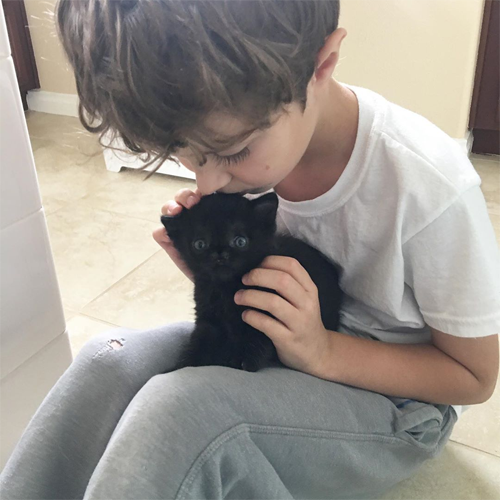 Fortunately, multiple people have expressed interest in adopting Aela, so it shouldn't hard for this beautiful special needs kitten to find a forever home. When Aela's adoption day arrives, it will be bittersweet for her foster family, because since the moment Ashley brought her home, this one of a kind cat has had a huge impact on their lives.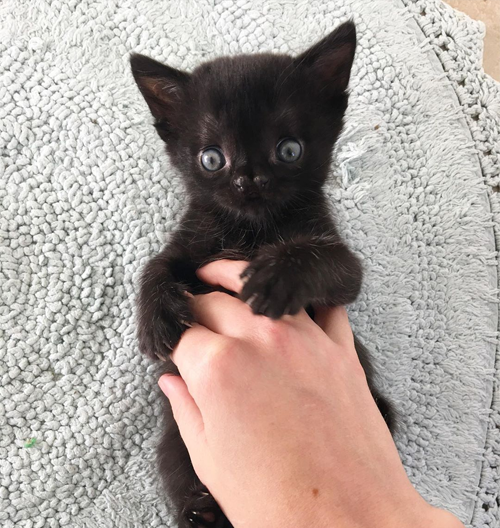 "Aela came to me at a time when I was mentally very low [due to the COVID-19 crisis and California's stay-at-home order], and caring for her round the clock brought me back up," says Ashley. "Having such a fragile, intriguing new little one kept my mind off my own problems, and then as she grew and her personality developed she just kept making me and my whole family laugh. She's been such a wonderful little distraction."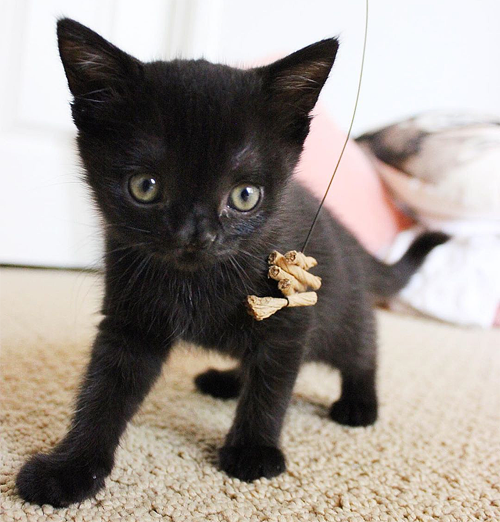 To learn more about this adorable kitten, you can follow Aela on Instagram.