After parking her car in a lot in early August 2018, Mary started heading towards the grocery store to pick up her prescription, but the sound of barely audible crying made her stop in her tracks. Following the noise to a nearby vehicle, Mary — an animal lover who has a wide assortment of pets — realized a tiny male kitten was trapped in the rods and wires behind the car's tire, unable to get free. "It was over 100˚F, super humid, and not a cloud in the sky," Mary remembers. "No one knows how long he was out there in that hot parking lot before I found him."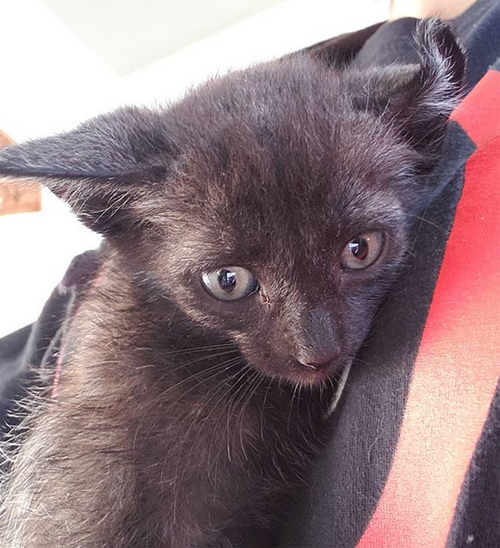 Determined to free the small black cat, Mary crawled underneath the vehicle and reached behind the car's tire until she managed to lay her hands on his frail little body. "As soon as I touched him he stopped crying and relaxed into my hand," says Mary. "I was able to untangle him and stuffed him inside my jacket as I had nowhere else to keep him."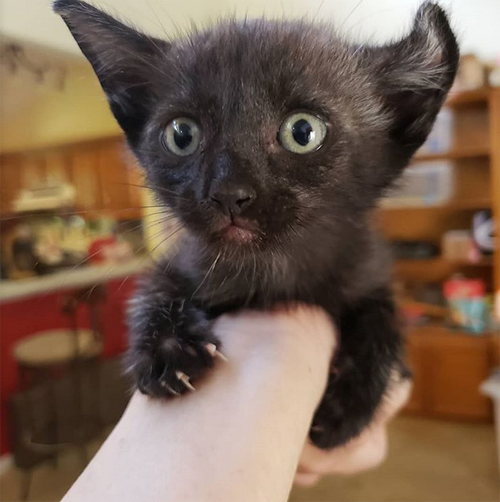 The kitten accompanied Mary into the store, and by the time the pair left the shop they had already developed a special bond. After making the 20 mile drive back to her family's home in Magnolia, Texas, Mary examined the little kitten more closely, finding he was approximately five weeks old and in poor health. "He was severely dehydrated and full of fleas," says Mary. "He had 'fever coat' that made him look 'wolfy' and his ear and paw had been burned by the hot metal of the car engine."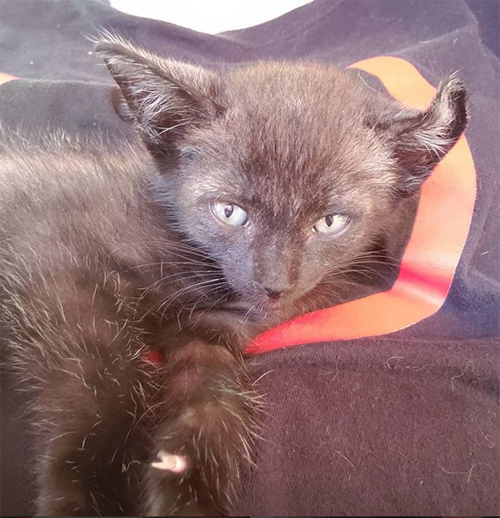 Being an experienced cat foster mom, Mary knew the kitten was in a fragile state, so she stayed awake with him the entire night, giving him drops of water via a syringe every 20 minutes. "He was so dehydrated that his skin was tight," remembers Mary. "He could barely stand and his front legs were slightly bowed. He couldn't retract his claws, so he had little grizzly bear feet on top of it all! He was such an adorable mess!"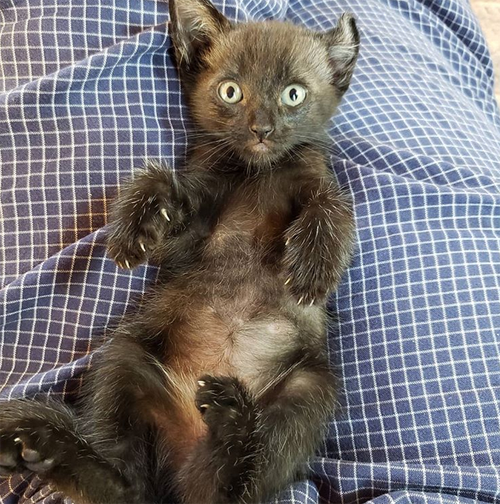 The follow morning, the little cat had made improved significantly, and as he was considerably more alert, Mary began giving him a bit of kitten formula to get some much-needed nutrients into his malnourished body. As the kitten — who Mary and her husband Aaron named Kesto, a phonetic shortening of the Spanish "que es esto?" — got better, he was introduced to the other animals who shared his home, and it quickly became obvious to everyone that Kesto was destined to become a permanent member of the family.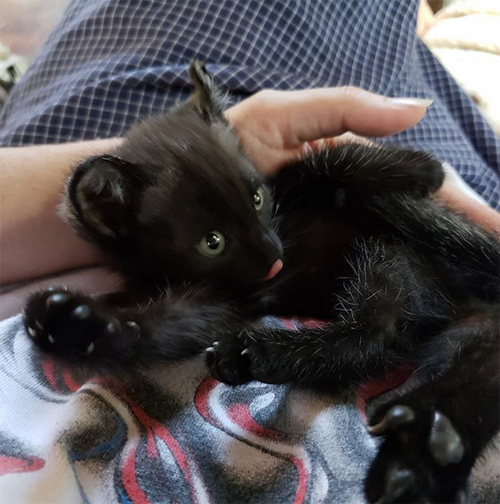 "This was my new baby and that was that," explains Mary. "All my other rescue fosters had been found by other people and cared for by me. This was the first time I had to actually free a baby to save him. There was an instant bond — I was the new mama." Within a few days, Kesto had drastically improved, but Mary knew he still needed medical attention — especially for his injured ear — so she took him to her vet.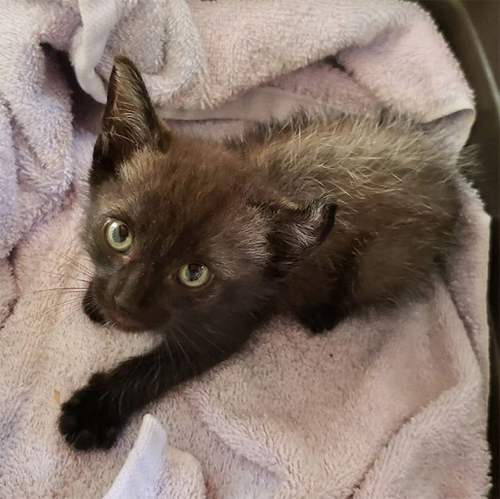 After examining Kesto, the veterinarian determined the kitten's ear couldn't be saved, but it also didn't need to be surgically removed. "It was singed and needed to be left to 'dry out' and come off on it's own like a scab," says Mary. "He was given antibiotics and an ointment for his injuries." For the next few weeks, Mary had to soak Kesto's injured ear in water and apply antibiotic ointment to it twice a day, an experience the tiny black kitten absolutely detested.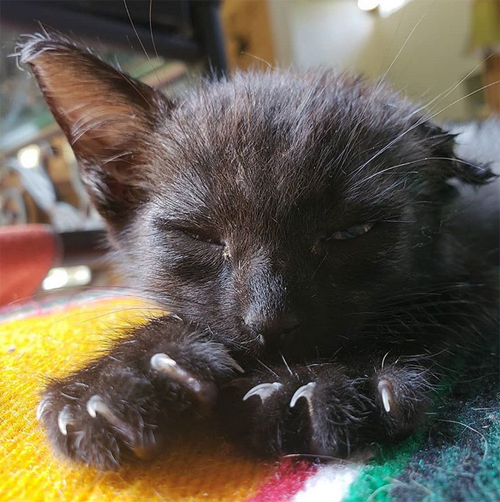 "It was heartbreaking to hear him crying and to hold him as he struggled, but it was work that needed to be done for him to get better," explains Mary. "He hated the cleanings and ointments, but as soon as the tip came off and he was officially in the last rounds of healing, it was like it never even happened." Three months after he was rescued, Kesto is doing better than ever, and while he only has one ear, it doesn't stop this adorable boy from enjoying his new life with Mary, Aaron, and their menagerie of pets.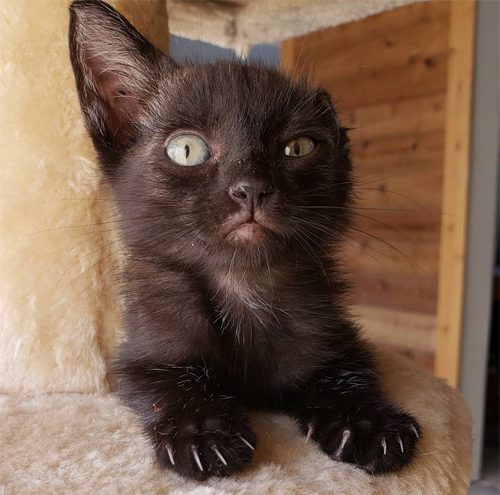 In fact, Kesto has formed strong bonds with the other animals who share his home, especially East, his cat sister. "His best-est friend ever is the little tiger girl, East," says Mary. "For being only a few months older than him, she's very patient with his baby antics. They love to snuggle and wrestle. They enjoy chasing each other up and down the cat trees, too."
View this post on Instagram
He also adores spending time with Rio, Mary and Aaron's terrier-mix dog, who loves mothering and nurturing Kesto as if he were her puppy. Even though Kesto — who is feisty and full of energy — is an incredibly happy and well-adjusted young cat, his unique appearance causes a lot of people to treat him with sympathy and pity, especially after they learn how he lost his ear.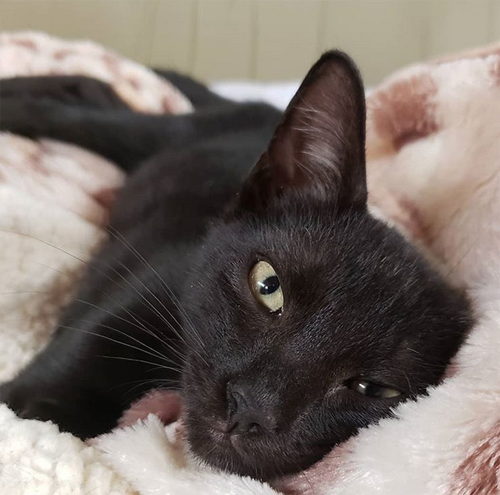 However, Mary is certain this incredibly cute one-eared kitten doesn't know he's different, and there's really no reason for anyone to feel sorry for him. "He. Is. Not. Broken." says Mary. "He does all the exact things the other cats do, except he's got one less ear to clean." While Mary acknowledges the day she rescued Kesto was probably extremely traumatic for him, she's confident that ordeal is a distant memory for this special little boy.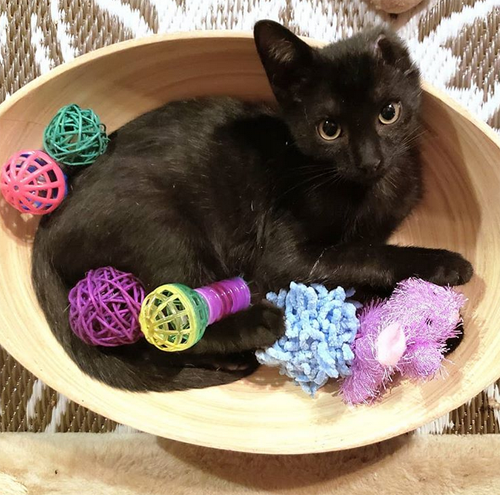 Even though Kesto lost one of his ears after crawling into the engine compartment of a car, the experience enabled him to find his forever family, something Mary is incredibly grateful for. "He brings such joy and energy to our home — he's so curious and brave!" says Mary. "I love watching him grow. I love this little cat so hard!"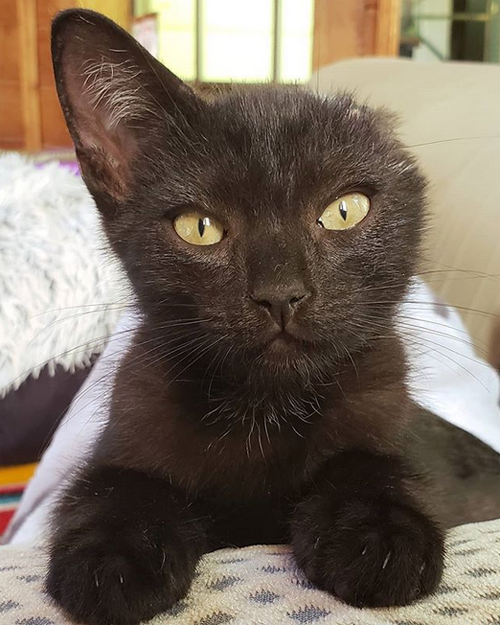 To learn about this adorable boy, you can follow Kesto on Instagram.