When Skittles returned to Humane Society for Greater Savannah (HSGS) in the summer of 2018, she was a very different cat from the one who had been adopted from the organization as a kitten eight years earlier. Over the course of a couple of months, Skittles — a stunning calico cat — had developed partial paralysis, making her incontinent and unable to walk, and her family was at a loss as to how to care for her.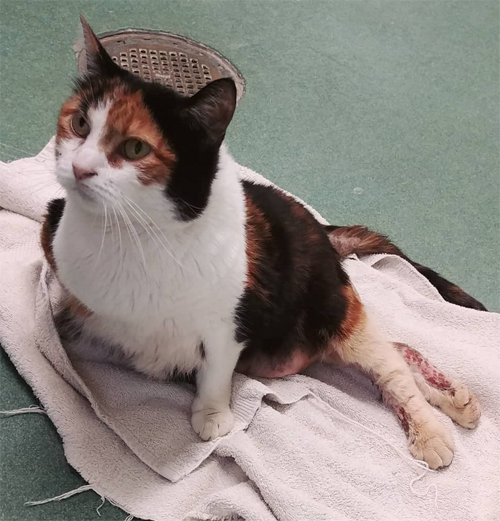 "They thought that she didn't have any quality of life left, and I don't think they really knew what to do with her because when she came in she did have a lot of road rash where she had been dragging her legs around," explains Courtney Foor, Adoptions Manager at Human Society for Greater Savannah. "I think they just didn't think that there was much hope for her."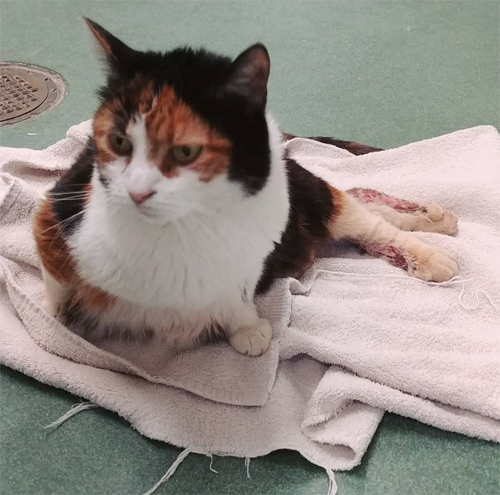 As a result, this 8-year-old girl's family brought Skittles into HSGS to have her put to sleep. Fortunately, before any owner-requested euthanasia is performed at the organization, the animal is examined by one of HSGS's veterinarians to determine if it's truly the right option. "Our vet evaluated her all of five minutes and he said, 'No, this cat can have perfect quality of life. This is just something that we have to work around. This is just a challenge,' " remembers Courtney.
View this post on Instagram
Following a number of diagnostic tests — including x-rays — the veterinary staff at Humane Society for Greater Savannah was unable to determine the cause of Skittles's partial paralysis. While Skittles's family explained that an incident with a dog preceded the issues with her bowels and hind legs, there's no evidence to indicate this beautiful cat's paralysis and incontinence was caused by some sort of trauma.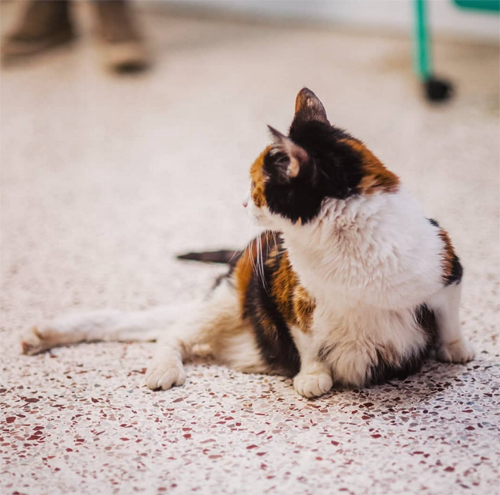 "They did mention that several years ago she got attacked by a dog, and then years went by," says Courtney. "They said that she'd only had this partial paralysis for a couple months. So they have no idea what happened; we have no idea what happened." While the x-rays didn't reveal the cause of Skittles's paralysis, they did show that she was on the verge of developing mega colon, abnormal dilation of the bowel that can lead to severe constipation. Left untreated, mega colon can actually result in death, making it an incredibly serious condition.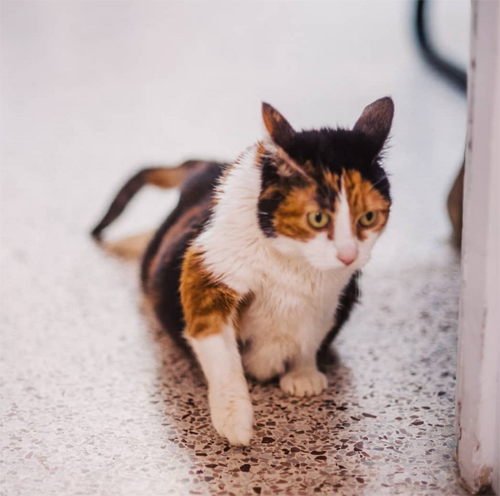 "She was so backed up that [the vets] were really worried, so immediately after getting the x-ray and seeing that, we did an enema," explains Courtney. To help keep Skittles's bowels functioning properly, the staff at HSGS adds powdered laxatives to her wet food, and a few months after she was brought into the organization, this adorable calico cat no longer struggles with constipation.
Skittles is also much more mobile than when she was surrendered to Humane Society for Greater Savannah, thanks to all of the different treatments she's received over the past few months. While other cats might be resistant to walking on an underwater treadmill or sitting still and wearing eye goggles while getting laser treatment, this incredibly special girl takes it all in stride.
View this post on Instagram
"She's got such a good temperament and she's so go with the flow," says Courtney. "All of this physical therapy — from the water therapy to the laser therapy — she takes it like a champ. She really doesn't complain — she's a little trooper."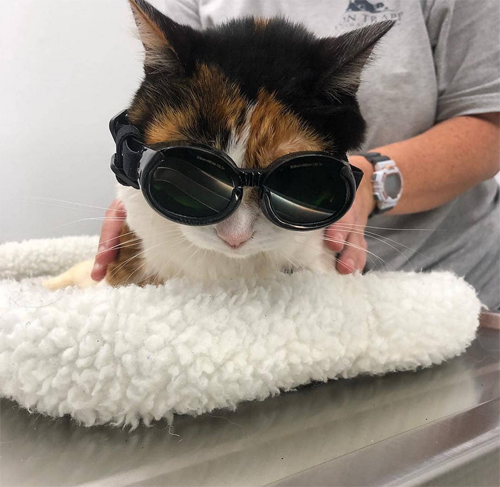 Even though the treatments have made it much easier for Skittles to get around, she's still not able to walk like an average kitty, but that doesn't stop this sweet and affectionate feline from enjoying her life. "She loves to look out the window and she loves to sleep in her carrier — that is always her go to spot," says Courtney. "I don't know if she likes to go in there because she thinks she's going somewhere, but she'll just put herself to bed. She's a very typical cat."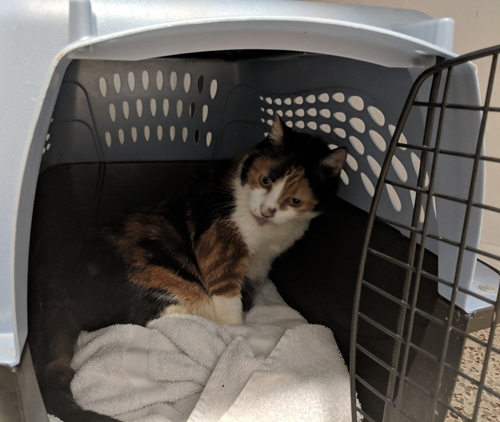 While it's obvious to the staff and volunteers at Humane Society for Greater Savannah that Skittles is a very happy girl who would make a great pet for the right person, not everyone believes cats with special needs are capable of having good lives. However, Skittles — who loves to cuddle, enjoys being groomed, and is very much engaged with the world around her — is proof paralyzed and incontinent cats can have excellent lives.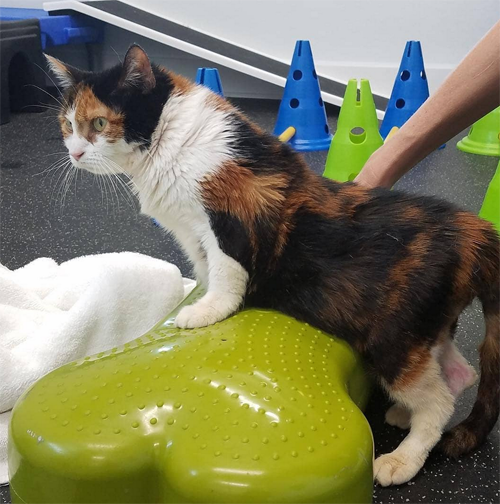 "People just have to understand that just because she doesn't run around the house and she doesn't climb the cat tree, doesn't mean she can't be happy," explains Courtney. "She is perfectly happy doing what she does. Not every cat has to do the same thing in order to be a happy cat."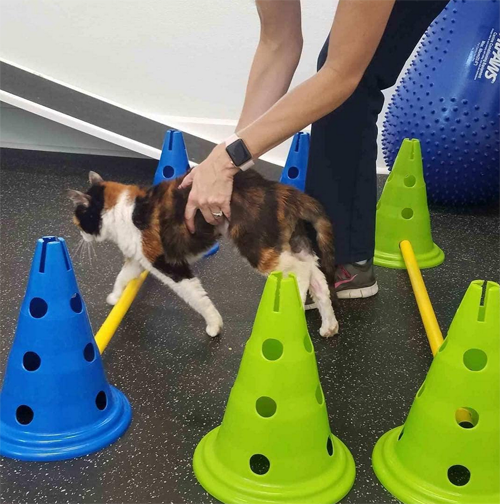 Thanks to the tremendous progress she's made over the past few months, Skittles is now ready for her forever home, and while she needs a bit of extra care — including regular baths — looking after a cat with paralysis and incontinence isn't as difficult or time-consuming as a lot of people might think. "It's just not that big of a challenge as an owner. It might seem daunting, but it doesn't impact the owner's life a whole lot. It's mostly the same type of a care," says Courtney. "All she needs is to be cleaned up everyday and then she goes about her day just like any other cat."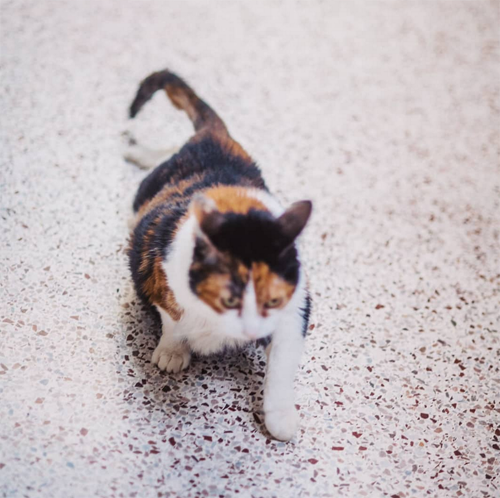 Since she was brought into Humane Society for Greater Savannah to be put to sleep, Skittles has made massive improvements, and there's no reason to believe her progress will cease once she finds her forever home. "If somebody wants to continue doing the physical therapy with her — to continue working with her, building the strength in her legs — she might even get to the point where she can just hop around the house on her own," says Courtney. "If we had a little wheelchair for her, she'd be zooming around here on that wheelchair — it's just not something that we can purchase."
View this post on Instagram
When Skittles's family finally comes along, there's no doubt Courtney and everyone else at Humane Society for Greater Savannah will miss this sweet and chatty girl who inspires the organization's staff and volunteers with her indomitable spirit. "If you're stressed — if you had a bad day, or something sad happened — you just go visit with Skittles," says Courtney. "She's just everybody's little love bug. Because she has made such great improvements, it's this hope that she can give everybody. She's never upset; she always wants to get scratches and get love and pets. She doesn't seem intimidated or scared by anything. She's a strong little girl."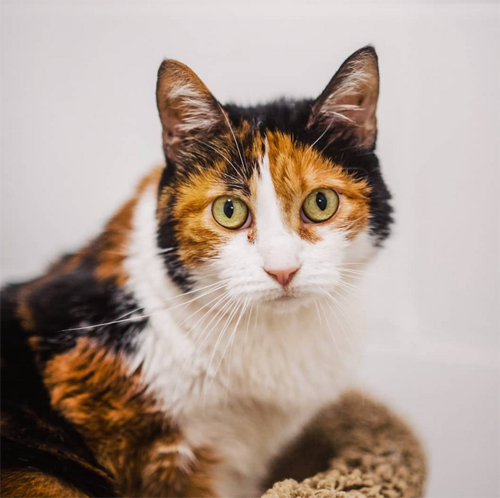 To learn more about this gorgeous girl, you can follow Skittles on Instagram.
If you're interested in adopting Skittles, please contact Humane Society for Greater Savannah.