During Angela Giannini's month-long sabbatical from work during the summer of 2007, she was volunteering at her local animal shelter — bathing 11 cats with ringworm — when she noticed one of the kittens seemed different from the others. "He was so tiny," remembers Angela, "and you could tell something was not quite right."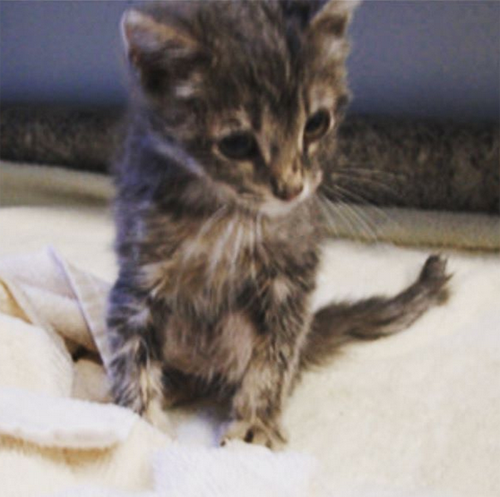 Eager to know more, Angela asked the staff at the shelter about the unusually small tabby kitten and learned Koko (formerly Kiki) was only a few months old and had already had a very difficult life. "I learned he had been stepped on by his first family at two months old," says Angela, "and they broke his jaw and his brain was exposed and he was having seizures."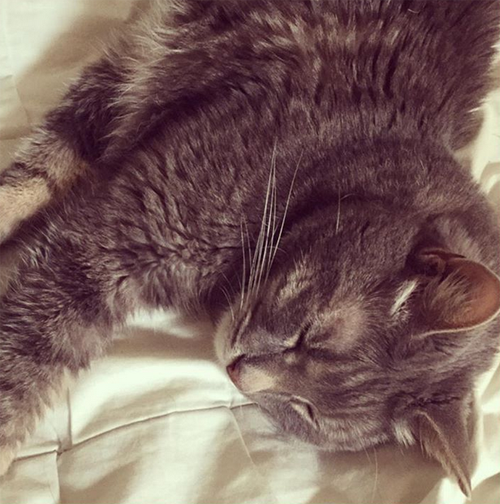 Angela also discovered that Koko — who was blind in one eye — ended up at the shelter after his family took him to be euthanized following the accident, but the veterinarian thought she would be able to save the young cat, although she didn't expect him to have a very long life. "That vet said he would probably only live to about four," says Angela.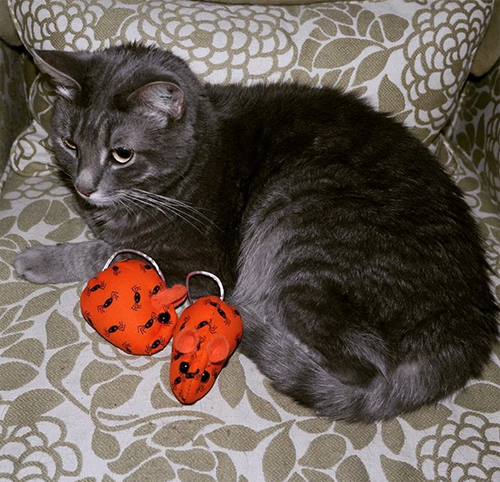 When Angela got home that day, she told her husband about Koko, and the following week, the couple went to the shelter to visit him. Certain that someone would adopt the adorable kitten even though he had been given a shortened life expectancy, Angela and her husband decided to foster Koko until he found his forever home. "That month, I worked rehabbing him every day to help his little brain recover," remembers Angela. "He started to play and act more like a kitten."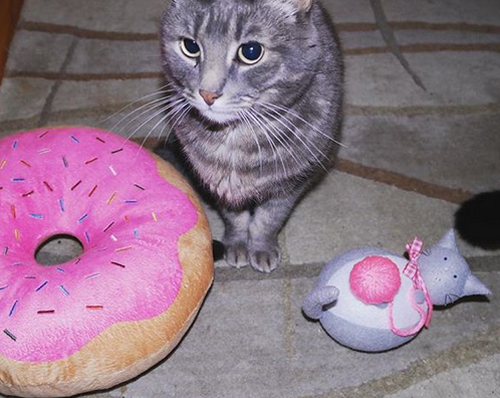 However, Koko still had a very bad case of ringworm, so for the first few months at Angela's San Francisco home, he was kept in quarantine. "He stayed in our master bedroom and bathroom for three and half months until he was clear of the ringworm," says Angela.
While the couple's vet didn't want them to adopt Koko, Angela and her husband took him to an eye specialist and a neurologist to find out more about his health issues, as well as the quality of life he could be expected to have. "We saw a neurologist who said Koko was happy and there was really nothing to do or worry about," explains Angela, so she and her husband officially adopted him on August 28, 2007, when he was approximately five months old.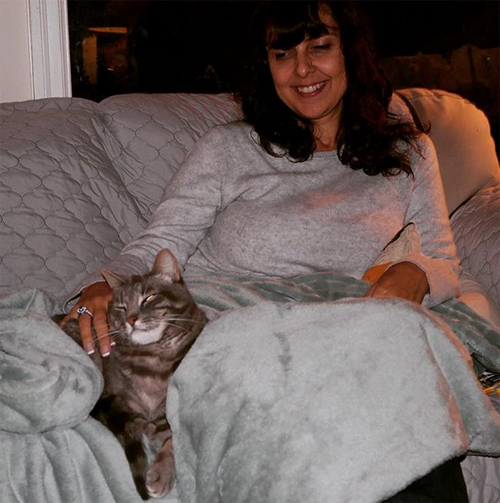 Over the course of the next year, Koko continued to grow and develop, and despite what he'd endured as a young kitten, he was happy, active, and relatively healthy. However, in August 2008, Koko started having seizures again, and Angela and her husband took him back to the neurologist and requested an MRI of his brain, the results of which surprised even the doctor. "He said he had never seen it before," says Angela, "where Koko's left side of his brain is gone and is filled with fluid."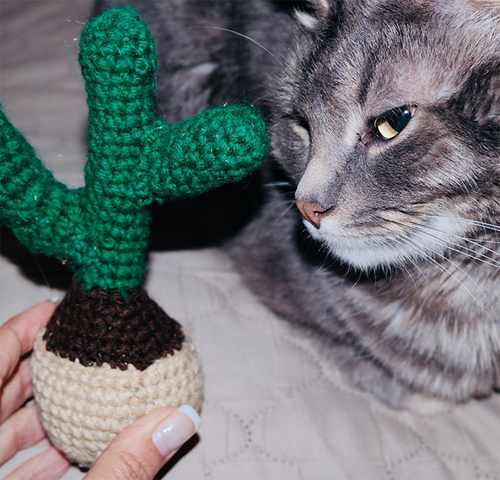 Angela contacted one of her friends, a neurosurgeon who specializes in the treatment of epilepsy, to find out what he thought may have caused Koko's abnormal brain development. "He told me this can happen to people and animals in the womb where the virus eats away at the brain," says Angela, "but he believed it happen early in the womb since Koko can eat, run, and use the litter box."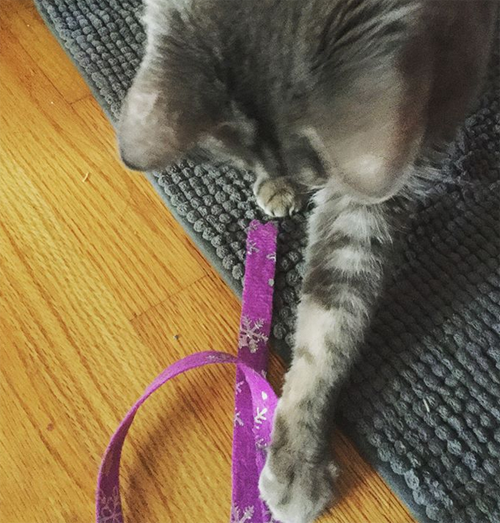 Once experts identified what was causing Koko's epilepsy, he was placed on medication to control his seizures, and nearly a decade later, this handsome cat — who one vet thought wouldn't live to see his fifth birthday — will turn 11 next month. "Koko is on phenobarbital twice a day and we give him extra protein like someone with epilepsy," says Angela. "He has not had a seizure in four years."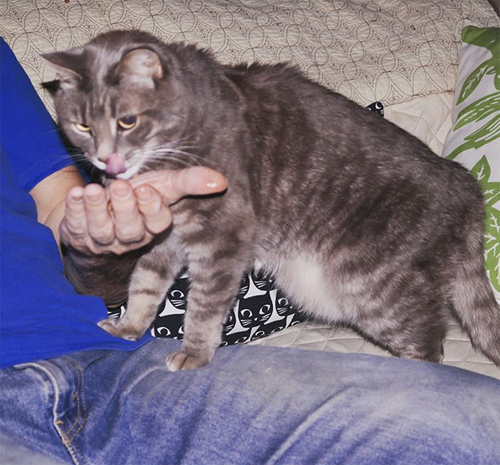 While Koko is technically a senior cat, due to the brain injury he suffered when he was only a few months old, he seems much younger than his chronological age. "Our vet said he would probably always be like a kitten, which he has been," says Angela.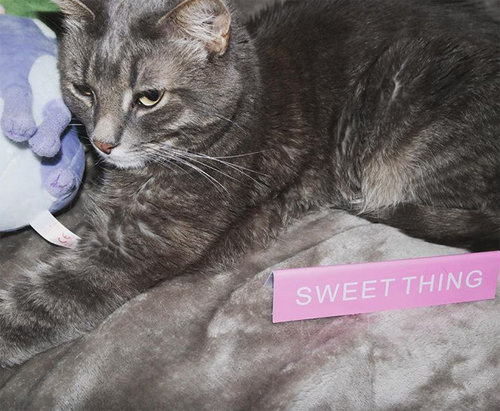 While Koko can't jump as high as the average cat, he has no trouble playing, using the litter box, and getting where he wants to go, but he doesn't express his happiness like a typical feline. "He cannot purr, but he grunts when he is happy," explains Angela. "He has his own special language which the other younger cats mimic."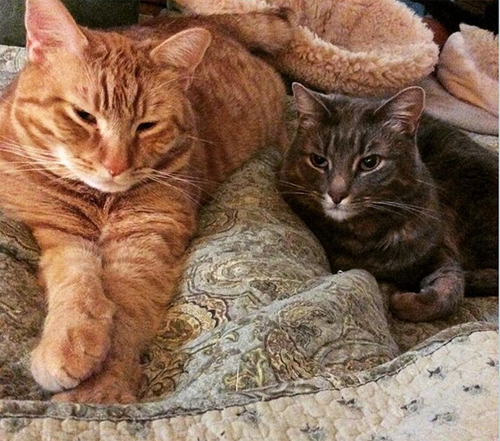 Thanks to Angela and her husband, Koko is often happy, especially when he gets special meals of extra protein to help control his epilepsy. "We give him raw chicken for second dinner a few times a week from our local butcher or an In-N-Out burger or Gerber baby food," says Angela. "He has to have his own burger or he won't leave you alone."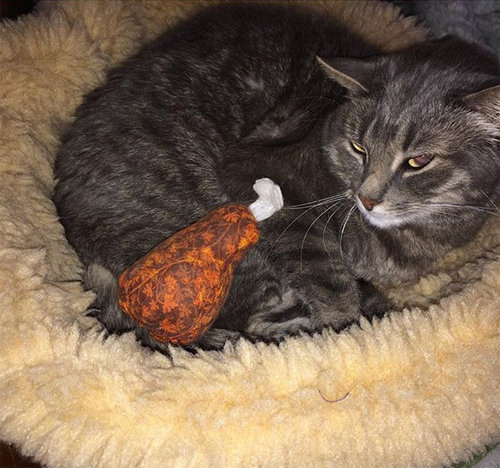 When Koko's not eating one of his many meals, he enjoys playing with crinkle balls, getting massages and chin rubs from his dad, and helping his parents change the sheets on their bed. This handsome boy also enjoys music, and if he gets frightened, the only way he'll come out of his hiding place is if his mom sings "Rich Girl" by Hall & Oates. "He loves listening to my husband play acoustic guitar," says Angela, "and if he messes up, Koko gently touches my husband's shoulder."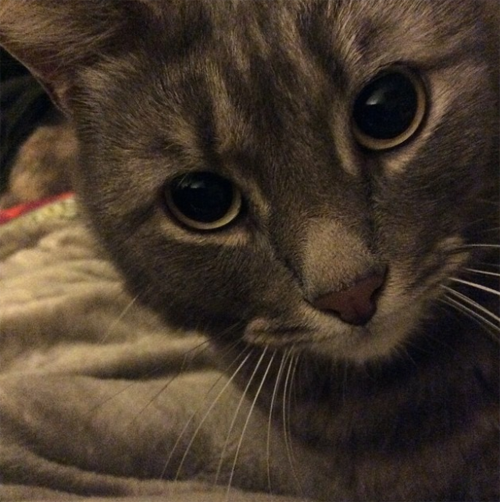 While Koko is doing far better than anyone could have expected when he ended up at the shelter in the summer of 2007, he does have some pain related to his brain injury that seems to be exacerbated by changes in barometric pressure. However, this special boy doesn't have to suffer through these unpleasant episodes alone: "A few years after we adopted him, I had a massive rare stroke due to five blood clots in my brain and was in a coma," explains Angela, "so usually both our heads hurt badly together. He will always lay high on my chest when he feels bad. We are two buddies with brain issues."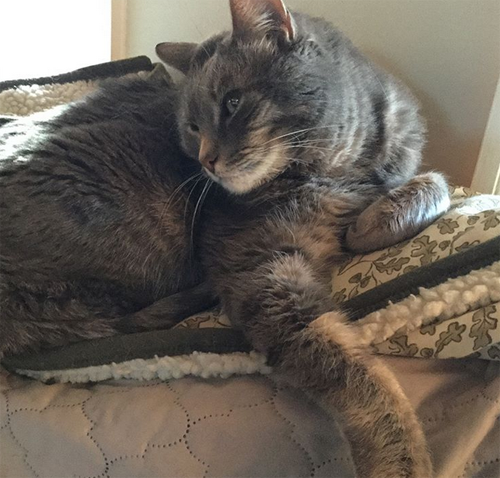 While Koko shares a special relationship with his mom, this unique boy is popular with all of the cats who live in his home, proving just how lovable he is. "There is no doubt that the other cats know he is different but they all love him and want to cuddle with him," says Angela. "We have a tortie who hates the other cats in our house but loves Koko."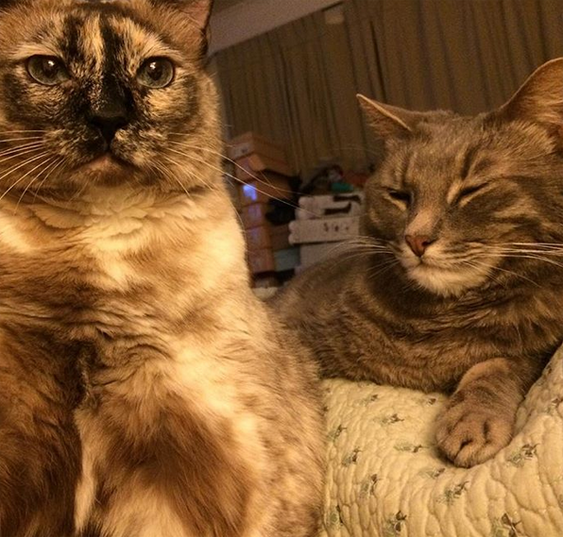 When Angela met Koko more than a decade ago at her local animal shelter, she dedicated herself to helping him recover from his brain injury, having no idea that when she suffered a stroke a few year later, he would by her side, nursing her back to health. "When I got home and really could not talk or walk, Koko insisted on spending all day with me on the bed where I could pet him with my good arm," remembers Angela. "He still does this when I am having a really bad head pain day."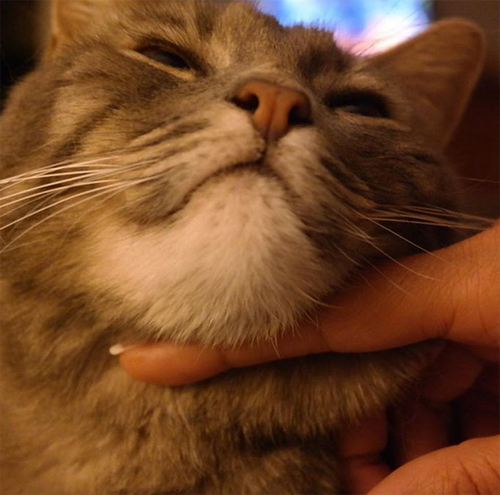 Over the years, Koko and Angela have helped one another through health issues, allowing the pair to form an unbreakable bond based on mutual love and appreciation for one another. "He has inspired us to always adopt special needs [pets]," says Angela. "All our cats have vision issues."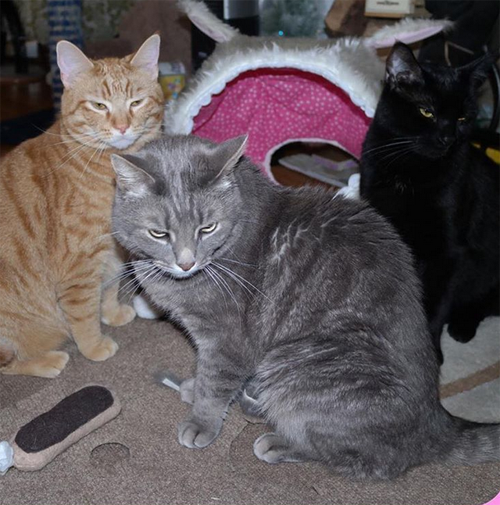 Koko, who Angela's own vet advised her not to adopt many years ago, has also inspired his mom to open a rescue with some of her friends, Cats Valley Shelter & Sanctuary. While Angela will undoubtedly meet some very special felines through this endeavor, it's unlikely she'll ever come across a cat who means as much to her and her husband as Koko. "He is our son to us," says Angela.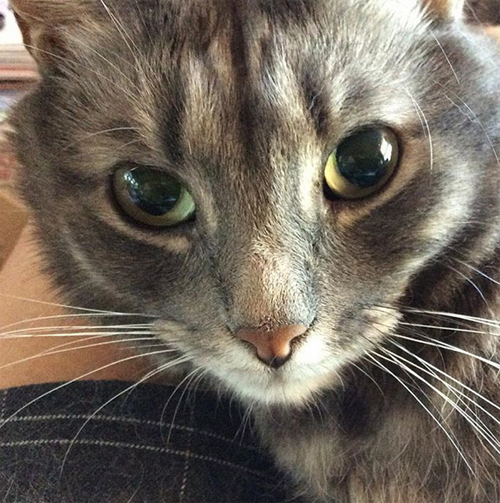 To learn more about this remarkable cat, you can follow Koko on Instagram.