When Hazel, the founder of Hopewell Rescue, went to a feline colony in Irvington, New Jersey, to trap-neuter-return (TNR) several of the resident animals, she met Kevin, a young black and white cat who was in desperate need of medical attention. "Kevin just walked out looking really pathetic," remembers Hazel. "He was scrawny, covered in poop, wounded, and wearing a dirty sweater."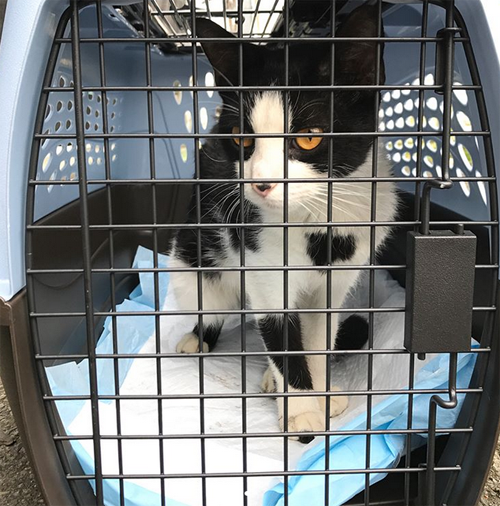 Susan, who cares for the colony of homeless cats, had never seen Kevin before that day, and he most likely made his appearance on June 5, 2017, because he was hungry and needed help. "He must have been starving and came out when he smelled the food in the traps," says Hazel.
Susan approached the bedraggled black and white kitten — who was approximately six months old at the time — and it immediately became apparent that Kevin was not feral. "He must have been dumped there by someone," says Hazel. "He didn't even need to get trapped. Susan walked right up to him, picked him up, took off the sweater, and put him in a carrier."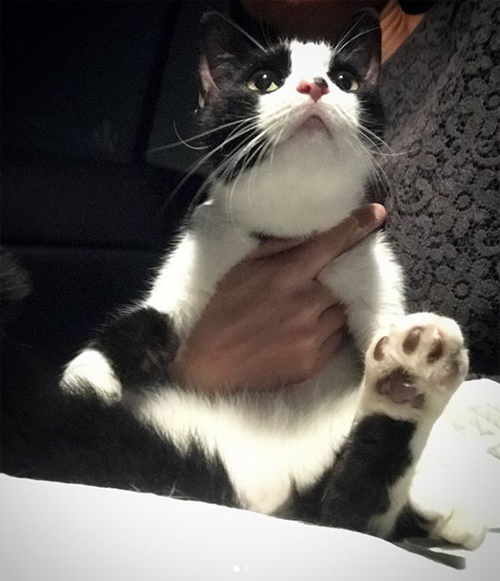 Kevin was rescued in the middle of summer, and the sweater he was wearing was filthy, ill-fitting, and completely inappropriate for the 90 degree temperature, leading Hazel to conclude that months earlier his former owners had dressed him in the knitted top to keep him warm before abandoning him outdoors.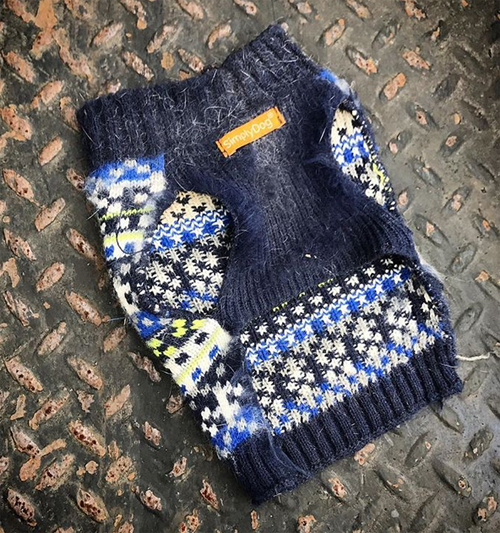 Shortly after Kevin was rescued, a thorough examination revealed he was extremely unwell and had barely been surviving while living on the streets. "We were very concerned about the wounds on his neck, likely from a collar that had dug into the neck based on the shape of the wound," says Hazel.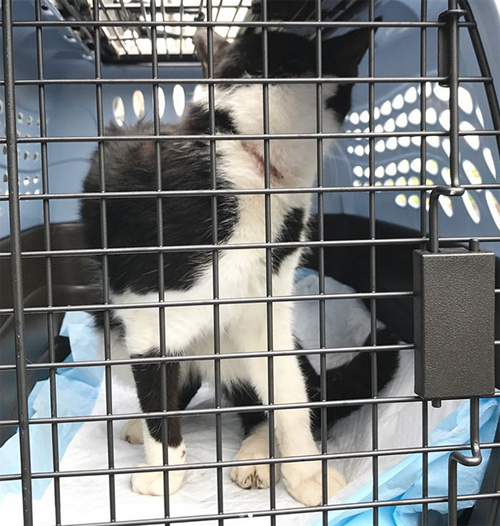 "He also had mucus, diarrhea and blood coming out of his butt, so we were really concerned," says Hazel. In order to help the injury to Kevin's neck heal, Hazel cleaned the wound multiple times a day, and this adorable black and white cat — who was diagnosed with a severe case of roundworms — had to undergo three courses of treatment to rid his body of intestinal parasites.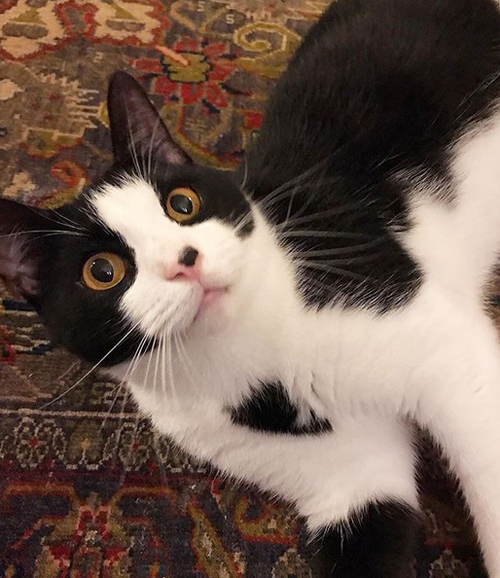 Eventually, Kevin was ready to get adopted, and the staff at Hopewell Rescue were preparing to find a forever home for this special boy, when he started having labored breathing and became lethargic. "He wasn't interested in playing — and he always wants to play," says Hazel, "so we brought him to the ER."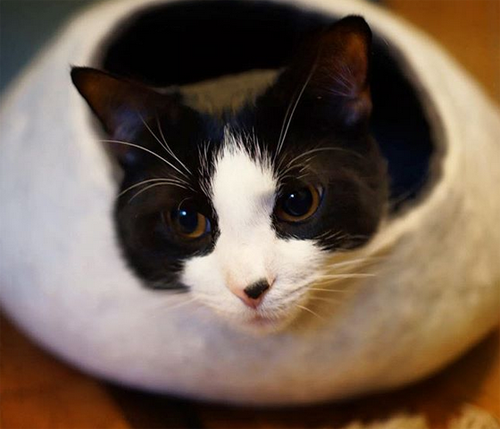 For three days, Kevin remained on oxygen at the animal hospital while he was examined by specialists and given a battery of tests. "It turned out that he had a liver shunt and needed a very technically complex surgery to permanently fix it," explains Hazel, and the operation to close the shunt wasn't cheap.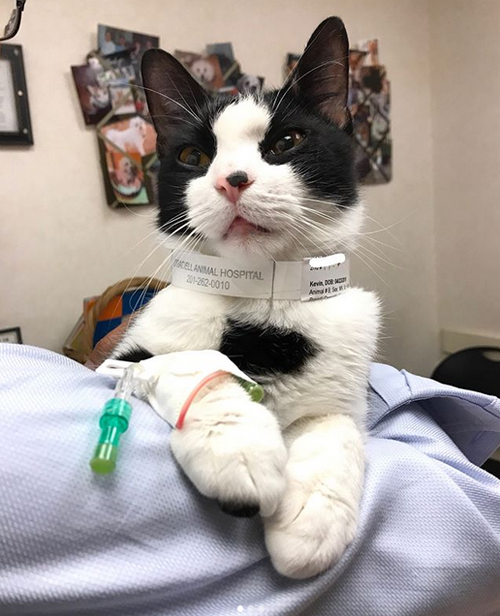 "Just for the ER and the surgery, it cost over $7,000 to save his life," says Hazel, and she had no idea how she would be able to raise the funds to cover the vital surgery. "I was devastated and scared about how we would pay for all of it all," says Hazel. "I'd sit there with a calculator and keep trying to figure out."
Incredibly, when Hazel shared Kevin's story both in person and on social media, people were touched by everything he had already been through in his young life, and donations started coming in from all over the world. "All these amazing people came together to make it happen," says Hazel. "I get so emotional each time I think of it and how they made it possible to save him."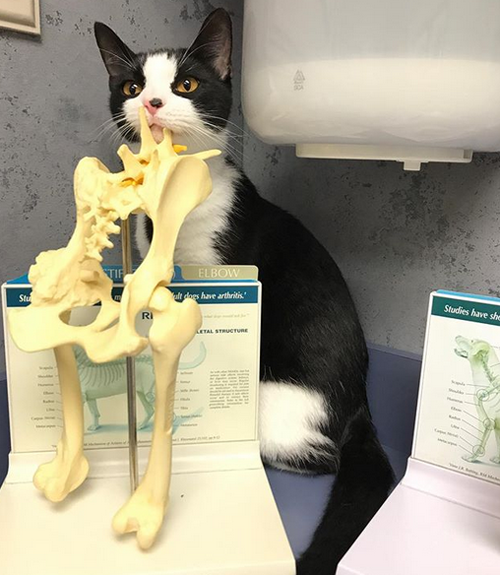 Thanks to lots of generous donors, Kevin had the surgery to close the shunt, and months later, he's doing better than ever and is ready to find his forever home. "The surgeons did an amazing job and he's like a normal cat now!" says Hazel.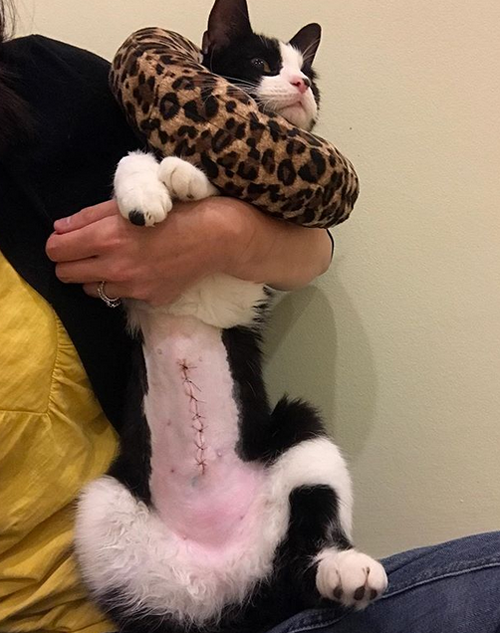 However, Kevin will need to eat prescription food for the rest of his life, and he will also have to have a bile acid test and a blood test every year to make sure his liver is functioning properly. "Annual check ups would run $450 per year," says Hazel. "Sadly, that's what has made it challenging to find him an adopter."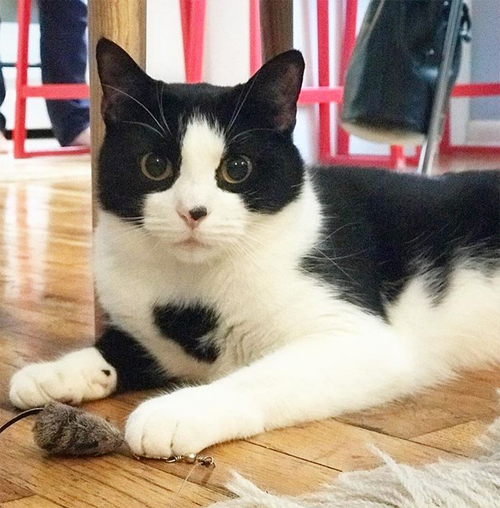 While there have been plenty of people who have been interested in adopting Kevin, he requires a home where he's the only cat, which has made it hard for him to find the right forever home. "People who love cats so much and are willing to pay for the additional tests and vet care already have cats, and he needs to be a solo kitty," explains Hazel. "He's amazing with humans but with other cats he gets so excited that when he plays with them, he headlocks them like how a kitten would play and the other cat gets scared."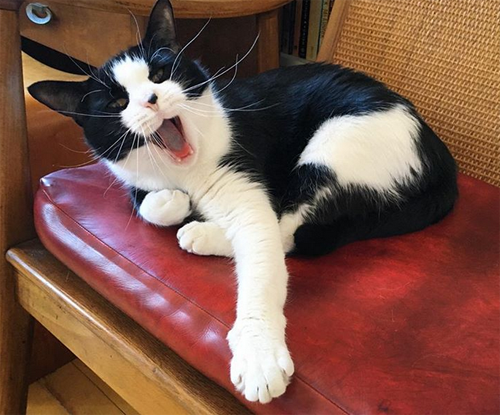 Currently, Kevin is in a wonderful foster home with a mom and dad who give him lots of love and attention, and Hopewell Rescue is hopeful they'll be able to find him a similar forever family. "Kevin needs a lot of human interaction and play time," says Hazel, "and we see his personality shine in that environment."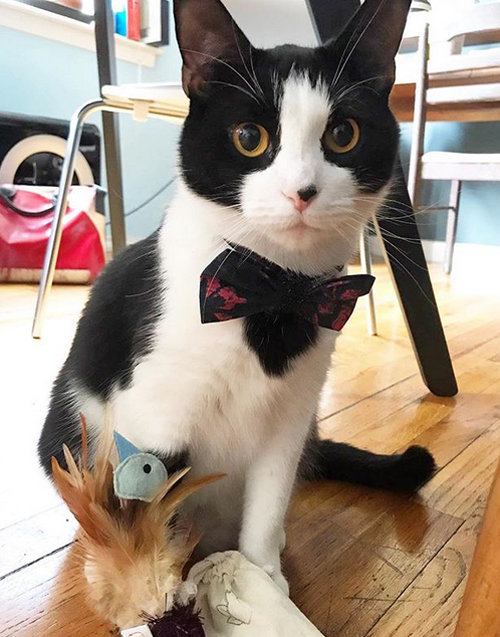 Not only does Kevin love it when his foster parents play with him, this handsome black and white cat enjoys looking out the window and keeping his foster mom company while she works from home. "When his foster dad works from home too, he divides his time evenly to sit next to each of their monitors," says Hazel. Plus, Kevin, who recently celebrated his first birthday, is very vocal, and he communicates his needs to his foster parents by using different chirps.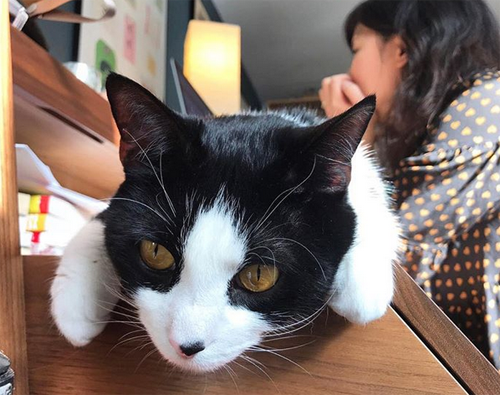 In addition to being super chatty and playful, Kevin is extremely cuddly and affectionate. "Every night when his foster mom goes to bed, he goes to bed with her and just has to be on her," says Hazel. "If she lays on her back, he lays on her chest. If she lays sideways, he will lay on her hip."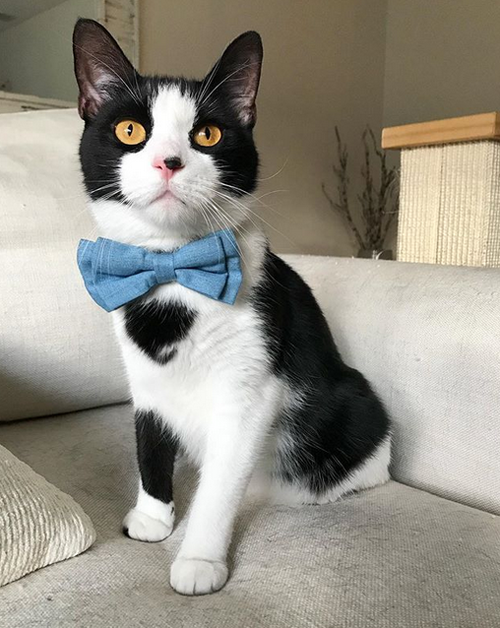 While Hazel knows that it may take time for Hopewell Rescue to find the ideal adopter for this special boy, she's certain it will be worth the wait for both Kevin and his family. "He doesn't have an aggressive bone in his body," says Hazel, and while Kevin gets a little too stimulated when he's around other cats, he's wonderful with children. "He loves to play with kids and would never hurt a child," says Hazel. "He'll just walk away when a child gets grabby."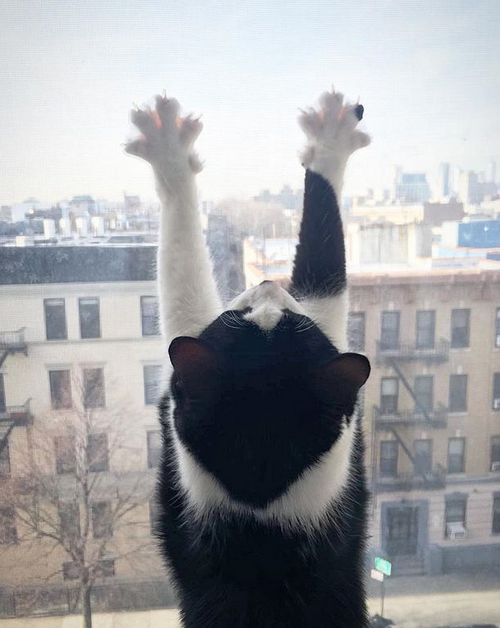 Kevin, who was found malnourished, injured, riddled with parasites, and wearing a dirty old sweater, has come a long way since he was rescued in June 2017, and while he's had some setbacks over the course of the last several months, including a life-threatening liver shunt, he's living proof of how incredible both people and animals can be. "You see the worst of humanity in rescue, but then times like these, you see the best in humanity, too," says Hazel. "Kevin is just amazing. I think once someone meets him, they would totally fall in love!"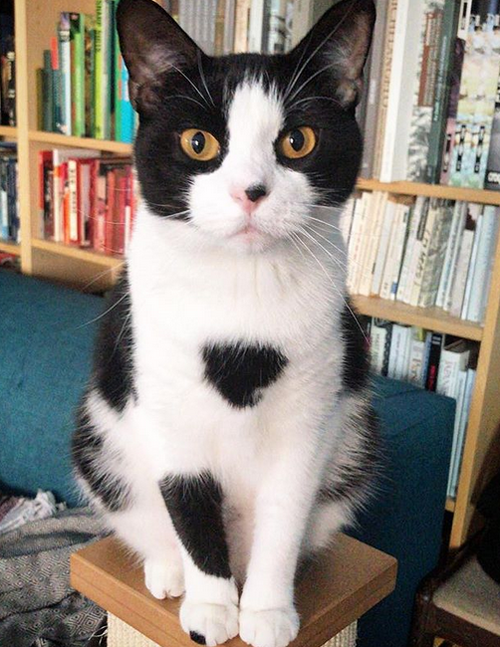 To learn more about this handsome cat, you can follow Kevin on Instagram.
If you're interested in adopting Kevin, please contact Hopewell Rescue.