When Michelle Parson's first cat, Buttons, passed away suddenly at the beginning of December 2017, she and her family were devastated by the loss of the beloved 15-year-old feline. "Buttons was a huge part of our family and I was so broken," says Michelle. Together, the family decided that they would wait at least a year before they got another cat, giving Michelle, her husband, her son, and her daughter time to mourn the loss of Buttons.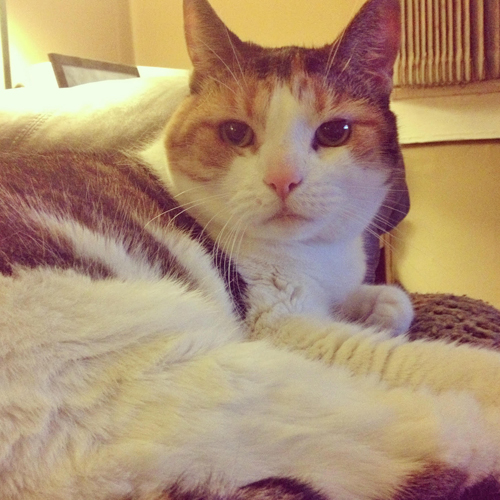 However, just a few weeks later, Michelle decided to check online to see the cats who were available for adoption in her area, still committed to waiting until at the least the end of 2018 to bring another kitty into her family's northern New Jersey home. "After Christmas, I just wanted to take a peek on Petfinder, you know, just to look around," explains Michelle. "As I scrolled, I came across the sweetest faces, two siblings both with a chromosomal abnormality."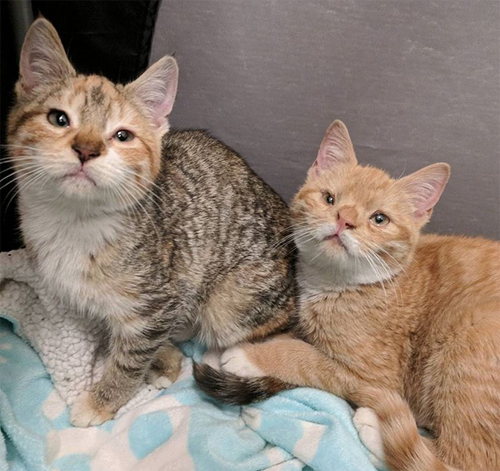 Michelle and her daughter agree that the two kittens — who were approximately five months — were absolutely adorable, and they were both smitten with the pair's impossibly cute faces. However, Michelle — who had no intention of adopting a cat at that time, much less two kittens — was determined to keep the promise she'd made to herself to wait several more months before beginning the search for her family's next feline friend. "I closed the laptop and just figured they would find a forever home with cute little faces like that," says Michelle.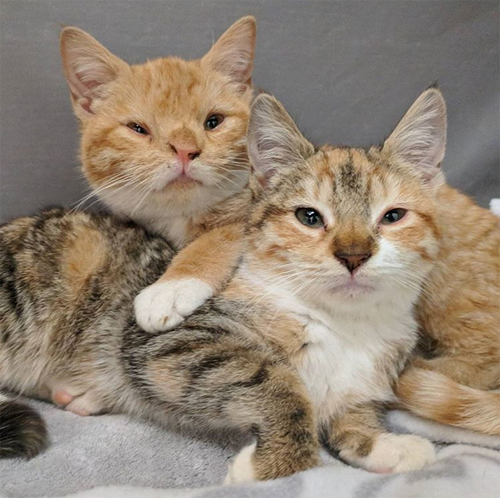 A few weeks later, Michelle was still thinking about the two kittens, one male and one female, so she decided to check Petfinder to see if they were still available, telling herself she just wanted to look at their sweet pictures one more time. To her surprise, the pair hadn't been adopted, and unable to resist the urge to find out more about them, Michelle sent an email to the New York City rescue, Infinite Hope, and waited for a reply.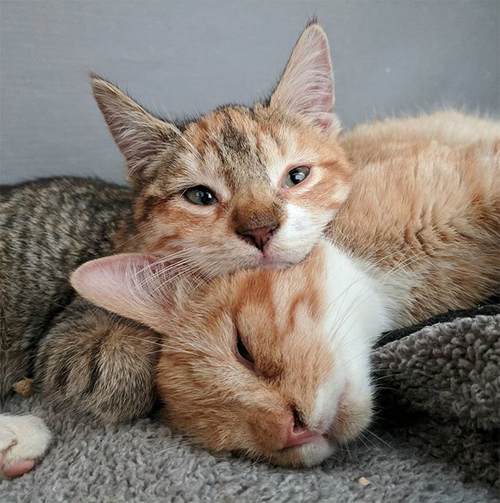 "In the meantime, I looked up cats with chromosomal abnormalities because it's no secret in our house that I have a huge soft spot for animals with special needs," explains Michelle. "Probably because my son has special needs — he's high functioning autistic, plus a long list of other stuff — and I think animals and humans with special needs need lots of love."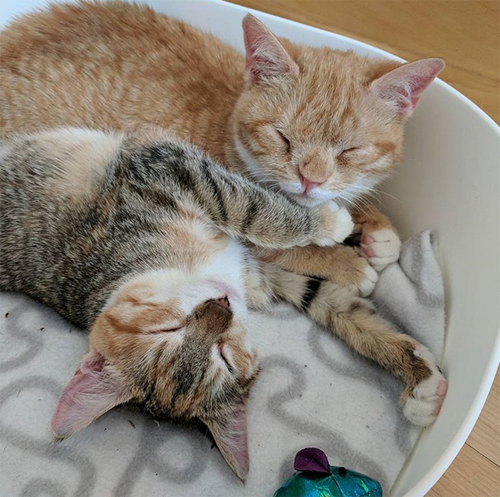 Michelle was convinced that she and her family would be able to provide these two very special kittens with the perfect home, so when Infinite Hope invited her to submit an adoption application for the young cats, she was overjoyed. While Michelle waited to find out if her family's application had been approved, she kept a close eye on Infinite Hope's social media accounts to see if the pair of kittens had been adopted by someone else, and she and her son even picked out names for the cute cats.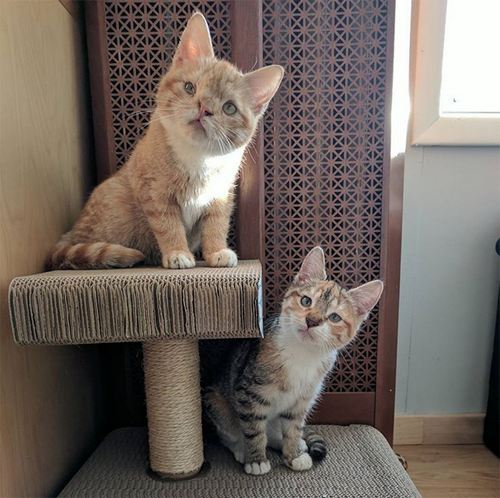 "When my son and I were looking through pictures of the kittens, he said without hesitation, "I think we should call him Auggie like the boy from Wonder,' and I said, 'That would be a perfect name because I think we should call her Calliope.' "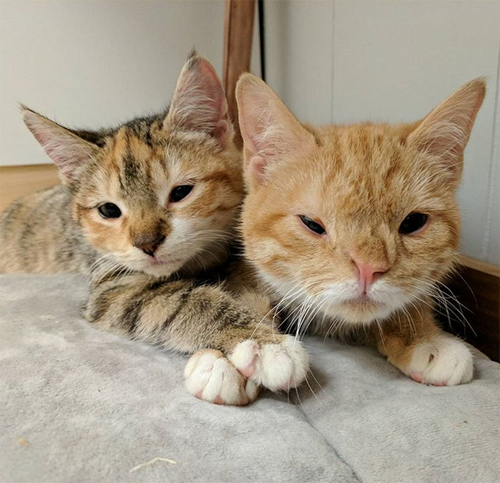 "I was already attached and would have been so devastated if we didn't get picked to be their forever home," says Michelle. Fortunately, Infinite Hope determined that the Parsons would be the ideal family for the kittens, and not surprisingly, Michelle was absolutely thrilled when she got the organization's verdict. "I might have yelled when we found out they could come home with us, like screamed," says Michelle.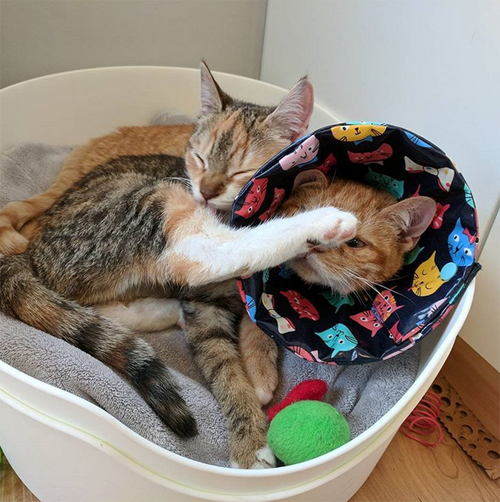 On February 16, 2018, Michelle and her daughter drove to Brooklyn to meet the kittens in person for the first time, a day she remembers very fondly. "They were both a little scared, Auggie more than Calliope," says Michelle, "and seriously, it was instant love." Immediately, Michelle knew she had made the right choice, and she officially adopted Auggie and Calliope, two kittens who had been found on the street by a good Samaritan and taken to Infinite Hope just a few months earlier.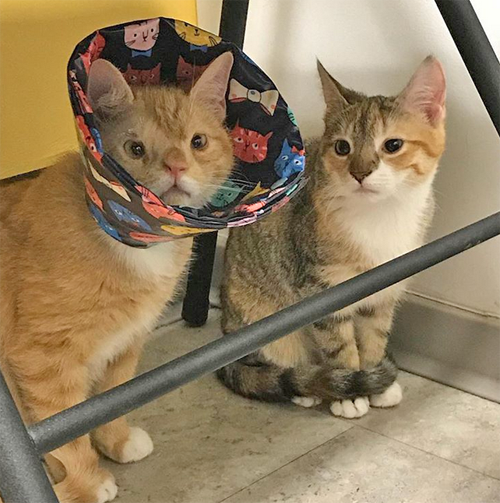 The non-profit organization treated the kittens, who may have been abandoned on the streets by their former family, for fleas and worms, giving Calliope and Auggie the love and care they needed to be able to eventually find their forever home with the Parsons. "Once they were cleaned up, they were give to their foster mom and she did a wonderful job taking care of them until we were able to get them," says Michelle.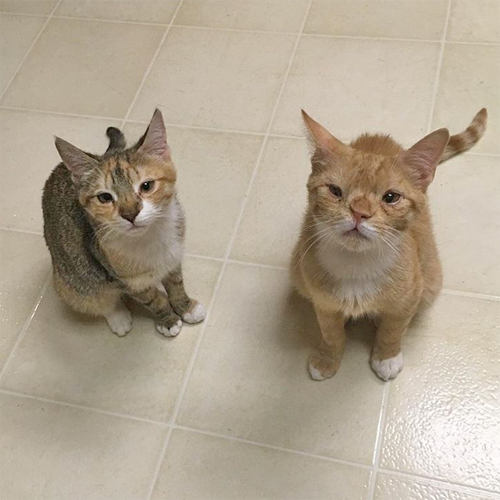 Back at their new home in New Jersey, it didn't take Auggie and Calliope long to settle in with the Parsons, although Michelle found herself in a state of disbelief that she had actually been lucky enough to adopt the pair of adorable kittens she'd been watching for weeks. "I just kept saying over and over the first few days, 'I can't believe they are ours,' " remembers Michelle.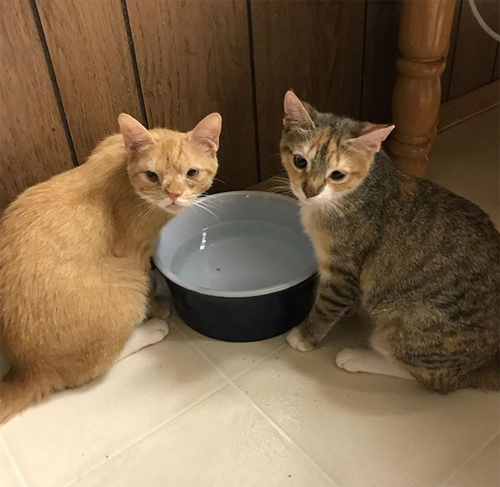 It's been approximately five months since the Parsons adopted Auggie and Calliope, and the family's affection for these special kittens has only increased over time. "They have made this house exciting and full," says Michelle. "They don't go a day without hugs and kisses."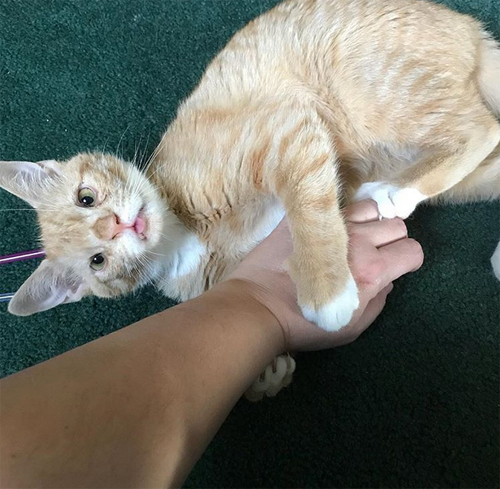 While Calliope and Auggie absolutely adore playing with one another — "They have a case of the zoomies every morning," says Michelle — they also enjoy chasing Dexter, the Parsons' dog, around the house. These cute kittens especially like playing with their many toys, and their family is more than happy to help keep them entertained. "Both of them love when daddy uses the laser pointer and Auggie is a big time snuggler," says Michelle.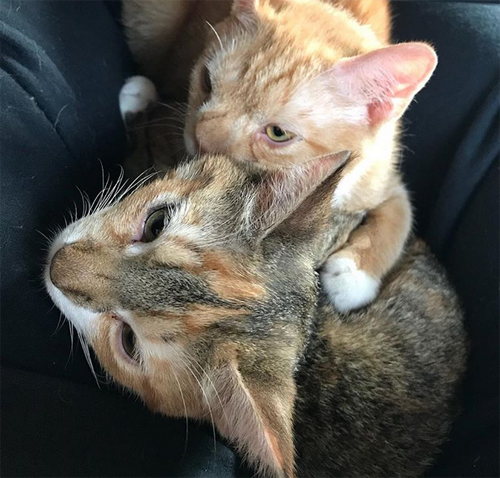 These two have plenty of energy, although due to Auggie's unique facial structure, he breaths more loudly and sneezes more frequently than a typical cat. "He also tends to have boogers — big ones — that come out of his nose when he sneezes," says Michelle. Auggie also had entropion, a congenital condition that caused his eyelashes to grow into his eyes, but Infinite Hope arranged for him to have surgery before he was adopted.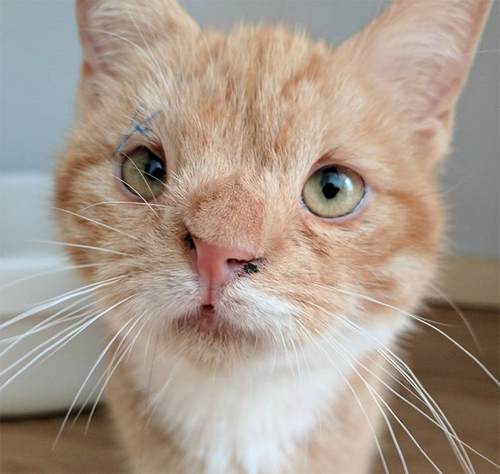 While Michelle knows that both Calliope and Auggie are capable of having long and happy lives, she worries that cats with special needs often aren't given the opportunity to prove just how amazing and capable they are. "I think lots of people feel animals with difference should be put down," says Michelle. "Just saying that makes my heart hurt."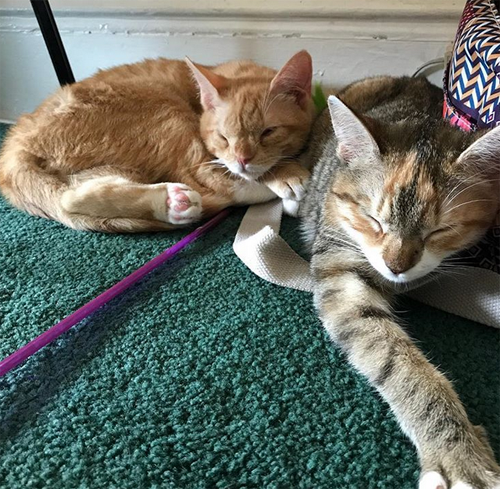 Though Auggie and Calliope look a bit different from the typical feline, and may even have some relatively minor health issues, Michelle is convinced that they and other special needs cats like them really aren't as different as a lot of people might think. "They are just like every other cat and deserve the same amount of love as any other family member," explains Michelle. "Maybe they deserve a little more love just because."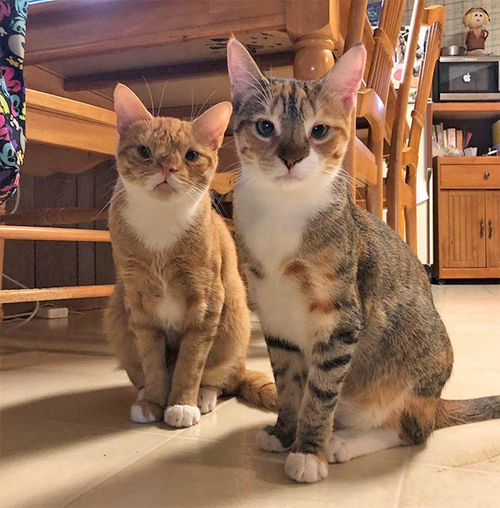 After their beloved Buttons passed away on December 1, 2017, Michelle and her family were devastated, unable to even contemplate the idea of adopting another cat anytime soon, much less two. "Losing our first cat was so hard for me," says Michelle. "I was so broken and incomplete."
However, when she saw Auggie and Calliope's adorable faces for the first time, Michelle felt compelled to help them, even though she was very much still mourning Buttons's passing. "When we found these two I just felt like I needed to be the one that took care of them," explains Michelle. "I knew I could love them like no other."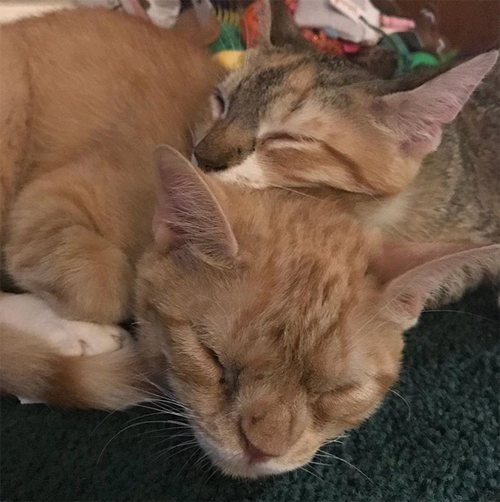 Without a doubt, Michelle has showered Calliope and Auggie with love and affection, giving them the home and the family they deserve. In return, these two delightful little cats have helped rebuild Michelle and her family, putting the four of them back together after they were broken by the loss of Buttons. "Between Dexter, Calliope, and Auggie, we can at least say for now, our home is complete," says Michelle. "We are so happy to have them and love them so very much."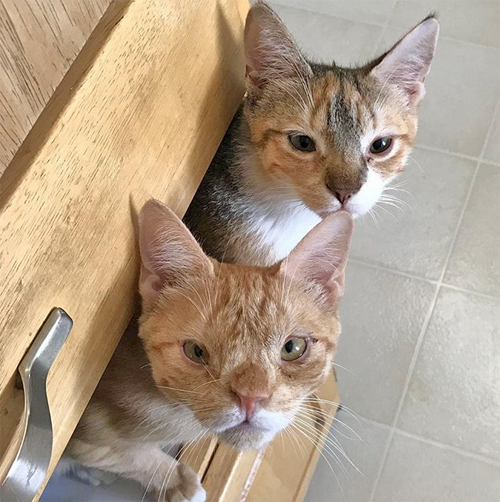 To learn more about these adorable kittens, you can follow Auggie and Calliope on Instagram.