UPDATE: This gorgeous girl found her forever home — we wish Sparrow nothing but the best with her new family!
Mikaela Euro was browsing Instagram in early May 2018, when a post about Sparrow, a young mother cat would had recently been rescued from an animal shelter in San Bernadino, California, by Friends for Life Rescue Network, instantly grabbed her attention. "I saw this picture of this silly little face with these giant, crusty eyes and her little tooth and I just thought she was the cutest thing," remembers Mikaela.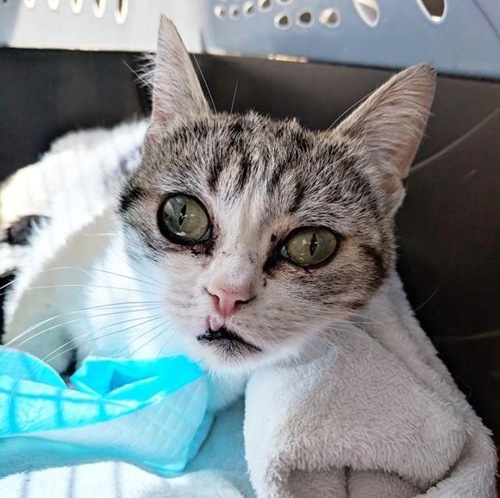 While Sparrow was absolutely adorable, at less than two years old this cute cat with the unique face had already experienced more than her fair share of hardships. "She was brought in to the shelter and had her litter of four kittens," explains Mikaela. "Unfortunately, two of them passed away at the shelter. Sparrow and her two surviving kittens, Finch and Chickadee, were taken in by Friends For Life Rescue Network."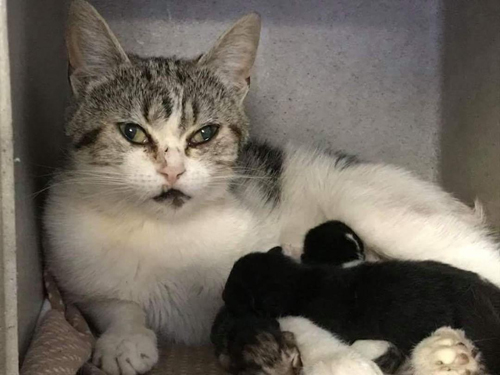 All three of them were malnourished and underweight, and shortly after the trio was rescued, Chickadee passed away and Finch went to a foster home to be bottle fed because Sparrow was unable to nurse her remaining kitten. When Mikaela learned that Sparrow was in need of a foster home, she and her boyfriend agreed that they would like to take care of the young cat until she was adopted.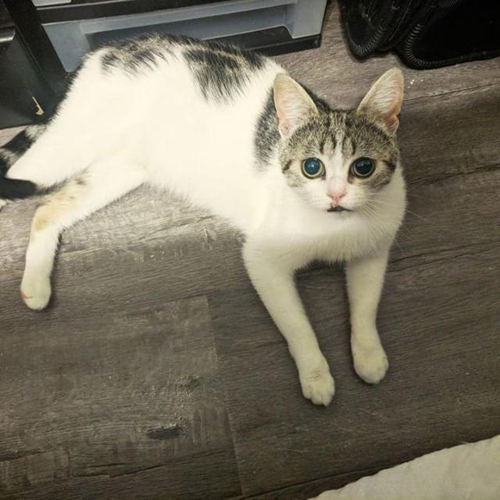 On May 10, 2018, Sparrow arrived at the couple's Los Angeles home, making her the first cat either of them had ever fostered, and because she had recently come from the shelter, Friends For Life Rescue Network advised Mikaela and her boyfriend to keep her separate from their other cats until she was given a clean bill of health. "When she was dropped off I was told the plan was to try and reunite her with her surviving kitten, Finch, after two weeks — when Finch would be a little healthier — and then try to find them a home together," explains Mikaela.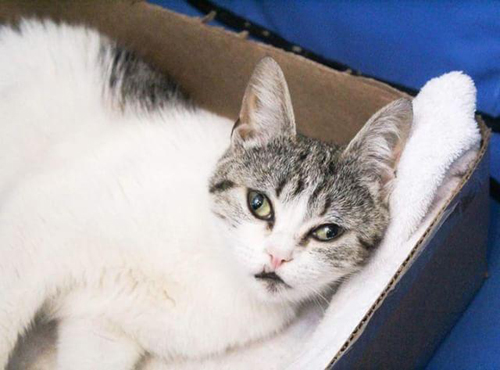 While Sparrow was kept in a separate room, unable to explore the rest of her foster home, it didn't stop this sweet and friendly cat from bonding with Mikaela and her boyfriend. However, shortly after they began fostering the cute tabby and white cat, they learned Sparrow had tested positive for feline leukemia (FeLV), a disease that impairs a cat's immune system and can cause certain types of cancer.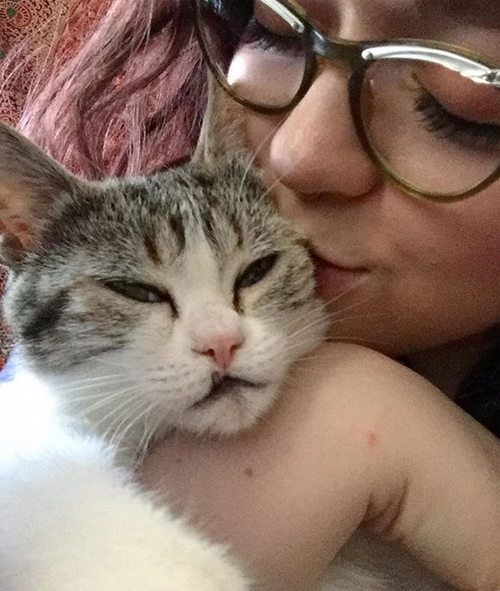 "I was pretty bummed out when I found out the news," says Mikaela. "It broke my heart because this sweet cat had already been through so much, losing almost all of her kittens and now has this disease that will prevent her from being reunited with her surviving baby and very likely cut her life short." Because feline leukemia can be transmitted through saliva and close contact, cats with the virus — like Sparrow — are generally kept separate from those without it, although they can live with other species of animals, like bunnies and dogs.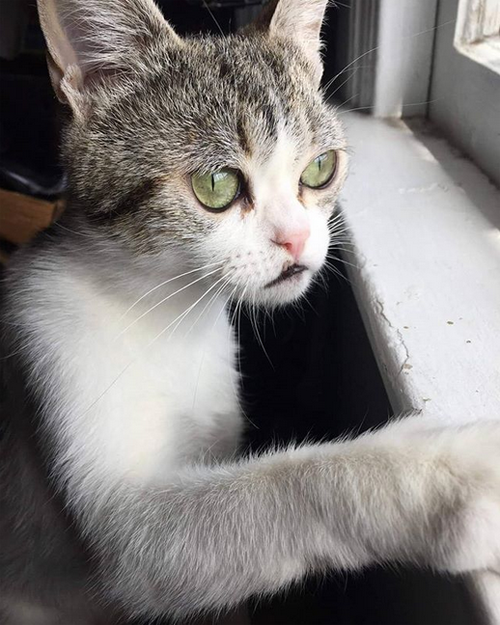 "There is no cure for FeLV, but there is a treatment that can help cats with it," explains Mikaela. "In younger adult cats it has even made their tests come back negative, although they should still be kept separate from negative cats just to be safe." Mikaela and Friends For Life Rescue Network are dedicated to giving Sparrow the best care possible, so after she was diagnosed with feline leukemia, she started receiving T-Cyte (an immune modulator) and B12 injections.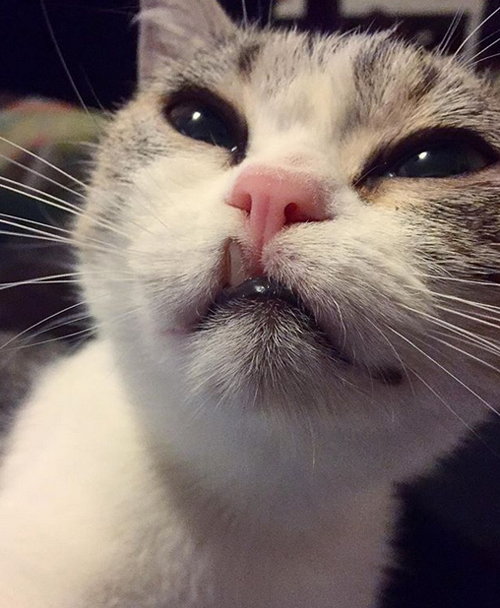 "I've been taking Sparrow in to the vet once a week for the past two months for T-Cyte and B12 injections hoping at the very least to extend her life, if not make her FeLV essentially go away!" says Mikaela. "She will be tested again after another two weeks I believe, so cross your fingers for her!" In the meantime, Sparrow is enjoying her life in her foster home, although Mikaela and boyfriend find it a bit challenging to keep her quarantined.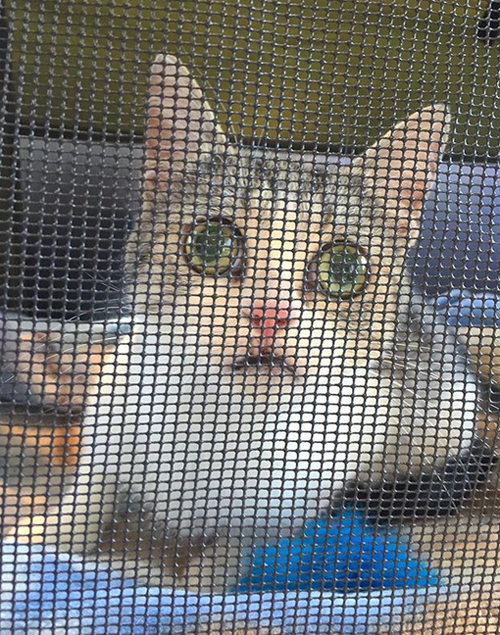 "My entitled little cats are not used to being shut out of a room in our house and try to bolt in whenever they get the chance, and Sparrow is very curious and tries to bolt out of the door as well," Mikaela. Being an extremely friendly and energetic young cat, Sparrow began trying to play with the other cats by sticking her paw through the gap under the door which Mikaela attempted to block with a draft guard. "Now she bunny kicks that all the time in frustration but still wedges her paws under and sometimes my cats will try to play with her through the door," says Mikaela. However, all of Mikaela's cats are vaccinated for feline leukemia, so she's not particularly concerned about them having this very limited contact with Sparrow.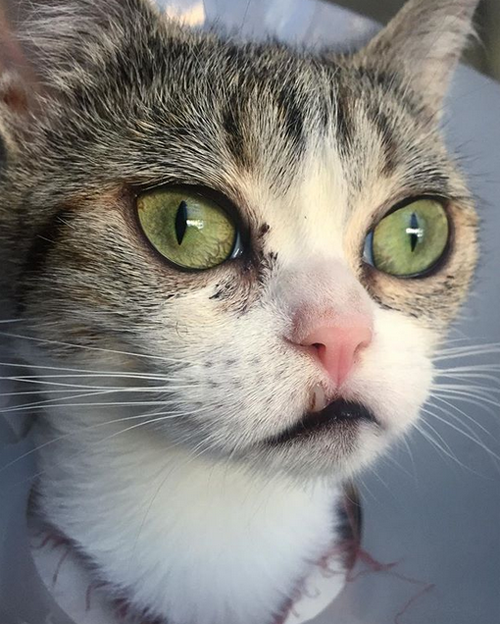 Aside from these logistical issues, Mikaela has found Sparrow easy to look after, although due to her underbite and snaggletooth, she tends to be a bit of a messy eater. "She seems to just nudge all the food off her plate so I have to clean up after her a lot," says Mikaela. "Quite the slob, really." Sparrow's unique facial structure also causes her to snore a bit louder than the typical cat, which seems to fit well with her vocal and friendly nature. "She's very loud when she's awake! She's constantly meowing at us; she's quite the conversationalist!" says Mikaela. "She may be small but she has a set of lungs on her!"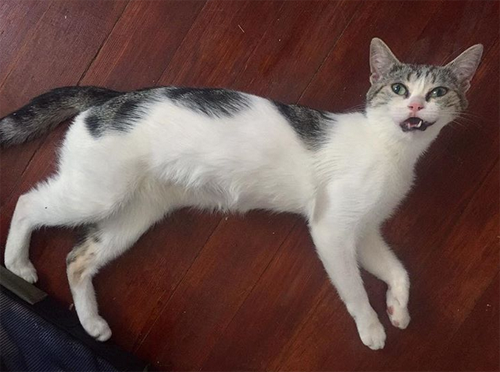 When Sparrow isn't meowing at her foster parents or trying to play with her foster siblings through the gap in the door, this young cat absolutely loves to cuddle! "Sparrow is a very affectionate cat so her number one favorite activity is getting love!" says Mikaela. "She doesn't take a lot of time to warm up to people and is very trusting, so pretty much any lap will do."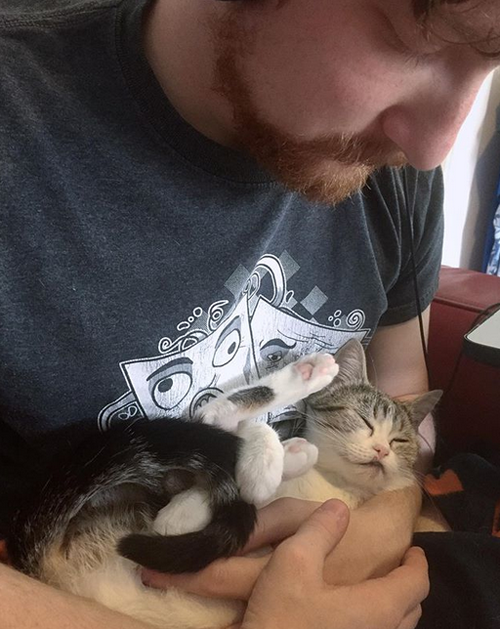 While Mikaela knows it might take Sparrow a little while to find the perfect forever home — one where she's the only kitty or lives with other FeLV positive cats — she's certain that the people who are lucky enough to adopt this special little girl will be rewarded with an incredibly unique relationship. "Adopting a cat with FeLV is an amazing thing to do for an animal, since many cats with FeLV or FIV are very difficult to place in forever homes," says Mikaela. "And most of the time that cat will live their day to day life like any other cat, and your bond will be just as loving and fulfilling as any other cat would be. They may not live to be an old kitty, but they are still worthy of love."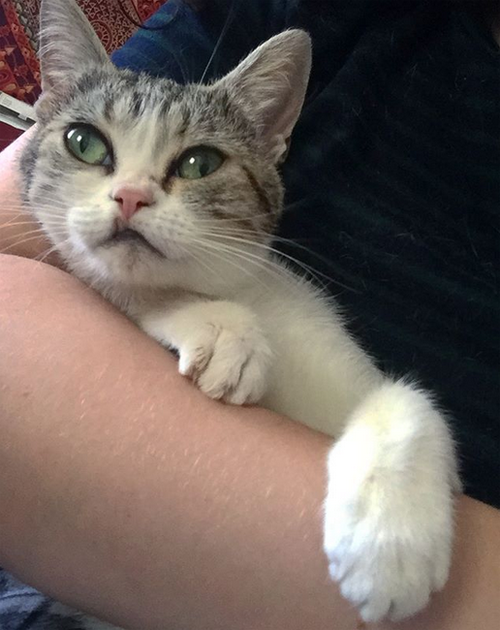 When Mikaela and her boyfriend decided to foster Sparrow, they didn't know that she had feline leukemia, and because they'd never fostered an animal before, their biggest concern was becoming too attached. "Even if I wanted to I couldn't keep Sparrow because I'd have to keep her away from my other cats," explains Mikaela. "I know it's going to be hard saying goodbye to her because we really have bonded, but I am so excited for her to have a more permanent situation and be able to have more space to run around and have someone to snuggle with at night."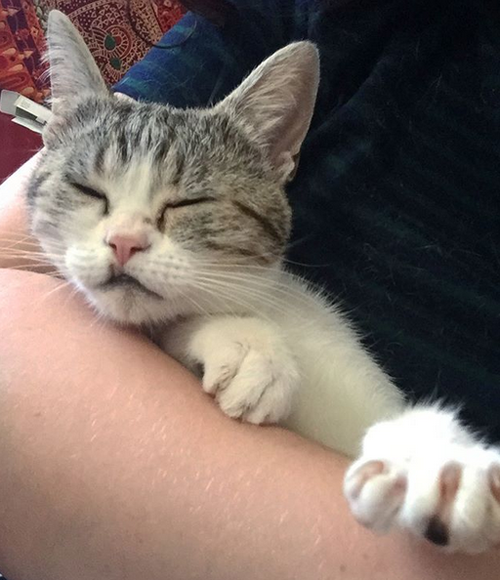 Even though Mikaela and her boyfriend will be very happy for Sparrow when she gets adopted, there's no doubt that this little cat's absence will leave a huge void in their lives. "She has been the biggest source of humor in our house since we got her. You can't look at her without at least cracking a smile," says Mikaela. "She's got this goofy little face that just kills us every time we see her!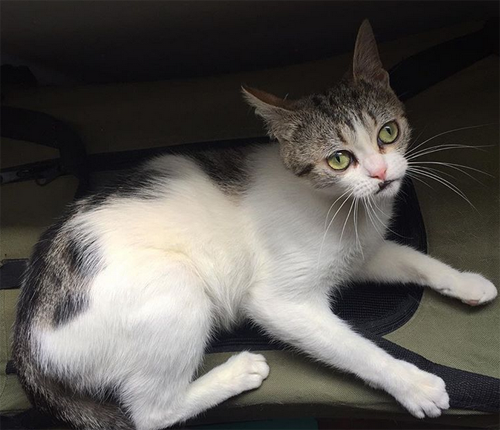 After Sparrow goes to her forever home, there's no way Mikaela and her boyfriend will ever be able to forget this truly special cat and all the joy she's brought them with her cute face and crazy antics. "Her companionship has definitely left a mark on my soul and she feels like an old friend to me. I feel very fortunate to spend this time with her, this snaggle-toothed wild child that totally stole our hearts!" says Mikaela. "Who wouldn't want to have that kind of joy in their home?"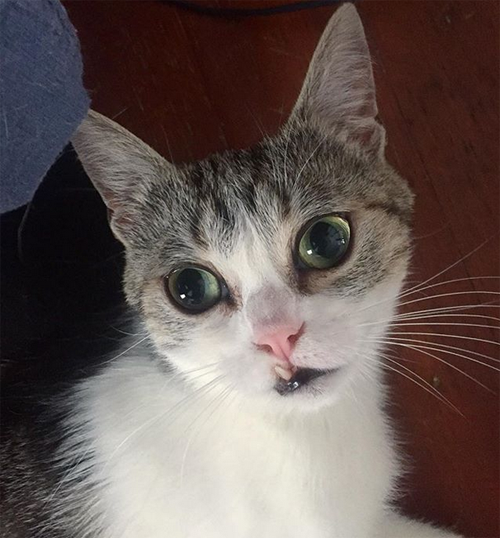 To learn more about this adorable cat, you can follow Sparrow on Instagram.
If you're interested in adopting Sparrow, please complete an online application.