When Florence Morin and her boyfriend Antonio Evangelista decided to visit Japan in November 2017, the couple thought they might see some interesting sites and try some authentic Japanese food, but there was no way they could have known that would be returning to their home in Montreal, Canada, with a one of a kind souvenir, a two-legged kitten. "My boyfriend and I were renting a room in Osaka for three weeks," explains Florence. "One day, we went in the backyard and saw this tiny kitten — covered with dust — stuck between the fences."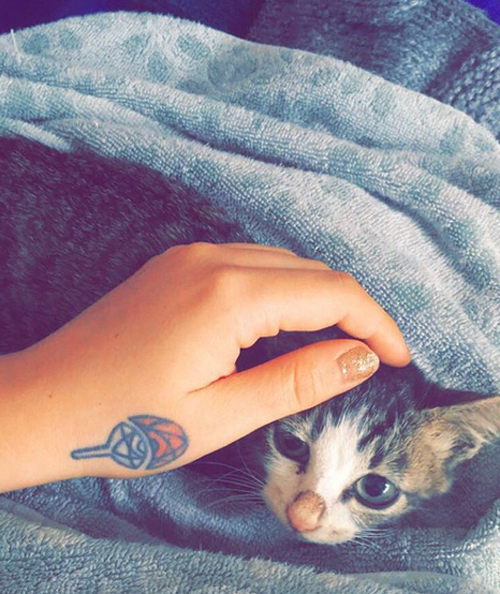 Concerned for the tiny tabby and white cat, the couple tried to approach him, but the little kitten recoiled in fear. "He looked really sick," says Florence, "and also looked like he had some trouble walking." Not wanting to upset the frightened feline any further, Florence and Antonio went to a nearby store and purchased some cat food for the disheveled kitten, as well as a pet carrier. Too hungry to be afraid, the little cat let his guard down, and as he ate the food the couple had purchased for him, Florence and Antonio realized the little tabby and white kitten was missing his two front legs.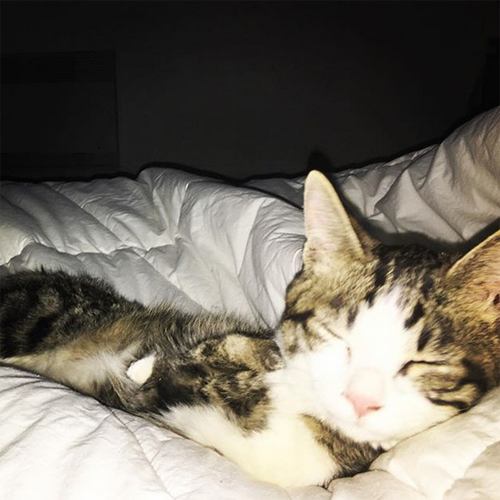 "It was really sad to see this little animal all alone and frightened while we were enjoying our vacation," remembers Florence, and she and her boyfriend decided that no matter what the cost, they were bringing the two-legged kitten — who they named Migi — back home to Canada with them. The couple did some research, and they learned that would need to prove the little cat was rabies-free before he would be allowed to enter Canada, so Florence and Antonio made an appointment with the nearest English-speaking veterinarian. "We had to do a four hour trip to Kobe," explains Florence.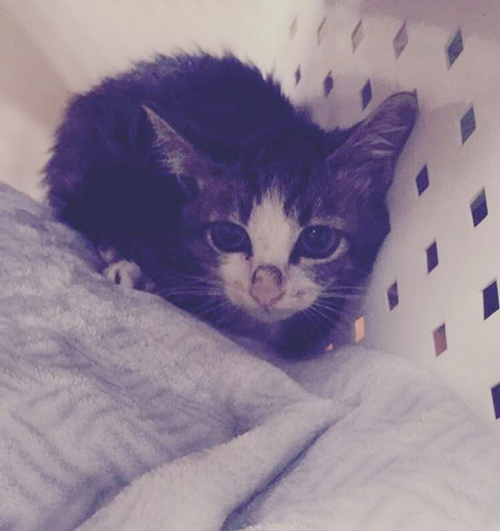 The Japanese vet examined Migi, and Florence and her boyfriend learned that he was approximately six weeks old, and the young tabby and white cat had almost certainly been born without his hind legs. "The theory that the veterinarian had about his congenital anomaly is that his mother was probably underfed when she was pregnant and that Migi was a premature baby," explains Florence. The couple also found out that the two-legged did not have rabies, giving Migi the clearance he needed to make the trip to Canada with his new parents.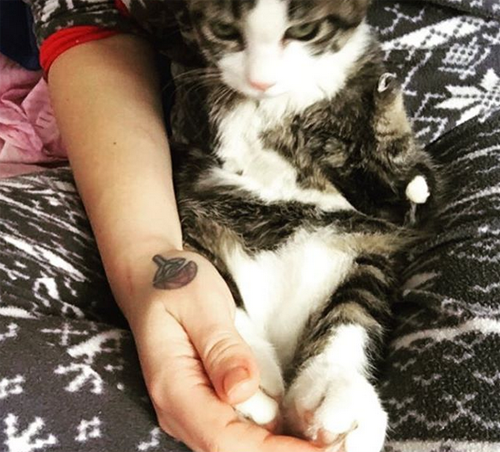 The journey proved to be an arduous one, and the little special needs cat spent 72 hours in his carrier as he and his new parents changed planes three times in order to get to Montreal. "He had no idea what was going on," says Florence. "We felt really bad for him, but we also knew that it was for his best."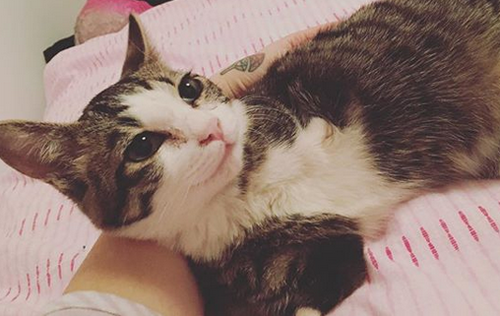 While neither Florence or Antonio had ever taken care of a special needs cat before, they were dedicated to helping Migi have the best life possible, although they quickly realized they didn't need to do very much to accommodate the two-legged cat. "He is a very strong and courageous cat and doesn't let his condition stop him from doing anything," says Florence. "He's not afraid to jump off my bed or any furniture." In fact, even though Migi can't run like a typical cat, his mom believes he's able to get around as well — if not better — than his four-legged counterparts. "I've never in my life see a cat 'running' as fast as Migi does," says Florence. "He has so much energy!"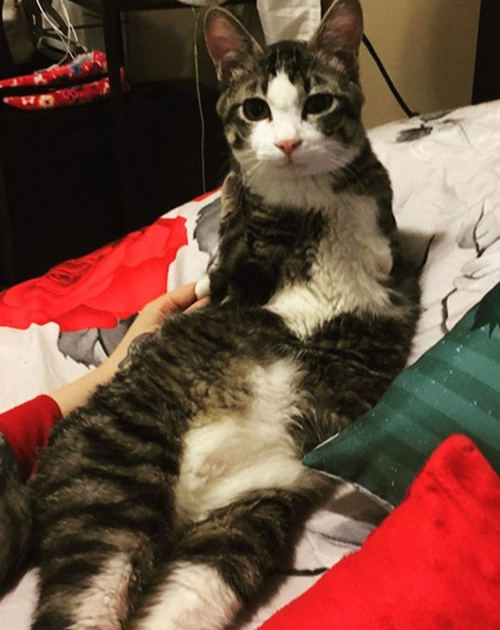 When Migi isn't racing around his parents' home, he enjoys playing with plastic bags and looking out the window at falling snow and passersby. Even though this adorable tabby and white kitten was born without his front legs, he's able to jump just as high and as well as the average kitty. "He also loves to jump off the sofa," says Florence, and Migi can happily spend an afternoon climbing onto the couch simply to leap off of it, over and over again. This two-legged cat — who was terrified when Florence and Antonio saw him for the first time — is also incredibly affectionate, and he loves to snuggle up with his parents. "He sleeps with us every night in the middle of the bed," says Florence. "He's so sweet."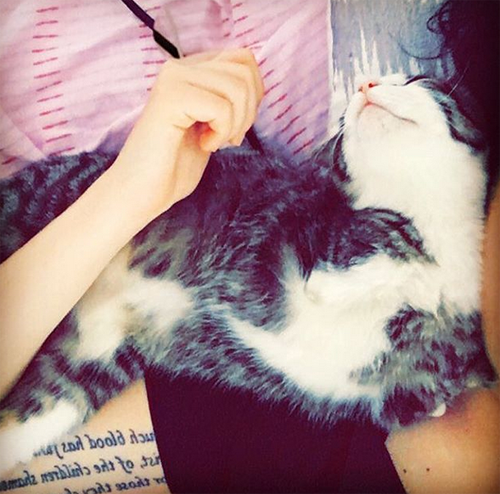 While Florence and Antonio had no intention of adopting a pet when they booked their trip to Japan, they are so thankful they made the fateful decision to bring Migi back to Canada with them. "We didn't even think about how much it was going to cost or what the procedures were," says Florence. "We only knew that this cat was going to die if we didn't do anything." Florence hopes that when other people are confronted with a cat in need like Migi, they'll feel compelled to help, just like she and her boyfriend did when they found the little two-legged kitten in the backyard of their accommodations in Osaka.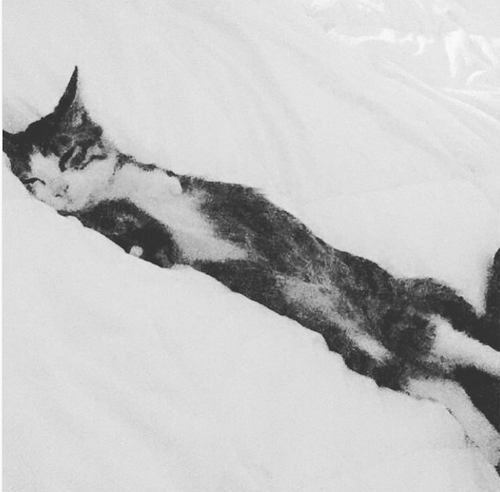 While a lot of people are concerned about the financial cost of caring for an animal with special needs, Florence insists Migi is no more expensive than other pets she's had in the past." I had a cat with all his legs for 20 years," says Florence, "and it costs me about the same amount monthly. I wish that people would not see [special needs cats as] a burden. They deserve love too."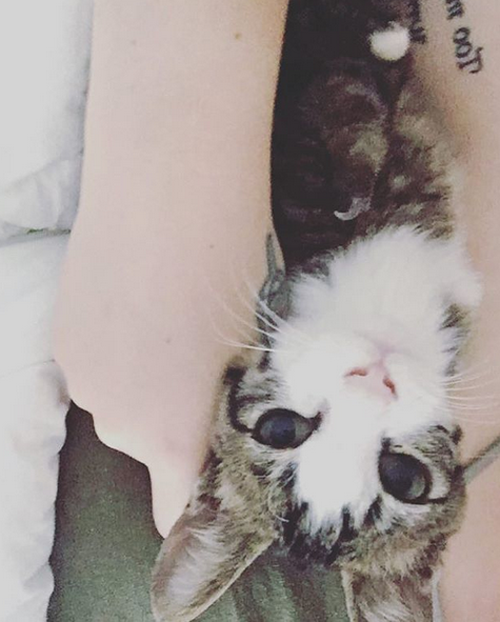 Thankfully, Migi now has a wonderful home with parents who absolutely adore him, and judging by how happy and active he is today, his early life in Osaka is simply a distant memory. However, for Florence and Antonio this remarkable two-legged cat is not only an inspiration, he is a constant reminder of their trip abroad. "He is the living proof that being different should not stop you from doing what you want and what you like," says Florence. "You just need to find your own way to do things! Plus, it was my dream to visit Japan, so I now have the best souvenir I could wish for."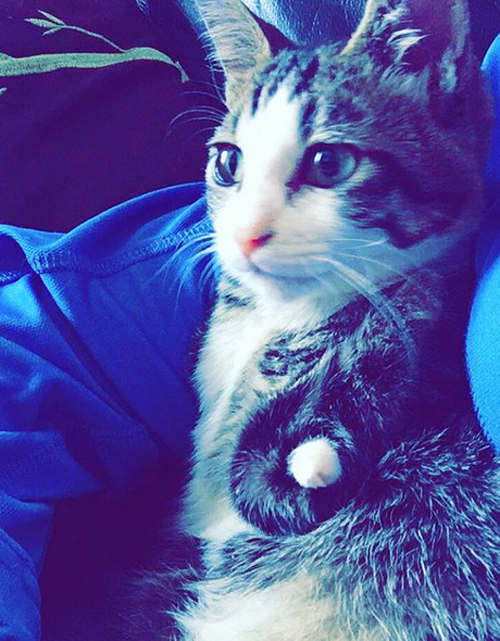 To learn more about this incredible kitten, you can follow Migi on Instagram.