When Sue Smith was at the ground-breaking for Bianca's Furry Friends Feline Adoption Center at North Shore Animal League America in November 2017, Beth Stern, the national spokesperson for the Long Island animal rescue, told her about Weeble, an adorable black kitten with cerebellar hypoplasia (CH), who was going to be available for adoption soon. "After the ceremony, she was on her way to Long Island Veterinary Specialists to pick up her new foster litter that had two CH kittens in it," remembers Sue.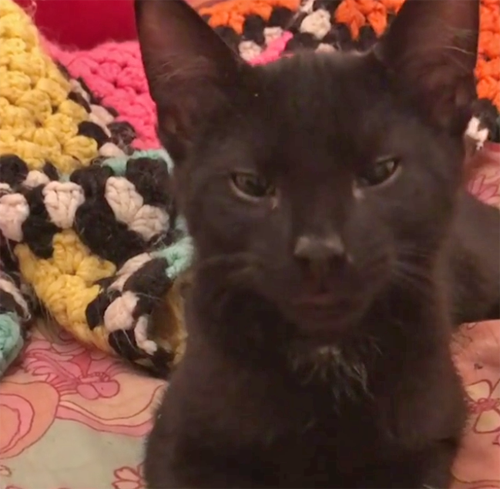 At the time, Sue, who lives in Hicksville, New York, had multiple special needs cats, many of which she had adopted from North Shore Animal League, including Blossom, a blind cat Beth and her husband, radio and television personality, Howard Stern, had fostered; Ozzy, a cat with cerebellar hypoplasia; and Donny, a cat with both blindness and CH. "I had no intentions of adding to my large cat family," explains Sue, "but Beth kept telling me how special Weeble was and that she really wanted me to adopt him."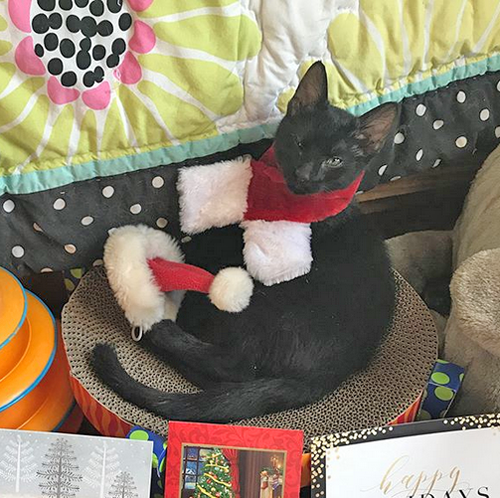 After all, Sue and her husband had experience caring for cats with cerebellar hypoplasia, a non-progressive neurological condition that affects balance and coordination, so Beth knew the couple would be able to give Weeble a loving home and cater to his special needs. "My house is already CH-ready with mats and pillows all the floor," says Sue, "so after getting cat dad to agree, I told Beth, 'What's one more?' "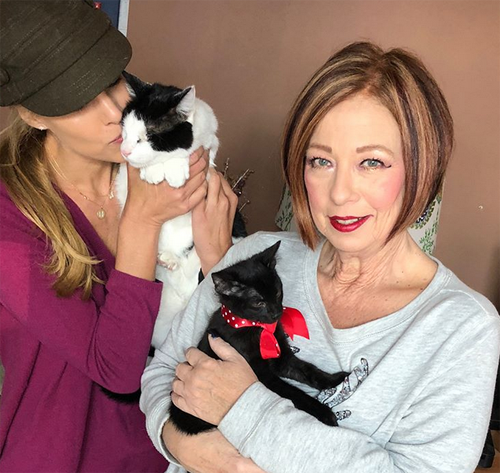 On December 10, 2017 — approximately two weeks before Christmas — the Smiths officially adopted Weeble, an adorable black kitten who, like Sue's other cat Blossom, was named by Howard Stern. "He said, 'Weeble wobbles and he does fall down,' " explains Sue. "I've been a Howard Stern fan for over 30 years, so I'm honored to have two cats that he has named."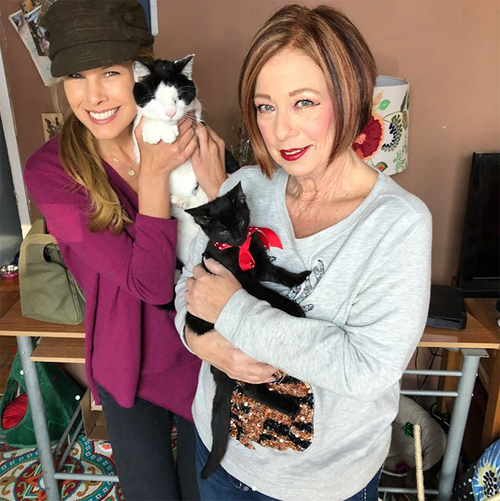 As expected, Weeble was fairly wobbly, more so than Donny, who has mild CH, but not as unsteady as Ozzy, who has a more severe version of the neurological condition. "Weeble's form of CH is what I would describe as moderate," says Sue. "He has a very pronounced swagger in his back legs."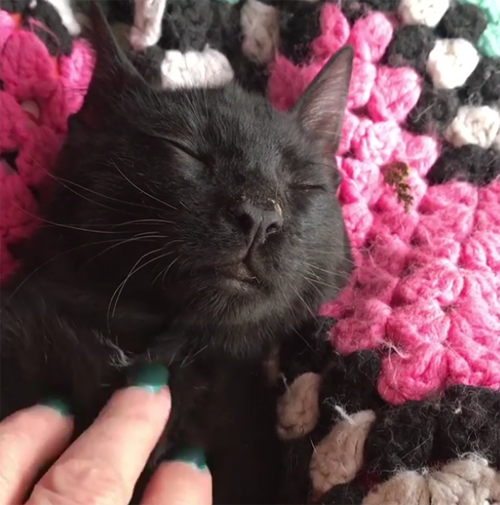 While Sue was prepared for Weeble's wobbly walk, the biggest challenge she faced with him turned out to be chronic diarrhea, a problem that was made worse by his tendency to fall while using the litter box. "It was endless vet visits and lots of help from Meow As Fluff," says Sue, but her persistence eventually paid off.
"He's on a prescription diet. Plus, I add fiber, pumpkin, and rice, but also his stance in the litter box has gotten stronger, so he's not soiling himself," explains Sue. With his gastrointestinal issues under control, Sue no longer had to bathe Weeble every day, giving this cute kitten more time to explore his new home and get into trouble with his many siblings.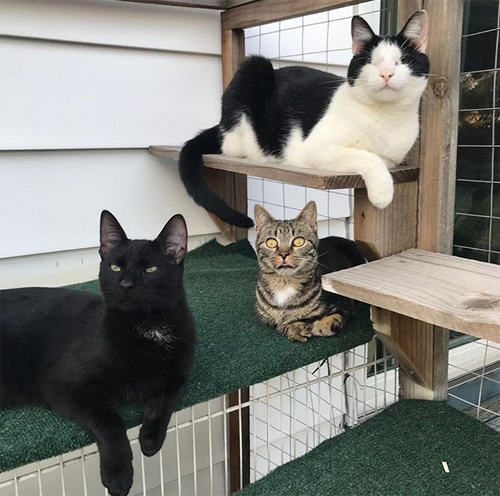 "He loves to run very fast, and since he's uncoordinated, he smashes into things all the time, which does cause me to worry a lot," says Sue. "But he's an active kitten, and other than locking him up, there's not much I can do." Despite regularly crashing into walls and furniture, Weeble — like most CH cats — miraculously manages to escape unscathed, quickly rebounding after he takes a tumble. In addition to careening around his home, this spunky kitten absolutely loves the outdoors, and Weeble is happiest when he's able to safely enjoy nature. "Weeble's favorite activity is being out in their catio," says Sue. "The only cat that likes it more than him is Blossom."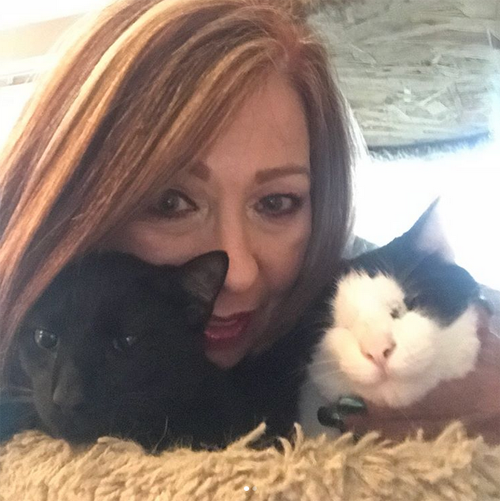 When compared to his feline brothers and sisters, this cute wobbly cat stands out from his siblings in another way. "Out of all of my kitties, I think Weeble is by far the sweetest and definitely the most loving," says Sue. "He absolutely loves to be held."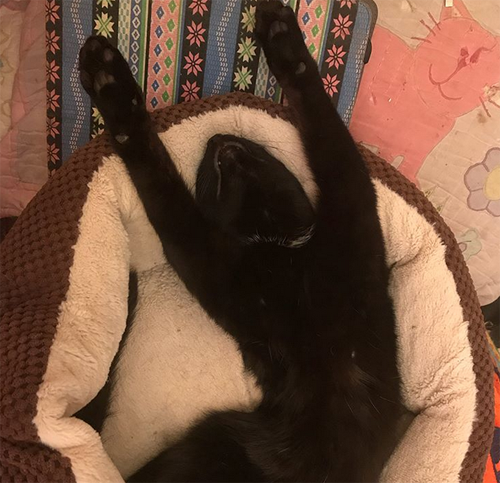 Sue, who's had several cats in the past, including lots of kitties with special needs, thinks felines with cerebellar hypoplasia tend to be more affectionate than those without the condition. "They love being pet and held more than any cats I've ever had the privilege to own," says Sue. "Plus — I know this sounds totally nuts — but I think they have a sense of humor because they are so funny and I think they know it."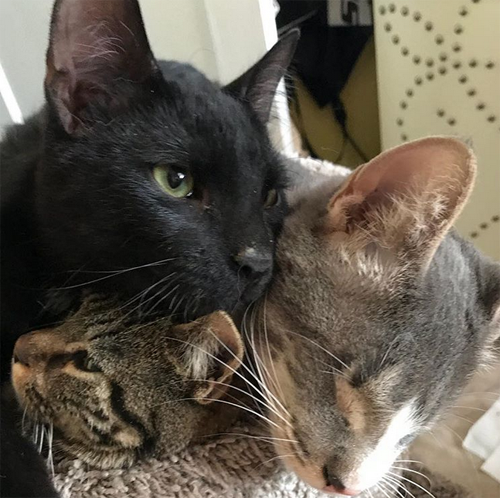 Due to his loving nature, Sue is certain Weeble will make an excellent therapy cat, so she's started bringing him along with her when she takes Donny to visit a facility for people with Alzheimer's and dementia as part of an outreach program through North Shore Animal League. "He doesn't have Donny's patience to sit on people's laps for as long as Donny does," says Sue, "but he definitely makes people laugh with his drunken swagger."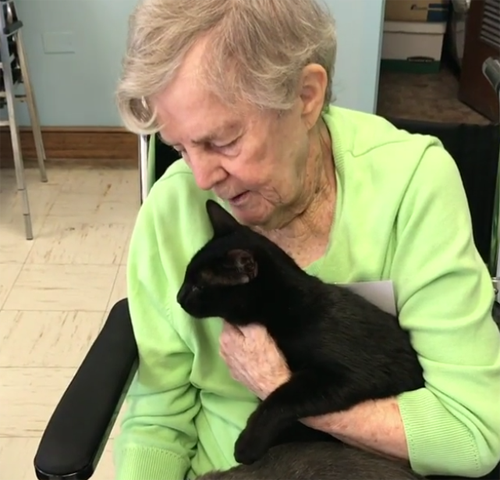 As a therapy cat in training, not only is Weeble able to brighten the lives of people who are living with dementia, he's helping to raise awareness about his own neurological condition, potentially saving other cats with cerebellar hypoplasia from being needlessly euthanized. "I recently took my severe cat Ozzy to the vet because he's developed seizures," explains Sue, "and even though she's been in practice about 15 years, Ozzy is her second CH cat. I think too many [CH cats] have been put to sleep because people and vets don't think they can live normal lives. They are wrong!"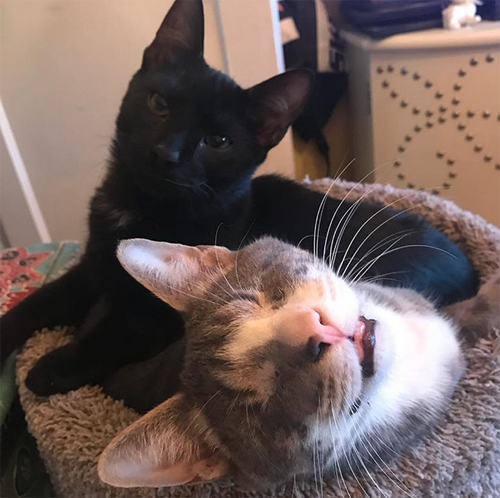 When Sue first learned about Weeble at the end of 2017, she was reluctant to open her home to another special needs cat, uncertain that she and her husband would be able to look after yet another pet. While Weeble — who at one point needed a bath everyday — has had his share of ups and downs, Sue is grateful she stuck by his side and refused to give up on him.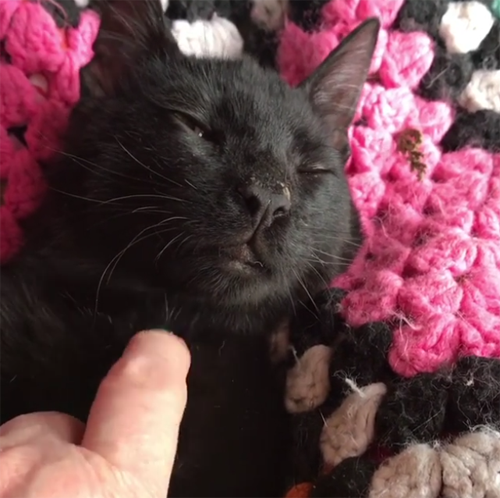 Not only does this special boy shower his mom with love and bring happiness and companionship to people living with dementia, Weeble inspires everyone, especially his mom, with his resilience and positivity as he grows stronger and learns to cope with the challenges of his condition. "When I first talked to Beth about him, I was definitely scared about adopting another special needs cat," says Sue, "but now I can't imagine our family with out him."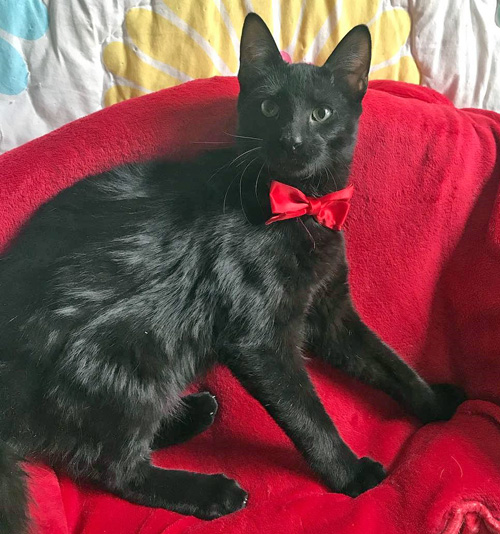 To learn more about this adorable kitten, you can follow Weeble on Instagram.
If you would like to meet Sue and Donny in person, they will be doing a meet and greet at Kittydelphia 2018 in Philadelphia, Pennsylvania, on July 29, 2018.