Jeanne was scrolling through her Instagram in July 2017 when a picture of Doby, an adorable black kitten with a cleft nose, that was shared by Friends for Life Rescue Network caught her attention. "Jacqueline from the rescue saw his little face and knew he had to join the rescue and posted his photo on the group's Instagram," explains Jeanne.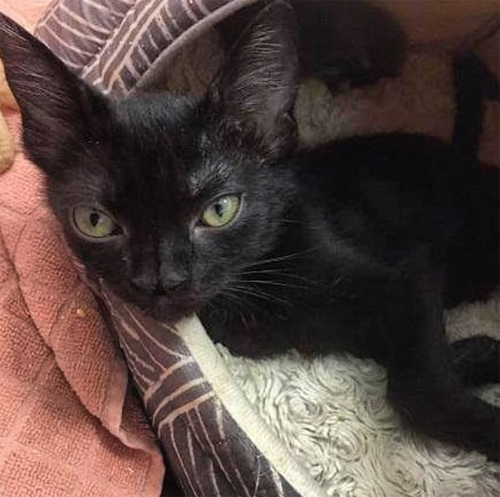 A year earlier, Jeanne and her husband had adopted two black bobtail, polydactyl kittens from the Los Angeles rescue, and the couple had remained in contact with Jacqueline — founder of Friends for Life Rescue Network — ever since, regularly sharing photos of Luna and Jet as they grew into adult cats. "I immediately messaged Jacqueline and asked about Doby," remembers Jeanne, and she learned that the adorable kitten was mostly likely born in May 2017, making him around two months old.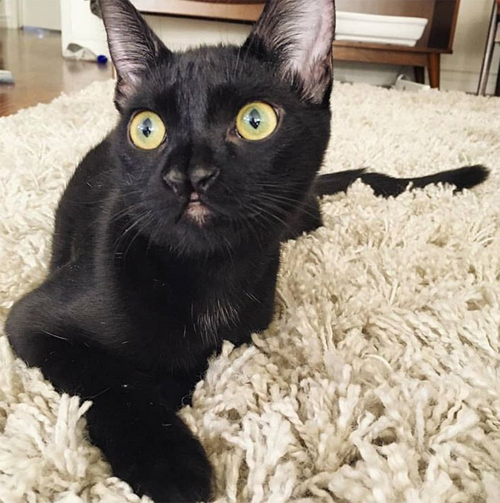 "Doby lived in a cat sanctuary when he was a very small kitten," explains Jeanne. "He was bonded with a blind kitten that was adopted, so the sanctuary worried that he would be stressed without his friend." When Doby joined Friends for Life Rescue Network, he was extremely anxious, so Jacqueline placed him in a foster home with people who were willing to work with him to help him feel more at ease. "His foster family did a great job teaching him to trust and love people," says Jeanne.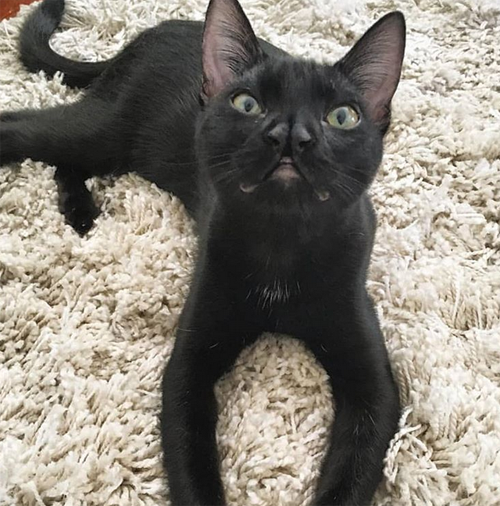 In addition to anxiety, Doby had a number of health issues when he was rescued by Friends for Life Rescue Network that had to be dealt with before he was eligible for adoption. "There were multiple rounds of medications for his upper respiratory infections and giardia," says Jeanne. "Because of his cleft nose, it was especially important for him to be completely healthy when he left the rescue."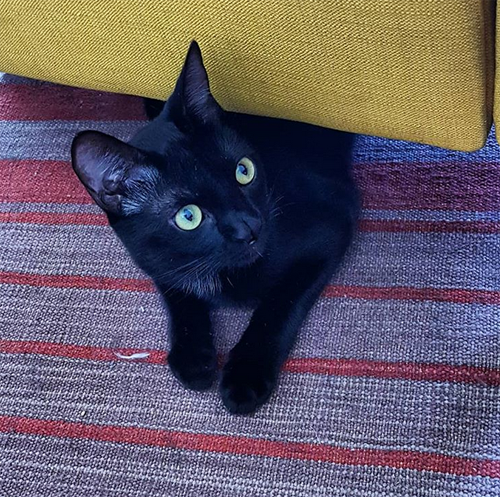 Jeanne also learned that Doby was born with a non-progressive neurological condition that affects balance and coordination. "Doby has cerebellar hypoplasia which means that the part of the brain that controls motor functions did not fully develop," explains Jeanne. "This was probably caused by an infection when his mother was pregnant."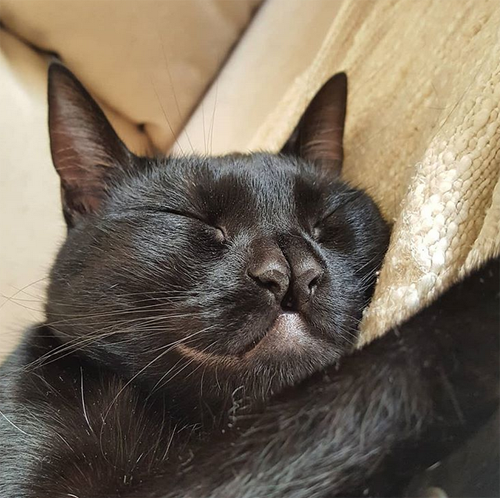 While cats with severe cerebellar hypoplasia (CH) can have extremely limited mobility and often require a lot of assistance, felines with a mild form of the condition — like Doby — usually have few symptoms aside from a wobbly walk and head tremors. "Doby has very mild CH — he is able to walk, jump, eat, and use the litter box without too much trouble," says Jeanne.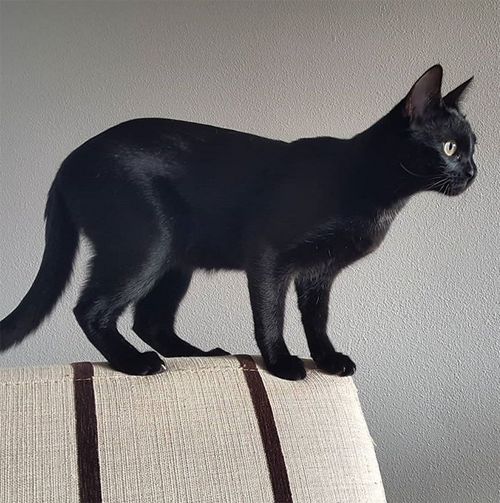 After approximately one month in his foster home, Jacqueline, the founder of Friends for Life Rescue Network, determined Doby was finally ready — both mentally and physically — to meet his forever family, so Jeanne and her husband Alastair arranged to see him in person at an event near their home in Los Angeles. "We finally got to meet him the weekend of CatCon last year," says Jeanne. "I was so excited and a little nervous."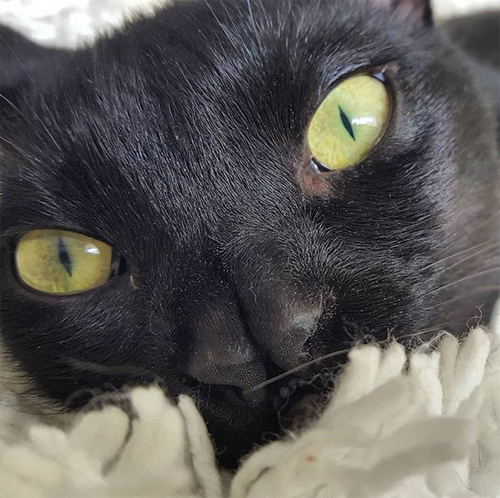 Having done a lot of research about cats with cleft noses and cerebellar hypoplasia, Jeanne felt confident that she and her husband would be able to take excellent care of Doby, but she was worried the cute black cat wouldn't like her or Alastair. "He was so tiny and easily startled," remembers Jeanne, "but we loved him right away." In October 2017, the couple officially adopted Doby, outfitting their home with bumpers and mats to give him plenty of soft places to land so that he wouldn't hurt himself when he inevitably fell over.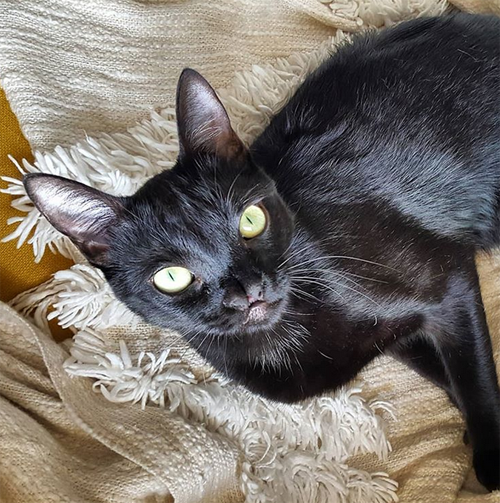 However, Jeanne quickly realized she had overestimated the severity of Doby's cerebellar hypoplasia, and these additional precautions proved to be unnecessary. "We did our research thinking that his condition was more severe than it is," says Jeanne. Despite being steadier on his feet than his parents expected, Doby still exhibited other symptoms of cerebellar hypoplasia, including intention tremors when trying to decide whether or not pounce on something. "His little head looks like a bobblehead toy wobbling back and forth really quickly," explains Jeanne.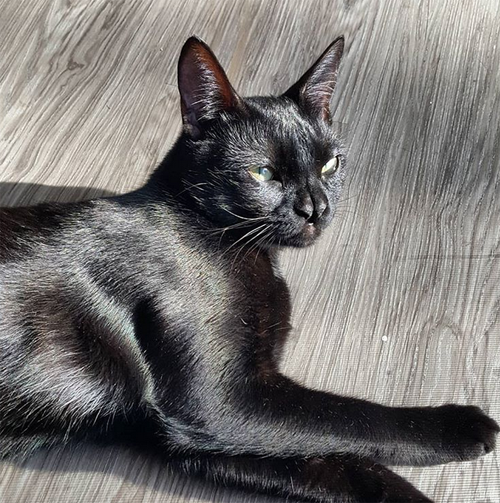 While Doby's cerebellar hypoplasia hasn't proved to be much of a challenge, his cleft nose has given his mom and dad some cause for concern. "His cleft nose means we are always worried about infections," says Jeanne. "We also watch him whenever he is playing with us to make sure he is not getting too winded from the play."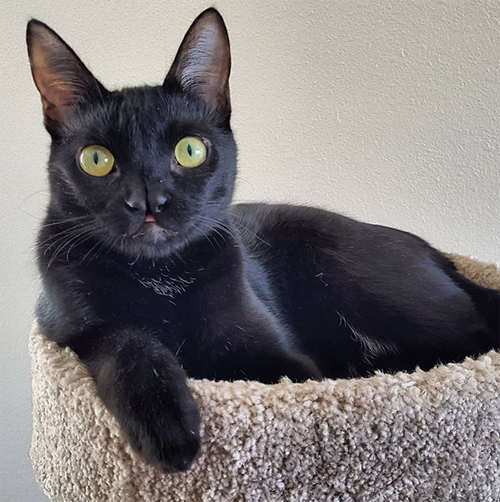 Also, due to Doby's unique facial structure, his parents got him a special tilted bowl that makes it easier for him to enjoy his meals. Still, this handsome boy is a particularly slow and messy eater, and when Doby first arrived at his forever home, he wouldn't touch his food unless one of his parents was next to him the entire time. "We have worked on this and he has gotten a lot better over the past few months," says Jeanne.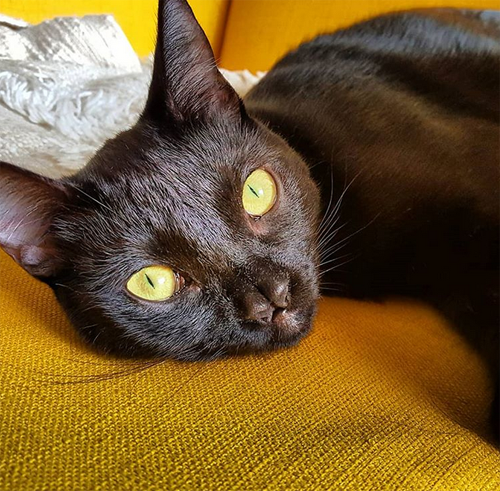 It's been several months since Jeanne and Alastair adopted Doby, and this incredibly special boy has done a great job of settling in with his parents and his sisters, Jet and Luna. "Doby's absolute favorite thing is destroying his feather toys," says Jeanne. "His second favorite game — which we are just learning — is fetch." While Doby is still getting the hang of bringing the ball back to his mom when she throws it, it's obvious that he's incredibly intelligent, despite what some people might think about cats with cerebellar hypoplasia.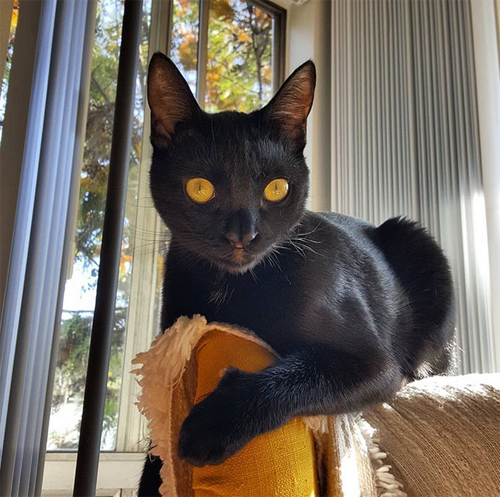 "The biggest misconception about [CH cats] is that they are less smart than other kitties," says Jeanne. "Doby definitely proves them wrong — he is an expert puzzle solver even if he has a little trouble with the finer mechanics of the motion." While Doby may be a bit different from the average cat, he has a happy and active life that is rarely limited by issues related to his cleft nose or cerebellar hypoplasia. "We get asked if he can breathe okay, and yes, for the most part he can," says Jeanne. "His breathing is hampered by his double snoot, and so we make sure that he gets exercise but does not overdo it while in pursuit of a toy."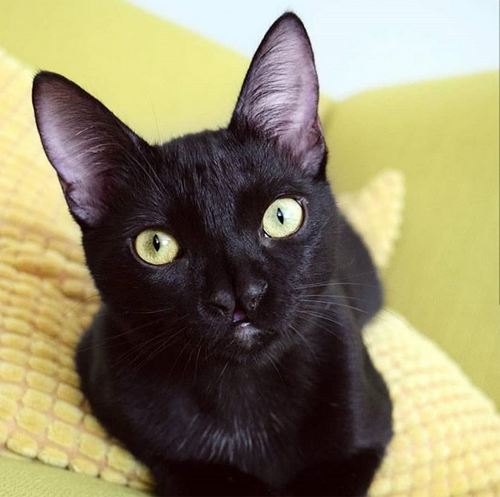 Jeanne hopes that by sharing Doby's story, more people will consider adopting cats with special needs. "These kitties are not less for being different," says Jeanne. "They are more beautiful. They want to do all the things that other cats do. They love playing with toys and treats; they love to sleep in the sunshine and cuddle with their siblings." Doby, who was an anxious kitten when he was rescued by Friends for Life Rescue Network, has blossomed over the past several months thanks to the love and nurturing he received from both his foster family and his adoptive parents.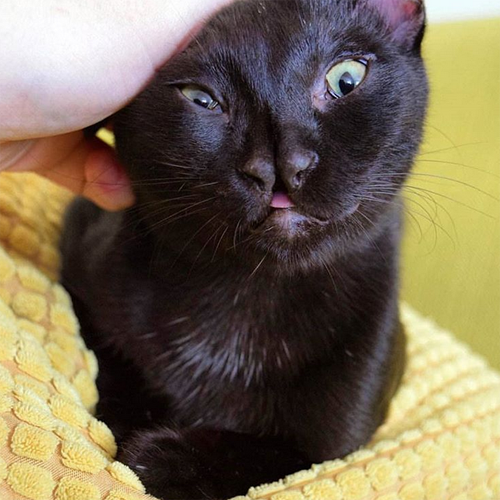 In just a few weeks, Doby will celebrate his first birthday, surrounded by his mom and dad and his sisters, Jet and Luna, and Jeanne and Alastair are so thankful for all of the gifts they have received and will continue to receive from this special boy. "Doby is the kitten that comes to say hello and sing to me in the morning," says Jeanne. "He is a joy and is always happy. Doby is our snuggler and I would not have him any other way. I love him so very much."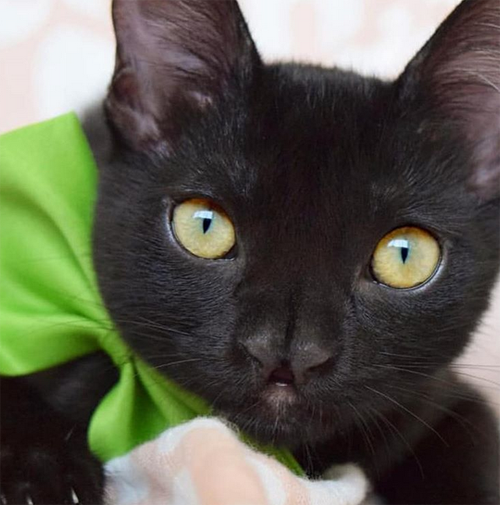 To learn more about this stunning boy, you can follow Doby on Instagram.