When Sam Tochtrop's friend Julia discovered a pair of kittens in her backyard, he agreed to transport them to his former partner who had recently moved into a new home. The kittens, Scooter and Minnie, were just four weeks old when they were found living as strays in June 2015, and Sam — a medical student who currently lives in St. Louis, Missouri — met the sisters not long after they were rescued.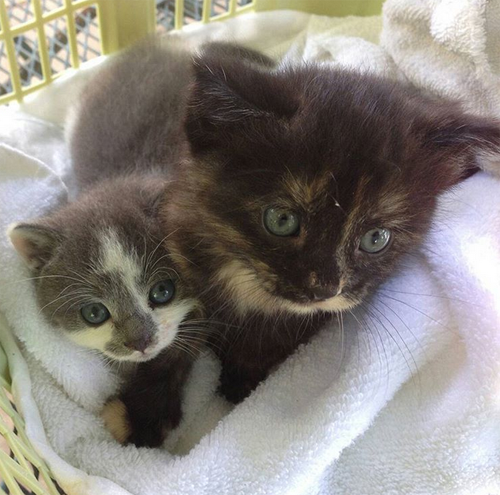 "My first interaction with Scooter was on the kitchen floor of my friend Julia's house," recalls Sam. "I remember holding Scooter to my chest, and she was so scared — she was letting out these little meows that barely made a sound."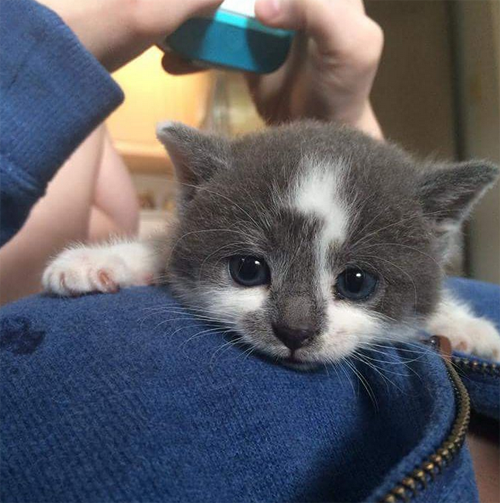 Because both of the kittens were so young, neither Sam nor Julia were that concerned when Scooter — who got her name from her unique form of mobility — appeared unable to walk like a typical cat. Over the course of next week or two, Sam cared for the young cats until the siblings were able to join his ex-partner.
View this post on Instagram
However, not long after Minnie and her sister went to live with Sam's former partner, it became apparent that Scooter wasn't going to start walking anytime soon. "After while, we realized that Scooter has a permanent paralysis, and my ex's schedule wasn't compatible with Scooter's needs," explains Sam.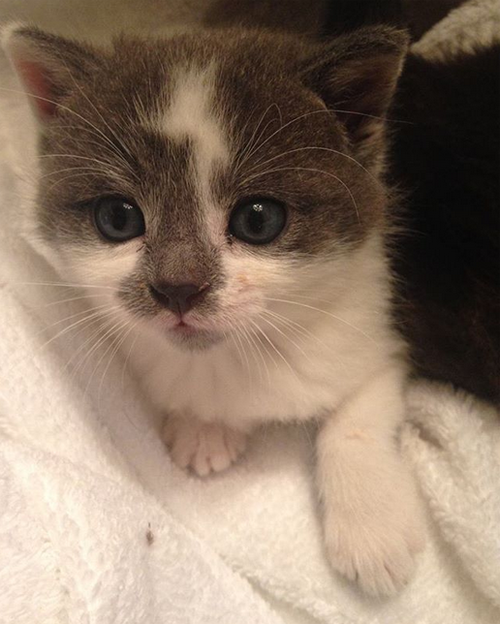 Despite being in his first year of medical school, and having never intended to adopt a cat with special needs, Sam felt compelled to help the little grey and white kitten. In the fall of 2015, Sam officially adopted Scooter, finding time in his demanding schedule to meet her unique needs. "I fell in love with Scooter, and when I realized the extent of her disability and special needs, I felt like I had to make it work," remembers Sam. "No one could convince me otherwise."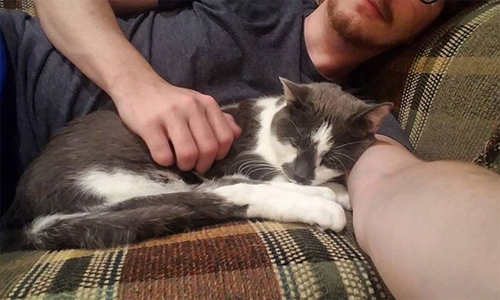 Nearly four years after Sam and Scooter met for the first time, this adorable special needs cat is thriving in her forever home, and while she requires more care than the average feline, her dad has found her easier to look after than a lot of people might think.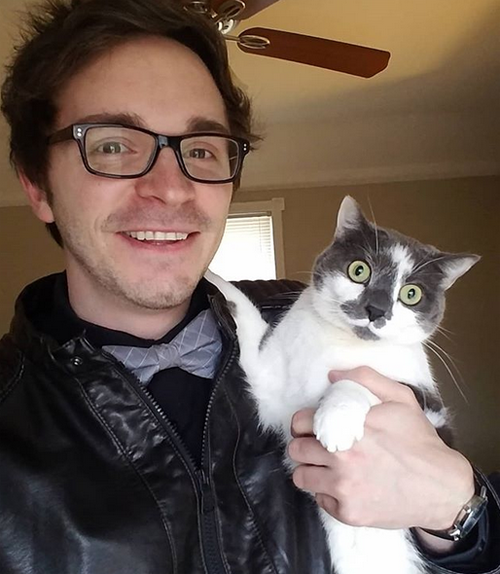 "I think people assume that a paralyzed cat would cause a lot of messes due to bathroom issues," says Sam. "Luckily, I haven't had issues with Scooter, and I don't even have to put diapers on her to prevent messes." Instead, Sam expresses Scooter's bladder multiple times a day, a bathroom solution that works well for both of them.
View this post on Instagram
Also, when he initially adopted Scooter, Sam was concerned this beautiful grey and white girl might develop friction sores on her legs, a relatively common problem for cats with paralysis. Fortunately, this issue — which can often be solved with clothing or bandages — simply hasn't been a challenge for Scooter, who absolutely hates wearing so much as a collar.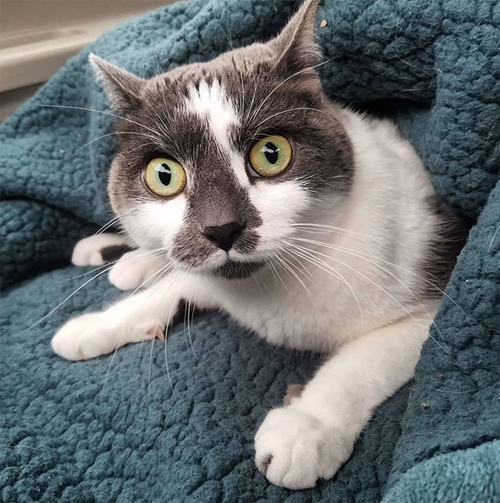 Due to her disdain for clothing and accessories, Sam is confident this three-year-old feline would hate using a wheelchair, a solution well-meaning people often suggest for Scooter and other paralyzed cats. "She doesn't need one, and is happier just scooting around," says Sam.
View this post on Instagram
While some people assume cats with hind leg paralysis have poor quality of life, Scooter — who was born with a spinal deformity that causes her to have spastic paralysis — is proof that special needs kitties are capable of having happy, active, and relatively normal lives.
View this post on Instagram
Like the average feline, Scooter adores looking outside, and while she can't jump like a typical cat, her dad has made some adjustments to their home to help this pretty kitty get where she wants to go. "I recently put up a new ramp to help her get onto the couch," explains Sam. "She's been loving the new ramp, going up and down it when she goes into 'crazy cat mode.' "
View this post on Instagram
Without a doubt, Scooter does need a bit more help than other felines her age, and because she has to have her bladder expressed at least twice a day, Sam takes her with him when he goes on trips. However, it's possible he might be able to find someone he trusts to look after Scooter in his absence.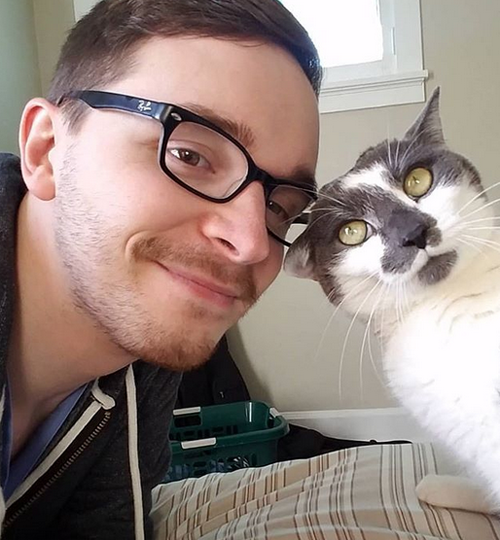 "I suggest that other paralyzed pet owners have someone close to them that can also manage their pet's needs," says Sam. "Being able to spread out the workload of taking care of Scooter would definitely make traveling easier for me!"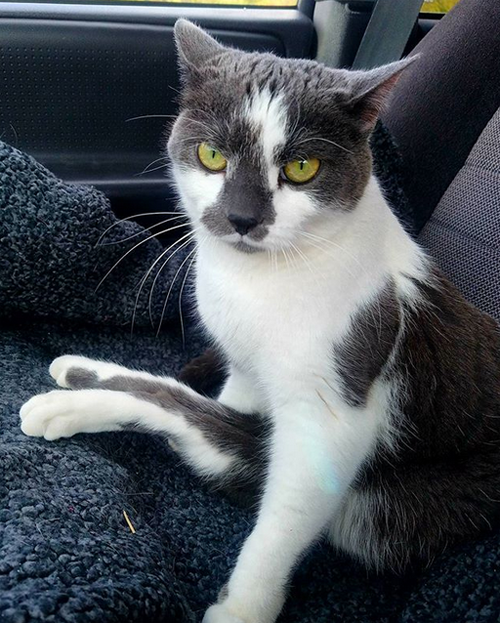 While his life might be a bit simpler without Scooter in it, Sam has never regretted adopting this special girl, because he is certain the joy and meaning she has given to him is totally worth the additional time and attention she requires. "Any extra effort I exert to take care of Scooter is 100% worth it," says Sam. "Taking care of her doesn't feel like work, and she returns the affection ten-fold."
View this post on Instagram
It's impossible not to think about what might have happened to Scooter if Sam's friend Julia hadn't rescued her and her sister Minnie nearly four years ago. It's possible this very special cat might not even be alive today, much less thriving in an amazing home where she is showered with love and affection. For Sam, it's difficult for him to even imagine his life without Scooter in it, and he's truly grateful he was given the opportunity to be her dad.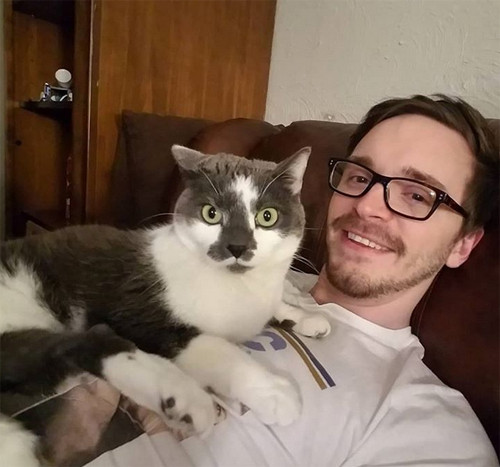 "Scooter means everything to me," says Sam. "I occasionally have moments when I think about what my life would be like if I never got Scooter. It would just be so empty, and I would have missed out on so much personal growth and opportunity without her. She has truly changed my life for the better in so many ways."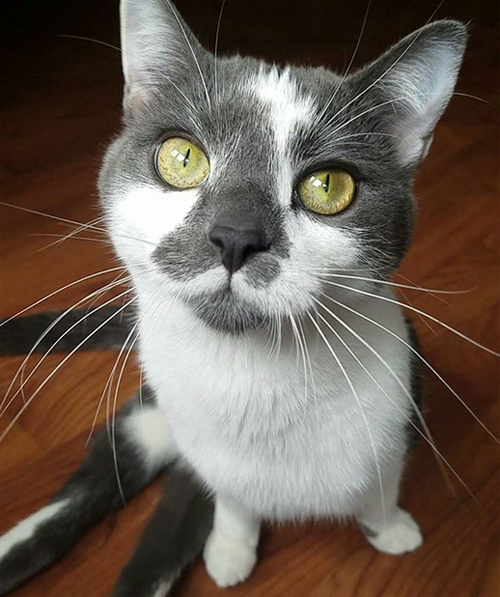 To learn more about this remarkable cat, you can follow Scooter on Instagram.