When Nicole was asked if she would be willing to foster a tiny grey kitten with special needs who'd been rescued by The Odd Cat Sanctuary in December 2018, she eagerly agreed. "She came to us from Rawr Sanctuary," explains Nicole. "She was nearly half the size of the cats she was with and I believe the only one with special needs."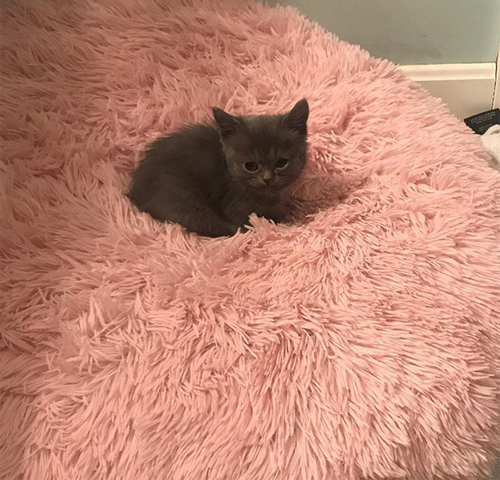 The kitten — who was born in mid-October 2018 — weighed just a pound when she was rescued, while the average 8-week-old cat weighs approximately two pounds. In addition to her diminutive size, the kitten was born with both radial hypoplasia (RH) and twisted hind legs.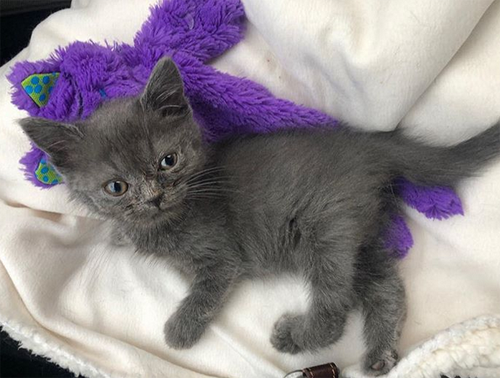 "Radial hypoplasia is a genetic condition that affects her legs, essentially causing them to be shorter and twisted," explains Nicole. "She is an unusual case in that she has deformities in all four legs, not just her front two, and therefore all of her legs are twisted inward."
View this post on Instagram
While Nicole had never cared for a cat with four twisted limbs before, being a long-time foster mom for The Odd Cat Sanctuary — a rescue in Salem, Massachusetts, that's dedicated to helping felines who are often considered less adoptable — had given her plenty of experience with other types of special needs kitties.
View this post on Instagram
When the little kitten arrived at The Odd Cat Sanctuary, Nicole was already fostering Ethel, an adorable grey and white cat with hydrocephalus who needed a companion. "I didn't have many fosters at the time and thought it might be nice for Ethel to have a kitten friend," says Nicole.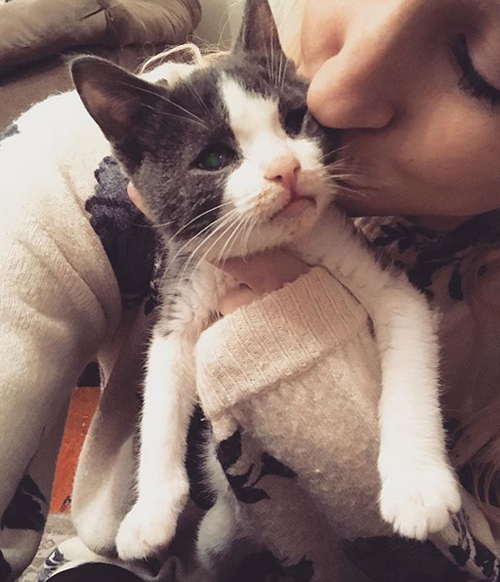 It didn't take long for Ethel to bond with her new roommate, and when Nicole turned to social media to find the perfect name for the grey kitten, she received an overwhelming response. "Ethel's Instagram followers picked Lucy's name — inspired by the I Love Lucy show," explains Nicole, "and it was such a perfect recommendation, we had to go with it."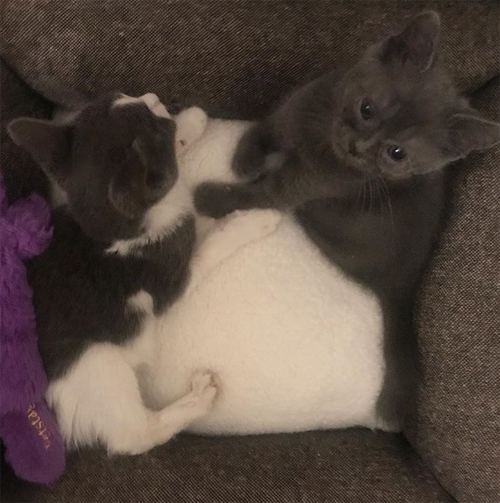 Like the beloved TV character she was named after, Lucy refused to let anything stop her from having fun and achieving her goals, even her unusual limbs. "She walks and plays essentially on her elbows in the front, and on the feet of her back legs though with legs awkwardly bent inward at the knees," says Nicole.
View this post on Instagram
During her first few weeks in Nicole's home, Lucy spent most of her time playing and cuddling with Ethel, proving these two special needs kittens were as inseparable as their namesakes.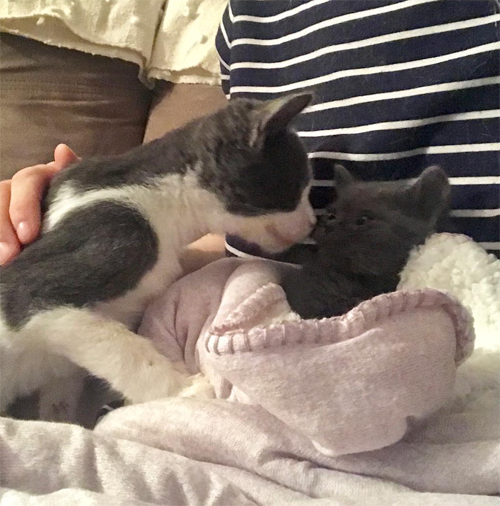 Tragically, just a few weeks after meeting for the first time, Lucy lost her best friend and constant companion when Ethel passed away suddenly in January 2019 when she was approximately four months old.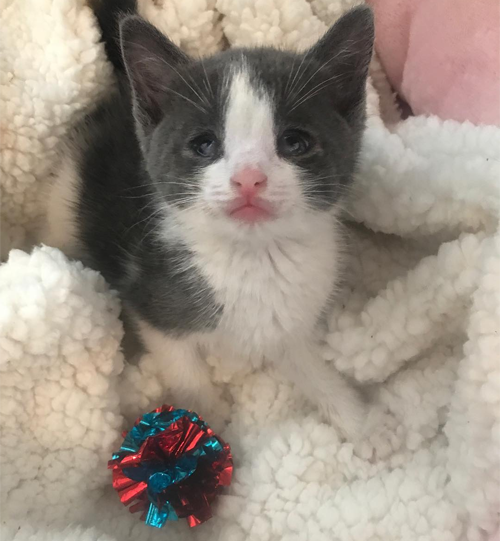 Devastated by Ethel's untimely passing, when The Odd Cat Sanctuary rescued another grey and white special needs kitten less than a week later, Nicole still felt compelled to open up her home to the little cat, naming her Millie. "Millie, who resembles Ethel so much, was posted as being in need just days after Ethel's death," says Nicole.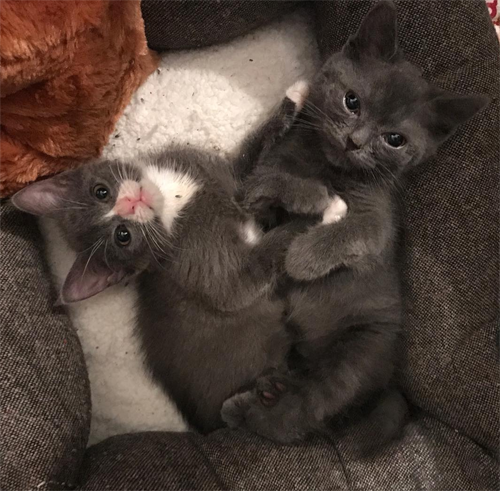 While Lucy was grieving the loss of her best friend, she eventually developed a strong bond with Millie, who was also born with twisted hind legs. Today, Lucy is around four months old and an incredibly happy and active girl who has seemingly boundless enthusiasm.
View this post on Instagram
"Lucy is probably the most energetic cat in my house and really one of the most energetic kittens I've ever had here," says Nicole. "She runs constantly and plays with everything — toys, cat tails, lint, you name it. Everything is just so exciting to her. And when I think she's tiring out, she gets a second, third, and fourth burst of energy. It's amazing."
View this post on Instagram
Even though Lucy refuses to let her radial hypoplasia and twisted hind legs keep her from having fun, her congenital conditions do prevent her from doing some activities. "Lucy is unable to jump onto things like other cats," explains Nicole, "and with all four legs being affected, she is also unable to climb." Thankfully, this gorgeous grey girl has learned how to let her foster mom know when she wants to get up or down from somewhere — such as a piece of furniture — and Nicole is more than happy to lend Lucy a hand.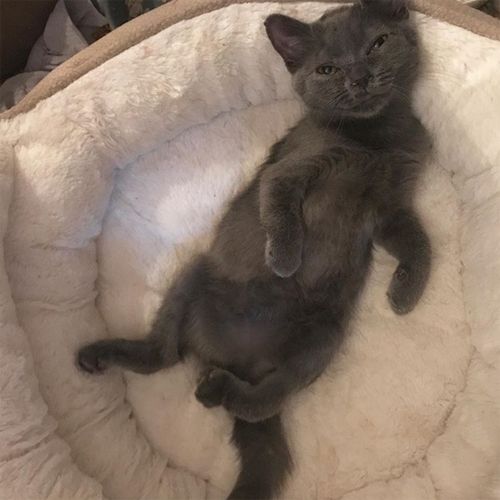 While she does have some limitations, Lucy doesn't require that much extra care, and she definitely isn't in any pain. "I think the biggest misconception is that cats with these conditions have a decreased quality of life," says Nicole, "which — in this case — couldn't be further from the truth. She is truly the happiest cat in my home."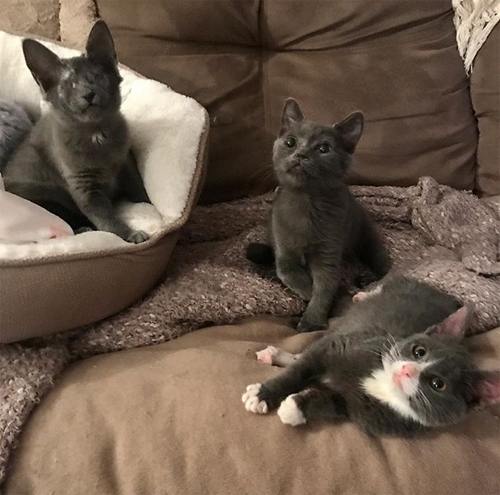 Recently, Bessie — another grey special needs kitten — joined Nicole's home, and like Ethel who passed away far too soon, she is blind. Together, Lucy, Millie, and Bessie are the best of friends, and Nicole is so thankful to be able to share her life and her home with this trio of remarkable kittens who are living proof that special needs cats can have full and happy lives. "They all deserve a chance!" says Nicole. "So many of them are resilient beyond what we'd ever imagine. They are truly so inspiring."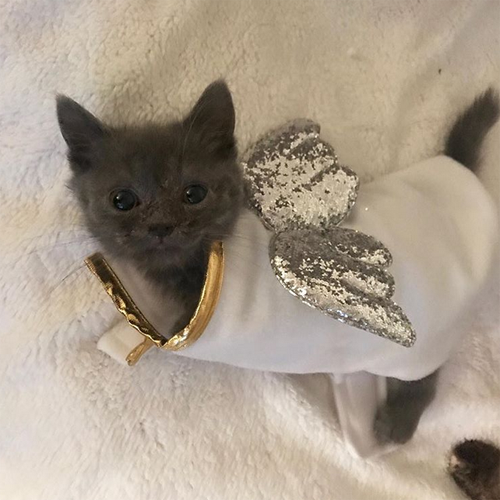 While Nicole adores all three of these special kitties, she has a unique bond with Lucy, the little cat who helped ease the pain of Ethel's passing with her indomitable spirit and exuberant energy. "Lucy is so special to me!" says Nicole. "She can make me smile and laugh on even the worst of days. She is just the happiest soul with the most enthusiasm — she spreads her happiness around the house."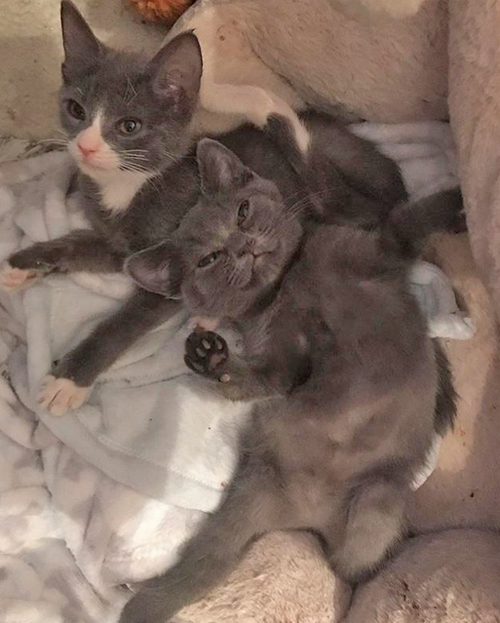 To learn more about this adorable kitten, you can follow Lucy on Instagram.