As Lori, a pre-kindergarten teacher of children with special needs, was leaving the medical foster home of her two of her students in late November 2016, she made a surprising discovery. "I walked out the front door and on the step was a tiny, dirty kitten," remembers Lori. "I looked around and didn't see a mom or other kittens."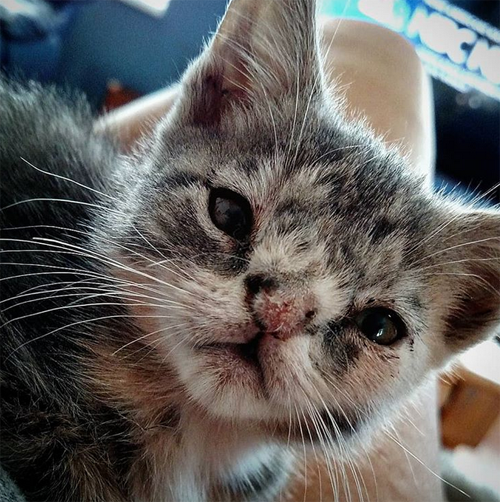 As Lori made her way to her vehicle, she realized the kitten — a disheveled dilute torbie with a unique face — had followed her to her car, so she scooped the young feline up and brought her back to her home in Tampa, Florida.
Soon after rescuing the flea-ridden kitten, Lori took the bedraggled cat to a veterinarian for a thorough examination. "The vet said she had a chromosomal abnormality like Down syndrome," explains Lori. "She said if I took her to a shelter they'd kill her because she wasn't 'pretty enough.' "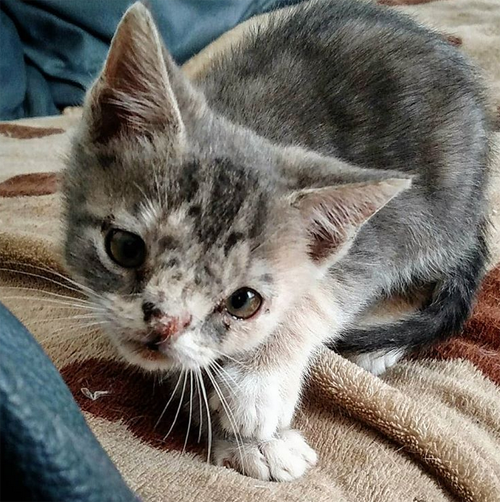 Lori also learned that the kitten was approximately five weeks old and had intestinal parasites and an eye infection, but she was an otherwise healthy young cat. Determined not to allow the five-week-old feline to be put to sleep simply for looking different from other cats, Lori decided to adopt her, naming her Willow in honor of the street where the two met for the first time.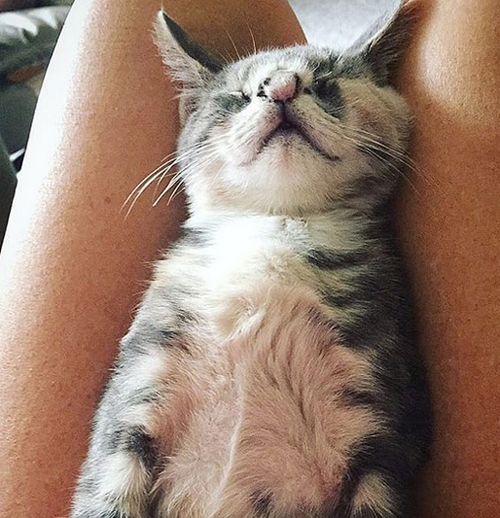 With Lori's love and care, as well as some much-needed medication, Willow grew from a small and sickly kitten into a happy and healthy adult cat, and more than a year later, this sweet girl is doing great. "She loves to play chase with our Boxer dog Ella," says Lori, "and she likes to look out the windows at the bird feeder."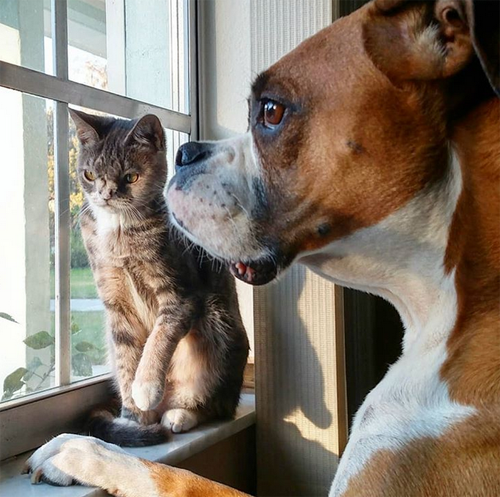 When Willow isn't bird watching or tearing after her canine best friend, she enjoys playing with pipe cleaners and cuddling with her mom, proving that while she may look a little different, she's a typical cat. However, compared to the average feline, Willow is a bit unique because she absolutely adores having her picture taken. "If she had hands, she'd be Kim Kardashian and constantly take selfies," says Lori.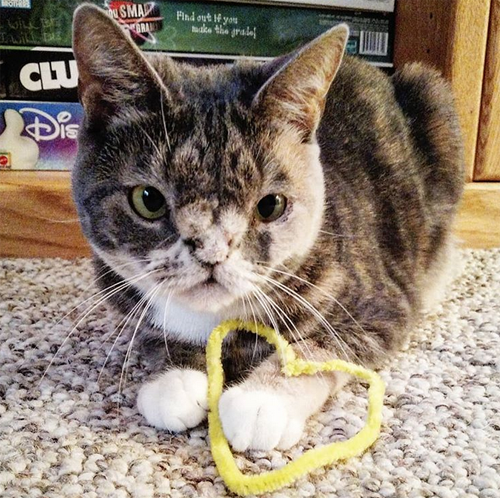 While some people might expect Willow to need a lot of special attention due to her chromosomal abnormalities, Lori has found the only help this beautiful girl needs is related to her unique nasal structure. "She can't breathe out of her left nostril [because] it's closed," explains Lori, so she cleans Willow's right nostril everyday to make sure she's able to breathe as well as possible out of the working one.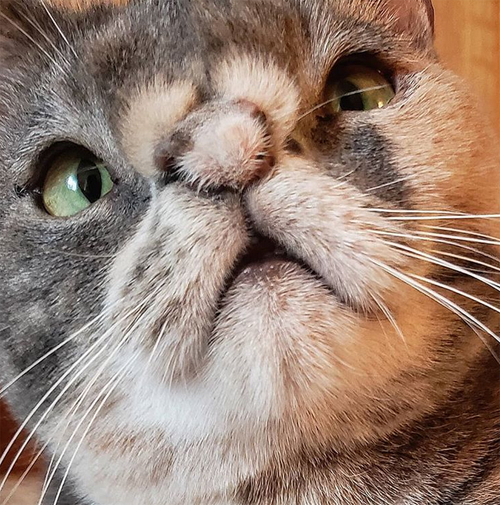 Lori has also found that a lot of people expect Willow to be more expensive to care for than the average cat and to not be as intelligent as felines without chromosomal abnormalities, neither of which she has found to be true. "She has regular vet bills," says Lori, "and she's very smart."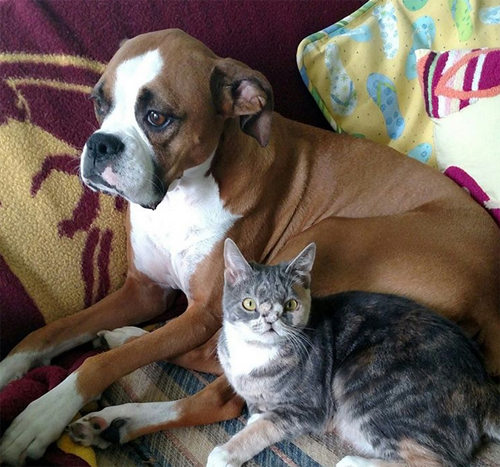 While Lori didn't go looking to adopt a cat with chromosomal abnormalities, it's no surprise that this teacher who has a made a career out of helping children with special needs, felt compelled to help Willow when the two had a chance meeting more than a year ago.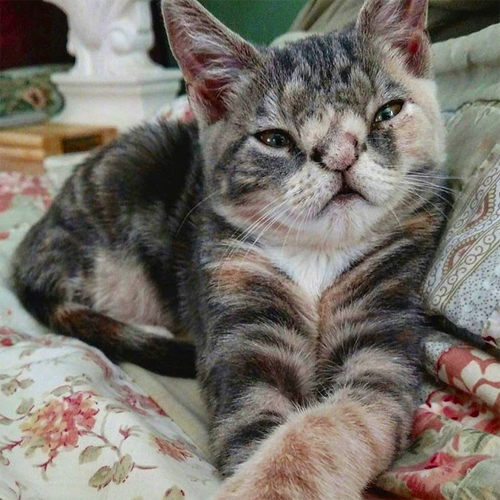 During the many months Lori has spent with Willow, this experienced special education teacher has learned a lot about felines with special needs. "They are just like any other cat," says Lori, and she is confident Willow isn't bothered — or even aware — that she has chromosomal abnormalities. "She doesn't know she's different," says Lori.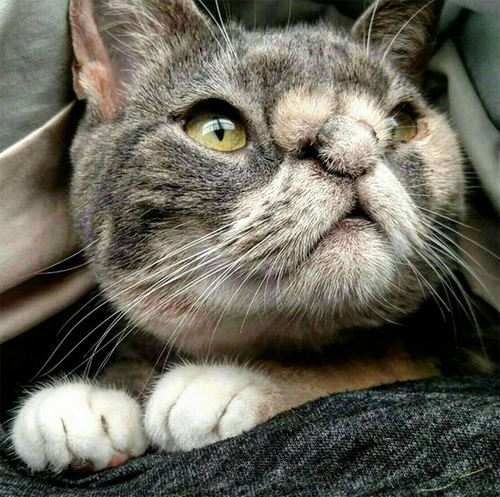 While Willow may not know she's different, it's impossible for anyone — including her mom — to deny that there is something special and almost otherworldly about this gorgeous girl who appeared — seemingly out of thin air — in front of Lori in November 2016. "She's a sweet, magical cat that came out of nowhere," says Lori.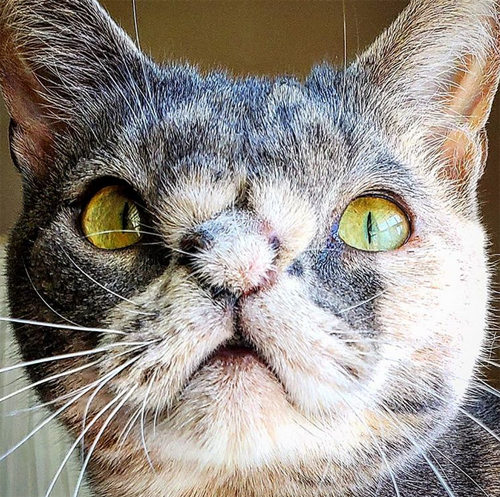 To learn more about this gorgeous cat, you can follow Willow on Instagram.