Jalissa Colon was working at a veterinarian's office near her home in Coatesville, Pennsylvania, when a woman brought in three young kittens she'd recently discovered on her property. "She found these kittens in her backyard and wanted to put them down," remembers Jalissa. "Right away, I knew that I was not going to allow this to happen."
The litter included two male kittens, who appeared to be in relatively good health, and a bow-legged black and white female who was in serious need of medical attention. "Her eye was hanging out of the socket and there was no way to save it," explains Jalissa.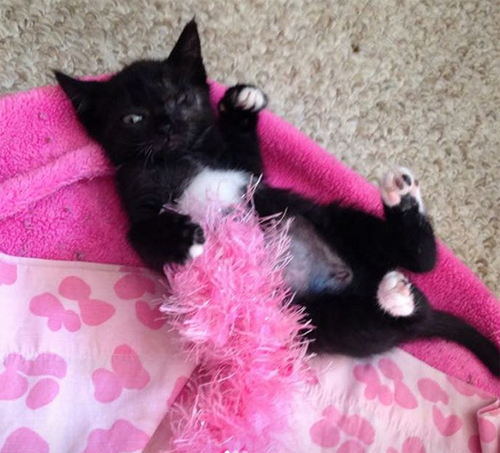 While no one knows for certain how the female kitten received the injury to her eye, the veterinarian concluded she was probably attacked by an animal while living on the streets as a homeless cat. "She had brain damage from what happened to her," says Jalissa, and the tuxedo kitten — who Jalissa named Lily —  was unable to completely close her mouth because of the injuries she'd sustained.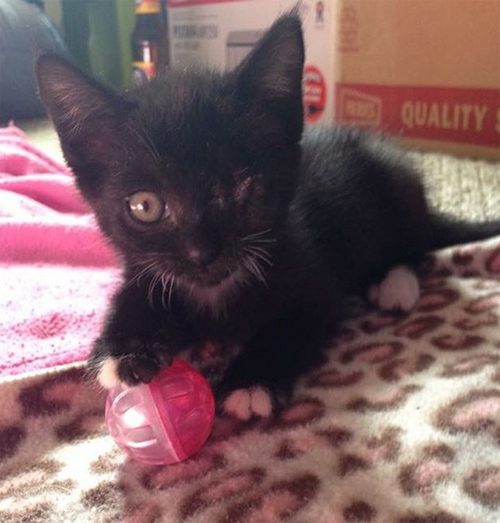 After receiving an estimate from her boss for the kitten's eye removal surgery, Jalissa decided to foster the trio of young cats — who were born in July 2014 — until they were old enough to be adopted.
In September 2014 when Lily was approximately six weeks old, she had surgery to remove her injured eye. While the young kitten was recovering from the operation, Jalissa found a home for her brothers, but she decided to keep Lily for herself. "I fell in love with her," remembers Jalissa, "and I was willing to go the extra mile to make sure she had a great life."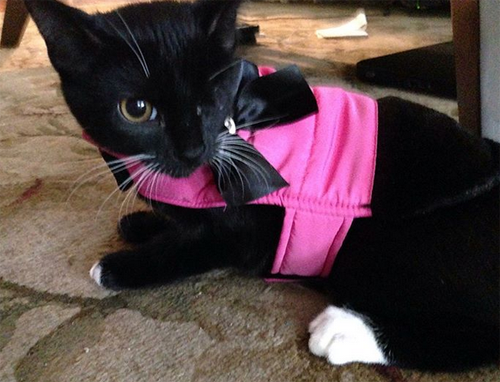 However, it took a while for Lily to adjust to life in her new home, especially because she was unable to climb and jump like a typical cat. "The doctor thinks it could be because of the brain damage," says Jalissa.
As a young kitten, Lily struggled a lot with the stairs in Jalissa's home, and this cute black and white girl repeatedly ended up in the vet's office after falling on the steps. "I've had to rush her to the hospital plenty of times because she broke all her teeth," says Jalissa. "Thankfully, they were baby teeth!"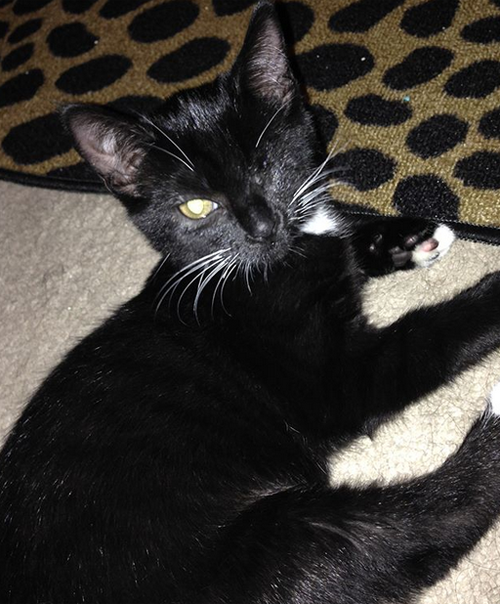 Eventually, Lily mastered the stairs, and nearly four years later, this adorable one-eyed cat is able to go pretty anywhere she wants to go, although she still needs her mom's help getting to high places. "We have to lift her up on to everything," says Jalissa, "but she does not let anything stop her though, not even her bow legs!"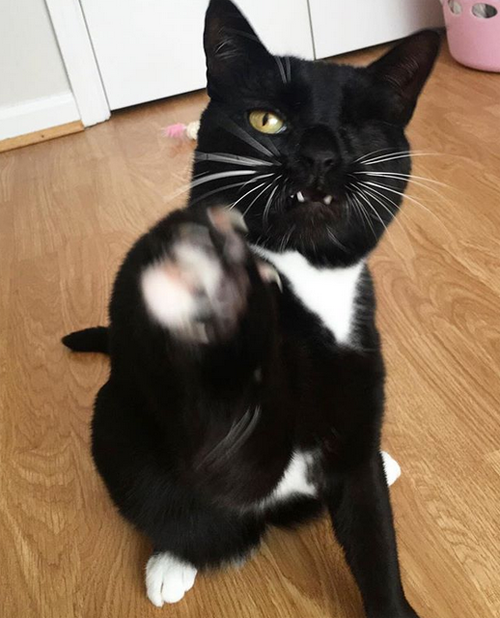 Lily, who was discovered in someone's backyard, loves being outside, so her mom makes sure this beautiful girl gets plenty of supervised time outdoors. "Lily loves to play outside on the deck with her human and go for walks on her harness," says Jalissa. This cute special needs tuxedo cat also enjoys playing with pompom balls and snuggling with her mom, especially when Jalissa rubs her nose. "She is the most beautiful compassionate, silly, personable cat ever," says Jalissa.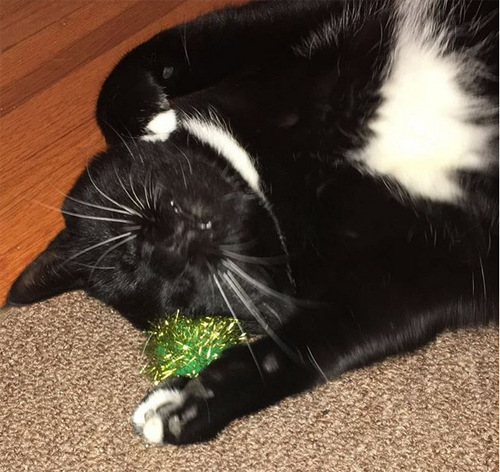 Even though Lily is a happy, healthy, and adorable girl, not everyone is able — or willing — to see how beautiful she is, both inside and out. "I've had people call her ugly and I think that is not the case at all," says Jalissa. "I think different is definitely beautiful in Lily's case."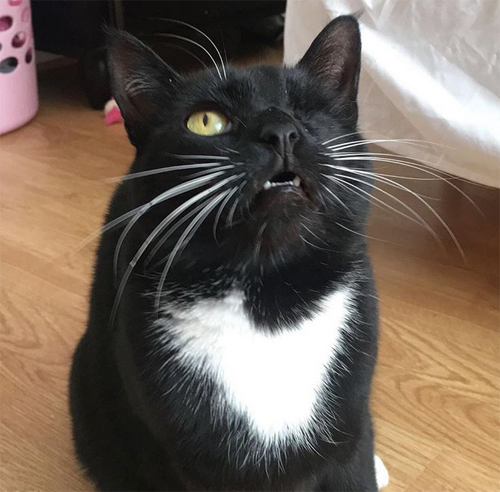 Jalissa is certain that Lily, and special needs cats like her, are truly unique, and not just because they often look different from typical felines. "Cats with disabilities really are a whole different breed," says Jalissa. "They will shower you with affection because they know you are the reason they are still alive."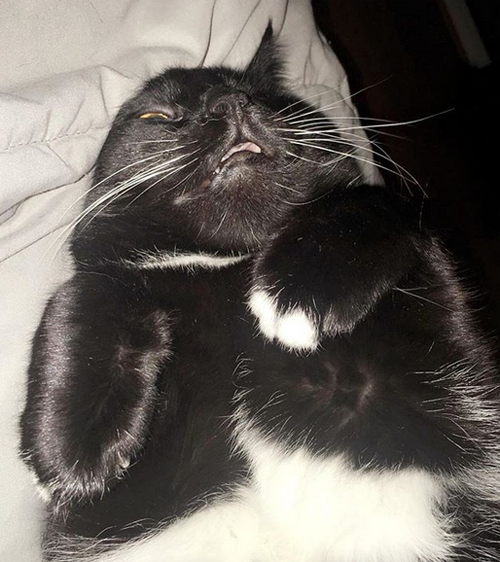 Undoubtedly, Lily — who was injured as a young kitten and nearly euthanized when she was just a few weeks old — and Jalissa — who selflessly saved her life — share an incredible bond that has only gotten stronger during the years they've spent together. "I could not imagine my life without her," says Jalissa. "She is so sweet and she is always there for me."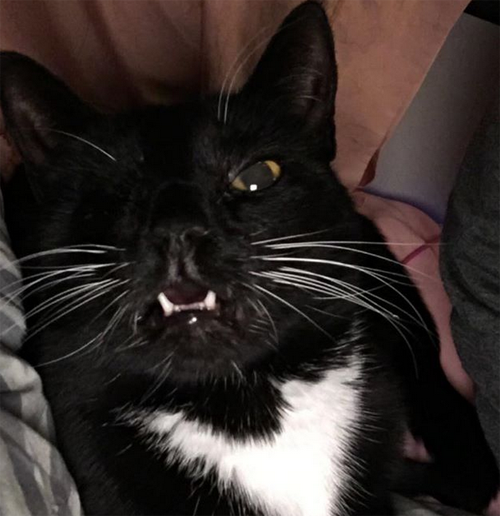 While Jalissa didn't go looking for a special needs cat to adopt, she is so grateful that she was in the right place at the right time to be able to give Lily the loving home she deserves. "She came into my life for a reason and I'm so thankful for that," says Jalissa. "Lily means the entire world to me."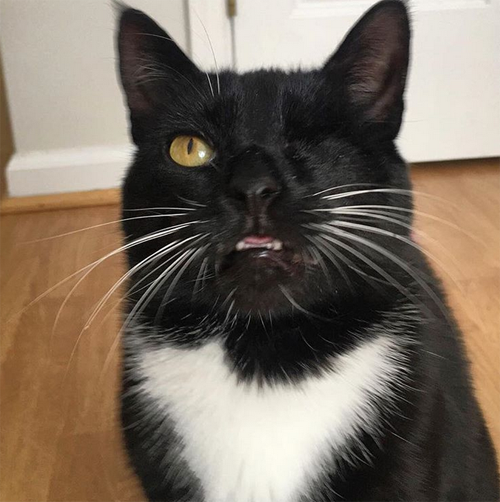 To learn more about this adorable cat, you can follow Lily on Instagram.