Ina was browsing the website for Fellnasen e.V., an animal rescue group dedicated to helping homeless cats and dogs in Bulgaria, Spain, Kuba, and Germany, when a stunning ginger and white cat named Siera grabbed her attention. Being an animal lover, Ina — who works for Fellnasen e.V. — was horrified to learn that Siera had been the victim of a depraved act of abuse and cruelty. "She was found by a guy on the streets of Bulgaria, bleeding like crazy because someone had cut or chopped off three of her legs," explains Ina.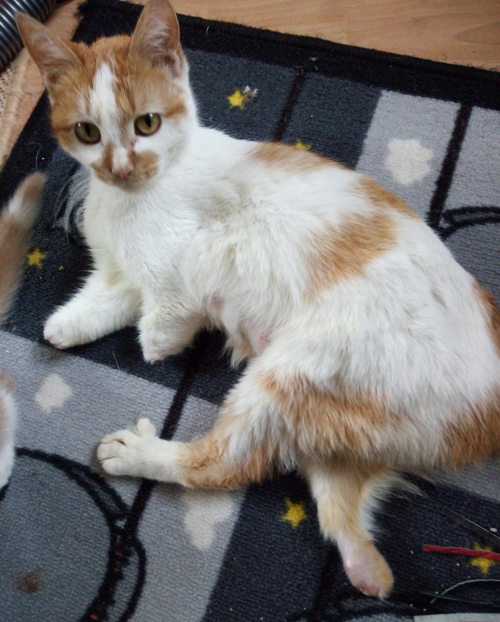 The good Samaritan who discovered Siera rushed her to a nearby animal hospital, and while at the vet's office, it became apparent that the young orange and white cat was extremely high-strung despite having lost a lot of blood from the senseless attack. "When they first found her — even though she was so weak — she was furious, crazy, restless," says Ina, and no one was able to explain her unusual behavior until someone at the animal hospital came to a startling conclusion. "They figured out that she had kittens," explains Ina, "and they went back and found her three boys somewhere in the bushes."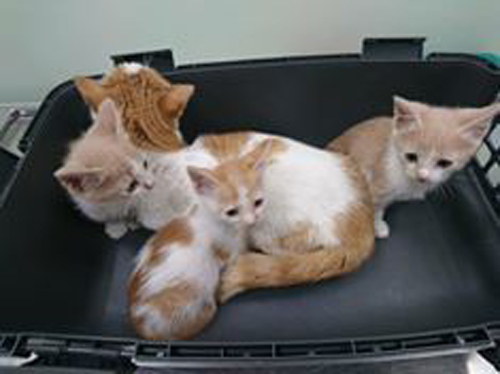 Staff from the vet's office rescued the three kittens — none of which had been harmed — and reunited them with their mother who was extremely relieved to see her sons were alive and well. "When she got her babies back, Siera calmed down," says Ina.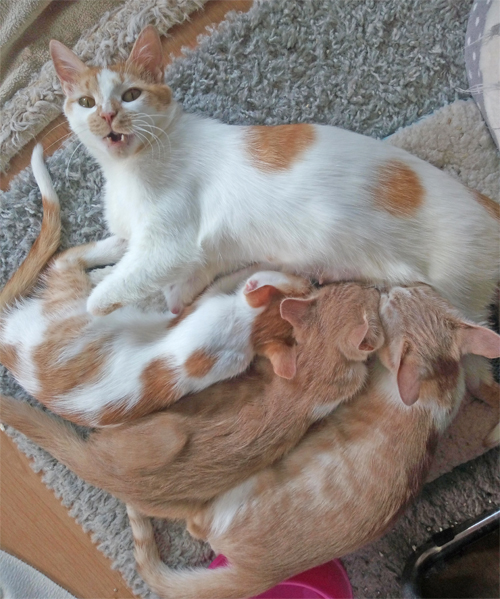 Still, the vet who examined Siera wasn't sure if she would be able to recover from her injuries, much less have a happy and active life after three of her limbs had been severed by an unknown attacker. "The vet wanted to put her down but his assistant called my friend and she said she wanted to save her!" explains Ina.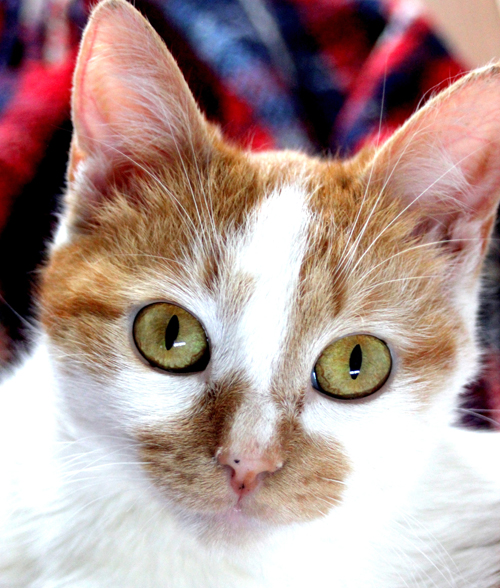 After Siera was well enough to be released from the hospital, Ina's friend in Bulgaria began fostering the mother cat — who is believed to be around a year old — and her three kittens. When Ina read Siera's story on Fellnasen e.V.'s website, she immediately felt an undeniable connection with the beautiful young cat and was unable to stop thinking about her. "I couldn't get her out of my mind and agreed to foster her here in Germany," says Ina. "I knew right when I saw her sweet face that she deserved the best life ever after the trauma she had been through."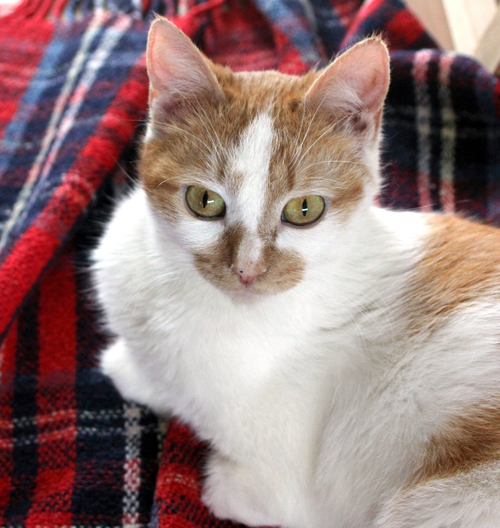 Siera arrived at her new foster home in Hannover, Germany, on June 18, 2018, a date that holds a very special significance for Ina. "She moved into my place and heart on June 18th, which is the birthday of my beloved cat Ling who died last year," explains Ina. Initially, Siera — who was still recovering from her injuries and adjusting to her new life as a cat with only one complete leg — spent most of her time in one place, rarely moving.
"In the beginning she was mostly just laying, even in the litter box," remembers Ina, but she refused to give up Siera, and instead dedicated herself to providing this special girl with everything she needed to thrive, including physical therapy. "Since we started therapy, she's gotten so much better. "Good food, rest, and tons of love really worked for her."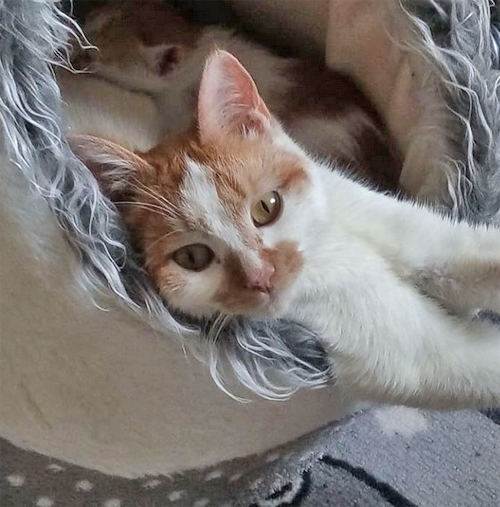 When they were old enough to travel, Siera's three sons — Keno, Kenzo, and Kiano — eventually joined her, a happy reunion for this sweet family of four. It's been just over a month since Siera arrived at Ina's home, and she's made incredible strides during that time. Not only can this adorable ginger and white cat now use the litter box like a typical feline, Siera is extremely active and surprisingly agile. "She now attempts to run and does so quite well," says Ina, "and she jumps on my sofa and bed. How? No idea. And she loves to play. It shows her age and amazing spirit."
When she first came to live with Ina, Siera — who was homeless when she was attacked on the streets of Bulgaria — was malnourished and emaciated. However, thanks to regular, nutritious meals, Siera is now a healthy weight. "She loves to eat. A lot!" says Ina. "When she arrived she was skin and bones, and now she has a little tummy." In addition to eating, this fun-loving and affectionate cat enjoys cuddling with her foster mom and giving Ina lots of friendly licks and bites on her hand.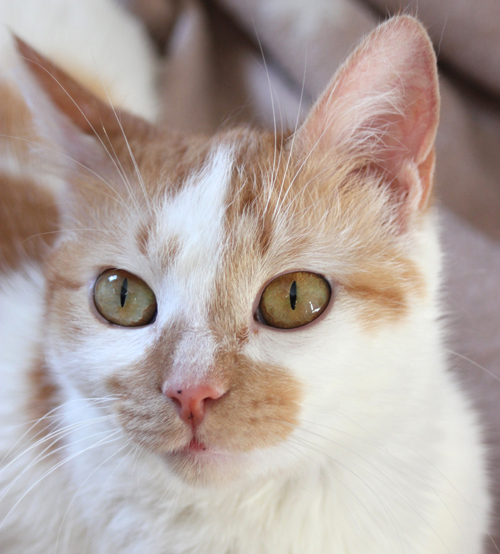 While Siera is doing much than she was just a month ago, she still has days where she's a bit lethargic, but Ina is confident that this adorable cat will continue to improve. "On bad days she doesn't have a lot of strength and lays around a lot, but I've noticed recently that she has more good days [than bad]," says Ina. In order to make this special girl more comfortable, Ina has placed lots of blankets on the floors around her home, which Siera definitely seems to appreciate.
However, Ina is reluctant to do too much for Siera, not wanting to stand in the way of her becoming more self-sufficient. "We need to adjust our lives and help them with things that they can't do but they are still cats, mighty, mysterious goddesses and gods," says Ina. "I'm sure people will feel shocked about what has happened to her — I was too — but we have to let her be a cat and not take too much from her."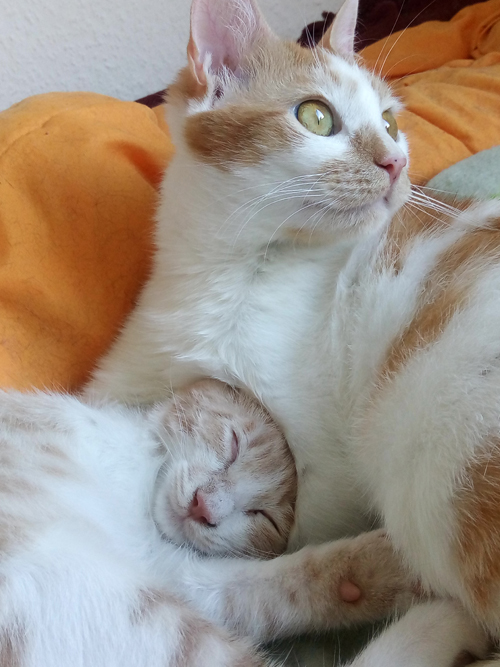 After all, Ina — who has a disability herself — speaks from personal experience, and she admits that it's not always easy to balance her compassion for Siera with her desire to empower her. "I'm still learning this lesson," says Ina, "and Siera is a great teacher." From the moment Ina saw Siera's beautiful face for the first time, she felt a connection with this truly brave and spirited young cat, and over the past five weeks, that bond has only grown deeper and stronger.
During that time, Ina has wrestled with whether or not she should permanently adopt Siera, fearing that this stunning orange and white cat might be able to find a better home with someone else. "I live on a very tiny budget because I'm in early retirement," says Ina, "and it scares me if I can't provide the care she deserves to have her best life."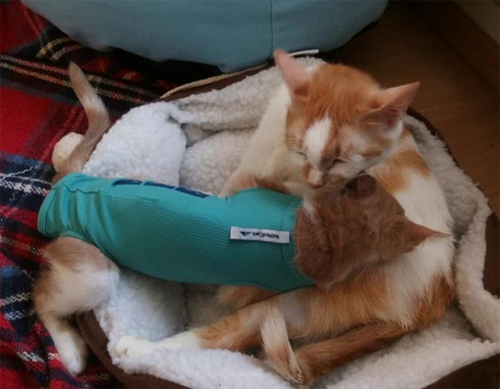 Siera will most likely need at least one prosthetic limb in the future, although it's possible that generous donors will help cover the cost. While Ina isn't sure what the future holds, she recently decided to adopt Siera, and she's eager to learn to everything this sweet little survivor wants to share with her. "She is my teacher and she is definitely my angel. Siera shows me that nothing has the power to really change who we are," says Ina. "I love her."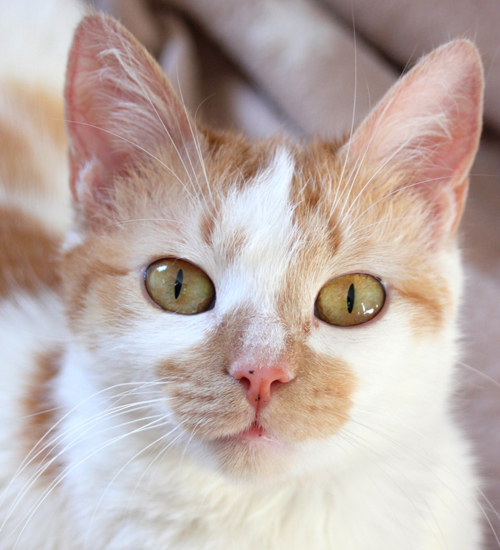 To learn more about this incredibly special cat, you can follow Siera on Instagram.
If you would like to contribute to the cost of Siera's medical care, you can make a donation to Fellnasen e.V. by sending money to fellnasen.e.v@gmx.net via PayPal.