Katie Shippen, a veterinary technician at UC Davis near her home in Sacramento, California, was at work when she was tasked with treating one of the many cats who were admitted to the veterinary school after suffering injuries related to the 2018 wildfires that ravaged the state. While Katie cared for several animals during this time, one particular cat — who was transferred to the ICU on November 15, 2018 — stood out to her for multiple reasons. "He was so dirty and covered in soot when he came to the hospital," remembers Katie. "He was a bright yellow color, so he ended up with the name Banana."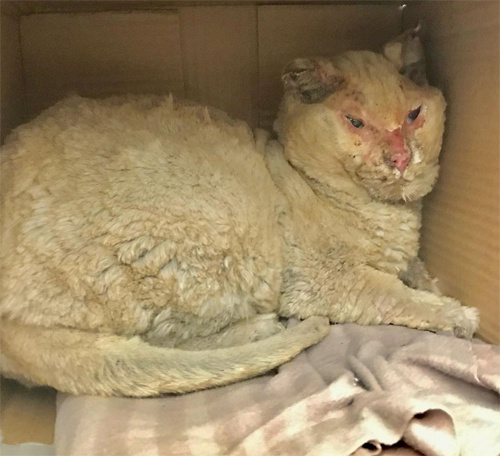 In addition to his distinctive coat, Banana had some of the worst injuries Katie had seen during this time, including lung and heart damage, as well as severe burns to his ears, paws, face, and tail. Despite the trauma Banana had experienced, he was nothing but loving during the day Katie spent looking after him while he was in the intensive care unit. "I knew he was special because he was such a sweet and affectionate cat even in the face of such severe injuries," explains Katie.
View this post on Instagram

While Banana received excellent care during his time at UC Davis, he still ended up needing to have part of his tail, most of his toes, and part of an ear amputated because they were simply far too damaged. However, Banana was one of the lucky ones, because even though he suffered severe trauma, Banana survived, thanks largely to the tireless efforts of animal rescue volunteers and veterinary professionals.
"He was found by a volunteer animal rescue worker, taken to an emergency hospital where many vets and technicians were working around the clock to provide initial care for animals injured in the fire, and then he was transferred to UC Davis where he spent months being cared for by world-class veterinarians and technicians," says Katie.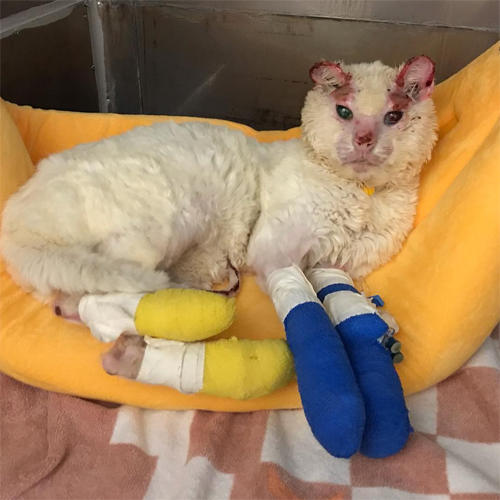 During his recovery, Banana charmed everyone at the veterinary school with his sweet and loving spirit, providing Katie and her colleagues with a much-needed respite from tending to critically hurt animals. "During disasters like this fire, the emotional toll it takes while caring for the injured animals is heavy," explains Katie. "Banana helped relieve that burden for many of the UC Davis employees."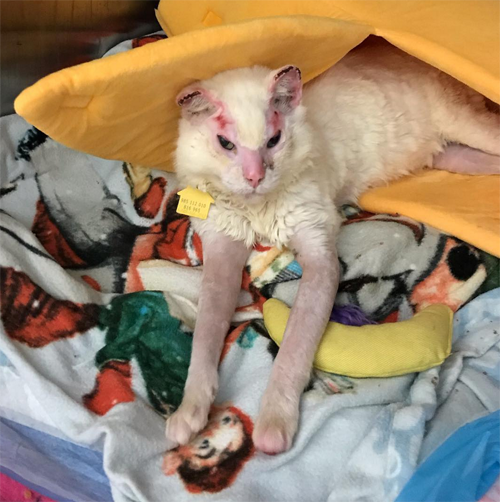 Unsure if Banana had a family who was looking for him, UC Davis shared his photo and information on social media, and Katie eventually learned the friendly feline had been a community cat who had once had multiple caretakers but no specific owner. While the happy-go-lucky kitty didn't have a family who was looking for him, his story did gain him a large number of supporters from all over the world who helped make sure Banana got the care he needed. "He had people across the globe donating money towards his care and sending their positive thoughts for his recovery," says Katie.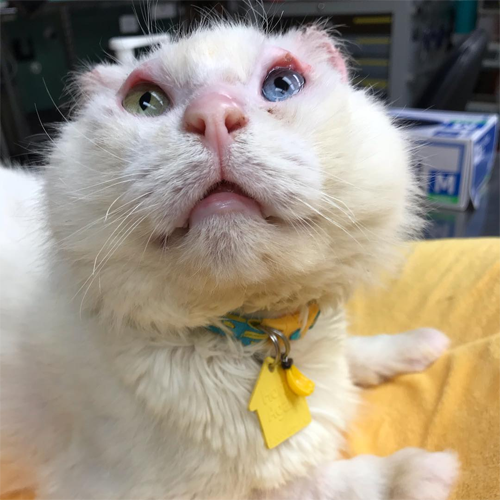 By January 2019, Banana's injuries had healed and no one had come forward to claim him as their pet, so Katie decided to adopt him. Four months later, Banana — who is now white, not yellow — is doing great, and while he's not the most playful cat, it's obvious he's happy in his forever home. "He seems to really enjoy snoozing!" says Katie. "He is a champion cuddler, and loves food."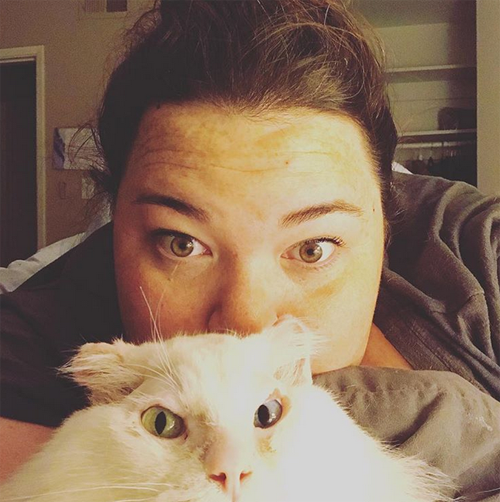 However, Banana, who is believed to be approximately seven years old, is still working to overcome the psychological trauma caused by the horrific events he experienced last November. "He gets frightened by sudden movements and new environments cause him some anxiety," says Katie. "We are taking things very slow and allowing him to show us when he is ready to go a little outside his comfort zone."
View this post on Instagram
Katie is confident that with time, Banana will feel comfortable enough to explore his forever home and play more like a typical cat, but after everything he's been through, she has no intention of rushing him. "He will be a part of our family forever, so he can take all the time he needs," says Katie.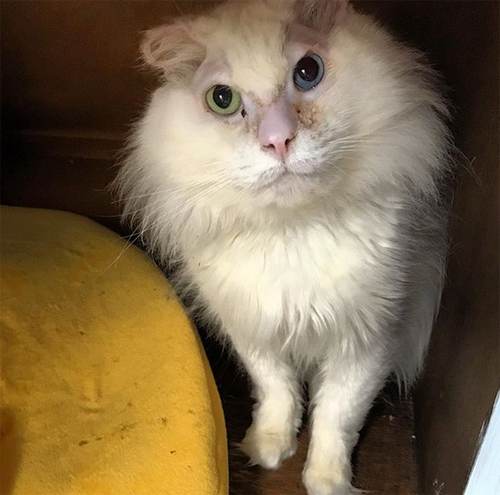 Without a doubt, Banana survived something no one should ever have to endure, but instead of concentrating on his physical and psychological trauma, Katie prefers to focus on his resilience and the generosity he has inspired in others. "Banana is alive today because of the kindness and compassion of countless people," says Katie.
View this post on Instagram
For Katie, Banana is a symbol of optimism and the power of community, and while they met during a very difficult time in both of their lives, this incredibly special cat has always been a source of positivity and happiness for her.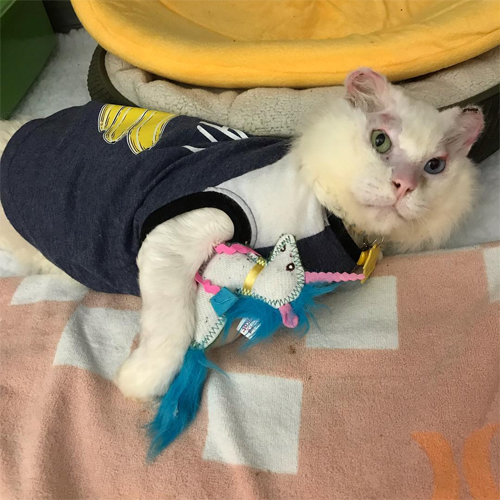 "I grew up in Butte County where the fire happened and have family and friends who lost their homes and pets in the fire," says Katie. "Banana gave me hope that things would get better when all I kept hearing were stories of sadness and loss. He also reminds me of the good in people — his survival was a chain of events held together by the goodwill and kindness of people. He brings joy to my life every single day."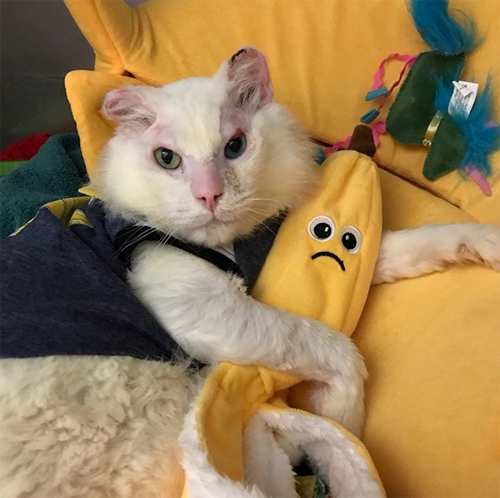 To learn more about this handsome cat, you can follow Banana on Instagram.