When Fie and her siblings found a blind kitten in the backyard of their home in the Cameron Highlands in Malaysia, they were eager to help the young special needs cat. "We heard sounds of a kitten crying close to the door of the kitchen," remembers Fie. "I went out and saw a small cat — wet, shivering, very small, and thin. She looked very frail."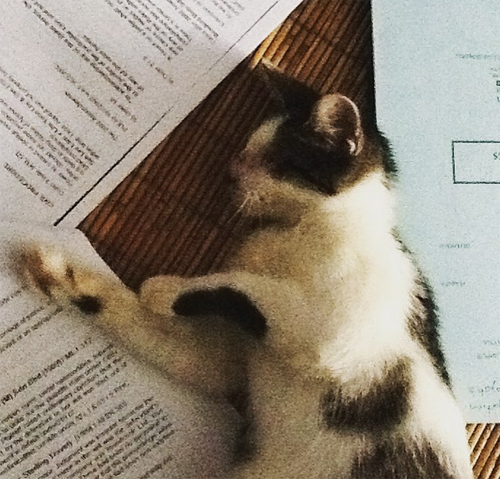 While Fie regularly provided food for the stray cats who lived near her family's home in rural Malaysia, her parents had forbidden her and her siblings from letting any of the felines inside the house. However, Fie was extremely concerned about the sickly three-week-old kitten's well-being, so on that rainy night in August 2012, she disobeyed her parents and brought the little cat indoors. "I covered her with some cloth, gave her some leftover fried fish, and placed her close to the back area of the fridge in the kitchen to keep her warm," says Fie. "She seemed comfortable and stopped crying."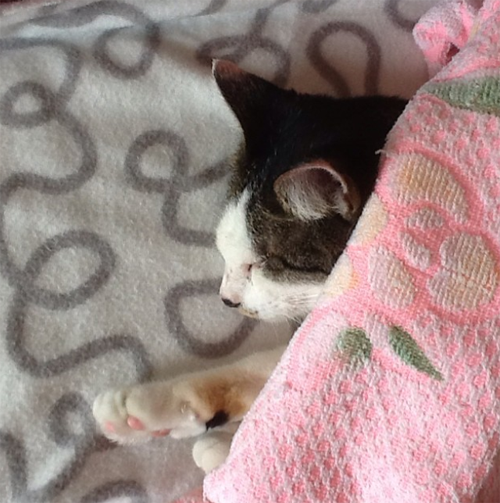 The following morning, Fie's siblings were excited to find the tiny kitten in the kitchen, and she and her brother and sisters worked together to try to hide the tabby and white feline from their mother and father. However, it quickly became apparent that they had to tell their parents about the kitten as she was in desperate need of medical attention. "We fed her but found that her eyes were swollen and infected," explains Fie. "Her whole body was blistered too."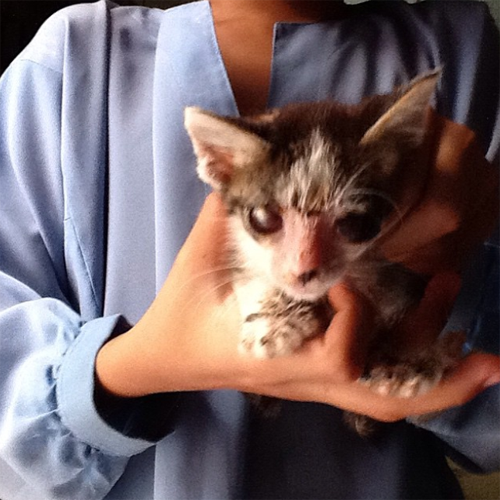 Fie and her family took the small cat to a nearby veterinarian where an examination revealed the blisters on her body were caused by lice and her eyes were damaged beyond repair. However, she wasn't in pain, and after receiving vaccinations and treatment for lice, the kitten was allowed to return home with Fie. "To our surprise, our parents allowed us to keep her in the house," says Fie, and she and her family adopted the blind kitten, naming her Ozzie. "She was named by my dad after a MotoGP Racer, Valentino Rossi."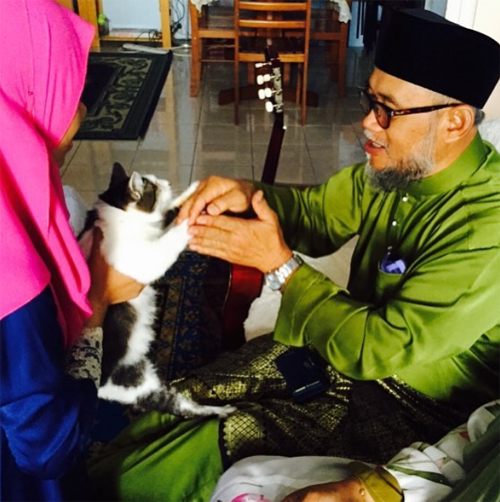 With Fie and her family's help, Ozzie settled into her new home, using her other senses — especially her sense of smell — to navigate from room to room. However, soon after they adopted the adorable blind kitten, Fie and her family discovered Ozzie was even more special than they had initially realized.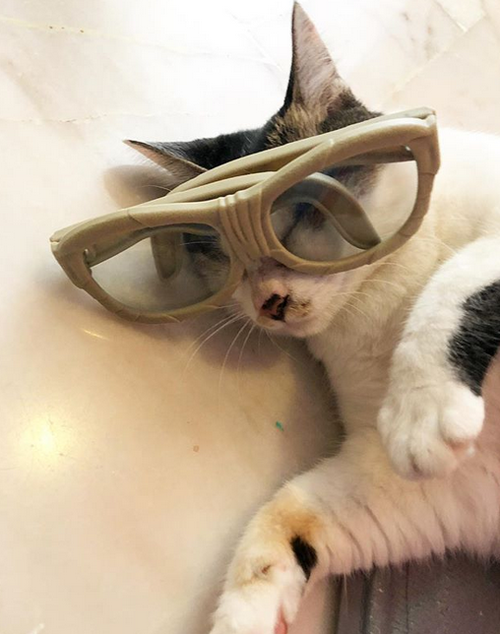 "We noticed that she did not cry or meow like other 'normal cats' and one day my brother vacuumed the house and noticed that Ozzie did not respond to the loud sound of the vacuum," explains Fie.
View this post on Instagram
It was obvious that in addition to being blind, Ozzie was deaf, making her confidence, independence, and fearlessness even more impressive. Six years later, this blind and deaf girl is doing extremely well, and despite being unable to see or hear, Ozzie has no trouble getting around. While a lot of people might expect for this six-year-old cat to have difficulty finding her litter box, Ozzie hasn't had a single accident the entire time she's lived with Fie and her family.
View this post on Instagram
She's also completely capable of eating on her own, and she can find her bed even when it gets relocated. "She has her own bed and she can find the bed even if we move it away from its regular spot," says Fie.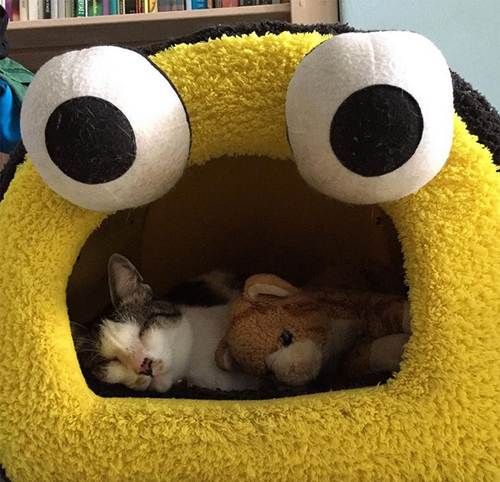 In fact, the whole time Fie and her family have shared their home with Ozzie, her lack of hearing and vision has only caused one problem. On a rainy evening, Fie's brother forgot to close the door, and when her family was unable to find Ozzie, they feared she had gotten out. Concerned for the blind and deaf cat's safety, Fie and her family searched for hours, asking their neighbors if anyone had seen her, all to no avail.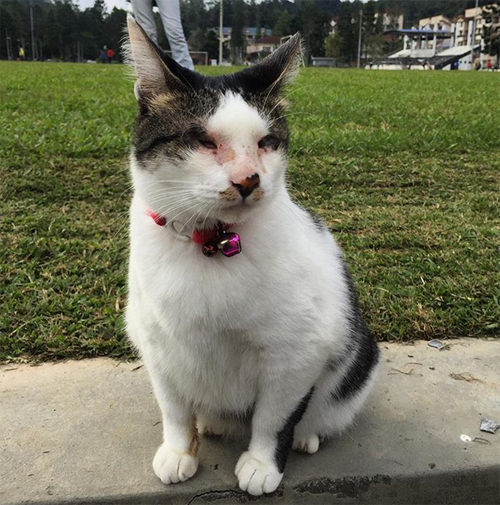 Convinced Ozzie had gotten swept away in the heavy rain, the family returned home, deeply saddened by the thought of losing their beloved special needs cat forever. "Then we heard something from inside my mother's wardrobe, and it is Ozzie!" says Fie. "She'd been sleeping in there for a few hours and nobody had noticed her. We always having a hard time finding her because she's deaf."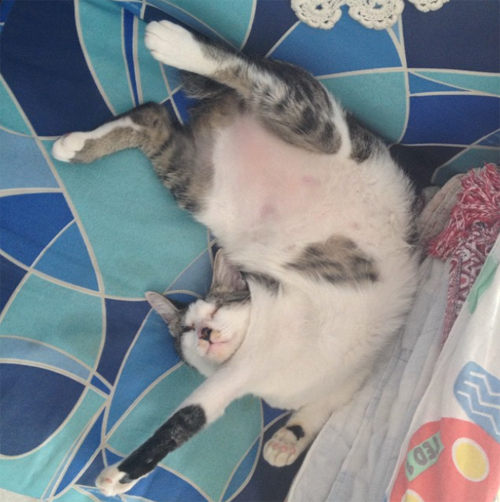 Aside from being unable to hear her family when they call her, Ozzie is a fairly typical cat who likes eating, sleeping, and playing with her favorite toy, a stuffed cat named Ozza that she enjoys carrying with her everywhere she goes.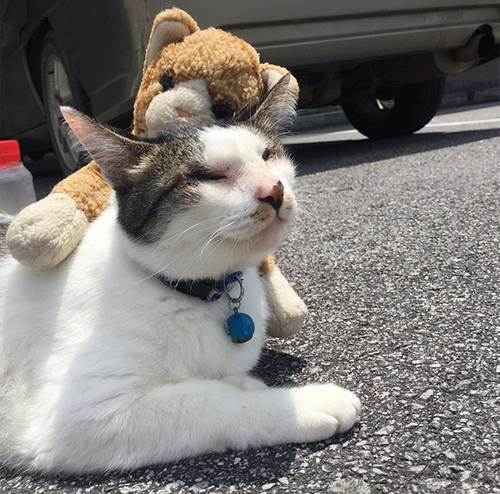 This blind and deaf beauty also loves being around her family, especially Fie, her little sister, and her mom. "She will knock and show her feet under my bedroom door or my mother's bedroom door, pleading to get inside the room," says Fie. "And she always wins."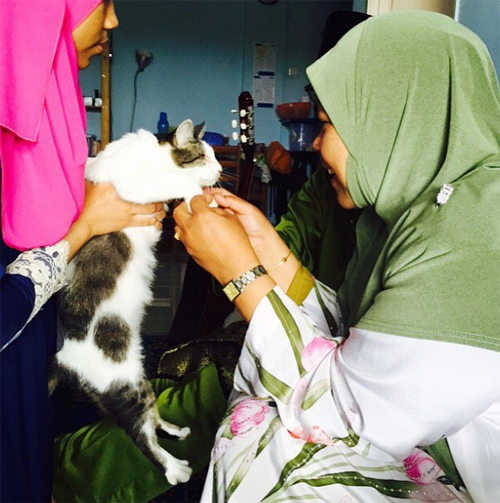 Before Ozzie showed up at their house, Fie and her siblings weren't allowed to have a cat as a pet. However, over the past six years, this incredibly special girl has become a cherished member of the family and Fie's mother's best friend. "She is our tenth sibling," says Fie. "My parents used to say that taking care of a disabled cat like Ozzie is a blessing from God and God allows us a lot of good returns, eases our life, and cheers up the home."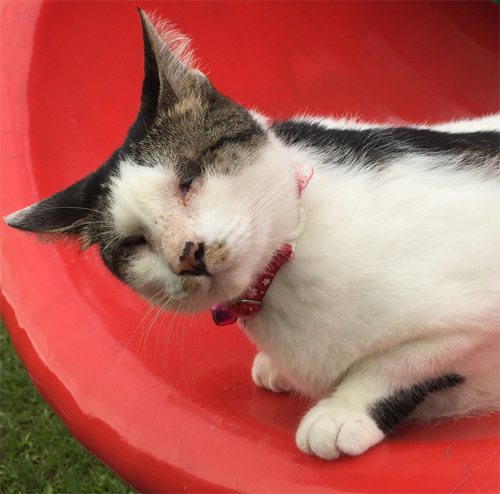 To learn more about this adorable cat, you can follow Ozzie on Instagram.