When Cassie was scrolling through her Facebook feed in April 2015, a post from Adopt Less Adoptable Cats about Brody, a grey special needs kitty, got her attention. "I work with children with special needs, so I'm already drawn to helping those in need," says Cassie. "He caught my eye as they described him as a sweet kangaroo-like cat with radial hypoplasia!" Radial hypoplasia (RH) is a congenital condition that causes some cats to be born with unusually short and twisted front limbs, causing them to look and move a bit differently from the average feline.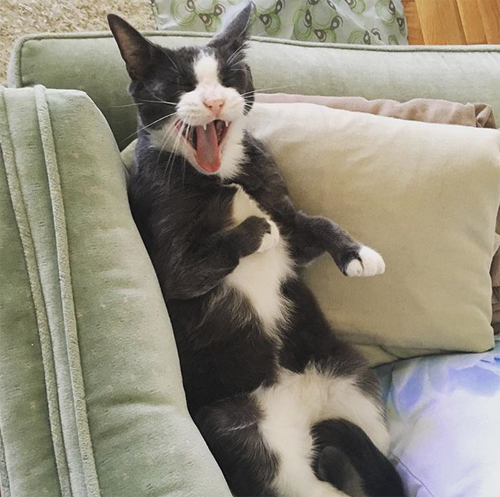 Cassie learned Brody was born in August 2013, and he was rescued from the streets by Seattle Area Feline Rescue after he and his kittens were found living underneath a car. "They knew they were his kittens because the kittens also had radial hypoplasia," explains Cassie. "The mother was nowhere to be found."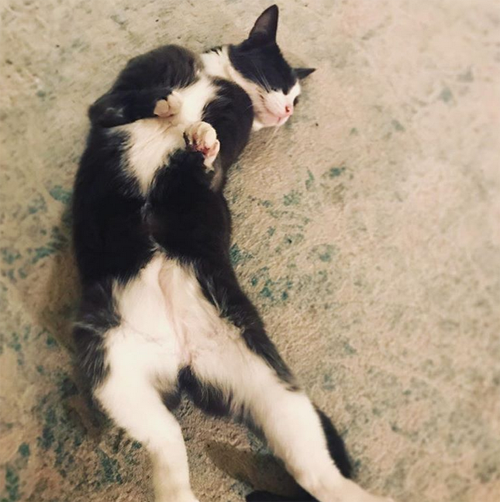 While his kittens had all been adopted, Brody was still waiting for his forever home, so Cassie made an appointment to meet him in person. At the rescue, Cassie discovered that in addition to radial hypoplasia, Brody had also been diagnosed with feline immunodeficiency virus (FIV).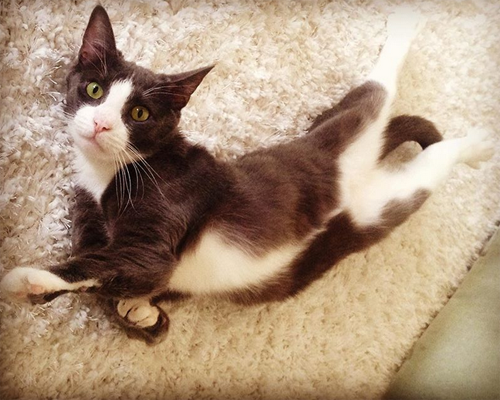 Though FIV compromises the immune system, making it more difficult for cats to fight off illnesses and infections, the symptoms of the virus can usually be managed with the help of excellent medical care and nutritious food. "They can live relatively healthy lives for many years," says Cassie. "As it's transferred from blood to blood, Brody most likely contracted FIV from fighting with an infected cat when he lived on the streets."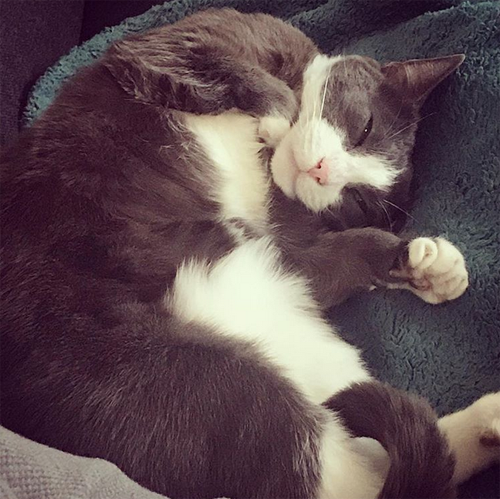 In addition to deep bite wounds related to fighting, FIV can be transmitted via sex, which is why cats with the virus can live with uninfected cats as long as everyone is sterilized and gets along well with one another. It's also imperative for FIV-positive kitties to be kept indoors, limiting their contact with illnesses and unknown animals. "Surprisingly, some people believe FIV can transfer to humans, but it cannot," says Cassie.
View this post on Instagram
Confident she would be able to give Brody a loving home that would accommodate his special needs related to both radial hypoplasia and FIV, Cassie adopted him the same day she met him in person for the first time at Seattle Area Feline Rescue.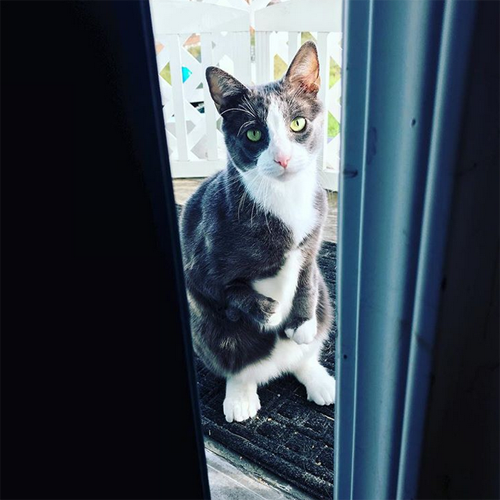 Nearly four years later, Brody is thriving in his forever home, which now includes Bobbi, a beautiful calico cat who is FIV-negative but is deaf and has cerebellar hypoplasia and hydrocephalus. "Brody loves to play with any toy you can whip around on a wand," says Cassie, "and he loves wrestling with his sister Bobbi."
View this post on Instagram

In addition to playing, Brody enjoys napping and hanging out on the front porch, and he's obsessed with watching videos of birds and squirrels on his tablet, proving he's a fairly typical cat.
View this post on Instagram

He's also in excellent health, and thanks to the ramps Cassie has placed around her home to help him get on and off the furniture, Brody's only real challenge has been finding a place for him to stay when his mom is away. "When I needed to board him while I traveled, it was difficult finding a pet boarder that would allow FIV cats," explains Cassie.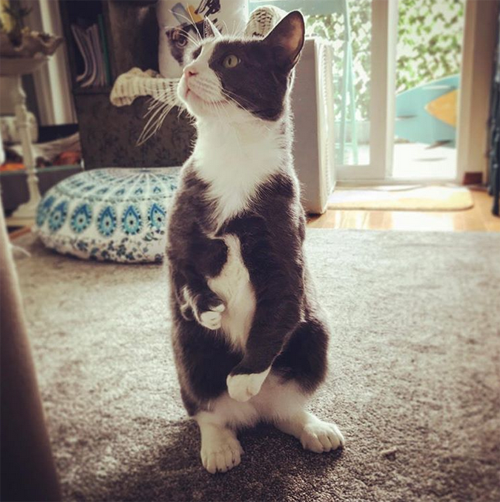 Aside from this particular obstacle, Brody — who doesn't require regular medication of any kind — hasn't been more difficult or costly to care for than the average cat, which would probably surprise a lot of people who are unfamiliar with FIV or radial hypoplasia. "I wish more people knew that they are easy to care for, safe to be around, and wonderful companions," says Cassie.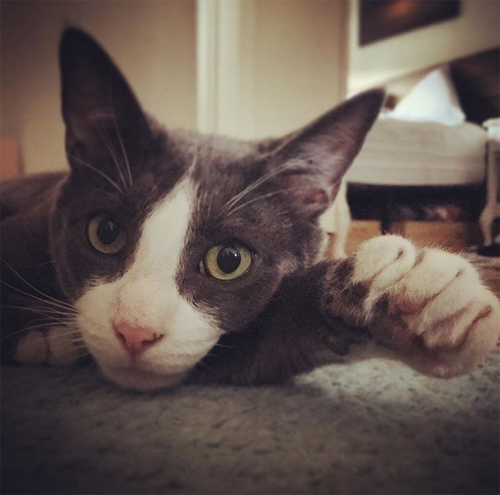 Without a doubt, Brody has been a fantastic feline friend to Cassie over the past four years, delighting her with his sweet, fun-loving, and playful personality. "I added Cheshire as his middle name because from the side he looks like he has a smile on his face while he sleeps, just like the Cheshire Cat from Alice in Wonderland," says Cassie.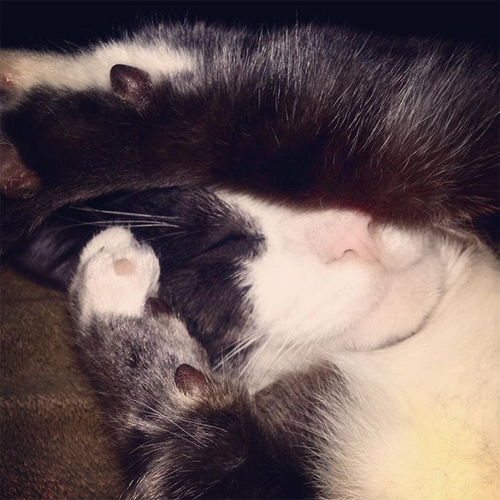 While her family has grown since she adopted Brody in April 2015, making him her first pet as an adult, Cassie will always have a special place in her heart and her home for this remarkable cat who was found living on the streets with his kittens.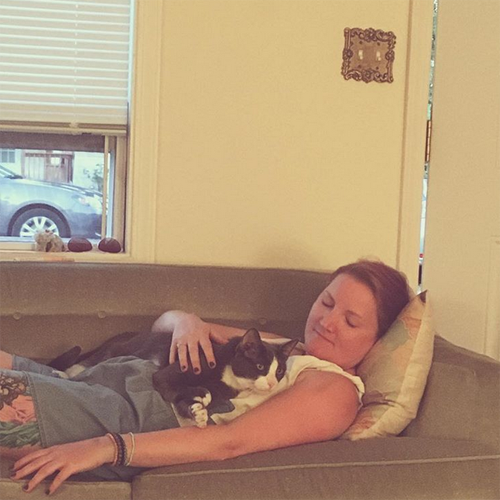 "Before getting him, I had recently moved into my own apartment and he became my little companion," says Cassie. "Having him to come home to was such a needed joy in my life. I love him so much."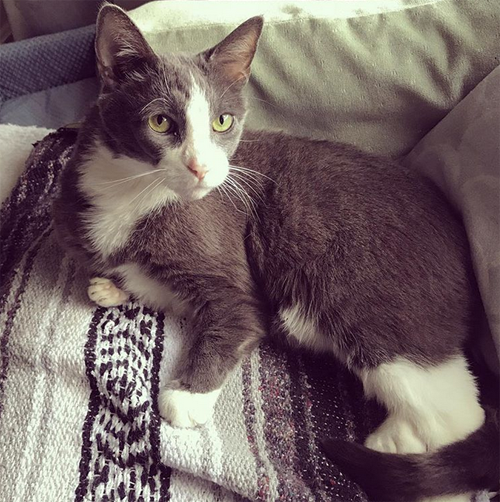 To learn more about this handsome cat, you can follow Brody on Instagram.