While Kyle Byron was away at college, his mother — a veterinary assistant at a small animal hospital — called to tell him about a special needs kitten a client had brought into the clinic. The kitten, who was born in an abandoned car in November 2010, had radial hypoplasia (RH), a congenital condition that causes cats to have unusually short and twisted front legs.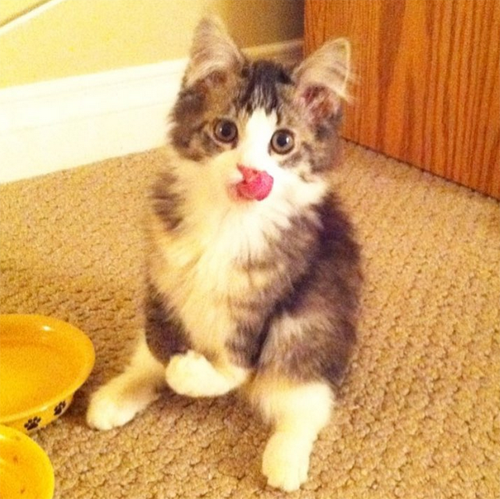 "At the time, his radial hypoplasia made him completely immobile, so the owner of the kitten's mother was asking about quality of life and wondering if he should be put down," explains Kyle.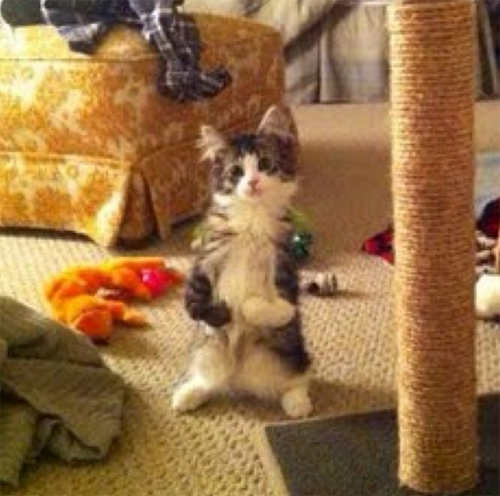 Thankfully, Kyle's mom saved the little kitten from euthanasia, deciding instead to keep him propped up in a basket at the animal clinic in order to get a better understanding of his quality of life and health challenges.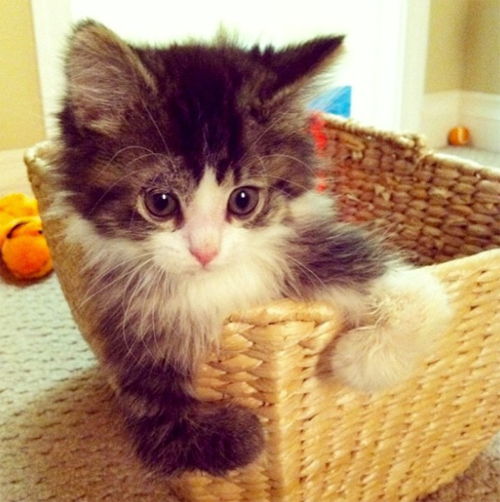 "I drove home and visited him and stayed with him for one night and knew I wanted to take him in and teach him to walk," remembers Kyle. Being a big fan of The Lord of the Rings, Kyle dubbed the fluffy tabby and white kitten Pippin, officially adopting him in late 2010.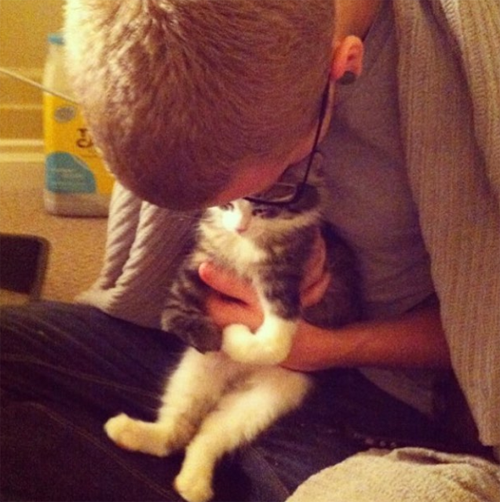 Due to his unique skeletal structure, Pippin lacked the strength he needed in his hind legs to help him get around on his own, so Kyle made sure to focus on working his back limbs while playing.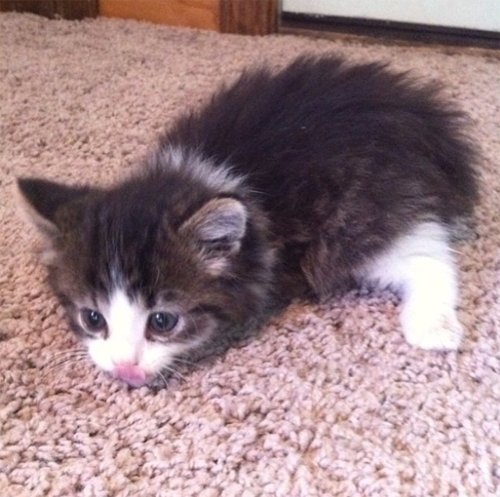 With Kyle's help, this adorable tabby and white boy learned to walk, and more than eight years later, Pippin is doing better than ever. "Radial hypoplasia doesn't cause any pain or larger problems," says Kyle, "and pretty much all RH cats learn to walk, run, and jump — just in a slightly different way."
View this post on Instagram
Even though Pippin doesn't move like a typical cat, this eight-year-old feline is incredibly active, and not only can he run and walk, he can climb stairs and jump up on to tall pieces of furniture like the dining table. He also enjoys playing with his grandparents' cats and, cuddling up with his dad, and of course, eating. "He is obsessed with having his tuna and whitefish soft food every morning," says Kyle.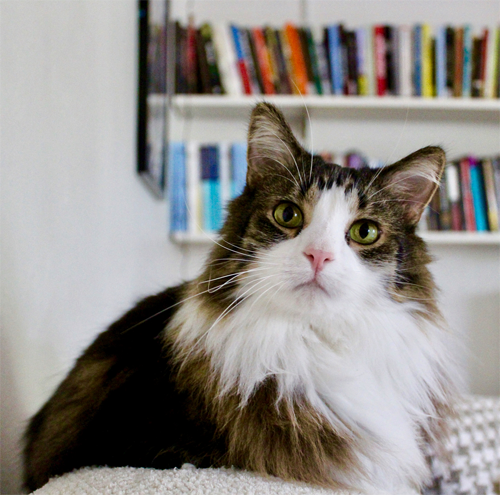 For the most part, Pippin is a typical cat, so much so that Kyle doesn't even think of him as having special needs. In fact, the only extra assistance this handsome boy needs is when he gets one of his claws — which he can't retract due to his radial hypoplasia — caught on something. "Usually he can wiggle himself free, but sometimes I have to give him a little help," explains Kyle.
View this post on Instagram
While it's obvious Pippin isn't the least bit unhappy or in pain, Kyle has found well-meaning people often express sympathy for him because he doesn't look or move like the average feline. However, having shared the last eight years with Pippin, it's difficult for Kyle to understand why anyone would feel sorry for a cat with radial hypoplasia, especially one who is so active and full of life.
View this post on Instagram
"I really don't see RH as a sad thing or a reason to pity Pip," says Kyle. "He does everything any other cat does, just sometimes a little differently!"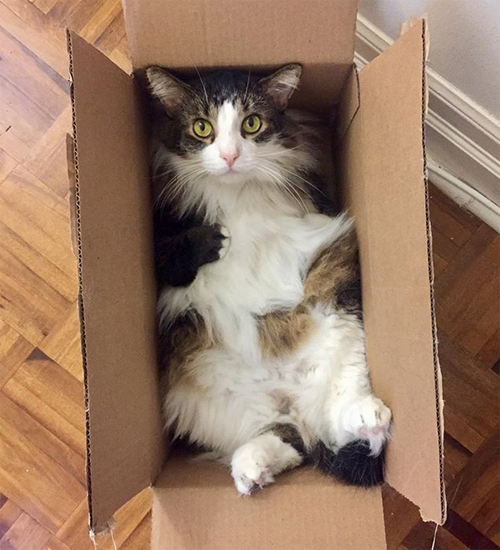 Even though there's no reason to pity Pippin, it's impossible to ignore just how special this cat — who was once unable to walk — truly is, especially when it comes to the unique bond he's built with his dad since they met for the first time in 2010.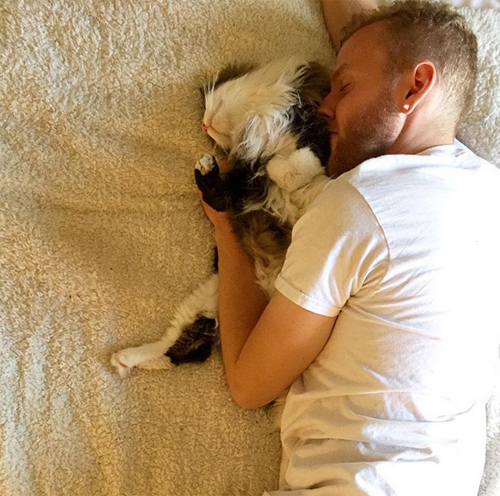 "Pip has been with me for eight years now. He has lived with me in Michigan, Wyoming, Colorado, California, and Ontario," says Kyle. "Often, he was the only person I knew when I moved, so he is my traveling buddy and best friend in the world."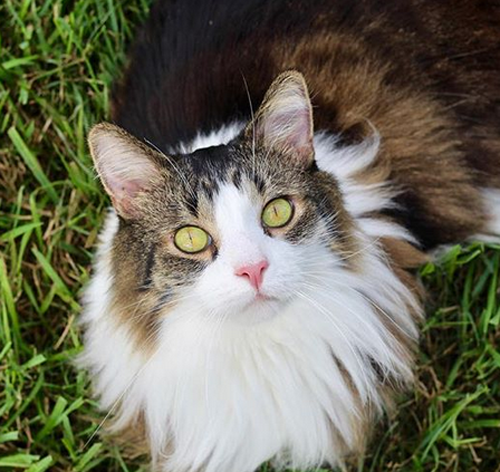 To learn more about this gorgeous cat, you can follow Pippin on Instagram.