UPDATE: Benny found his forever home with a very special couple!
Sensitive Content
This post includes photos some people may find disturbing.
When Leigh Hoag saw a Facebook post about a tiny special needs kitten who had recently been saved from euthanasia by her local Humane Society, she was immediately interested in fostering the sickly grey and white cat.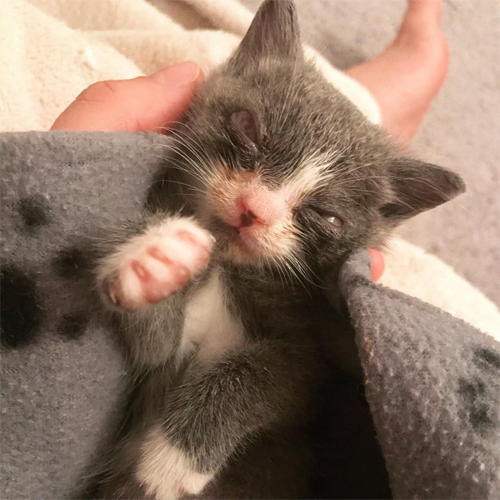 The kitten, who was named Benjamin, was just a few weeks old, and he was battling a severe upper respiratory infection that had rendered him almost completely blind. "His eyes were a bit gruesome, he had some fleas, an upper respiratory infection, and he wasn't taking formula but would eat wet food," remembers Leigh.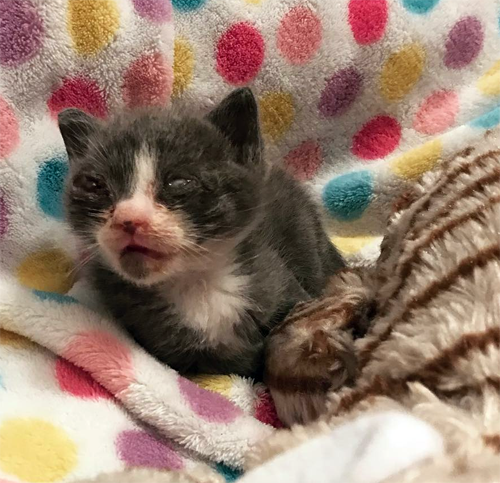 Benjamin, or Benny for short, had ended up at the Humane Society near Leigh's home in Murrels Inlet, South Carolina, after he turned up on a resident's porch, sick and in need of food and medical attention. The person who discovered Benny in late October 2018 took him to the vet, and when they found out he was blind, they were adamant he would be unable to have a good quality of life.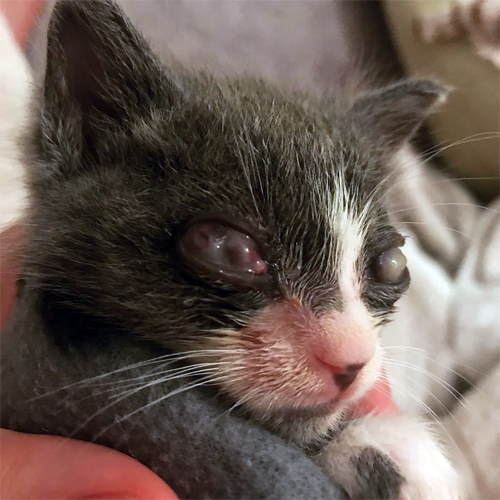 "Apparently they wanted to euthanize him right away but the vet wouldn't," explains Leigh. The person who found Benny turned to social media, asking members of her community to recommend a veterinarian who would put him to sleep, which is how the Humane Society got involved.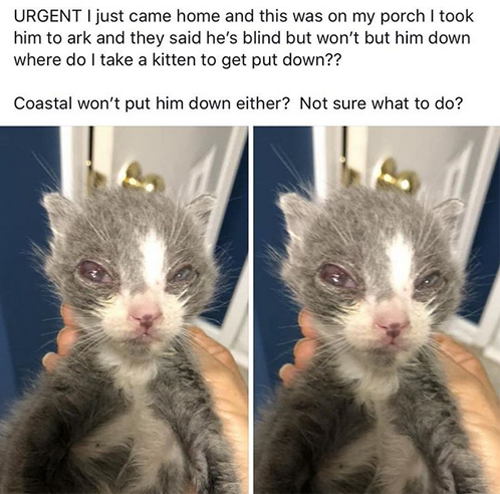 "The director of the Humane Society saw the post and contacted them and told them she'd take him in," says Leigh. After learning Benny was safe, Leigh — who started fostering for the Humane Society in March 2018 — offered to nurse him back to health and care for him until he was ready to find his forever home.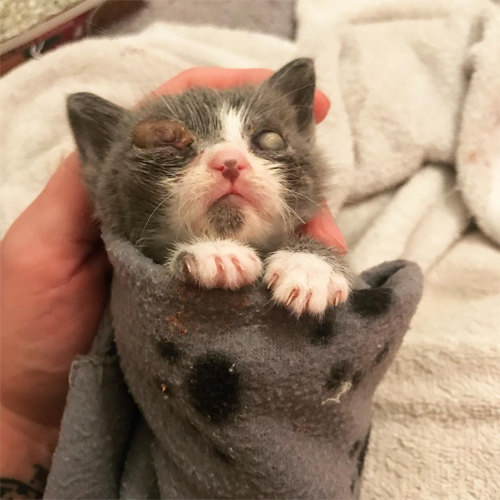 On October 29, 2018, Leigh met Benny in person for the first time, and while he was very sick, his illness did little to dampen his incredible spirit. "He nuzzled into my hand and tried to purr and there was no way he was going anywhere but home with me," remembers Leigh.
View this post on Instagram
Leigh, who had recently taken a break from fostering to recover from spinal surgery, had never cared for a blind cat before — or even one who was as sick as Benny — but she was confident she would be able to provide him with a wonderful foster home.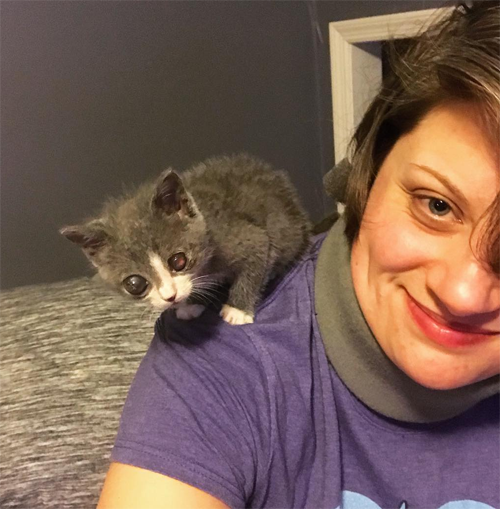 In addition to fostering, Leigh works at an animal clinic, so she knew she would have plenty of resources and support if Benny had some sort of medical emergency. "I also want to grow as a foster mom and I think that requires taking on tougher cases, having more experiences," says Leigh. "Benny felt not only like he was meant to come be with me, but like a good test for me as a foster mom."
View this post on Instagram
When Benny came to live with Leigh, his eyes appeared to be beyond salvation, most likely due to an infection caused by feline herpes. "His eyes were severely infected, cloudy and swollen, and he had corneal ulcerations," explains Leigh. "There were also scabs and scratches on his eyes."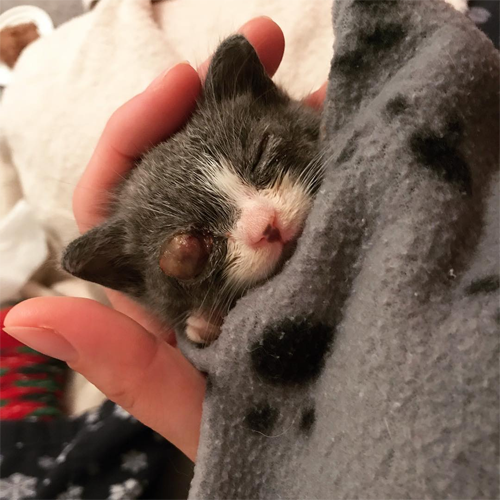 However, the adorable grey and white kitten was only three weeks old and weighed less than a pound, making surgery far too risky, so Leigh treated Benny with antibiotics and eye medication in an effort to at least keep him comfortable for the time being. When Benny reached eight weeks old, he was still underweight for his age, but his right eye was so swollen, it had to be surgically removed. "He did great and came through like a champ," says Leigh. "He was so obviously more comfortable with that eye gone."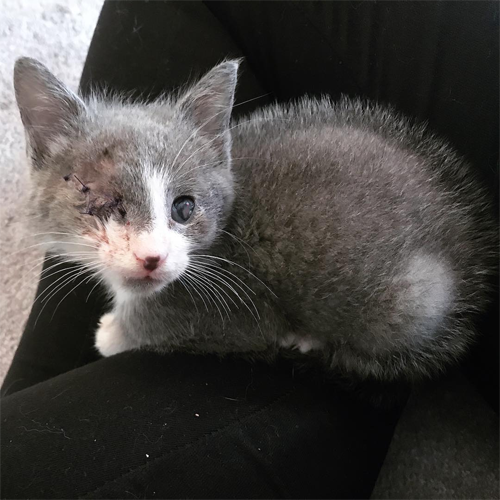 A month after the surgery, Benny is doing great, and while he's unable to see, it doesn't stop him from being an extremely happy and active kitten. Even though this handsome grey and white boy has had to work a little bit harder at jumping and balancing than the average cat, Benny is a capable kitty who is sometimes a bit too courageous for his own good.
View this post on Instagram
"Like other kittens, Benny doesn't have the best sense of self-preservation, so he will sometimes go running headlong without seeing the dangers in his way," explains Leigh. "He's run into a lot of walls and even tried to leap down the stairs."
View this post on Instagram
While Benny has given Leigh more than his fair share of scares, she's found he's really not any harder to take care of than a sighted cat, although she has made a few special accommodations for him. "Small things make a big difference — like not moving furniture much and keeping a litter box in more than one room," says Leigh.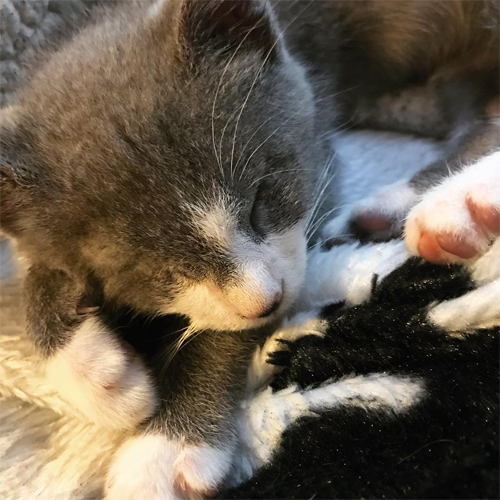 These relatively minor adjustments have made it easier for Benny to navigate and explore his foster home, proving special needs cats often aren't as challenging as a lot of people might think. "They can have rich, wonderful lives full of love and fun," says Leigh. "And they're as wonderful as any little fur baby you could adopt."
View this post on Instagram
When Benny isn't napping or snuggling with his foster mom, he enjoys chasing after Perkins, his foster sister and best friend, and frightening Leigh by climbing to the very top of the cat tree. While Benny often frightens his foster mom with his fearlessness, it's nothing compared to the anxiety she felt when he underwent surgery at just eight weeks old. Leigh, who was still recovering from a complicated spinal operation when she met Benny for the first time, believes they helped support one another during their medical challenges.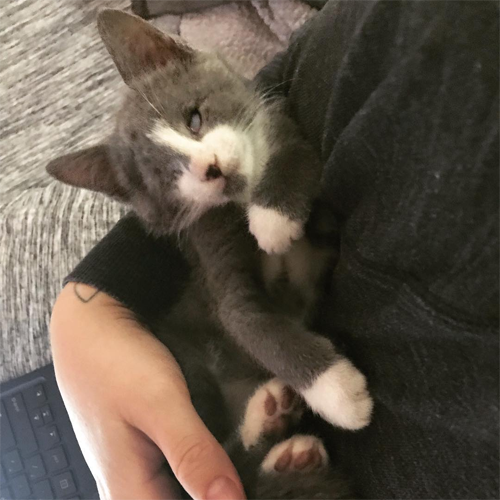 "In a lot of ways he and I were patching ourselves up and healing ourselves in different ways," says Leigh. Today, Benny — who escaped being put to sleep when he was just a few weeks old — is thriving, and while Leigh adores every cat she's fostered for the Humane Society, she can't help but feel a special connection with this indomitable blind kitten who helped her overcome her own health issues. "He's truly so inspirational," says Leigh. "Nothing stops him or slow him down."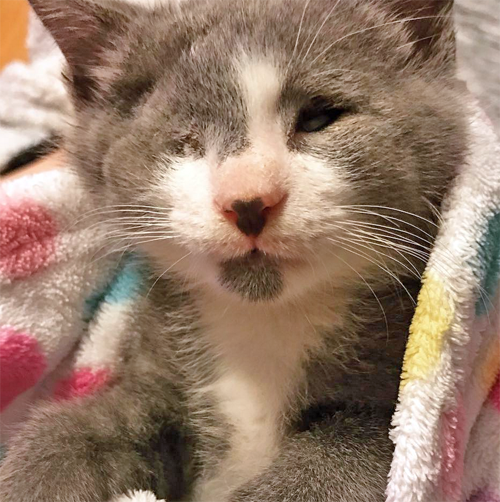 To learn more about this adorable kitten, you can follow Benny on Instagram.