When Mikala Klein and her partner Michael Bjorn learned a female cat with a chromosomal abnormality — like their beloved tabby and white boy, Monty — was looking for a new home, the couple was immediately interested in the fluffy feline. "I was tagged by a Monty fan on Facebook in a picture of this tiny little fur girl that had the same facial structures as our Monty boy," remembers Mikala.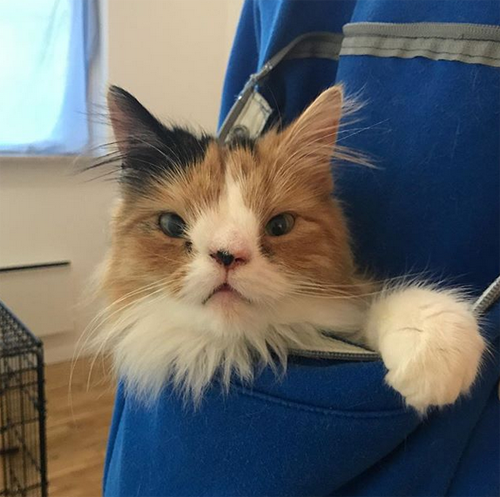 From the time Mikala and Michael had adopted Monty a few years earlier, they'd been looking for the perfect companion for this truly special cat, but they had been unable to find a feline friend they thought he would be willing to accept. "Since Monty isn't that fond of cats, the vet said that the best friend for Monty would probably be a cat with the same disorder," explains Mikala. "Then they could probably understand each others signals better than a cat who is 'normal.' "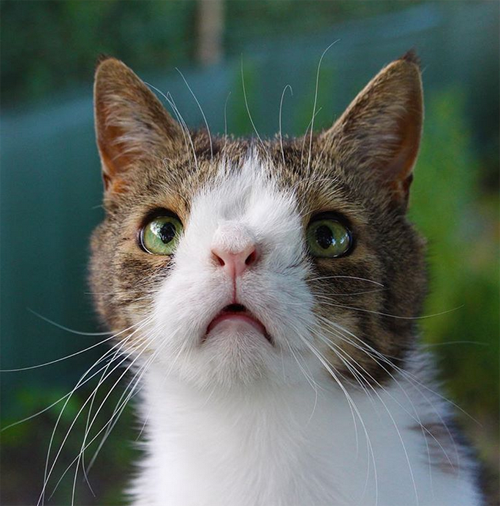 Knowing cats with chromosomal abnormalities (like Down syndrome in people) are rare, the couple had all but given up their search for a second cat. However, when they discovered Molly, the special female cat who was in need of a new family, Mikala and Michael immediately arranged to meet her in person.
"The next day we drove at 4 am across the country to pick up this little kid, and since we didn't knew much about her, we were very surprised to find out how tiny she actually is!" says Mikala. "She doesn't weigh a thing! She is literally just fluff and love!"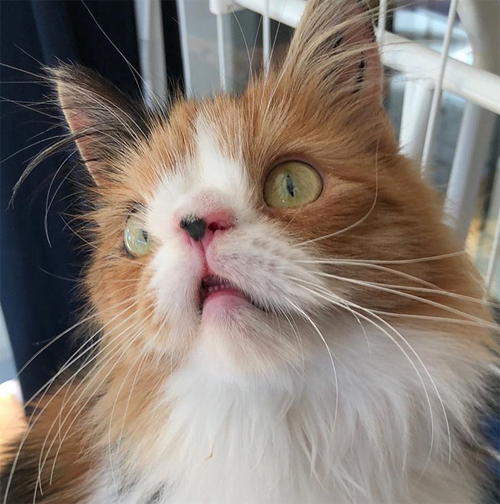 While Molly's original family adored her, they didn't have a fenced backyard, and due to her chromosomal abnormality, she often got lost in their neighborhood. Mikala and Michael had faced similar problems with Monty, so they had enclosed their yard, making it impossible for him to leave their property in Copenhagen, Denmark.
Confident they would be able to provide Molly — who was born on August 1, 2017 — with a safe and happy home, the couple decided to foster the fluffy special needs cat. "We didn't knew if she could get along with Monty and we wanted to make sure they could get along and like each other before we adopted her," explains Mikala.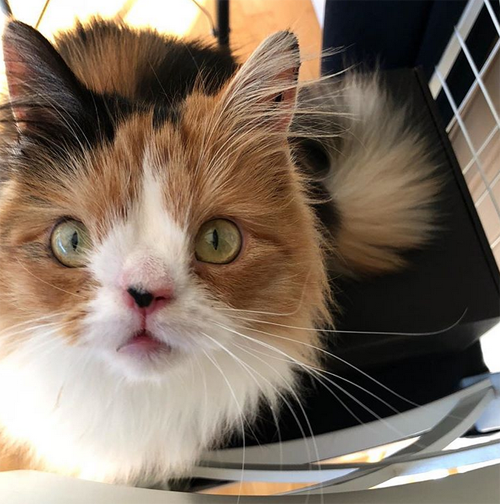 After meeting Molly that morning in November 2018, Mikala and Michael took her to their veterinarian in Copenhagen for a thorough examination. "We were so tired, but when the vet opened the cat carrier and this tiny little fur girl slowly walked out and started to purr and roll around on the vet table, we got this big boost of energy and happiness!" remembers Mikala. "We both said 'She is perfect!' "
View this post on Instagram

Within hours, Mikala and Michael had already fallen in love with the gorgeous 15-month-old feline, but Molly still had to win Monty over. Thankfully, the couple knew not to force a friendship between the pair, and Mikala and her partner gave Monty and Molly plenty of time to get acquainted with one another.
View this post on Instagram
While they both felt certain Molly was meant to be a part of their family, Mikala and Michael weren't absolutely certain until a very special day in early December 2018. "We could see that this was a perfect match and when they snuggled the first time on Monty's birthday — December 1st — we had no doubt at all!" says Mikala. "Molly was to stay with us forever!"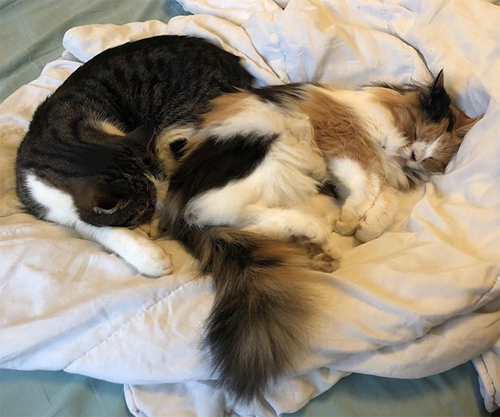 Just a few weeks later, Molly is thriving in her new home, and she has charmed every member of her family with her sweet personality and delightful antics. When this fluffy calico isn't stealing food from her parents — especially their vegan butter — she's playing with Monty, her best friend. "She also loves to snuggle next to him and to go on adventures in the garden, but most definitely not when it's rainy!" says Mikala. "It is so funny how girly she is! She does not like to get her paws wet or to walk in the wet grass — will not happen."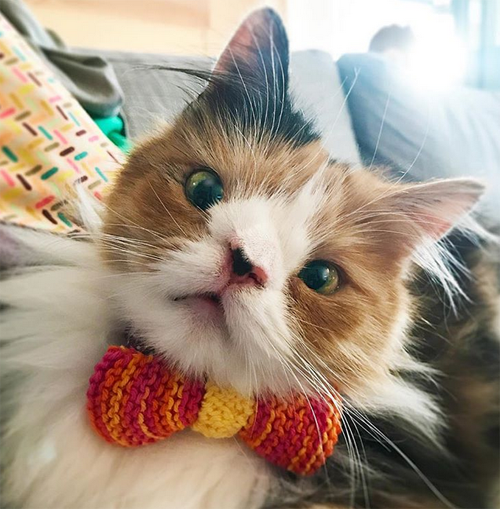 While Molly hates the rain, she adores her mom and dad, and like her big brother Monty, she needs a lot of reassurance from Mikala and Michael. "She is like Monty and needs to be told that she is safe and that we are here all the time," explains Mikala. This special little cat also relies on Monty a lot, and in the short time they're known each another, they've developed a unique bond.
View this post on Instagram
"She is using him to show her how to react to stuff — she is copying him," says Mikala. "Like when we are vacuuming, she runs to him to see how he reacts and when he doesn't care, she doesn't care. It is adorable how much she loves him."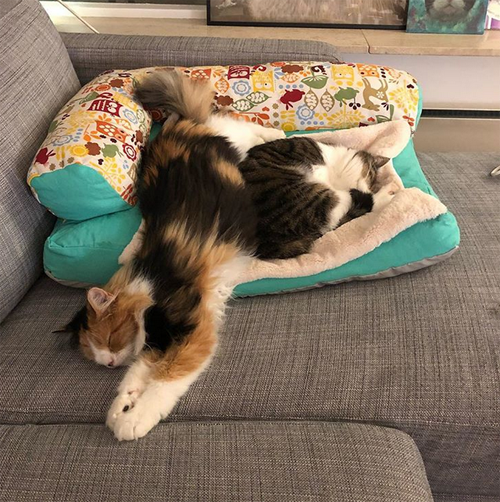 Despite having chromosomal abnormalities, Molly and her brother are very healthy and intelligent cats, but that doesn't stop people from inquiring about their fitness and intellect. "We often get asked if Monty is stupid!" says Mikala. "Yes, seriously! And also 'If he will Iive just as long as a normal cat.' " Even though Monty and Molly look different from other kitties, they are both in excellent shape, and there's no reason to believe either of them will have shorter than average life spans.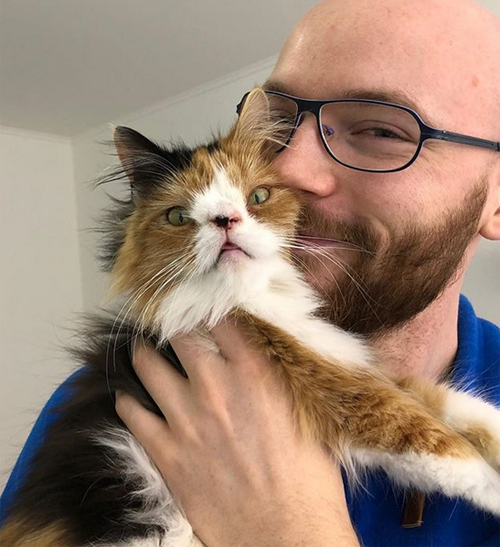 Also, just because Molly will get lost when she if she is allowed to venture out on her own, doesn't mean she's lacking in intelligence. "Molly can't find her way home but that does not mean that she is stupid in any way," explains Mikala. "She just has special needs."
Fortunately for Molly, not only did she find a wonderful family with plenty of experience caring for a cat with special needs, she found an amazing brother and best friend in Monty, a handsome tabby and white boy who understands her in a way few other felines can.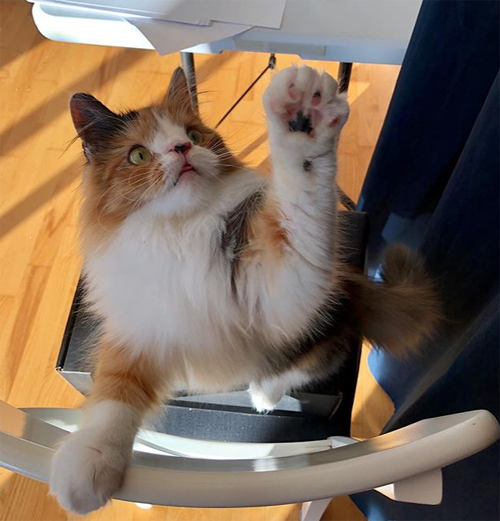 While cats like Monty and Molly often don't get adopted because they look different from typical felines, or because people are afraid they're going to require a lot of extra care, Mikala and her partner are so glad they chose to adopt these truly special kitties.
After all, they've found Molly and Monty to be very intelligent, extremely cute, and just as easy to look after as the average cat. "These beautiful creatures are just born with special needs," says Mikala, "but when you open your heart to them, you will find that it is nothing compared to how much love you will get in return."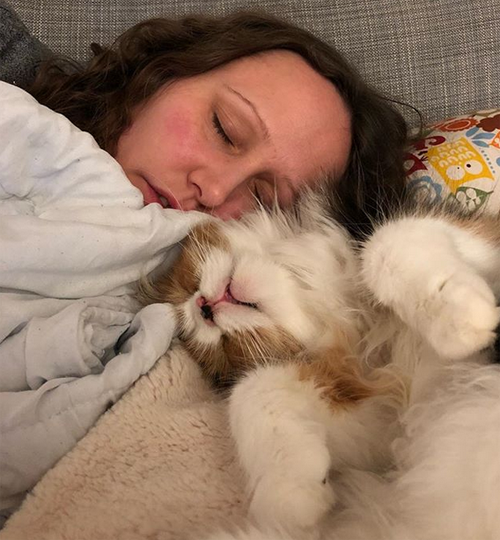 For Mikala and Michael — who thought they would never be able to find a companion for their beloved cat, Monty — they are so thankful to have not one, but two kitties with chromosomal abnormalities. After all, when they made the decision to adopt Molly, not only did they gain another sensational pet, they found the perfect best friend for Monty. "Molly is our girl — she is in our hearts just like Monty," says Mikala, "and just like Monty, we would do anything for Molly! Molly and Monty are our babies."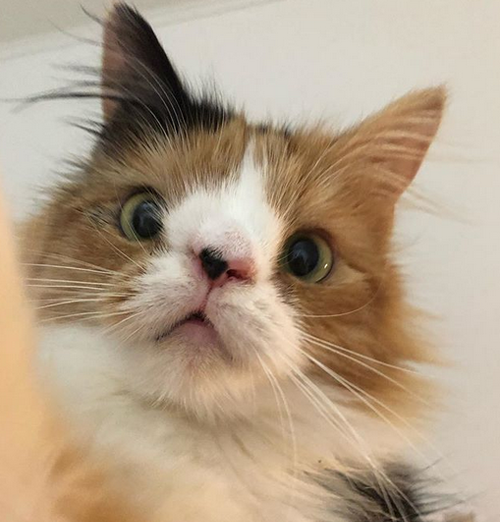 To learn more about this adorable cat, you can follow Molly on Instagram.