When Michaela Brenham made the decision to become a foster mom for Toronto Cat Rescue, she was particularly interested in helping cats with special needs, so when she learned about Hope, who was born with impaired vision in July 2017, she was eager to help the young Siamese kitten. "Originally, they told me she was blind," says Michaela, "but they really had no information on her and not one person wanted to even foster her."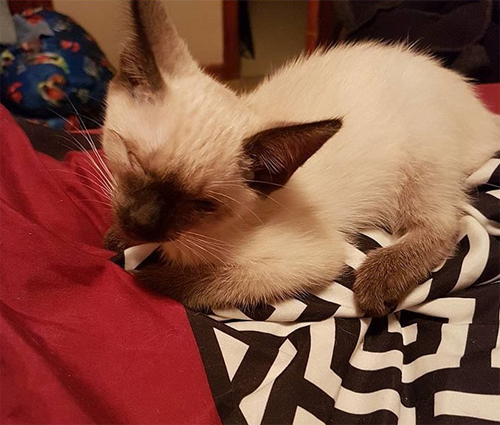 Michaela arranged to meet Hope in person in September 2017, and while the little kitten was three months old at the time, she appeared much younger due to malnutrition. "She was just a skinny little ball of fluff that clearly just wanted someone to love," says Michaela. "I fell in love with her instantly and brought her to my house that day." Not long after Michaela took the special needs kitten home with her, she realized that while Hope definitely had some vision issues, she wasn't completely blind.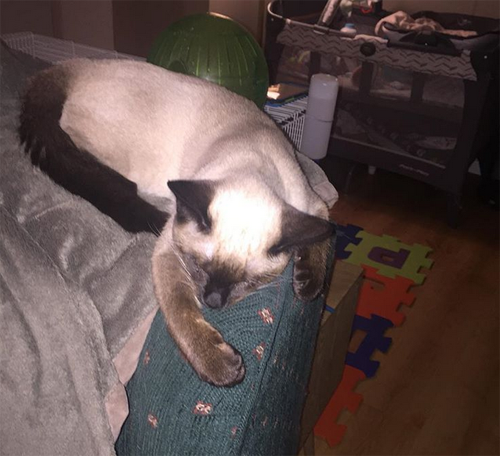 Hope had just started settling into her new foster home, when she suddenly became extremely ill, and Michaela spent two days giving the sick kitten intensive care. "She was too weak to even get up to use the bathroom," says Michaela. "I was giving her subcutaneous fluids and sleeping with her on my chest. After that we were inseparable."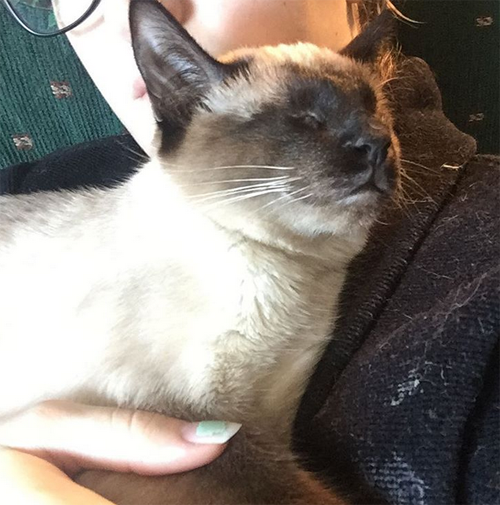 Thanks to her foster mom's hard work, Hope recovered from the mysterious illness, but the young cat's brush with death caused the pair to form an unbreakable bond, and by October 2017, Michaela knew there was no way she'd ever be able to part with the Siamese kitten.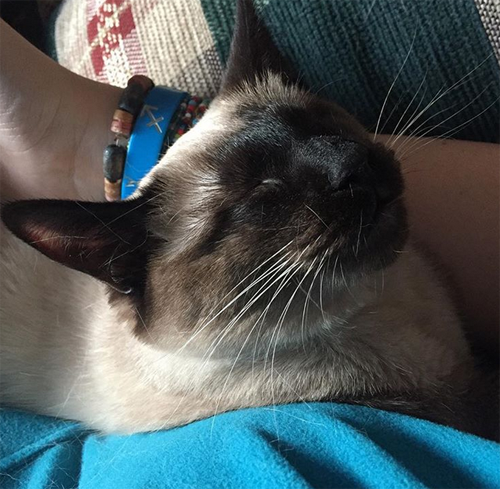 The following month, Michaela took Hope — who had been experiencing chronic eye infections and had recently developed a wobbly walk — to the vet for an examination. "[They] said that her wobbliness was caused by her minimal sight but it was getting a lot worse very fast and I knew in my heart it was more than that," says Michaela, so with the support of Toronto Cat Rescue, she sought a second opinion. After seeing multiple vets and specialists, Hope was diagnosed with micropthalmia, a developmental disorder that causes people and animals to be born with unusually small and anatomically malformed eyes.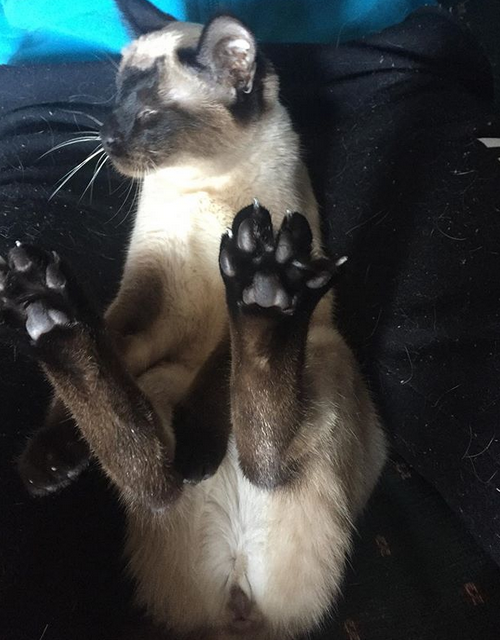 "The new vets decided because of the constant state of infection," says Michaela, "the best course of action would be to remove the eyes at the same time they spayed her." However, when Michaela took Hope in to have the surgeries, her balance and coordination had deteriorated so much, the doctors decided not to go forward with the procedure and gave a heartbreaking prognosis. "They said she would not make it to the new year and likely wouldn't make it out of surgery, so there was no point in doing the surgeries," remembers Michaela.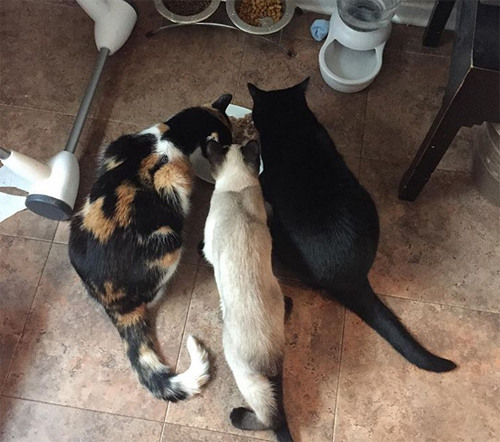 While none of the doctors expected her to live to see 2018, Hope — with the help of her mom — began to improve, and after blood work determined she was unlikely to have an adverse reaction to anesthesia, she was finally spayed and had surgery to remove her eyes. "It was not a decision I made lightly," says Michaela, "but it was 100% worth it in the end and I'm very happy I made it." Following the surgery, Hope adjusted to her new life as a completely blind cat, and a few months later, she remains a little wobbly — and no one has been able to determine the exact cause of her problems with balance and coordination — but overall, she's doing extremely well.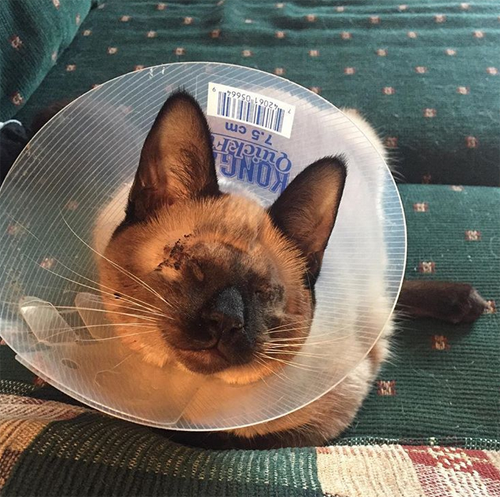 "I am amazed every day with how well Hope does considering her blindness and neurological condition," says Michaela. "She navigates the house very well and plays like a 'normal' cat." When Hope isn't having fun with yarn or chasing after a belt Michaela drags around the house to entertain her — "She can hear the metal on the ground," explains Michaela — this special little cat enjoys cuddling with her mom and hiding under the couch in order to pounce on her family's feet when they walk by. "Hope loves everything," says Michaela. "Literally, she is the most easy-going cat anyone could imagine."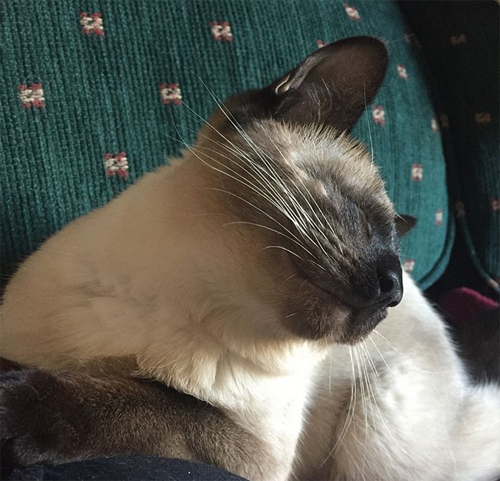 Not only is Hope a happy-go-lucky cat, Michaela has found her to be very easy to take care of, even though she's unable to see. "People think blind cats are a lot of work or that they are not going to be able to do things 'normal' cats can do," says Michaela, "which is not at all true." In fact, Hope has no trouble getting where she wants to go, and she is even able to navigate around toys left on the floor by her human brother, although Michaela think it's important for people with blind cats to avoid moving their litter boxes and food and water bowls.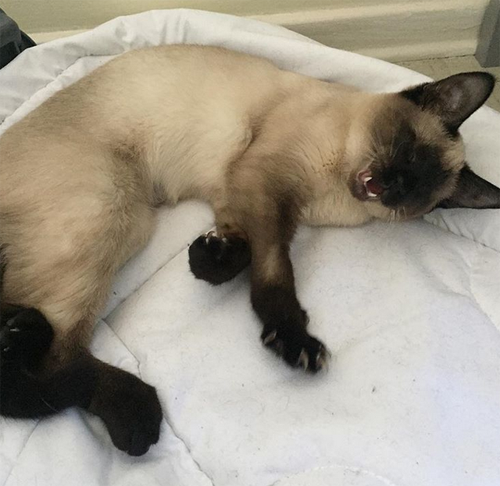 While Hope's blindness doesn't pose much of a challenge, Michaela has had to make a few special accommodations for her wobbliness. "Her balance issues make it hard for her to walk and climb," explains Michaela, "so she does fall off things like the couch and needs help getting on and off the bed." Thankfully, these are relatively minor problems that Hope and her mom have managed to overcome, allowing this special girl to lead a happy and active life.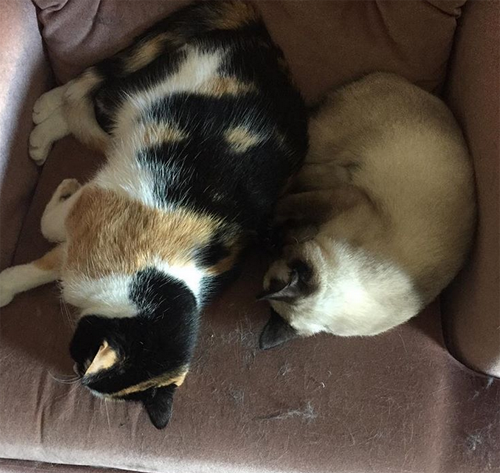 While Michaela realizes that given the choice, Hope would probably prefer to be free from neurological issues and able to see, she's inspired at how well this little girl — who was rescued from a cat breeder — has dealt with the many setbacks that have been thrown her way. "With each passing struggle she has had, she's made her name fit her more and more," says Michaela. "Hope has taught me more than I can ever put into words, not just about cats and her, but about myself and my own abilities to do things."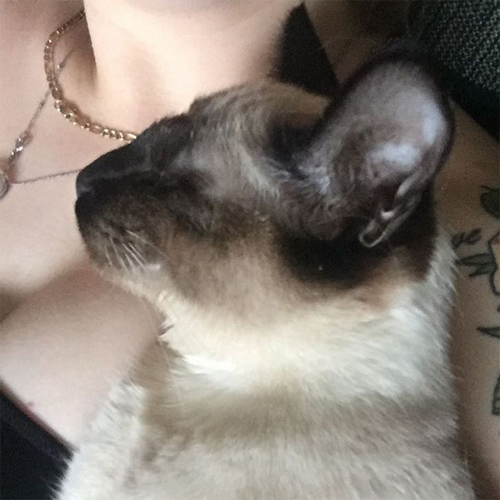 It's been approximately six months since Michaela agreed to foster Hope, and in that short time, this little girl has transformed her mom's life and given her a newfound purpose. "I've decided any cats I get in the future will be special needs because they bring so much to a home," says Michaela. "I hope to one day have a special needs rescue of my own — I plan to name it after Hope."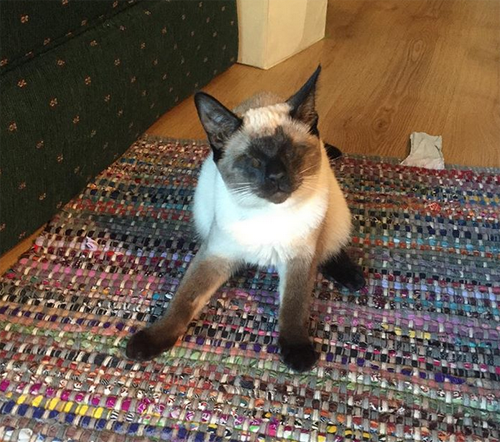 To learn more about this adorable cat, you can follow Hope on Instagram.