Jackie Deak Akey was working at a vet's office in New Orleans in October 2014, when one of the clinic's clients, Animal Helper in New Orleans, contacted the organization about a two-legged bobtail kitten who had recently been surrendered to the rescue. "Apparently the reason that was given for her surrender was because she didn't bury her stool in the litter box," says Jackie, but that didn't stop her from falling for the six-month-old feline. "When I saw her photo, it was love at first sight for me."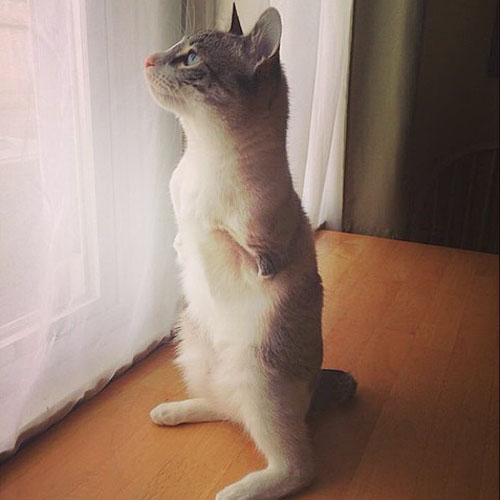 In fact, Jackie was so enamored with the little cat, she adopted her, naming her Lil' Bunny Sue Roux, or Roux for short. "She hops like a bunny when she wants to move quickly, and has strong, powerful back legs like a kangaroo," explains Jackie. "The Roux spelling [of roo] is because we are down here in New Orleans, and roux is an essential ingredient for gumbo, just like she is an essential ingredient to our lives. The Sue part is in honor of Sue the T. rex at the Field Museum in Chicago (where I am from originally)."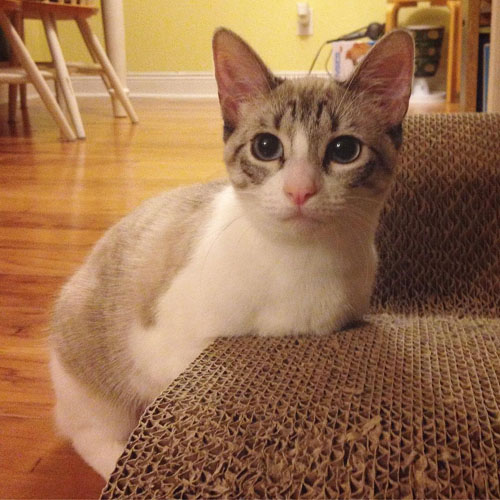 When Roux first arrived at Jackie's home she was a little shy, but it didn't take long for her to adjust to her new environment and her two adoptive cat sisters. She also didn't waste any time bonding with Jackie, a former zookeeper with a soft spot for animals with special needs. "I've worked at five zoos around the country, including Hawaii," explains. "I can remember several special animals that were in my care throughout my career [who were] missing limbs and eyes or had problems that wouldn't allow for them to be released or survive in the wild."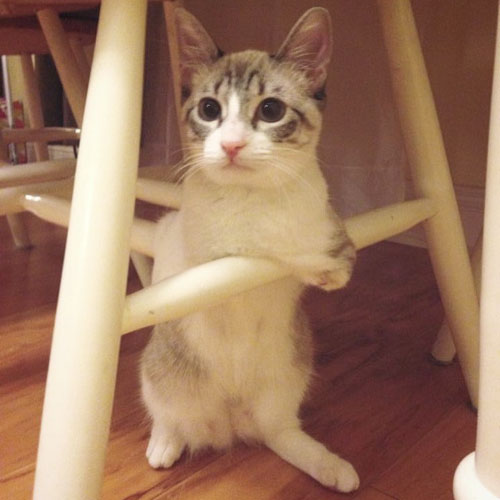 Consequently, Jackie was confident this experience, as well as her current job at a veterinary clinic, would enable her to give Roux the special care she needed to thrive. Shortly after adopting the cute two-legged kitten, Jackie started giving Roux joint supplements to help lessen the strain on her body caused by her unique posture and gait.
View this post on Instagram

"She has x-rays performed on her hips and spine every other year to monitor for any health issues, such as arthritis, since she moves in a different way than a 'normal' four-legged cat," explains Jackie, and x-rays taken shortly after Roux arrived at the clinic confirmed she was born with a bobtail and without her front legs. "It is most likely a genetic anomaly called transverse terminal hemimelia, a congenital absence of the entire distal part of the limb below the elbow."
View this post on Instagram
Because Roux had never had front limbs, she didn't have to learn how to get around without them. However, Jackie did have to figure out ways to make her home safer for Roux and to limit her risk of injury. "She can very easily leap up onto things like a bed or a couch, but it's the leap down that tends to be a problem, since she doesn't have front legs to cushion the landing," says Jackie. "She has unfortunately broken the skin on her nubs a few times because of this, and has needed stitches."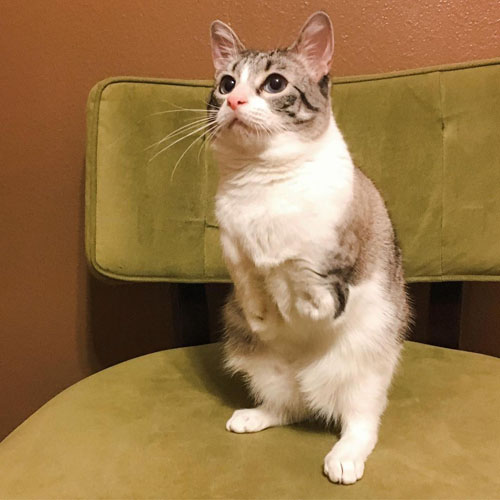 As a result, Jackie has put cushions and rugs around her home to give this active two-legged girl lots of soft places to land. Jackie also closely monitors her weight because being a couple extra pounds would put unnecessary strain on Roux's hips, spine, and nubs, but overall, she's a fairly typical cat. "Roux is a pretty brave, confident, and feisty little girl," says Jackie. "She can pretty much do anything a four-legged cat can do, but in her own special way."
View this post on Instagram
Like most cats, Roux loves to sleep and eat, and she will meow very loudly at mealtimes to remind her mom to feed her. "She also loves boxes, either sleeping or playing in them," says Jackie. "I think she likes having the walls to kick off as she's playing with a toy."
View this post on Instagram
However, Roux is still unable to cover her stool after using the litter box, which was the reason she was surrendered by her owner, but Jackie doesn't mind. "She absolutely tries every time," says Jackie, "but her nubs just don't reach the litter."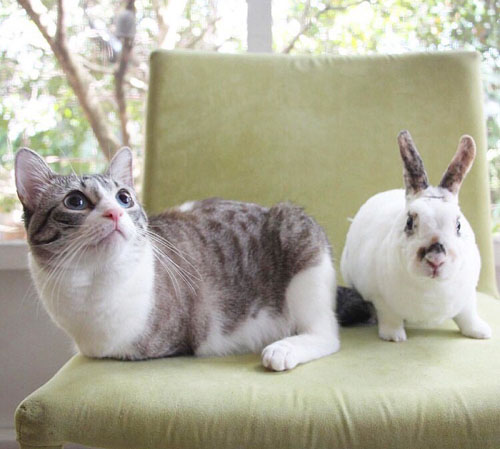 While Roux really isn't all that different from her four-legged counterparts, Jackie has found people often assume she is suffering. However, Jackie — who works at a vet clinic — makes sure Roux receives the best possible care, allowing her to live a pain-free and active life. Jackie has also encountered well-meaning individuals who feel sorry for Roux, mistakenly believing she must be unhappy because she doesn't have front legs. "Animals tend to not have any self-pity," explains Jackie, "and since this is all she's ever known, it's what is normal for her."
View this post on Instagram

Jackie hopes sharing Roux's story will help others realize special cats make wonderful companions, and they're just as deserving of loving homes as typical felines. Plus, she believes the extra time and attention she has given Roux has been reciprocated in the form of love and trust. "The bond Roux and I have is very special, and I am so grateful she is our little girl," says Jackie.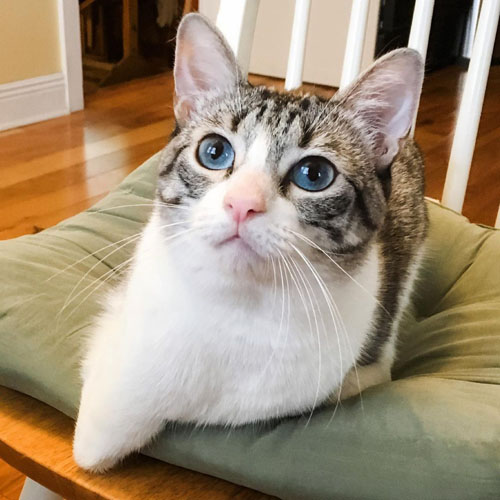 When Jackie went to work on October 15, 2014, she had no intention of returning home with a new pet, much less a two-legged cat. However, more than seven years later, the connection Jackie and Roux share is incredibly special, and she's so thankful she got the chance to adopt this remarkable girl. "I don't have human children, but I truly do feel like she is my child," says Jackie. "I love her so very, very much, it hurts sometimes."