When Tamara and her sister visited an animal shelter near her home in Kamnik, Slovenia, in October 2017, she was looking to adopt a companion for her and her fiance Jernej's cat, Coon. "While I was checking the cats out and playing with them, my sister called me over excitedly and that was when I first saw Bonkers," remembers Tamara. "I reached into the cage with my hand and he immediately grabbed it and started licking it and playing with me."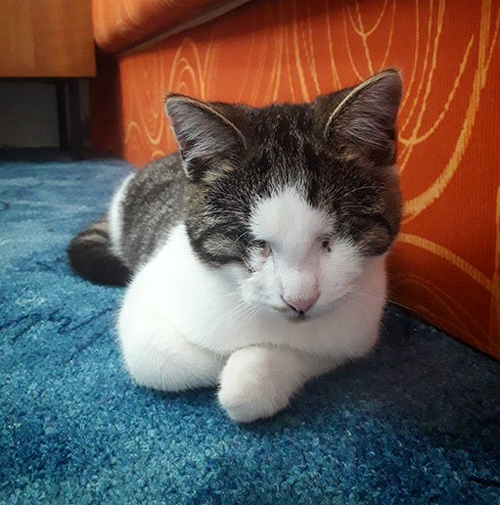 While Bonkers acted like a typical three-month-old kitten, Tamra quickly realized that the adorable tabby and white cat was blind. "He had his eyes removed when he arrived at the shelter," explains Tamara. "I was told he had a serious infection that couldn't be treated." Smitten with the friendly blind kitten, Tamara took a video of Bonkers which she played for her fiance Jernej once she got home.
View this post on Instagram
"After I showed him the footage, we decided to adopt him ASAP, because many shelters in Slovenia euthanize animals after one month and we knew he was 'unadoptable,' " says Tamara. "We are huge cat lovers, so it was only natural for us to give him a home."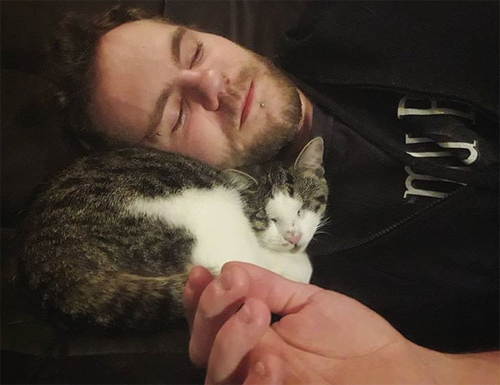 It didn't take long for Bonkers to settle into his new home with Tamara, Jernej, and the couple's cat Coon, bumping into everything in the apartment, which is how he earned his name. "As he was exploring the apartment, he kept 'bonking' into things," says Tamara. "We just started calling him Bonkers naturally, although these days we call him Bonky."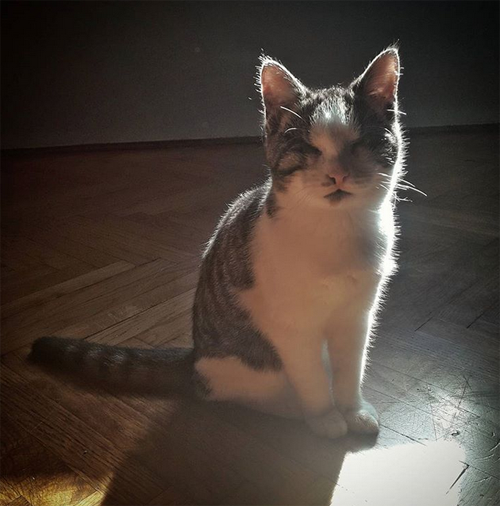 It's been a year since Bonkers found his forever home, and he no longer has difficulty navigating the apartment he shares with his family in Slovenia. "People are always surprised to see Bonkers move around the apartment — no one expects him to be so fast," says Tamara.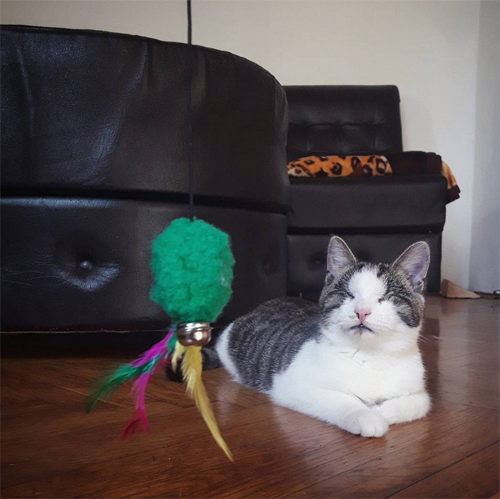 While Bonkers may not be able to see, his blindness doesn't prevent him from engaging in his favorite activities, which include sunbathing and catching flies.This handsome tabby and white cat also loves to play, although unlike a lot of other blind kitties, Bonkers prefers quiet toys to loud, crinkly ones.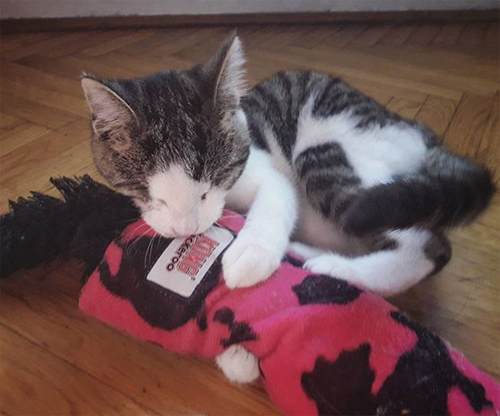 "His favorite toy is a toilet paper tube and, of course, a box," says Tamara. "He's also very mischievous — he absolutely loves pushing things off surfaces like tables and cupboards." Perhaps due to his blindness, Bonkers is easily startled by loud noises, and not long after Tamara adopted him, he ran into a cupboard after a sound scared him, leaving him with a scar on his nose.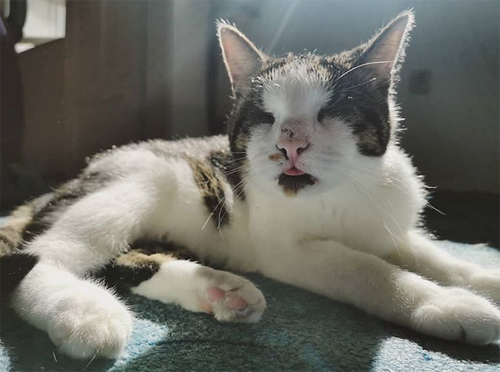 However, aside from this incident — which occurred several months ago — Bonkers's blindness doesn't appear to effect him negatively, although Tamara and Jernej make sure to spend plenty of time with this special tabby and white guy.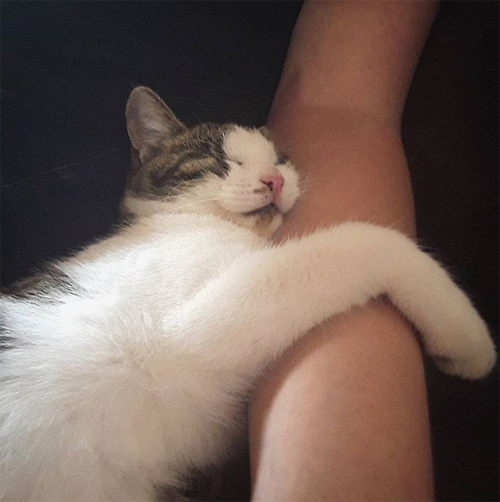 "We tend to keep him as much company as possible to make up for the lack of visual stimuli," explains Tamara. "Other than that, his life with us is completely normal." Even though Bonkers isn't all that different from a typical cat, so much so that people frequently don't realize he's blind, Tamara has found people often feel sorry for him.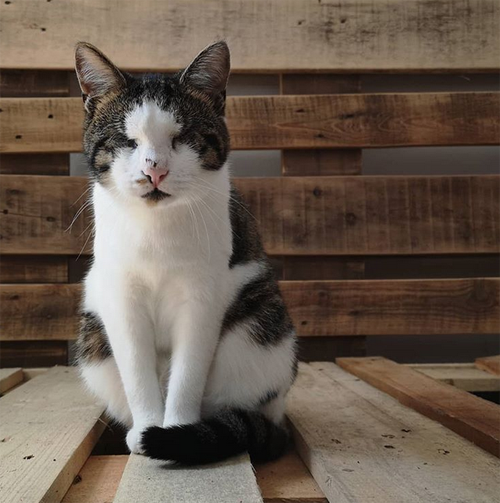 "They pity him a lot, which I don't really like, because he is living a full life just like any other kitten," says Tamara. Fortunately, Tamara has learned that after a while, people realize how capable this adorable blind kitty is and they eventually start treating Bonkers like an average cat.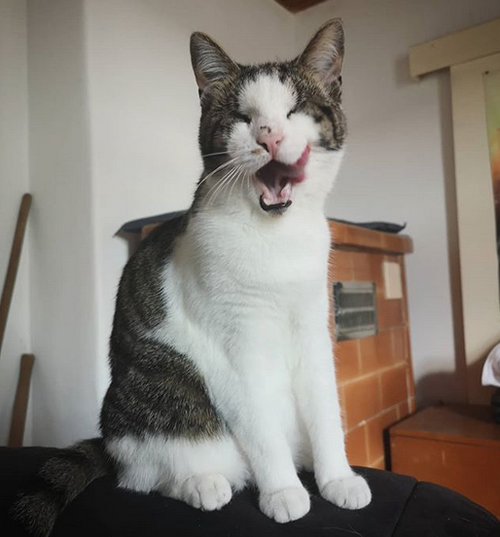 For the most part, Bonkers is a typical feline, although it's impossible to ignore how special his out-going personality truly is. "His blindness gave him almost dog-like characteristics," explains Tamara. "He loves being around people at all times, just cuddling and being sweet towards everyone."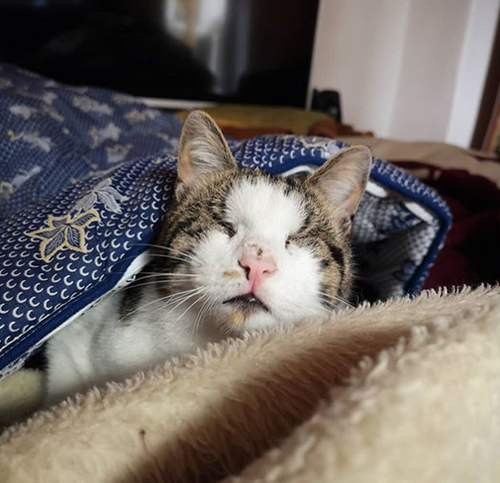 Thankfully for Bonkers — who had an incredibly difficult start in life — he's found a wonderful home with Tamara and Jernej, and this special couple is more than happy to give this affectionate tabby and white boy the companionship and attention he craves. "He became a part of our family in the past year and he means the world to us," says Tamara. "I can't imagine spending a day without him."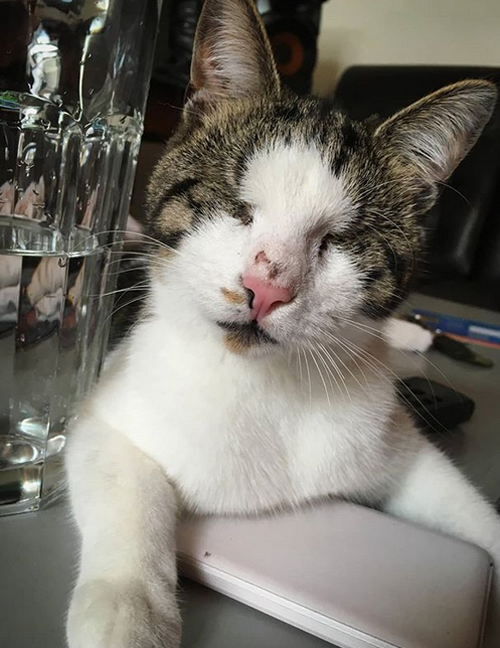 To learn more about this adorable cat, you can follow Bonkers on Instagram.