Ash MacLean was searching online for a kitten to adopt when she came across a pair of 4-month-old cats who were described as having special needs. "Being a veterinary nurse, I was intrigued as to what this meant for these particular kittens," says Ash, "so I called and discussed them with the rescue operator."
Ash learned that the kittens, Peppa, a black cat, and her sister Pippa, a tuxedo, were born in September 2012, and they both had cerebellar hypoplasia (CH), a non-progressive neurological condition that affects balance and coordination. "CH is most commonly transmitted in utero as the kittens are growing," explains Ash. "Pippa and Peppa's mum had a disease called panleukopenia, which caused their cerebellums to be underdeveloped."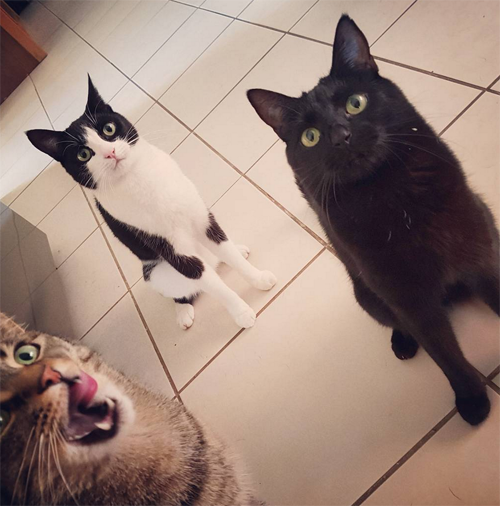 While cerebellar hypoplasia caused both of them to have intention tremors, wobbly gaits, and height and distance judgement errors, Ash learned that Peppa and Pippa's symptoms wouldn't worsen over time. In fact, as they got older and stronger, they would probably learn to control their symptoms to some extent, eventually making Peppa and Pippa less wobbly and uncoordinated. "The next thing I knew, I was driving an hour and a half to meet these special needs cats with my mum!" says Ash.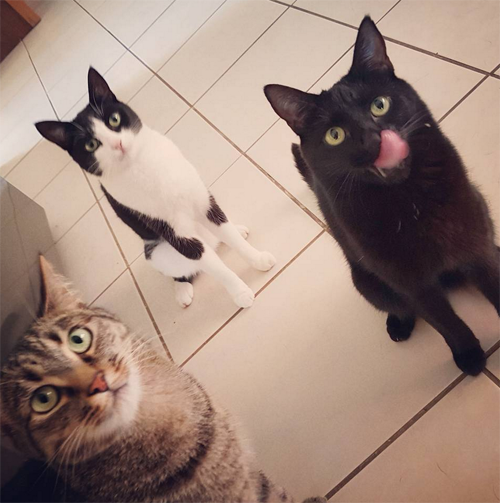 When Ash arrived at the rescue in February 2013, she was immediately taken with Peppa and Pippa's adorable appearances and happy-go-lucky attitudes. "We watched the two of them playing and getting around with their condition and they were just so adorable!" remembers Ash. "They were somewhat shunned by all the other cats in the facility at playtime, but that didn't stop these two sisters from having fun!"
View this post on Instagram
When Ash started her search for a new pet, she'd intended to adopt one kitten — not two — and she hadn't even gone looking for a cat with special needs. However, when Ash met Peppa and Pippa in early 2013, she saw how well the pair got along with one another, and she knew wouldn't be able to break them up, especially because other people had been reluctant to adopt them due to their special needs.
View this post on Instagram
"I just felt an overwhelming sense of wanting to help; they were struggling to find a home and it broke my heart. They deserved love too!" says Ash. "We ended up deciding that separating these two gorgeous special girls was just not an option, so I adopted both!"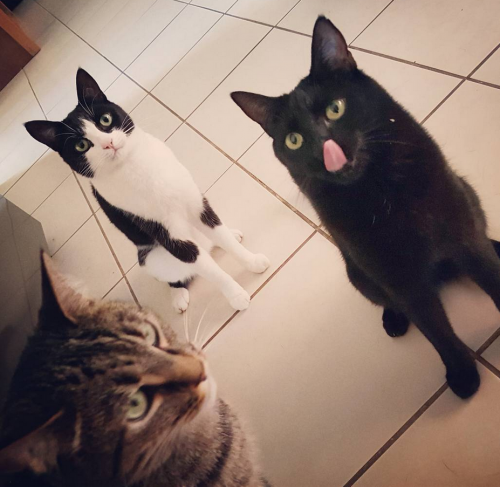 Back at Ash and her husband Craig's house in Melbourne, Australia, Peppa and Pippa didn't waste any time making themselves right at home, and more than five years later, these sweet and spunky girls are doing great! "They have been quite good cats," says Ash. "Peppa has gotten herself into trouble a few times, getting into situations she cannot get out of, like climbing a tree and jumping a fence and not being able to get back."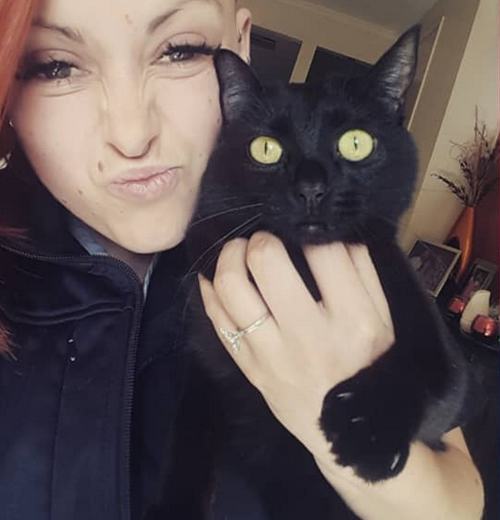 As a result, Ash and Craig monitor these wobbly girls even more closely than before during their supervised time outside, but this hasn't stopped Peppa from finding other ways to get into trouble, including eating a string of lights. "She needed surgery to remove them from her intestines before they perforated and made her very sick," says Ash. Thankfully, Peppa made a full recovery, and she and her sister are as happy and active as ever, zooming around the house, sharpening their claws on Ash's yoga mat, and cuddling with their parents.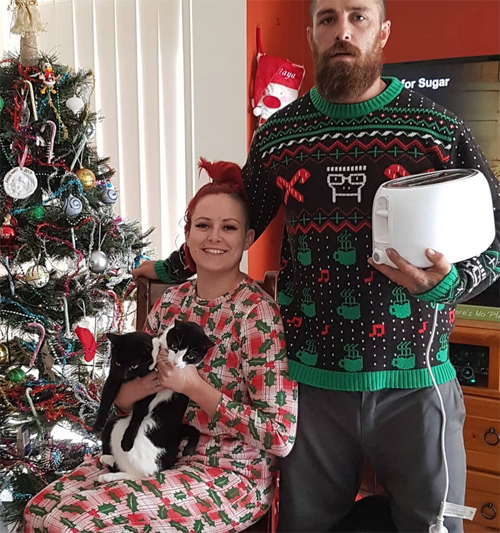 "Pippa also loves to snuggle with our Bull Terrier Delilah — she is Pippa's safe zone when the other cats are playing too rough," says Ash, and Pippa's friendship with Delilah is just one of the many way these beautiful and unique girls are different from typical cats. "One thing I have noticed is that people — especially men — who claim they 'hate cats' have always changed their mind once they have met Pippa and Peppa. They are so entertaining playing with each other and with their toys."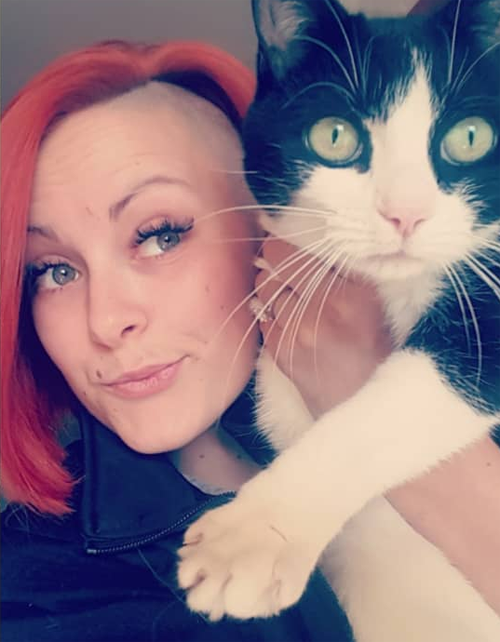 While practically everyone who meets Peppa and Pippa falls in love with these special cats, there's no one who adores these two wobbly kitties more than their mom and dad. Ash, who is a veterinary nurse, has a particularly strong bond with Peppa and Pippa because she has helped them recover after medical treatments and monitors them closely for the first signs of health issues.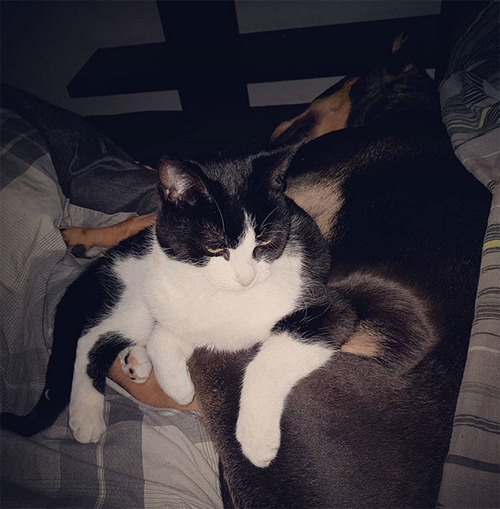 "These girls are a piece of my heart and soul, walking around every day outside me!" says Ash. "The thought of anything bad ever happening to them makes me feel so distressed and sad. I protect them like a mother protects their baby. They are absolutely gorgeous little souls."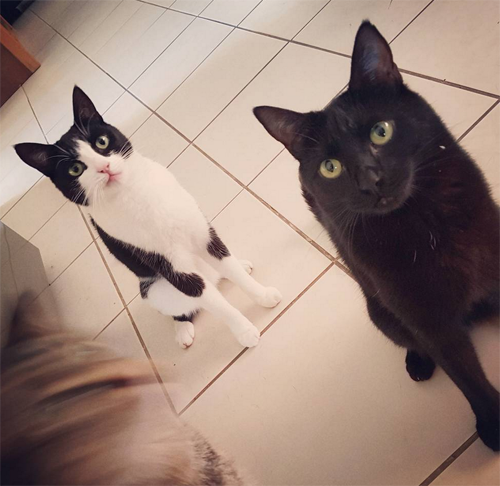 To learn more about these adorable cats, you can follow Pippa and Peppa on Instagram.