When Elizabeth Whitener met Dusty, an adorable black cat who survived the 2018 California wildfires, she had no intention of adopting another pet. Instead, Elizabeth had traveled across the country to assist FieldHaven Feline Center, a rescue located in Lincoln, California, with their efforts to help animals like Dusty who had been injured in the catastrophic blaze in the nearby town of Paradise.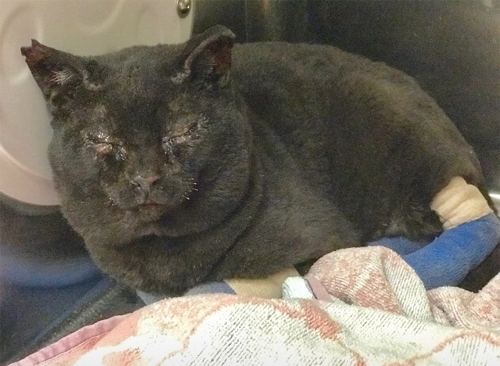 "Until this fire, animals as badly burned as Dusty were generally just put down," explains Elizabeth. "But these creatures are as much victims of a tragedy as are the people of the communities involved, and deserve a chance for life after fire." Before he was rescued on November 8, 2018, Dusty lived in Paradise, California, but little else is known about his life prior to the fire. However, due to the extensive injuries he'd sustained, Dusty was immediately taken to the UC Davis School of Veterinary Medicine for treatment. "Dusty was horribly burned over his face, feet, legs, and ears," says Elizabeth. "His foot pads melted, and his sinuses, lungs, scrotum, and nipples were ravaged by fire."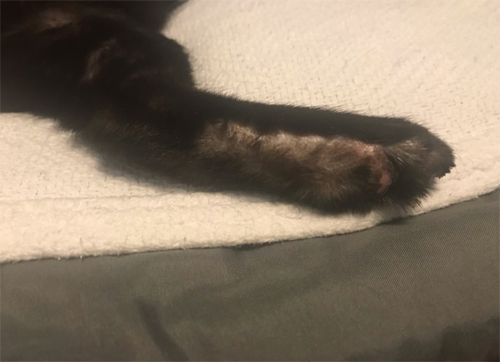 An exam also revealed Dusty was approximately three years old and had feline immunodeficiency virus (FIV), a retrovirus that can weaken a cat's immune system, making them more susceptible to illness and infection. "At UC Davis, he received frequent bandage changes and surgery to amputate burned toes and on his eyes for a non-fire related condition," explains Elizabeth.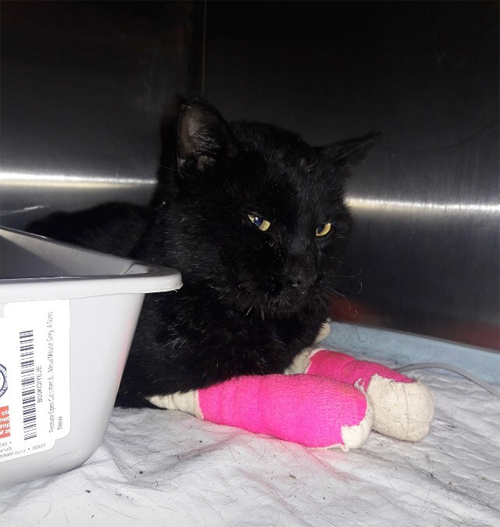 Despite the severity of his burns, Dusty, who got his name because he was covered in ash when he was found, made a remarkable recovery, allowing him to be discharged to FieldHaven. "He came to FieldHaven sporting a roly-poly body, a raspy snore because of fire damaged lungs, a singed coat that felt like a Brillo pad, shortened, fire-scarred ears, missing toes, and a burn-scarred face and legs," says Elizabeth.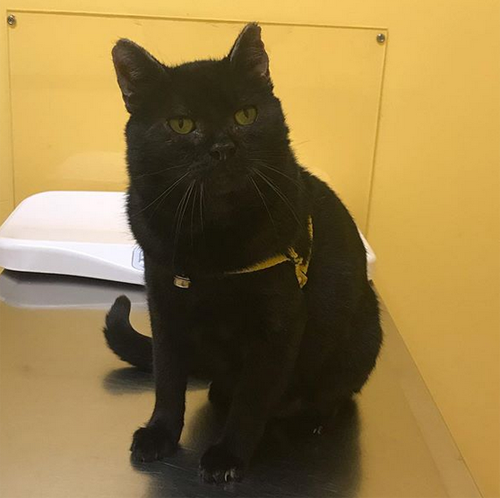 Dusty charmed everyone at the rescue with his cute face and raspy purr, and he quickly became a favorite of the volunteers and staff at FieldHaven, including Barbara. "He spent time as a hospice cat for beloved FieldHaven volunteer Barbara during the last weeks of her life," says Elizabeth. "He also made a very important FIV educational video."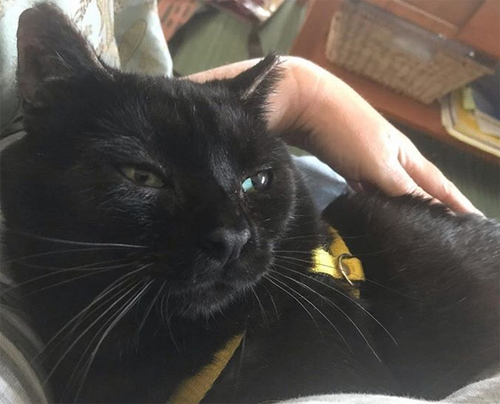 Not surprisingly, when Elizabeth finally met Dusty in person after following his story from afar, she quickly fell in love with the friendly and affectionate black feline. While she was interested in adopting Dusty, Elizabeth spends most of her time traveling from place to place, and she wasn't sure he would enjoy life on the road.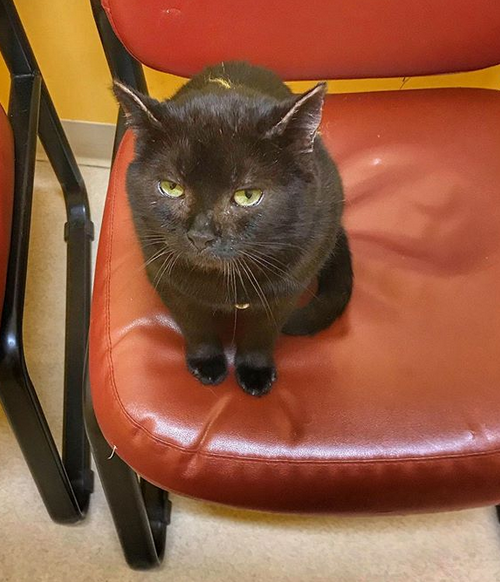 "I stuck a harness on him and he acted like he'd been dealing with a harness all of his life," remembers Elizabeth, but the true test was how Dusty reacted when she took him for a ride in her car. "He acted like an old traveling pro. He was easygoing and showed absolutely no stress in moving about or visiting new places."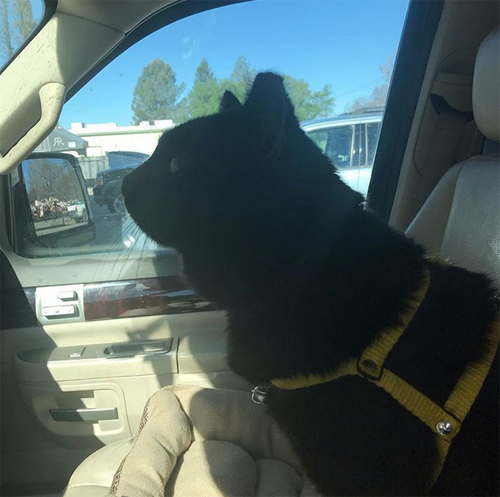 Dusty was also great about meeting unfamiliar people and animals, including Dew, Elizabeth's cat who doesn't have FIV, so she adopted him in May 2019. While people often think cats with FIV can't live with those who don't have the virus, Elizabeth isn't concerned about Dew getting it from Dusty.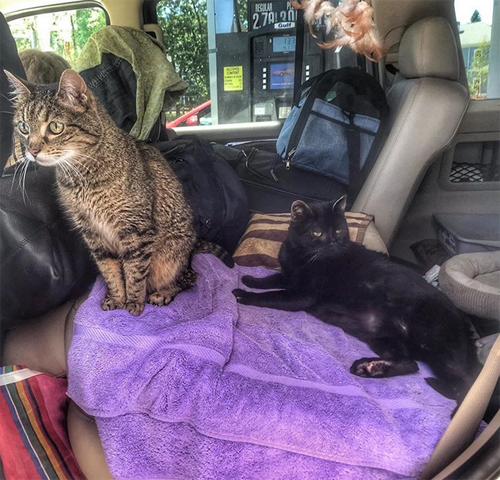 After all, FIV is usually transmitted through sex or deep bite wounds, and as long as cats are sterilized and get along well — like Dew and Dusty — the chance of spreading the virus from one animal to another is very low. "Until very recently it was believed that FIV was extremely contagious and deadly," explains Elizabeth. "We now know that is no longer the case."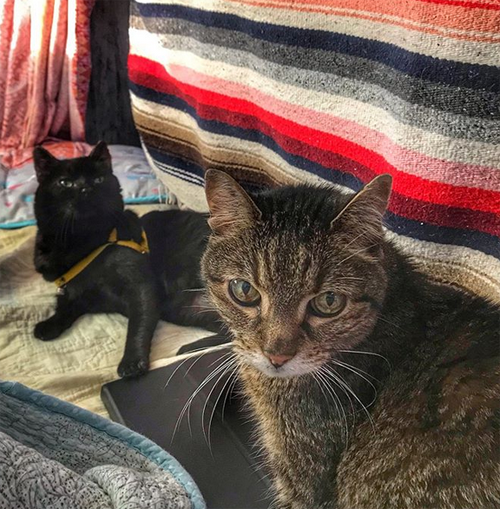 Approximately four months after finding his forever home, Dusty is doing very well, although he's still coping with some challenges related to the injuries he sustained in the fires. "He cannot get a around super well," says Elizabeth. "And because his feet pads are gone and only scar tissue, I must make sure they are moisturized and healthy."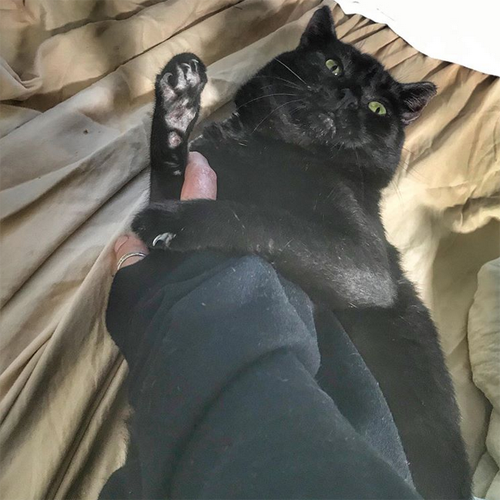 Also, his sense of smell was damaged in the fire, making it harder for Dusty to locate his litter box. Fortunately, this incredibly intelligent boy isn't afraid to turn to his mom for help. "He has his litter box cry," explains Elizabeth. "He comes to me and seemingly asks: Where's the darned box? And I bring him there."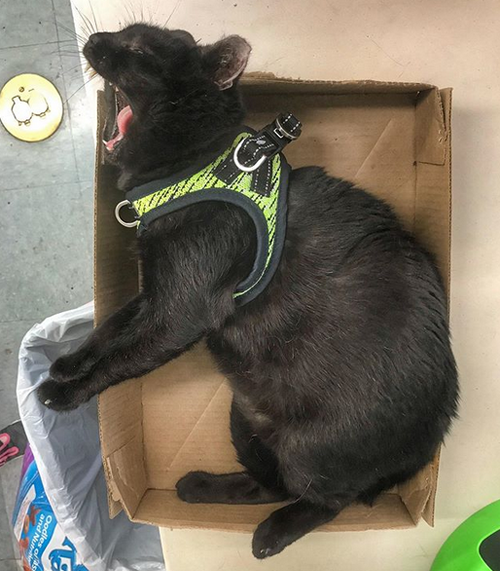 In addition to these issues, Dusty was recently diagnosed with feline hyperesthesia syndrome (FHS), a rare illness that causes some cats to experience a range of symptoms, including rippling skin, agitation, and self-mutilation.
View this post on Instagram
'"It's a terrible syndrome that is greatly misunderstood," says Elizabeth. "Their licking, biting, and grooming has often been diagnosed as behavioral, but it is now mostly believed that it is neurologically based." Cats with FHS often have triggers, which experts believe may include stress and allergies, and they frequently attack their own bodies, causing extremely serious injuries. While many cats with feline hyperesthesia syndrome bite and lick their tails, Dusty tends to violently attack his back, making him a bit different from the average kitty with FHS.
View this post on Instagram
Fortunately, Dusty was diagnosed with FHS fairly quickly, allowing him to begin medication to control his symptoms, and Elizabeth is hopeful he will finally get the relief he deserves. While he's still grappling with a number of health issues, this three-year-old feline remains an easygoing and loving cat who enjoys playing with toys, going on long car rides with his mom, and sitting outside in his net tent. "Even after everything he's been through — and it's been a hell of a lot — this guy is a smart, funny, sweet, and gregarious boy who loves people," says Elizabeth. "Dusty is truly my heart."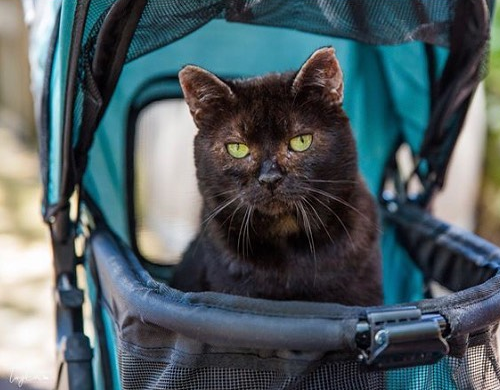 To learn more about this handsome cat, you can follow Dusty on Instagram.