Misty Geonetta, a professional cat sitter, was walking in Bensonhurst, Brooklyn, in June 2017 after leaving a client's home when an injured tabby and white feline suddenly appeared before her. "He popped out of nowhere and when I saw him, I couldn't believe my eyes," remembers Misty. "He had no ears, a million toes, and wounds all over. His lower lip was hanging down and he had a huge puncture wound on his chin."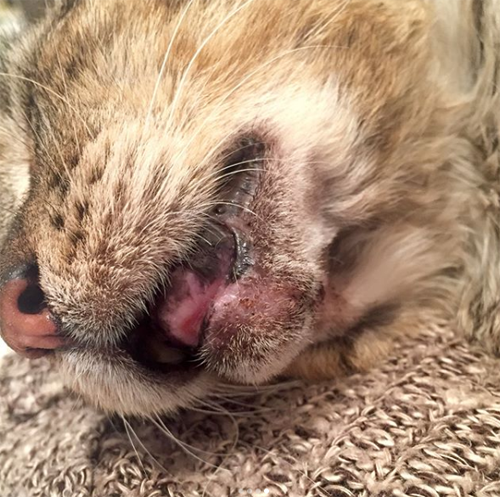 It was obvious to Misty that the earless cat was in really bad shape, and she was unable to turn a blind eye to an animal who was so obviously in need. "I knew I had to help him," says Misty, so she called a friend who just happened to be in the area. While Misty stayed with the injured feline, her friend went to a nearby store and purchased a duffle bag that they transformed into a makeshift cat carrier. "We poked some holes in it and wrangled him into it and rushed him to the vet," explains Misty.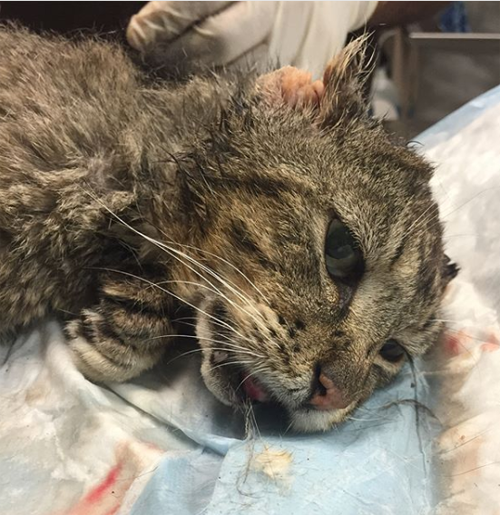 An examination revealed the tabby and white feline was in need of medical attention, but with treatment, he would survive his many injuries. The veterinarian also determined the cat, who had obviously been living on the streets for some time, was probably around nine years old and had feline immunodeficiency virus (FIV).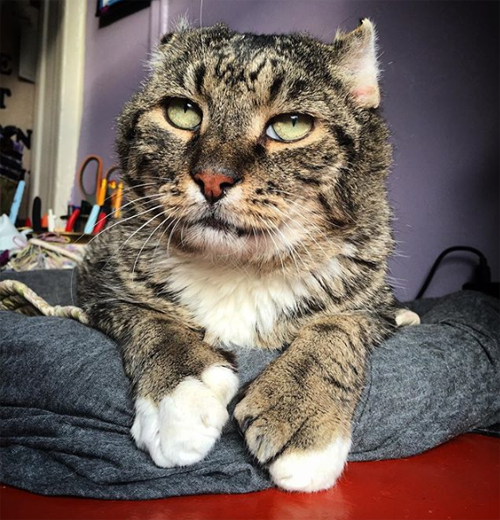 While cats with FIV may have more difficulty fighting off infections and illnesses due to their weakened immune systems, there are lot of misconceptions about the virus. "I wish people knew that FIV is no big deal, it's not a death sentence, and it's not easy to contract," explains Misty.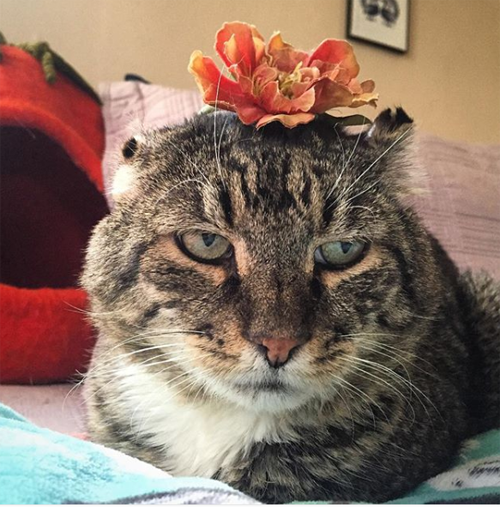 Knowing that the virus is spread through sex or deep bite wounds, Misty wasn't worried about exposing her other cats to an animal with FIV, so she decided to foster the tabby and white boy, naming him Benny. "A few people offered to foster him, but I didn't trust anyone else with him, so he came home with me," says Misty. "With the help of the rescue group, Little Wanderers, we were able to raise money for him to have a full dental and all other necessary treatments to heal him."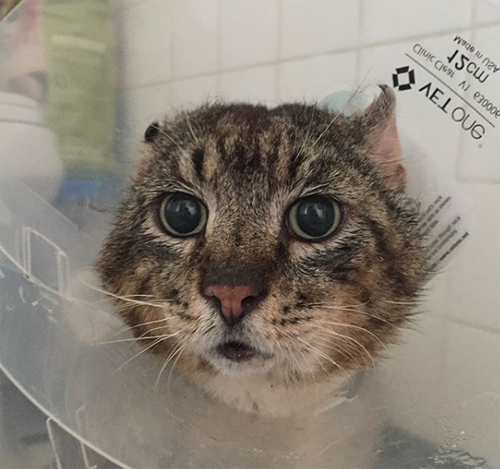 For a month, Misty gave Benny medication four times a day, flushed his mouth after every meal, and cleaned his ears — which were infested with mites — twice a day. "I know he must have known human kindness before because he was very friendly," says Misty, "but somehow everyone kept passing him by — hoping someone would help him, but never doing it themselves — until the day I came along."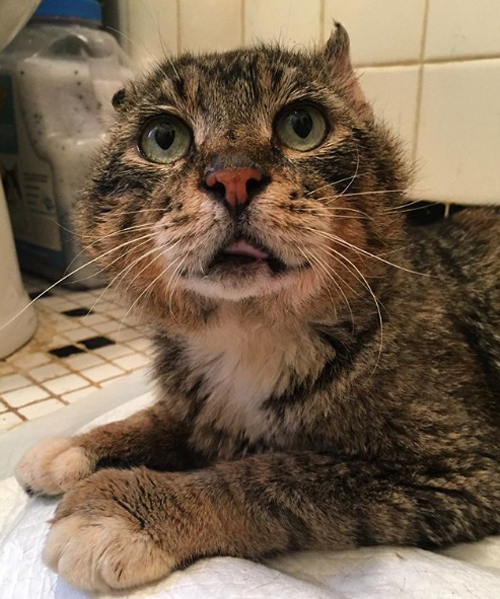 While it's impossible to know long Benny was living on the streets, fighting with other cats for food and territory, he was surprisingly docile, and after a few weeks, Misty knew she wouldn't be able to part with this gentle boy. "He was getting along with everyone really well," explains Misty, "and after all we had been through, I couldn't imagine letting him go."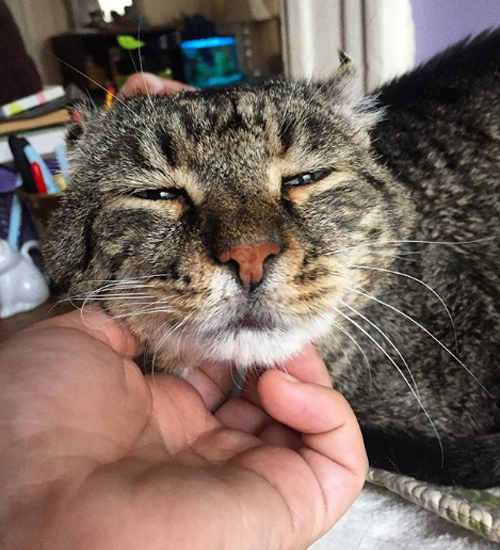 It's been just over a year since Misty and Benny met for this first time, and this former street cat is enjoying his forever home and has adjusted well to life as an indoor kitty. "We only had issues when I brought in a mama and her kittens to foster," says Misty. "Because he was intact for so long, and the mama cat had only been spayed recently, it caused some mating behavior to come out — Benny peed on the couch!" Fortunately, Misty purchased a diffuser that releases pheromones that are known to comfort cats, and Benny's issues eventually disappeared.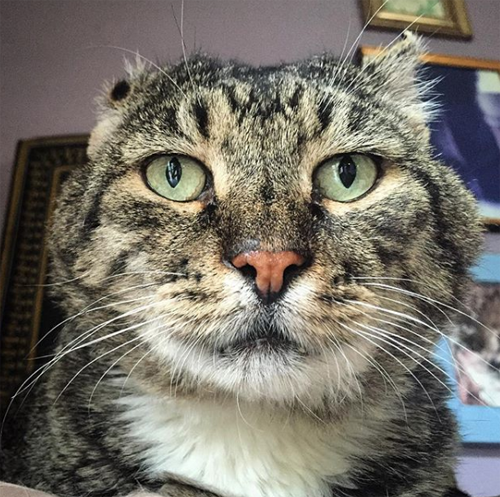 Today, Benny — who was covered in wounds when Misty rescued him in June 2017 — is doing extremely well, and this handsome boy has plenty of time to indulge in his favorite activities: eating, playing with his feather toy, sleeping, and watching watching birds and squirrels from the comfort of his air-conditioned apartment. "Mainly, he likes to chill out," says Misty. "After his hard years on the street, he appreciates the retired, laid-back life."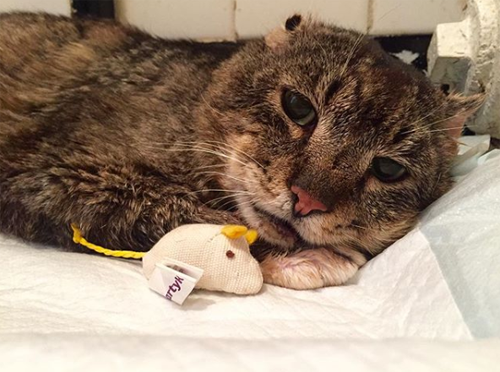 While Benny can be a bit of a grump, he's definitely not aggressive, and he had all of his teeth removed due to serious dental problems, so there's no risk of this tabby and white boy biting any of Misty's other cats. "Please don't let FIV scare you off!" says Misty. "I don't even think about Benny having it, it's that small of an issue. He's just like all the other cats in the house. Benny lives with five FIV negative cats, so it can be done!"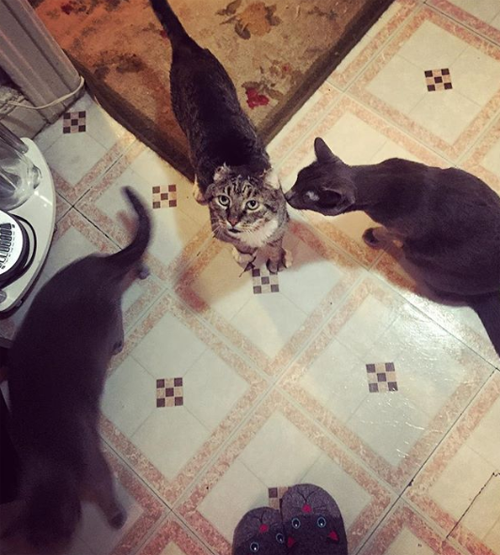 Over the past 12 months, Benny and Misty have developed an incredible bond, and this handsome cat has inspired his mom to help other animals in need. "Benny restored my faith in humanity and also set me on a path that has led to rescuing many cats," explains Misty. "Since finding Benny, I have rescued 17 cats in the year I've had him."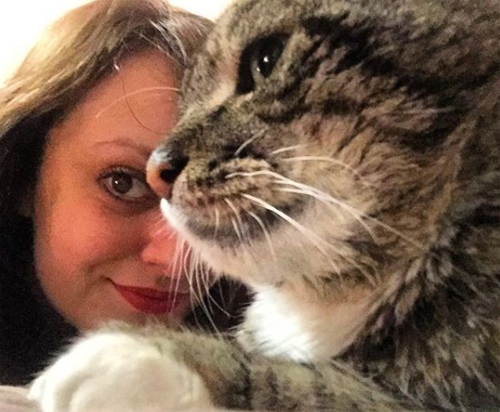 While Benny is a very unique cat — "He loves to be called Cheetah!" says Misty — he's so much more than a pet to his mom. "He's not just my cat, he's my rescue partner," says Misty. "He has shown me my purpose and given me resources to do it."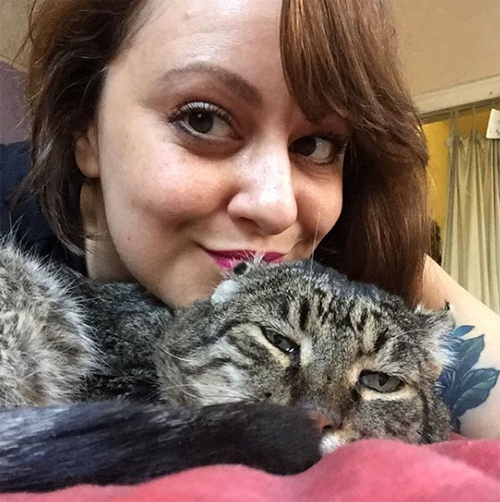 A week before Benny appeared before her on a street in Bensonhurst, Brooklyn, Misty had a dream about finding a cat in need, one who was sick, earless, and toothless, that she attempted to put in her backpack. "Little did I know, this was a view of the future," says Misty, and a year after rescuing Benny, she's confident she and this special boy were destined for one another. "I know we were meant to be together," says Misty. "We are a team."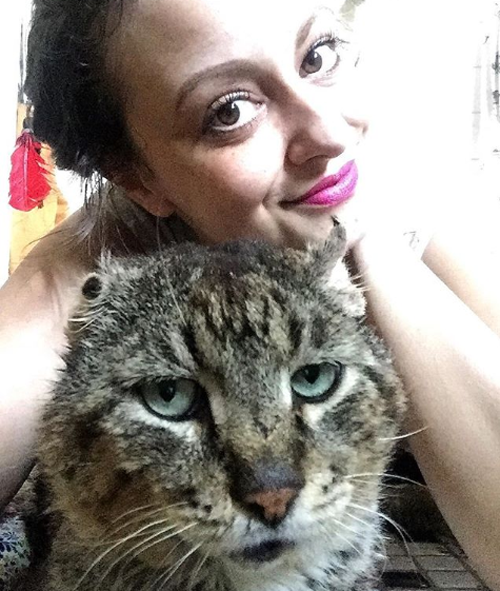 To learn more about this handsome boy, you can follow Benny on Instagram.