When Brooke saw a Facebook post from an animal shelter near her home in Arkansas about Aslan, a 7-year-old cat with cerebellar hypoplasia (CH), she wasn't looking to adopt a pet. However, she also knew an older cat with special needs would probably have a difficult time finding a forever home, so when a few days passed and he was still available for adoption, Brooke went to the shelter in June 2014 to meet Aslan in person.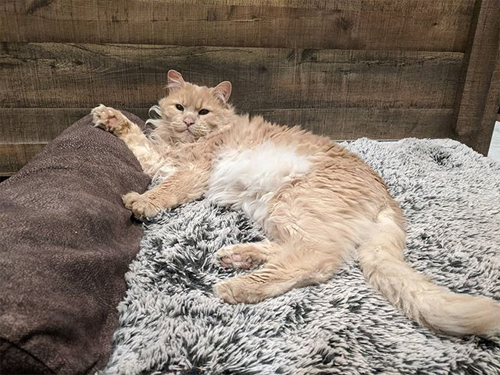 "When I got there, a woman had his cage open and was petting him while he just purred away," remembers Brooke. "I wanted to clothesline her and tell her to get away from my cat, but I just pretended to look at a different cat until she walked away."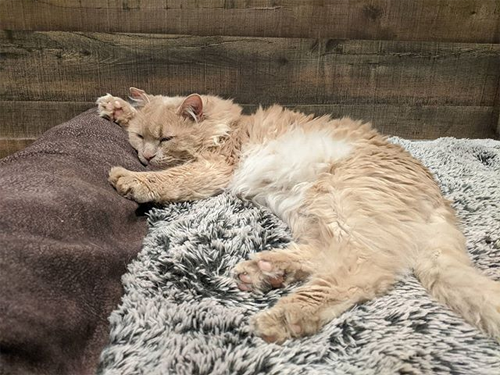 Aslan was very thin, and the staff at the shelter had shaved his fur because he was extremely matted when he arrived at the facility. He also had a scar on one of his ears, but because Aslan ended up at the shelter following the death of his owner, Brooke was unable to determine exactly how he had received the injury. "He came from a home with multiple other pets," explains Brooke. "I don't know if he had to compete for food or was bullied."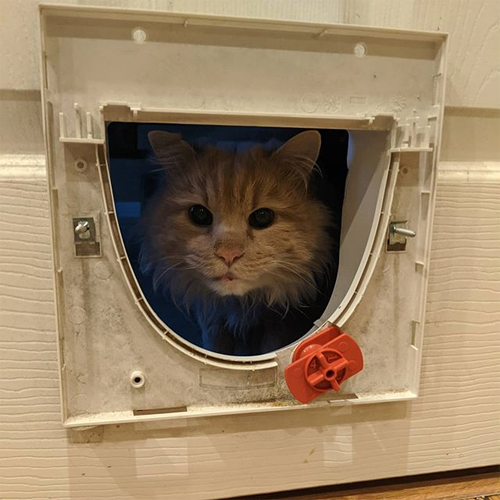 Brooke also didn't know exactly why Aslan was born with cerebellar hypoplasia, a non-progressive neurological condition that occurs in utero and affects balance and coordination. "There are multiple theories on why this happens," says Brooke, "but the most common one is that the mother was exposed to panleukopenia or another virus while pregnant, but usually there are only one or two kittens in a litter affected so it's hard to say for sure."
View this post on Instagram
However, Brooke had a background in veterinary medicine, so she was confident she would be able to accommodate Aslan's special needs, even after the staff at the shelter told her he was missing most of his teeth. "I knew an older cat with medical issues wouldn't last long in the shelter and would either be put to sleep or die from disease, so I decided we needed each other," remembers Brooke.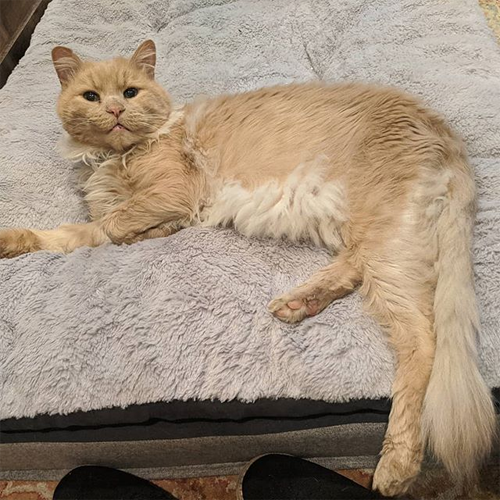 Fortunately, her adoption application was approved, and while it didn't take long for Aslan to bond with his mom and adjust to his new home, he developed an upper respiratory infection just two days after Brooke adopted him. "He was very sick for over two weeks," says Brooke, "but after multiple vet visits, an emergency vet visit, and about $800, he was well and was fat and sassy in no time."
View this post on Instagram
However, Aslan was eventually diagnosed with acromegaly, a disorder that occurs when the body produces too much growth hormone. Unfortunately, Aslan's feet, jaw, and internal organs will continue to grow for the duration of his life, which means he will likely die from some type of organ failure. Acromegaly also causes Aslan to have a high metabolism, extreme hunger, and insulin resistance, resulting in diabetes that is difficult to manage.
View this post on Instagram
"He currently takes human doses of insulin twice daily and gets seven meals throughout the day and night to help keep his blood sugars and his hunger level," explains Brooke.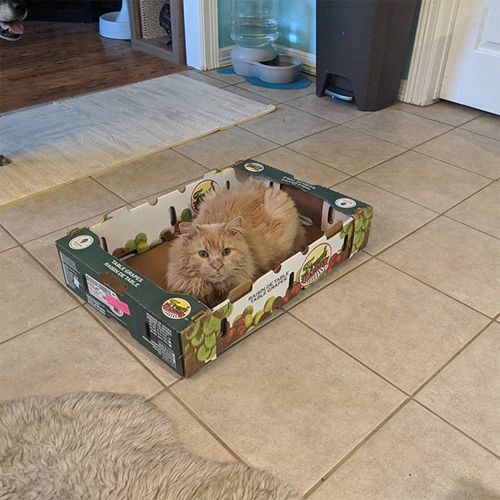 While Aslan's acromegaly is likely caused by a tumor on his pituitary gland, Brooke has opted not to subject him to the stress of further diagnostic testing because the results will not change the outcome. In addition to acromegaly, he also developed megacolon, an abnormal dilation of the colon that can make it difficult for animals and people to defecate.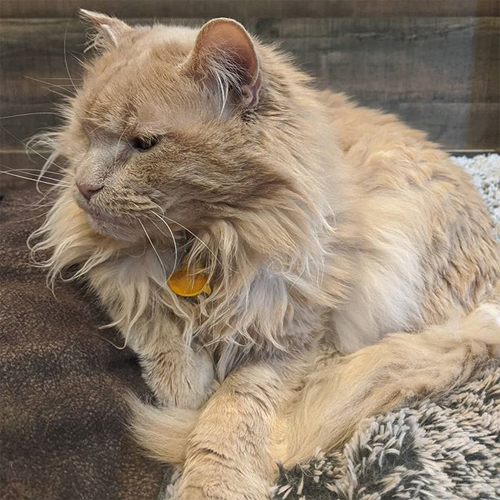 "He developed it as a middle-aged neutered male, which tends to be the most common presentation, but nobody really knows why," says Brooke. "He gets meds twice daily to keep him pooping and we do have to do enemas at home from time to time, as well as the occasional vet visit if we can't get him to poo at home."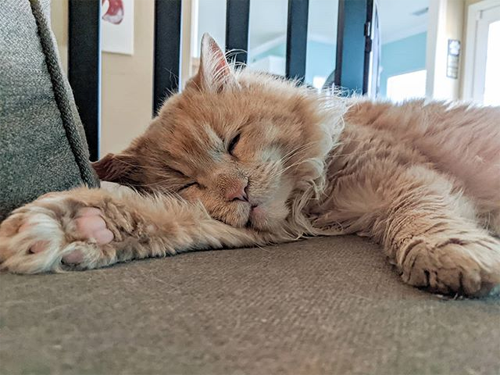 Thanks to Brooke, Aslan, who is approximately 13 years old, is able to enjoy a relatively normal life despite his medical issues, and like a typical senior, he likes to eat, sleep, and meow at his mom when he's hungry.
View this post on Instagram
However, because cerebellar hypoplasia causes Aslan to wobble when he walks, Brooke has had to deal with strangers who assume he is unhappy or suffering. "People want to be keyboard warriors, telling people what's best for their CH pets or declaring they have no quality of life," explains Brooke. "Aslan lives an extremely full life and has no idea he's different."
View this post on Instagram
However, due to megacolon and acromegaly, Aslan definitely needs more care than a typical cat, including expensive medication and frequent vet visits. Consequently, Brooke encourages anyone who is considering adopting a special needs pet to make sure they have the time and money required to give them the care they need to thrive. "Aslan is work, and his particular case has been expensive," says Brooke, "but when he jumps on the bed and cuddles with me while he purrs his little heart out, it makes it all worth it."
View this post on Instagram
Even though she didn't set out to adopt a cat with special needs, Brooke is so grateful to have Aslan in her life, and this handsome boy — who has cerebellar hypoplasia, acromegaly, and megacolon — is incredibly fortunate to have found such an amazing home after his previous owner passed away. "He's a friend, he's a joy, and he's one of my furry kids," says Brooke. "I'd do anything for him."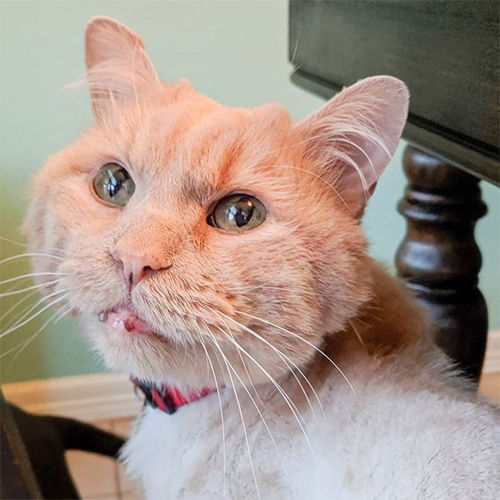 To learn more about this handsome cat, you can follow Aslan on Instagram.