Anna Rose was browsing Facebook when a post from FACE Low Cost Animal Clinic about a senior cat with the feline immunodeficiency virus (FIV) caught her eye. "The post said that he had wandered up to some community cat caregivers' doorstep, emaciated, covered in blood and wounds, and basically on the brink of death," remembers Anna.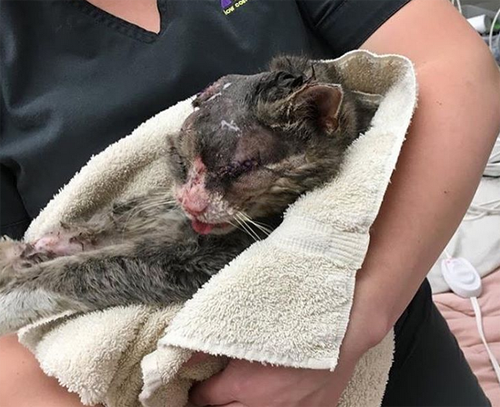 The caregivers rushed the injured and malnourished grey and white feline to the Indianapolis animal clinic where a thorough examination revealed he was had most likely been attacked by another animal. "They found that he had two previous breaks — his jaw and his leg — that healed improperly," explains Anna, "but he also had fresh bites when he was found."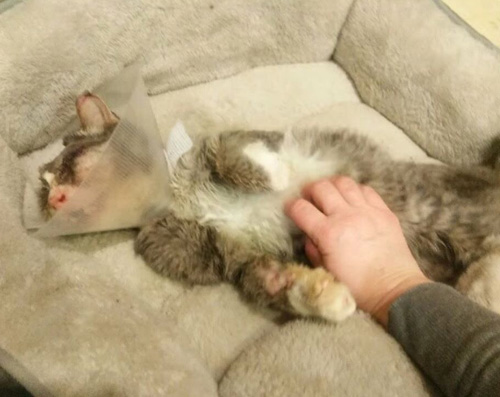 He'd sustained severe injuries to his head, so he had surgery to remove on of his eyes and one of his ears when doctors determined they couldn't be saved. This handsome senior cat — who doctors estimated was approximately 10 years old when he was rescued — spent a few months in foster care recovering from the surgeries until March 2018 when FACE published the Facebook post that captured Anna's attention. "I instantly fell in love with him reading the post," says Anna, "so I emailed the adoption coordinator and expressed my interest in adopting him."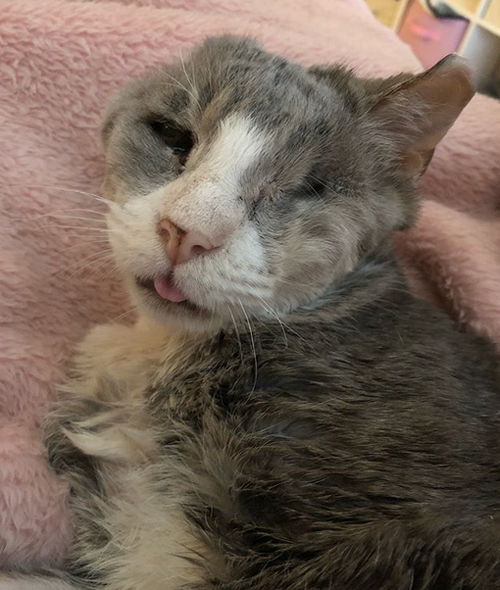 Anna was disappointed to learn that someone else had already arranged to meet the grey and white cat, and she was even more disheartened when she followed up a few days later to find out he had been adopted. "I was really sad," says Anna, "but happy for him." However, less than a day after this senior cat was adopted, he was returned to the rescue, and Anna received an email from the adoption coordinator asking if she'd like to meet him.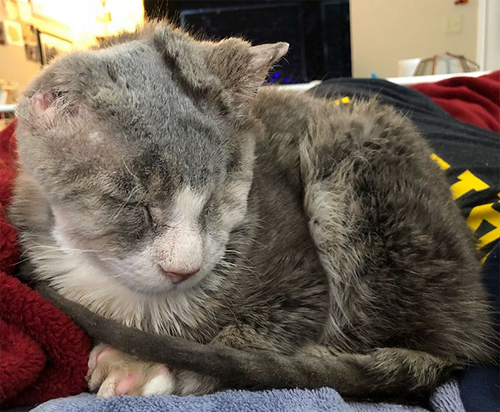 When Anna arrived at the rescue, she met the senior cat for the first time when the adoption coordinator removed him from his cage and handed him to her to hold. "I could tell he was very nervous and very unsure of what was happening," remembers Anna, but as she chatted with the adoption coordinator, he fell asleep in her arms.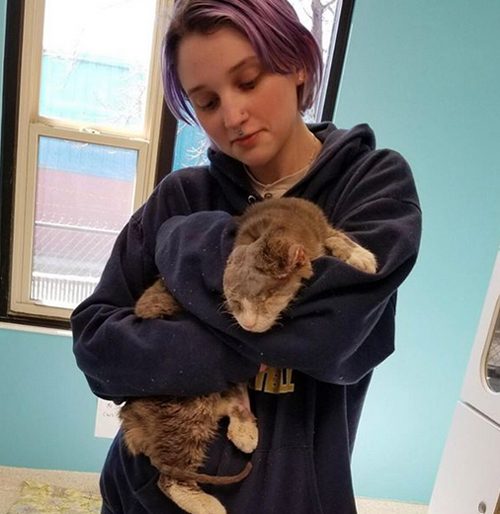 On March 14, 2018, Anna officially adopted the 10-year-old cat, naming him Walter — Wally for short — in honor of Walt Disney. "All of my pets have Disney themed names," says Anna. "After meeting him, I decided a more mature sounding name would suit him."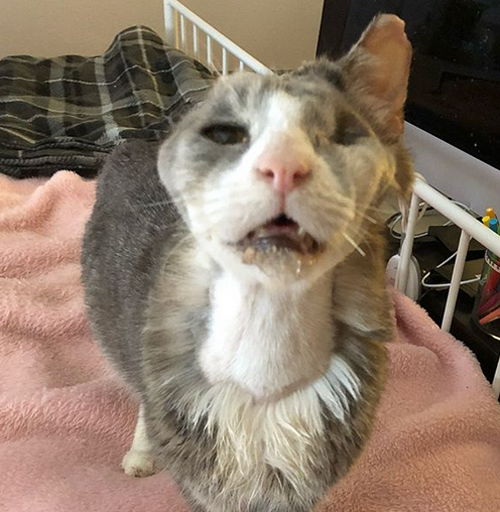 That night, Anna — with the help of her mom — gave Wally a thorough cleaning with cat grooming wipes, removing a lot of the dirt that still clung to his coat from his time living on the streets. "He was so cooperative and didn't protest at all," says Anna. "I think he knew I was trying to help him feel better." While Wally seemed to know that Anna was there to protect him and care for him, he didn't immediately settle into his new home in Indianapolis, Indiana.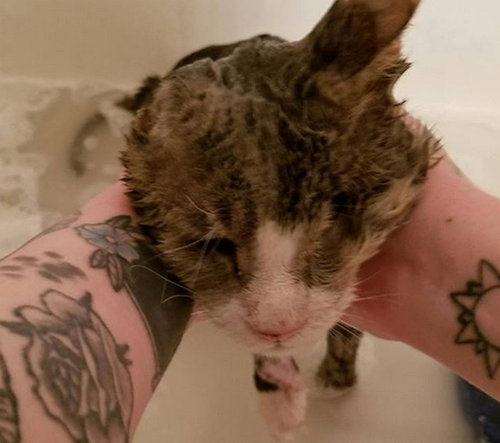 The first two nights after Wally was adopted, he urinated outside of the litter box until Anna realized that this issue was the result of a physical problem, not a behavioral one. As a result of the injuries Wally had sustained to one of his legs, he was unable to jump in and out of the box, so she came up with a solution to make it easier for him to go to the bathroom. "I moved some small wooden steps in front of the box and cut the box around the steps so he could walk right up the steps and down into the litter box without jumping," explains Anna. "Since doing that, he hasn't had any accidents."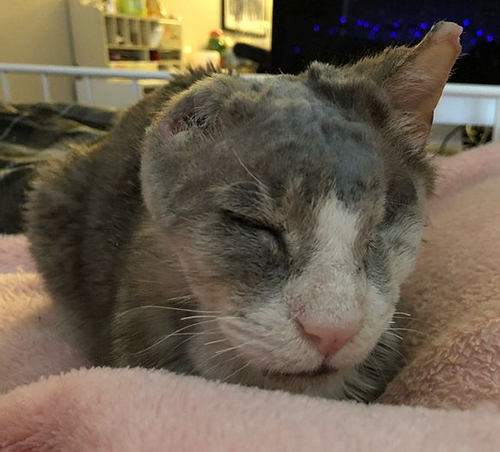 Anna also placed a set of stairs by her bed in order to make it easier for Wally to get up and down on his own, and she even contacted the rescue to find out if it was possible he would be happier without his injured limb. "They feel it would be best for him to keep his leg since he is an older cat and having him have to adjust to an amputation at his age would be much harder on him," explains Anna. While Wally walks with a bit of a limp, he doesn't appear to be in much pain, so Anna and experts have concluded it's probably not in his best interest to have his injured leg amputated.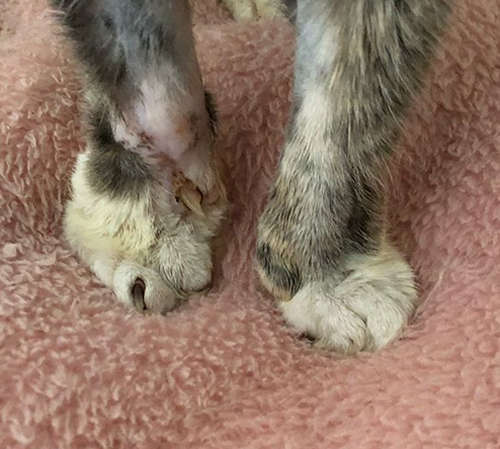 Aside from helping Wally get around, Anna occasionally has to wipe away discharge from his eyes, a symptom of FIV, and she sometimes has to help him eat his meals because he has tendency to push his plate across the floor. "He can only eat pate style wet food because he can't really chew anything with chunks," says Anna.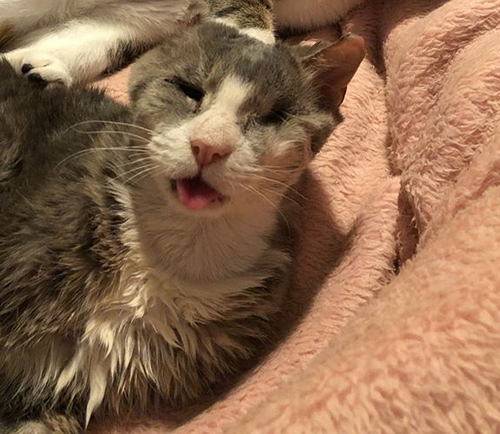 While she has had to make a number of special accommodations for Wally, Anna is happy to help him in any way she can, especially in light of the trauma he experienced before he was rescued. "You don't really say, 'Ugh, I have to do all this extra work,' " explains Anna, "you just do it because you love them."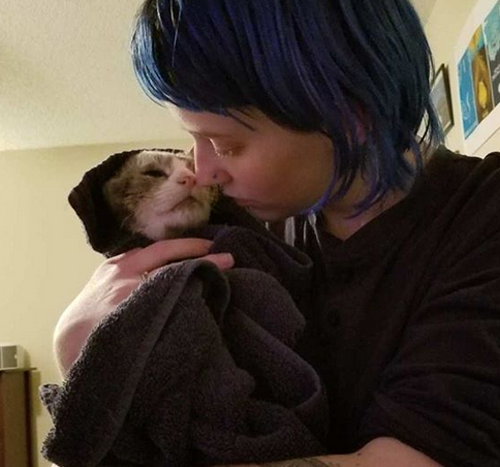 Luckily for Wally — who enjoys eating more than almost anything else — Anna is happy to hold his plate in place to make sure he's able to finish his meals. "He'll meow for his food when he knows it's time and will follow me until I set his plate down," says Anna. When Wally isn't eating, this handsome boy likes the occasional cuddle with Harvey, an adorable tabby and white cat with special needs that Anna recently adopted.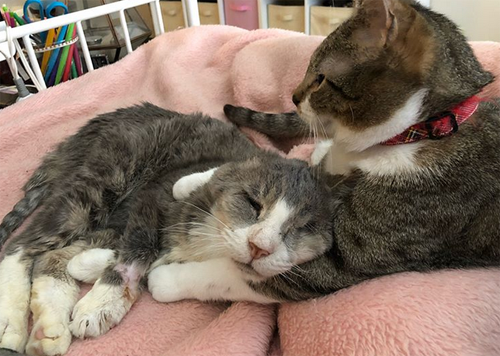 However, the only activity this senior cat enjoys more than eating is when his mom rubs his belly, a sure sign that Anna is gaining his trust, slowly but surely. "Any cat that has experienced trauma, or any living being for that matter, is going to have some sort of post traumatic stress syndrome," says Anna. "He has made such incredible progress in the short time I've had him and is more trusting every day."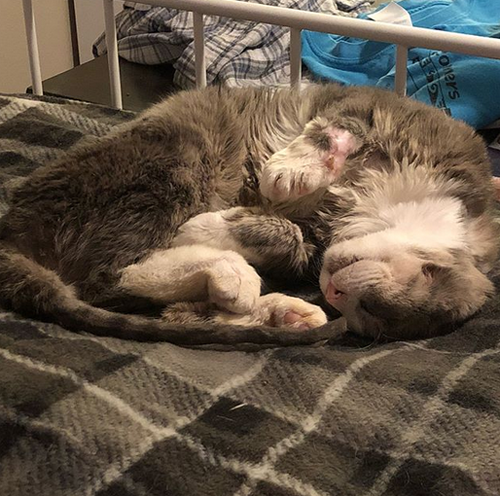 It's been approximately six weeks since Anna adopted Wally, and this handsome senior is still settling into his new home and learning to trust his new family of people and animals. Thankfully, Anna — who has been inspired by Harvey and Wally to eventually open a sanctuary for special needs cats —  is more than willing to give him the time, patience, and love he needs to feel at ease.
"I personally have PTSD, so I can relate to needing someone to be patient with me because progress can be super slow," explains Anna. "I had my mom who never gave up on me, and I'm not going to give up on Wally."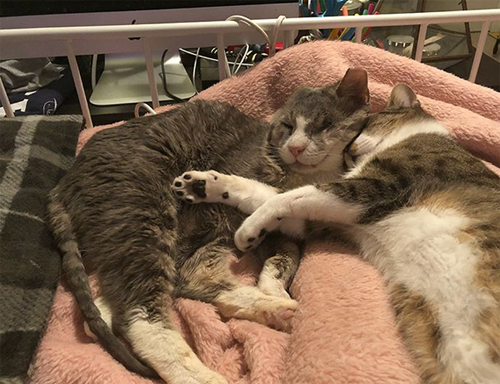 To learn more about this incredible cat, you can follow Wally on Instagram.