When Camilla saw a post on social media about a rescue kitten from Puppy Kitty NYC who had suffered serious injuries to his pelvis, tail, and hind legs, she instantly thought he might be the perfect pet for her and her husband Jeffrey. "We had been looking for a locally rescued cat with mobility issues for about a year," explains Camilla, so she contacted the rescue in March 2018 to learn more about the special needs kitten.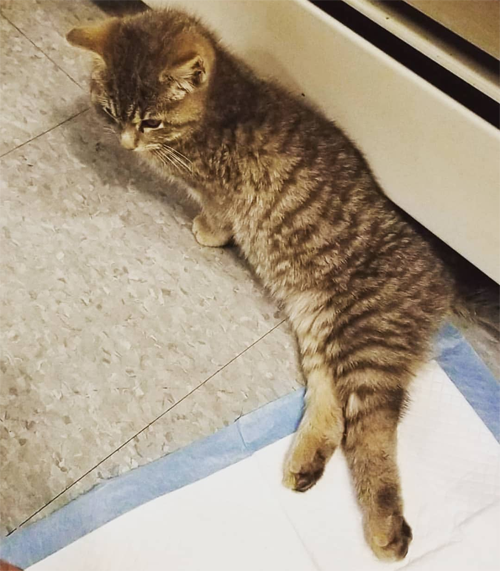 Camilla and Jeffrey set up a meet and greet, but it was cancelled after the rescue determined the kitten — who was named Mikoto at the time — needed additional medical treatment. "He'd experienced a major injury to his rear end and had started to heal before he was caught," says Camilla. "He had a fractured pelvis that was healing very narrow, and a leg that had healed, so it was stiff as a board."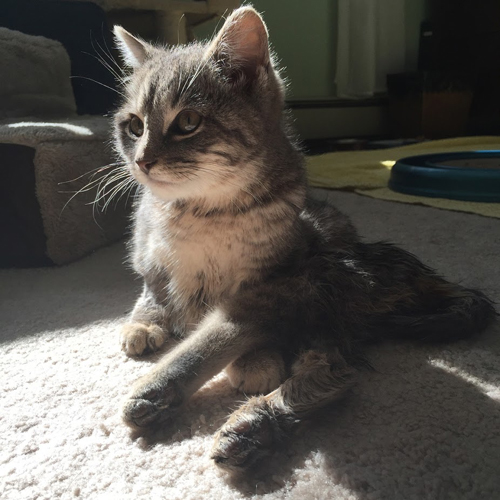 As a result, the four-month-old kitten was also having difficulty walking on his uninjured leg, and Mikoto's doctor determined the best course of treatment was to amputate his damaged limb. Thankfully, Camilla and Jeffrey, who had Lily and Jasper — a pair of blind rescue cats — at the time, weren't put off by the prospect of adopting a three-legged kitten, so they arranged to meet Mikoto in person in April 2018.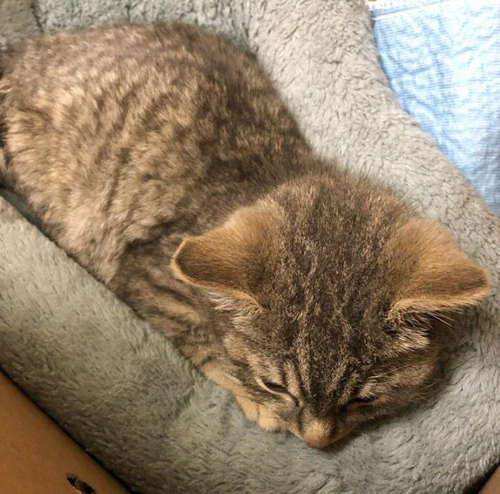 "He was an adorable floofy little kitten, but clearly uncomfortable and depressed," remembers Camilla, and while he didn't love being picked up, it was obvious he liked people. "After a long visit of going over his care needs, we were sitting discussing his amputation. He sidled up to me, smooshed his teeny face on my leg, and sat there."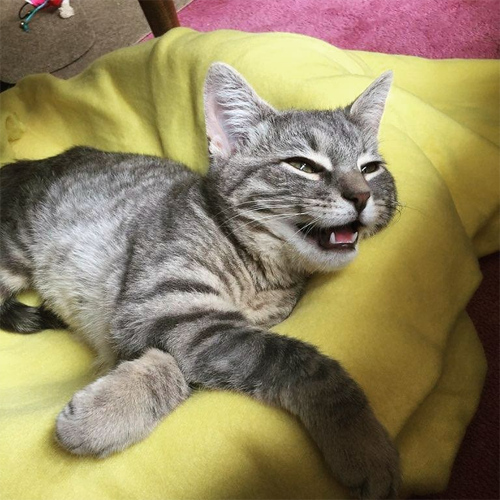 While she thought Mikoto was a good-natured cat, Camilla was confident his fractured pelvis would leave him with lifelong mobility issues, and she wanted to make sure she and her husband were ready for the possible challenges. "We weighed it carefully and decided to move forward," says Camilla. On April 13, 2018, the kitten had his injured limb removed, and he spent more than a month recovering from the surgery and undergoing physical therapy.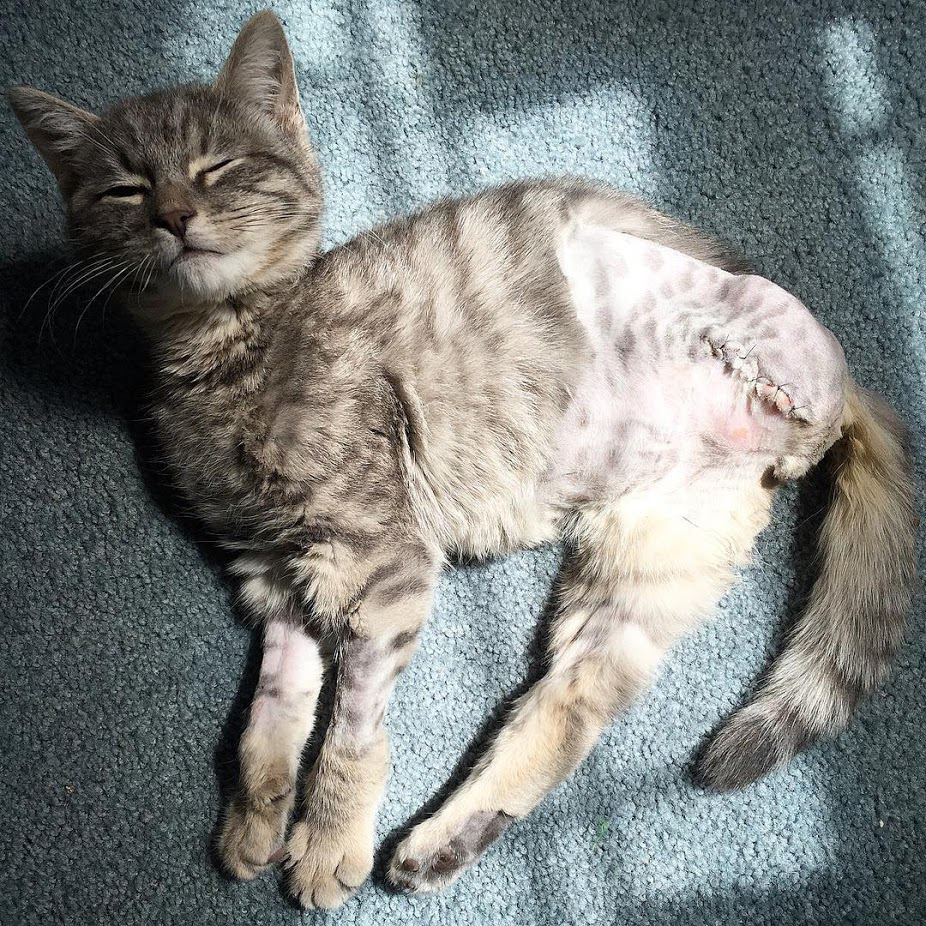 In May 2018, Camilla and Jeffrey were finally able to bring the three-legged kitten home, and a week later they gave him a new name to go with his new life: Hugo.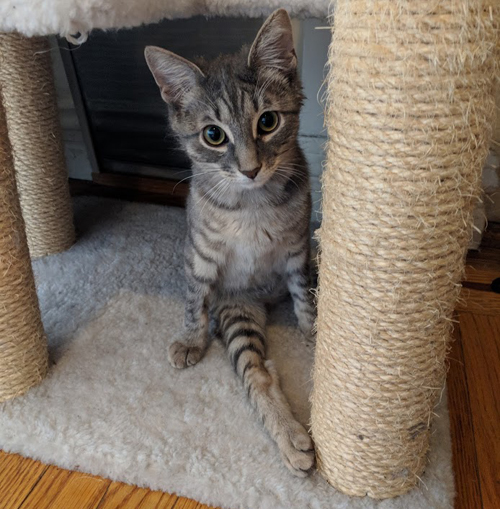 Unfortunately, Hugo's first week in his forever home was filled with challenges, including a ringworm diagnosis and severe constipation that required stool softeners, two enemas, and an emergency visit to the vet. While the veterinary staff was able to relieve Hugo's constipation by manually removing the stool from his colon, in order to treat his ringworm, Camilla and Jeffrey had to give him regular baths with medicated shampoo.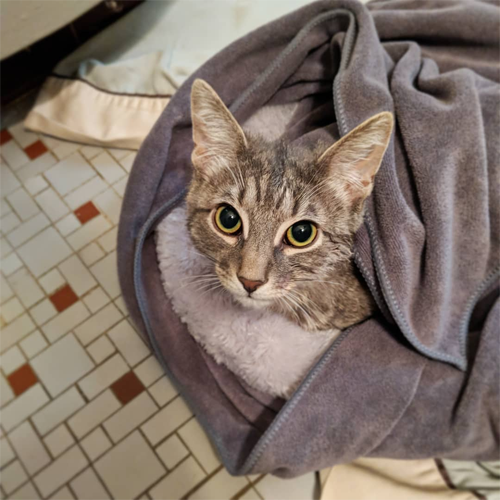 Also, because ringworm is extremely contagious, they had to keep Hugo in quarantine for two months. "He was extremely good-natured — after a ringworm dip he wanted petting and would purr," remembers Camilla. "But certain things terrified him — raised voices, people putting their faces near his, anything being put on top of him — like a piece of tissue paper to play in — and stomping feet."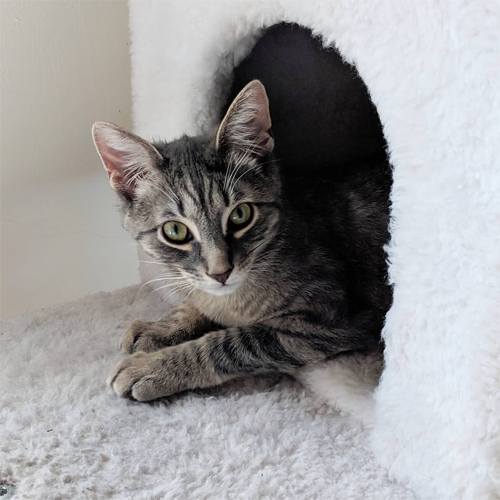 Consequently, it became clear to Camilla and her husband that Hugo's injuries were almost certainly due to abuse, something others had suspected from very early on. "His rescuers said that someone in the area had done harm to cats in the past and that Hugo showed up injured one day," explains Camilla. In addition to the injuries to his leg, tail, and pelvis, Hugo was eventually diagnosed with kidney damage, necessitating a change in his diet and careful monitoring.
View this post on Instagram
Nearly two years later, Hugo is doing well and his mobility has improved significantly. However, due to the nerve damage he suffered as a tiny kitten, he still has challenges, even though his parents have been doing regular physical therapy with him since the day they brought him home.
View this post on Instagram
"We have seen him run and jump and stretch," explains Camilla. "But he still drags [his hind leg] often. It has tremors. The muscle mass just isn't quite there." As a result, using the litter the box can be a challenge for Hugo, so his parents supervise him while he relieves himself, ready with wipes just in case he makes a mess.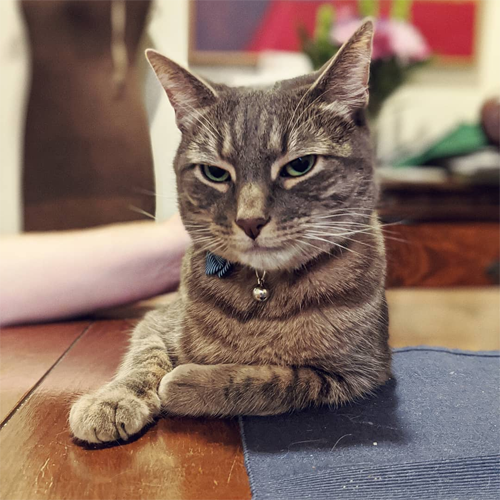 This sweet three-legged kitten has also made a lot of progress behaviorally, and now he's no longer the easily frightened feline he was when Camilla and Jeffrey first adopted him. "With a lot of patience, all that is gone," says Camilla. "You put your face in his and give him kisses and he purrs happily instead of looking scared and running away."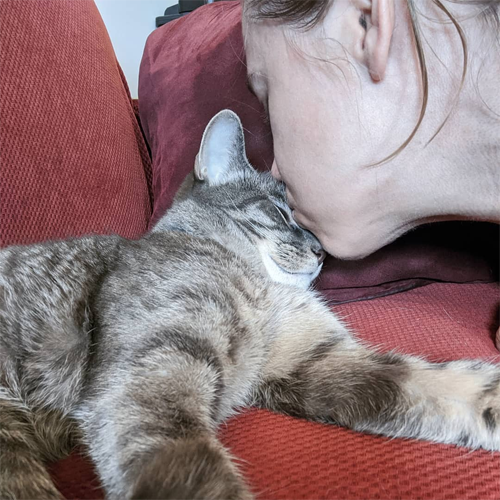 He also loves to cuddle with his parents, and he adores food, especially the treats he gets during physical therapy, proving he's a pretty typical cat despite his challenges. Hugo also enjoys playing with catnip toys, bird watching, sun bathing, and wrestling with Lily, his adoptive sister. "We lost our sweet blind Jasper to cancer just over a year after Hugo came home, and I think his presence saved Lily from deep depression," says Camilla.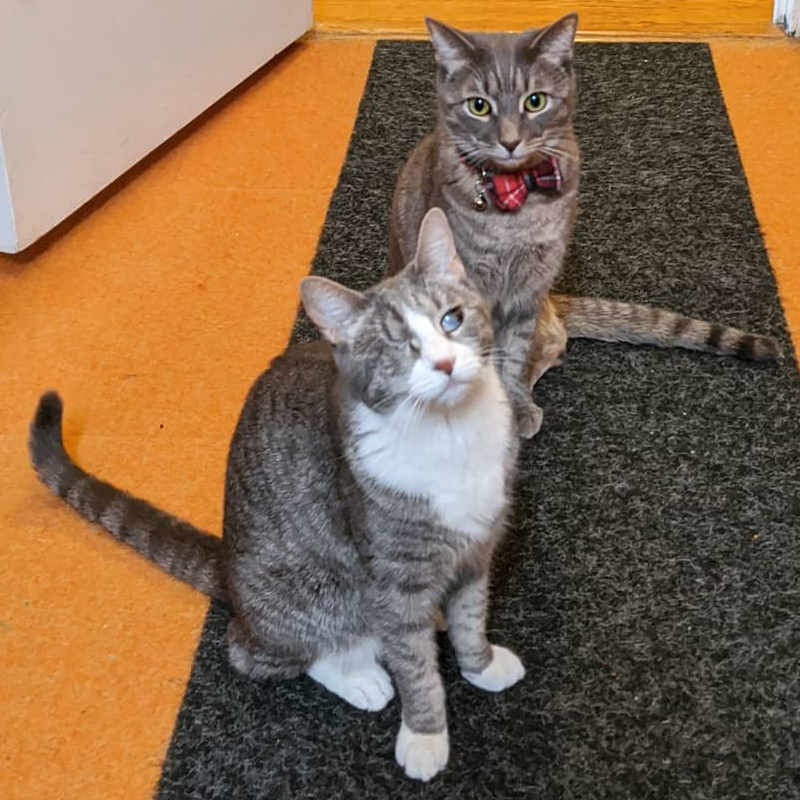 While cats who have suffered serious injuries may require more care than a typical feline, Camilla and Jeffrey are confident they are worth the extra effort they need to thrive. "People should know that it's rewarding to take an animal that very easily could have been allowed to die and see them living a happy, normal life as a member of your family," says Camilla.
View this post on Instagram
After all, not only has Hugo helped fill his parents' home with happiness, he's inspired them with his ability to overcome the suspected abuse he endured as a tiny homeless kitten. While it would be easy to fixate on the cruelty Hugo was likely subjected to before he was rescued, Camilla and her husband prefer to focus on all of the incredible individuals who came to his aid, allowing him to become the remarkable boy he is today.
View this post on Instagram
"We are grateful every single day that a chain of good-hearted people brought this cat into our lives," says Camilla. "The ongoing opportunity to watch him grow and blossom is a true inspiration, as is the knowledge that we're able to change a life for the better! He's a daily joy and we adore him."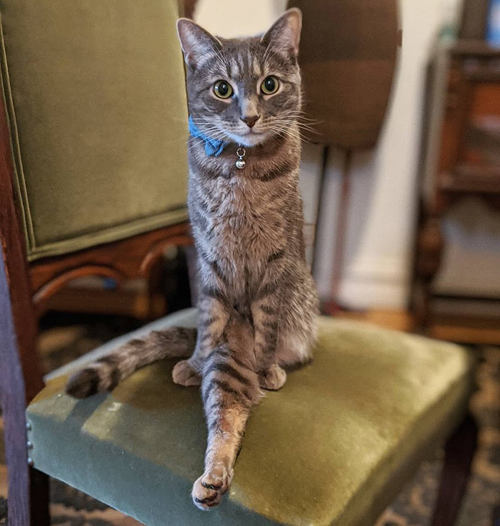 To learn more about this handsome cat, you can follow Hugo on Instagram.