When Steph was volunteering on the medical team at San Diego Humane Society (SDHS) in September 2018, she met Lola, a little tabby kitten who had recently been abandoned at the animal shelter. "Lola was left outside the San Diego Humane Society overnight with severely ruptured and infected eyes — they were hanging out of her face," says Steph. "Most public shelters would euthanize immediately, but the vets performed enucleation."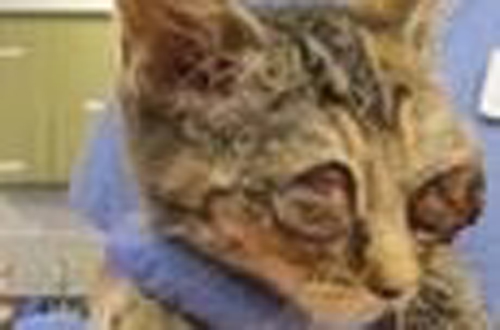 Lola, who was born in early June 2018, had just had the surgery to remove both of her eyes when Steph met her for the first time. "I saw a baby kitty sleeping in a box with a stuffed pink elephant, who had stitches in her face from eye removal," remembers Steph. "She was having trouble finding her food, so I put it on my hand and she happily ate right out of my hand."
While no one knows what Lola's life was like before she was rescued by SDHS, it was obvious to Steph that the tiny tabby was happy to be safe and warm. However, it was also apparent to Steph that Lola was a little unsure of her new home and not completely comfortable at the California animal shelter. "She was pretty shy and scared, so after she ate I snuggled with her for 20 minutes," says Steph. "She curled up around my neck and you could tell she was scared."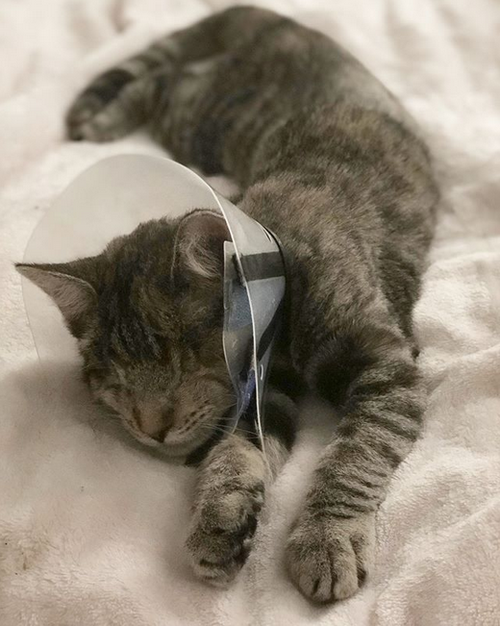 Over the course of the next few weeks, Steph continued to give Lola special attention, eventually developing a unique bond with the little blind kitten. Steph, who shares two special needs cats with her partner Max, thought she and her family might be able to provide Lola with the perfect temporary home. "I inquired about fostering her so I could help her recover every day," explains Steph. "We have another no-eyed kitty and a one-eyed kitty at home, and we thought these older cats could teach her about life without eyes."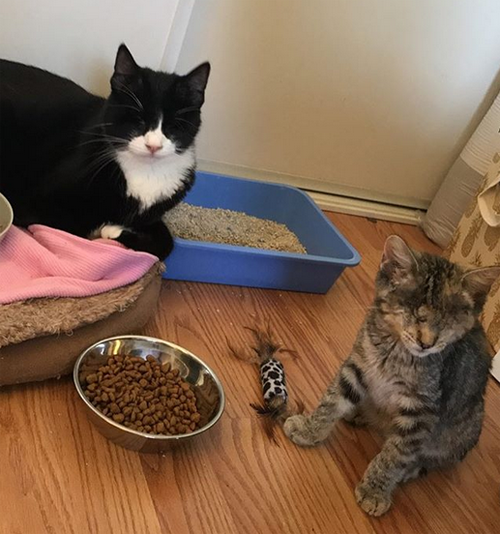 San Diego Humane Society eagerly agreed to allow Steph and Max to foster Lola, and the couple was thrilled with the prospect of taking care of the adorable special needs cat. "We were ecstatic to bring her home and watch her grow into a strong kitten," says Steph. On October 4, 2018, Steph brought Lola to her house, intending to look after her until she was healthy enough to be adopted. Initially, Lola was terrified, and when she wasn't hiding away in her bed, she was hissing at Steph and Max's other cats, Jax and Jerry, and even biting her foster mom.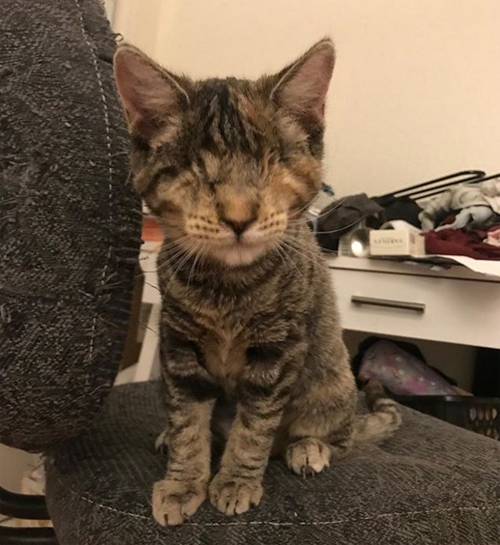 However, Steph refused to give up, and over the course of a few weeks, she made incredible progress with Lola. By the following month, not only had the cute blind kitten adjusted to her new environment, she'd endeared herself to every member of her household. "I fell in love with her during fostering, and so did my other kitties," explains Steph, and on November 10, 2018, she and her partner Max officially adopted Lola.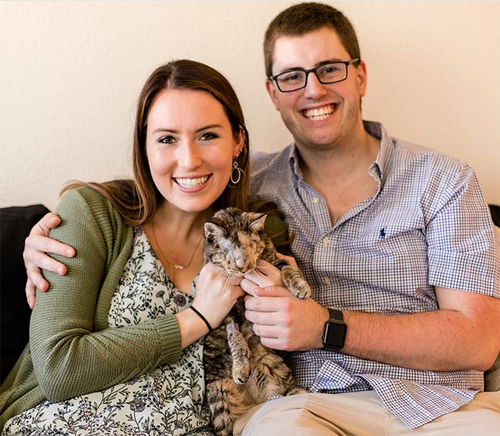 More than a month later, Lola is thriving in her forever home, and this tiny tabby is proof that cats without eyes are perfectly capable of having happy and active lives. Like a typical feline, Lola loves to eat, she adores trying new foods, and she can't resist snuggling with a cozy blanket. "Whenever she feels a soft fleece blanket, she purrs and kneads," says Steph. "Of course she's always up for playing — the more noise the toys make, the better."
View this post on Instagram
While people often think blind cats have trouble navigating their homes, Lola gets around extremely well, so much so that Steph and Max's friends have difficulty believing she can't see. "She has mind-mapped the house," says Steph. "She can even jump onto our tall bed." In fact, this California couple hasn't had to make any special accommodations for Lola, a resilient and determined kitten who — like a lot of blind cats — uses her whiskers and hearing to compensate for her lack of vision.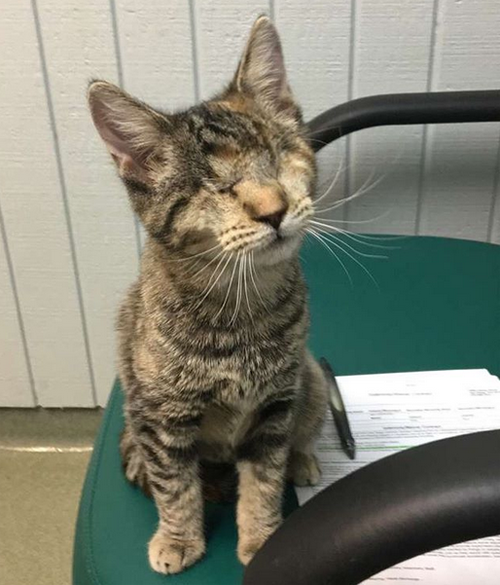 "If we move things around, sometime she will bonk her head into things," explains Steph. "Instead of letting this get her down, she turns around and keeps on running and playing. I have never seen her discouraged." Like Steph and Max's other blind cat, Jerry, Lola has proven to be an incredibly trusting and fearless cat who has complete faith in parents. Consequently, Lola enjoys going on adventures with her mom and dad, making her a truly unique kitten.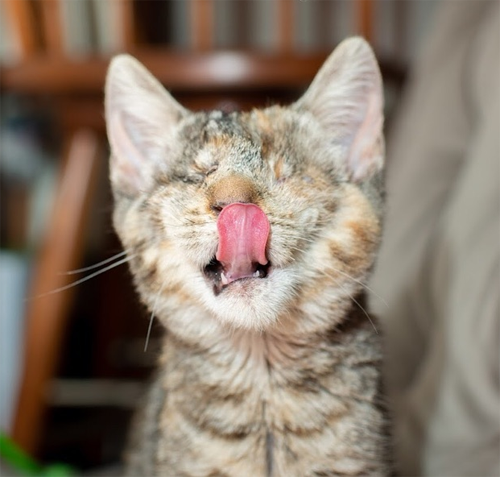 "We take our cats without eyes on walks — they love the beach and even use the sand as a litter box!" says Steph. "Blind cats also come running when you call them, just like a dog. They are really never far from your side." Having fostered a number of cats for San Diego Humane Society, Lola is the first foster cat Steph and her partner Max have ever decided to keep, and this couple is certain they will always adopt special needs kitties in the future.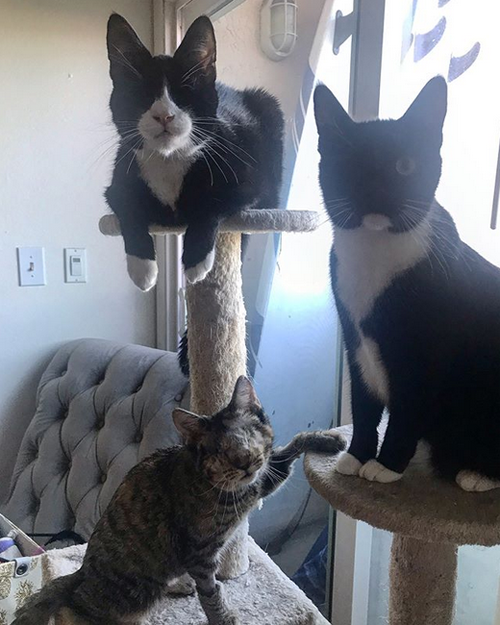 "I think it is truly amazing what these no-eyed kitties do!" says Steph. "I would never adopt a cat with eyes again." While Steph and Max adore their blind kitties, not everyone is convinced that cats without eyes can have happy and fulfilling lives. Sadly, these misconceptions can cause blind cats to be deemed unadoptable by shelters and rescues, which can ultimately lead to otherwise healthy animals being euthanized simply because they can't see.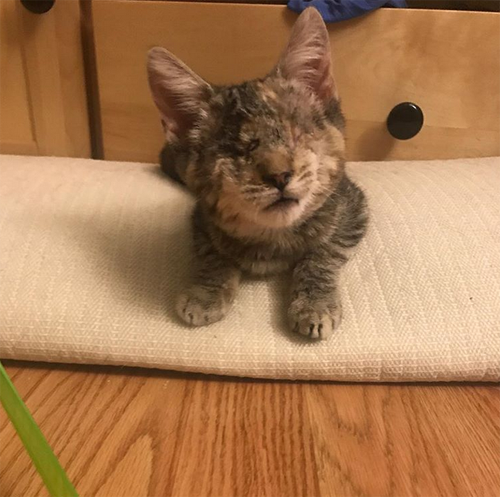 Fortunately for Lola, San Diego Humane Society didn't put her to sleep, allowing this remarkable little girl to find an amazing forever home where she is thriving. "Blind kitties are the most happy-go-lucky souls I have ever met; they enjoy every day like it's their last," says Steph. "They are always 'down for whatever' — down to eat, down to snuggle, down to play. They trust their human completely, so whatever you are doing, they want to do it as well with you."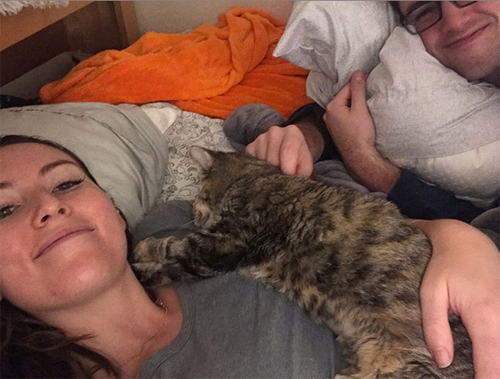 In addition to being her parents' constant companion, Lola loves spending time with her brothers, especially Jerry, who is also completely blind. "Jerry teaches her how to be a naughty, fun no-eyed kitty," says Steph. Still, the bond Lola — who was recovering from surgery when she met Steph for the first time — has with her mom is incredibly special. "Lola means the world to me," says Steph. "She has such a fighting spirit — she is my greatest success story."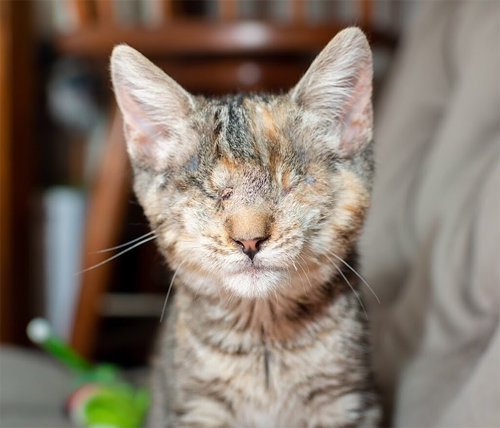 To learn more about this adorable kitten, you can follow Lola on Instagram.