When Shannon and her husband Ravi learned that Penelope, the cat they'd already decided to adopt, gave birth to a litter of six kittens on February 27, 2017 —  two of which were born with flat-chested kitten syndrome (FCKS) — they were concerned for the well-being of the tiny special needs felines. "We followed their progress via video and photo," explains Shannon. "Unfortunately, one of the two with FCKS passed away, and we watched Poppy struggle with failing to thrive."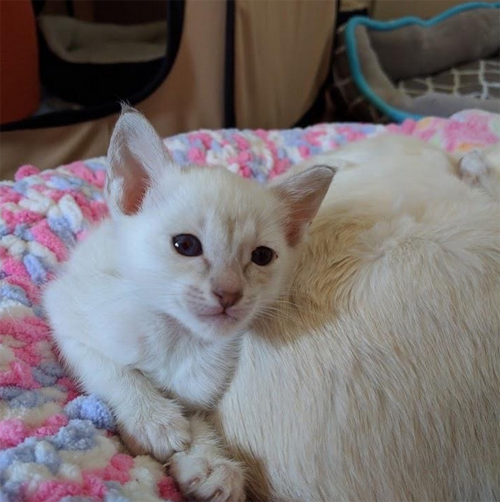 While flat-chested kitten syndrome is a fairly rare condition, it's more common among certain breeds, including Siamese cats like Poppy. "Kittens born with FCKS have a deformity of the chest, and their lungs often collapse," says Shannon. "Their lungs effectively 'flatten out' like a pancake and they struggle to breathe. This obviously leads to failure to thrive, and many kittens succumb to FCKS."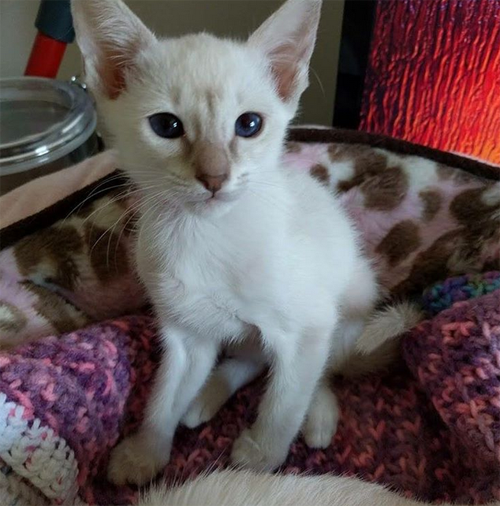 Even though Shannon and Ravi had only planned on adopting Penelope and her sister Bella, they fell in love with Poppy right away and couldn't bear the thought of separating her from her mother and aunt. However, Poppy's health was far from stable, so the couple wasn't sure if she would even make it to three months old, the age at which they would be able to bring her home.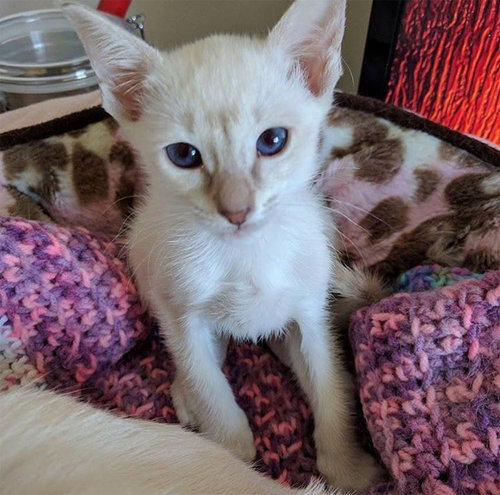 In order to support her chest, Poppy wore a corset, and there were a couple of times where she required supportive care, including IV fluids and medication. "There were two instances where everyone felt the end was near for Poppy," remembers Shannon.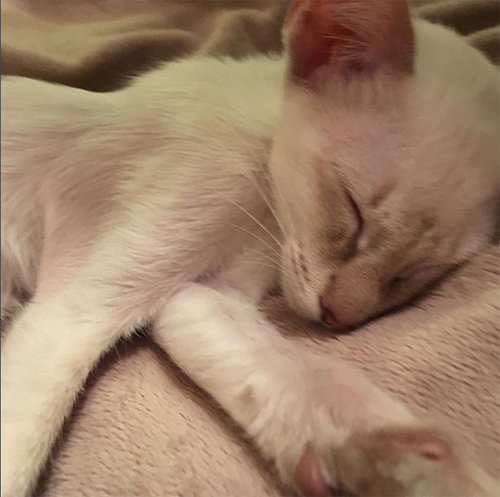 Incredibly, Poppy pulled through each time, and when she was 12 weeks old, Shannon drove for more than three from her home in St. Catharines, Ontario, to Windsor, Ontario, to meet all three cats in person for the first time. "Poppy was only 2.1 pounds, and smaller than her siblings — with a naughty sparkle in her eyes," remembers Shannon. "Once I had the girls in her car, I promised them — out loud — that they would never be separated and that they were heading to their forever home."
View this post on Instagram
As Ravi and Shannon got acquainted with their three new cats, it became apparent to both of them that while Penelope was Poppy's mother, the little special needs kitten had a much stronger bond with Bella, her aunt. After all, when Poppy was very young, Penelope was busy with her other babies, leaving Bella to take care of her adorable niece. "Bella would cuddle with her and keep her warm while Penelope was occupied with the other healthy kittens," explains Shannon. "We believe that Poppy would have not survived had it not been for Bella's love and attention."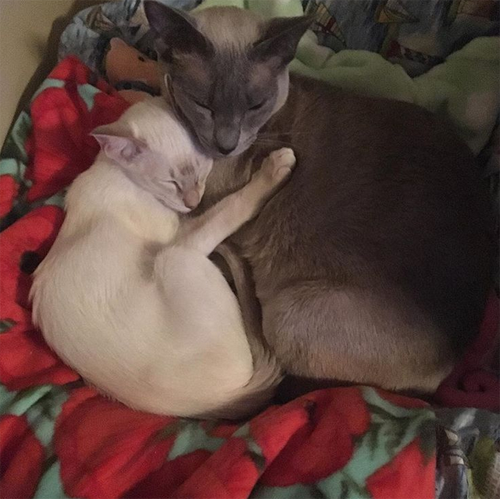 Earlier this year, Poppy's celebrated her first birthday with a special cake and champagne, marking a momentous occasion that a lot of cats with flat-chested kitten syndrome never get to enjoy. Today, Poppy is a relatively healthy young cat, although FCKS causes her to get out of breath more easily than the average feline her age; however, this energetic girl doesn't allow her congenital condition to stop her from enjoying her life. "Poppy is a fetch addict!" says Shannon. "She fetches toys just as a dog would. She also loves insects, and she gets excited to play with toys in the shape of insects."
View this post on Instagram
In addition to playing, Poppy adores food, especially prime rib, and she has been known to wake her mom up for treats in the middle of the night by pulling on Shannon's ponytail. She also enjoys snuggling and wrestling with the other cats who share her home, as well as racing around the house, proving that animals with mild to moderate FCKS like Poppy are capable of having wonderful lives. "The biggest misconception is that kittens with signs of FCKS should be immediately euthanized," says Shannon. "FCKS exists on a continuum— and those who are mild-moderate, like Poppy, can survive and even thrive."
View this post on Instagram
While there are surgical treatments available for flat-chested kitten syndrome, a veterinary specialist determined Poppy's mild to moderate FCKS doesn't warrant surgery. Regardless of what the future may hold, Shannon and Ravi remain committed to giving this beautiful girl the best care possible, a promise they made to Poppy and themselves before they decided to adopt her. "We knew that Poppy would need special care, and we were both certain that we could provide her with all the best," says Shannon.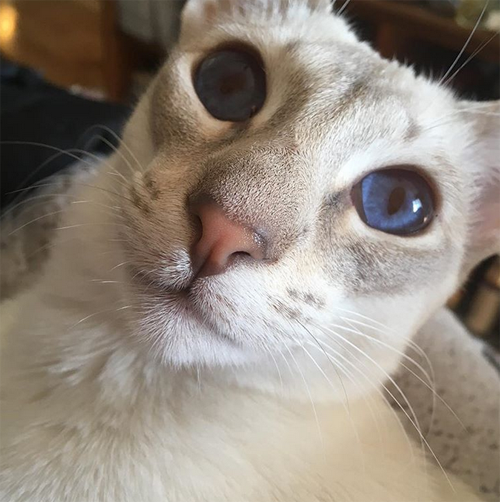 Shannon and Ravi hope that by sharing Poppy's story they will be able to raise awareness about flat-chested kitten syndrome. Not only would like to decrease the number of cats who are needlessly euthanized simply because they have FCKS, Shannon Ravi want other people to experience the joy of adopting an animal with special needs.
View this post on Instagram
"Their love is abundant, and they deserve the same kind of homes that any cat deserves," says Shannon. "If possible, we recommend that special cats be adopted with a parent or a relative. Poppy is very close to and just adores her mum and auntie."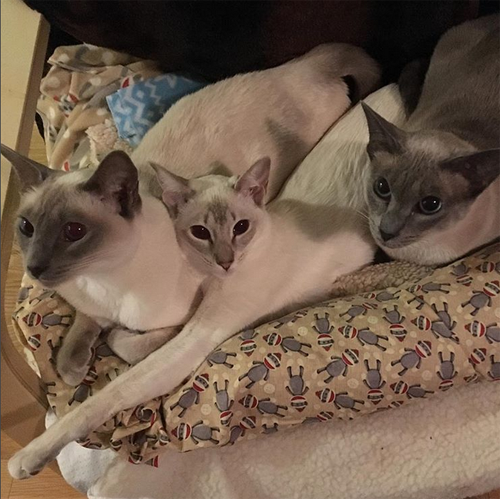 Not only does Poppy get plenty of attention from her biological mother and aunt, she has a lot of human supporters, members of an online community for women with Siamese cats who helped choose her name and have watched her grow up through social media. "She has a ton of 'virtual aunties' out there who send her gifts and check in with her all the time," says Shannon.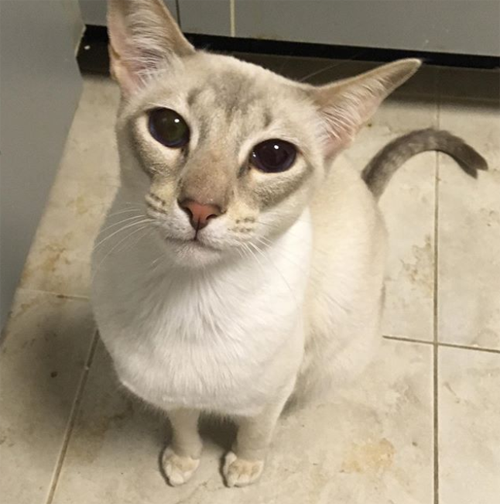 However, there's no one who loves Poppy more than Shannon and Ravi, the couple who refused to separate her from her biological mom and aunt. "We both can say that Poppy means the absolute world to us," says Shannon. "We love her so much that it physically hurts, and we'd do anything for her. Poppy is our daughter, and we're proud to be her parents."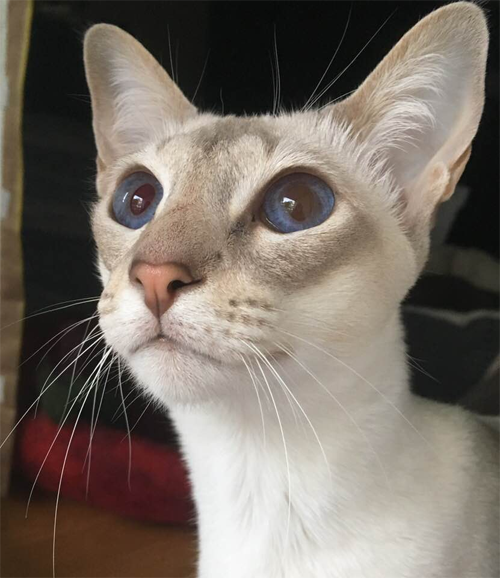 To learn more about this beautiful cat, you can follow on Poppy on Instagram.