When Gwen Richards and her partner Chris Nicol saw a video of a paralyzed kitten on the website for Asociación Adaana, an animal rescue near the couple's home in Valencia, Spain, they were immediately smitten with the adorable ginger and white cat.
View this post on Instagram
"He was dropped off at a veterinary clinic when he was just a couple months old," says Gwen. "When we saw his video — one where he was scooting around the vet clinic so happily — we just fell in love with him."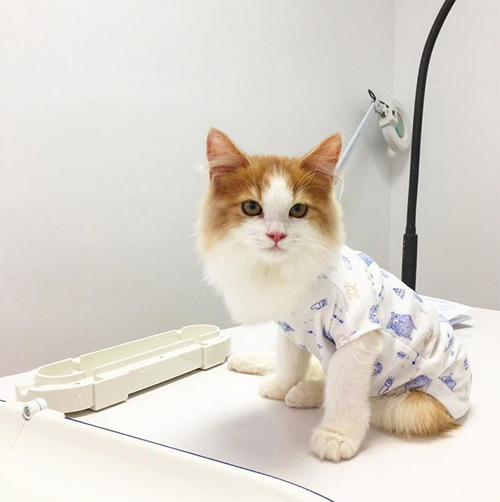 However, Gwen and Chris were still mourning the loss of a very special feline friend when they saw the video in September 2018, and neither of them were even thinking about adopting another cat at the time, especially one with hind leg paralysis and incontinence. "We never considered taking in a special needs pet before," explains Gwen, "but we were in a situation where we had the time and resources to give him a good life."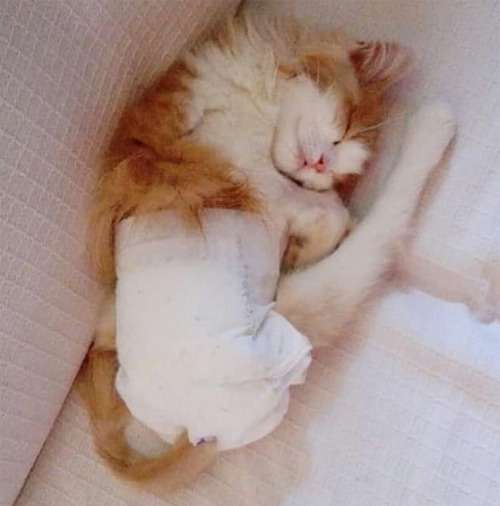 Shortly after seeing his video, Gwen and her partner met the fluffy feline — who was living with a wonderful foster family — in person for the first time, and they both knew he was meant to be with them.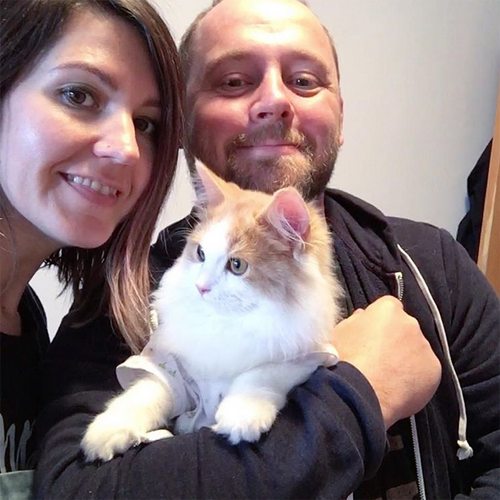 The couple adopted the paralyzed kitten in September 2018 when he was approximately four months old, naming him Beni after a famous Puerto Rican actor. "Beni is short for Benicio del Gato," explains Gwen. "He is full of personality and deserves a big name!"
View this post on Instagram
With his parents' help, Beni settled into his new home while Gwen and Chris adjusted to caring for a cat with hind leg paralysis and incontinence. Several months later, this ginger and white kitten is thriving, and his mom and dad have found Beni to be relatively easy to look after.
View this post on Instagram
"It took some time to get into a routine, but overall, he is not much more work than a 'normal' cat," says Gwen. "He wears a diaper, but usually we take him to the bathroom three times a day to help him pee and poo. I hold him over the toilet and he poops, so we almost never have to deal with dirty diapers or bathing him anymore."
View this post on Instagram
In fact, one of the only challenges they have with Beni is finding someone who is willing and able to look after him when they go out of town, an issue they don't have to deal with when it comes to their other pets. "Luckily, his previous foster mom has cared for him when we've been away, and we are so grateful for this," says Gwen.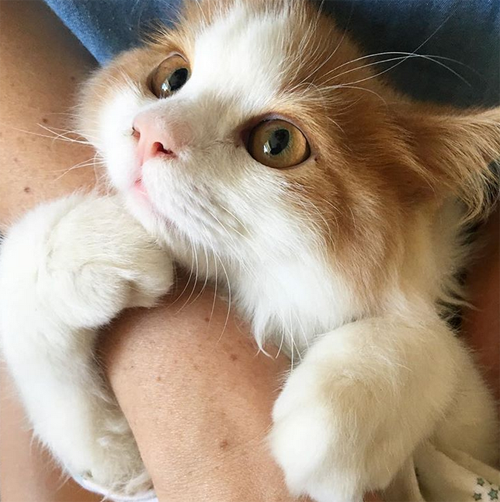 Aside from this minor hurdle, Beni is an otherwise typical feline who is just as happy and active as any other cat his age. "Even though Beni doesn't have use of his back legs, he is very mobile — jumping off the couch, over obstacles, and acting like the boss of the other pets. He's strong both mentally and physically," says Gwen. "Beni loves playing with lasers, playing hide and seek with one of our other cats, Zaatara, and then laying in the sun on the terrace in the afternoon."
View this post on Instagram
While no one knows the exact cause of Beni's paralysis and incontinence — including if it's congenital or the result of some sort of injury when he was extremely young — it's possible surgery could enable him to regain feeling in his lower body. "We will only know if we decide to go ahead with a surgery on Beni´s spine," explains Gwen. "Once the surgeon has him on the operating table, he will be able to see the cause of the paralysis up close."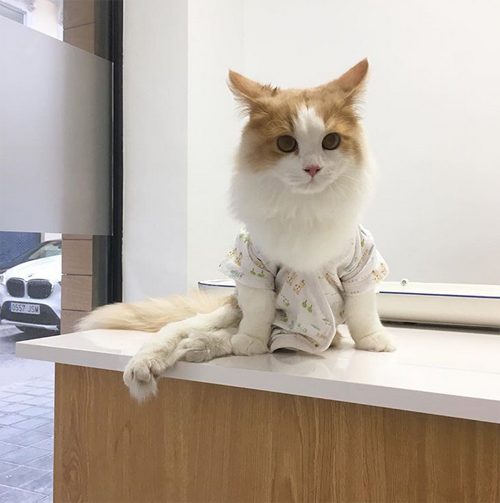 If Beni's paralysis is related to a birth defect, such as a spinal lesion, then surgery might allow him to regain control of his bowels and bladder, although it's unlikely he will ever be able to walk again. If his paralysis is the result of some sort of trauma, the doctor believes there isn't a surgical option available at this time to help improve Beni's situation. "We are currently discussing this surgery with the veterinarian and will likely proceed with it in the next month or so," says Gwen.
View this post on Instagram
In the meantime, Gwen and Chris remain focused on making sure Beni is as happy and healthy as possible. While a typical kitten might not enjoy being bathed or having regular physical therapy sessions, it's obvious Beni isn't the average feline. "Since he has been washed and changed and given physiotherapy since he has a little kitten, he is patient and allows us to do what we need to keep him healthy," says Gwen. "After a diaper change he is a little purr ball. During the physiotherapy we do on his legs, he often falls asleep."
View this post on Instagram
While it's apparent Beni is incredibly happy, not everyone believes cats with paralysis and incontinence can have full and active lives, a sentiment both Gwen and her partner understand.  "People may think — including ourselves before adopting Beni — that cats need to walk and jump to be cats," says Gwen, "but life is pretty good with just two working legs."
View this post on Instagram

After all, Beni can give and receive love just like his parents' other pets, and he refuses to let his special needs keep him from having fun, making him an inspiration to Gwen and Chris. "Beni is just a big bundle of happiness to us. Every time he scoots across the apartment like a little speed demon, climbs up his ramps, plays with the other cats — he is just so happy to be alive," says Gwen. "He reminds us to enjoy what we have and to appreciate our unique abilities."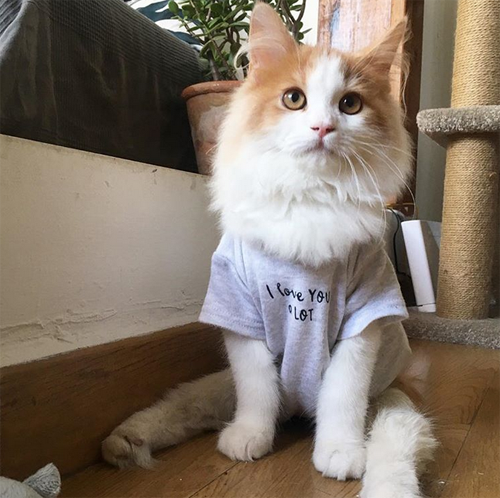 To learn more about this cute kitten, you can follow Beni on Instagram.