When Stray Cat Alliance, an animal rescue in Los Angeles, asked Heather Hlava, founder and president of Under One Sky Animal Rescue (UOSAR), if she would foster Sebastian, an incontinent 9-week-old old kitten, she immediately agreed to help the young feline. "He was set to be euthanized at a vet clinic after being hit by a car," remembers Heather.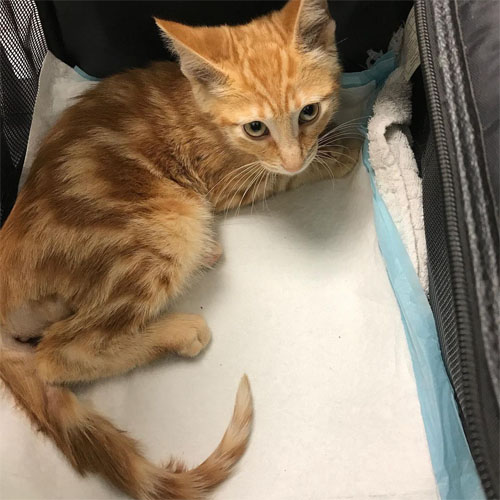 On April 10, 2019, Sebastian arrived at the rescue, and Heather quickly realized he was in bad shape, both emotionally and physically. "He was scared and his butt and tail were raw from urine scald," explains Heather.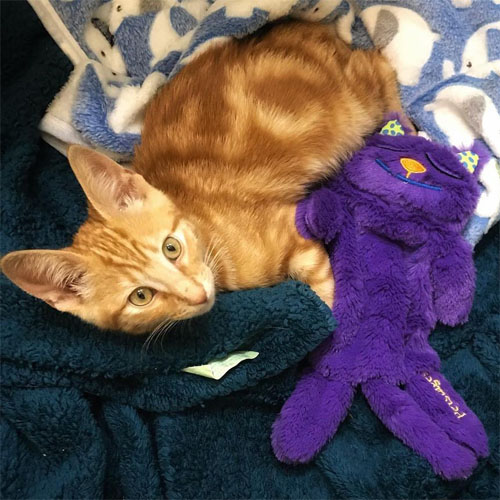 Initially, she thought the spinal injury Sebastian suffered when he was hit by a car had left him with hind leg paralysis, but she soon discovered he wasn't actually paralyzed. "When he came to me he had a lot of trouble walking," remembers Heather, "but he got stronger over time."
View this post on Instagram
She also noticed he was unable to feel or move his tail, making the appendage a hindrance more than anything else. "His tail was dead and lifeless," says Heather. "It was just hanging there and the tail pulling on his nerves likely contributed to his incontinence. He could not feel when he had to pee or poop."
View this post on Instagram
Consequently, Stray Cat Alliance arranged for Sebastian to have his tail amputated, and it didn't take long for him to recover from the surgery.
View this post on Instagram
However, his medical issues were far from over, and Sebastian developed a rectal prolapse — a dangerous condition that causes part of the large intestine to protrude from the anus — and Heather also began having trouble expressing his bladder. "Both were equally terrifying," remembers Heather. "Even the vet was unclear on what was happening but it seemed like some connection there had shut down."
View this post on Instagram
Fortunately, Heather had a lot of experience caring for incontinent cats, and with the help of medication and warm wet towels, she was eventually able to express Sebastian's bladder. Sebastian also began having acupuncture, and after several sessions, Heather started seeing results. "This whole process of recovery took about a year," says Heather. "People don't realize how long it takes for nerves and muscles to repair."
View this post on Instagram
More than two years after he was hit by a car, Sebastian is doing incredibly well. Not only has his walking improved significantly, this handsome ginger boy has regained almost complete control over his bladder and bowels. "What is amazing is that over a period of several months, Sebastian began slowly to use the litter box on his own!" says Heather.
View this post on Instagram
During his time at Under One Sky Animal Rescue, Sebastian — whom Heather describes as a "cat's cat" — bonded with the other animals at the rescue, prompting her to give him a permanent home at the organization. "He has a girlfriend here," says Heather. "She's our newest special needs kitten named Noodle who is incontinent from a spinal injury from a dog attack."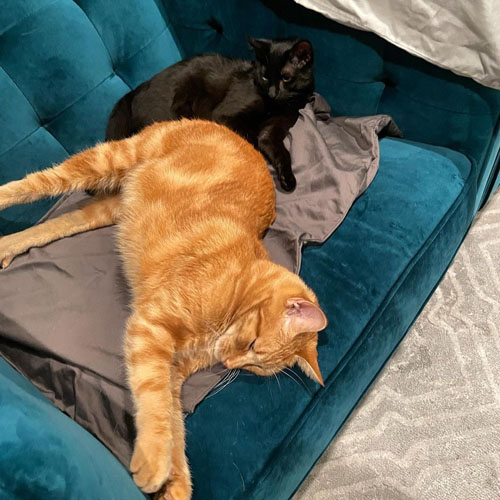 In addition to cuddling and playing with Noodle, Sebastian adores spending supervised time  in the rescue's securely enclosed outdoor space. "He loves running around and chasing bugs and leaves," says Heather, proving that despite the trauma he suffered as a young kitten, Sebastian is now a pretty typical cat. "Sebastian is a wonderful example of how awesome the body is at healing itself."
View this post on Instagram
By sharing Sebastian's story, Heather hopes more people will realize cats who suffer serious injuries are often capable of having very happy and active lives, whether they make full recoveries or not. "I just wish more people realized that disability is not a death sentence and that animals actually adapt to these kinds of situations easier than people do with the same disability," says Heather.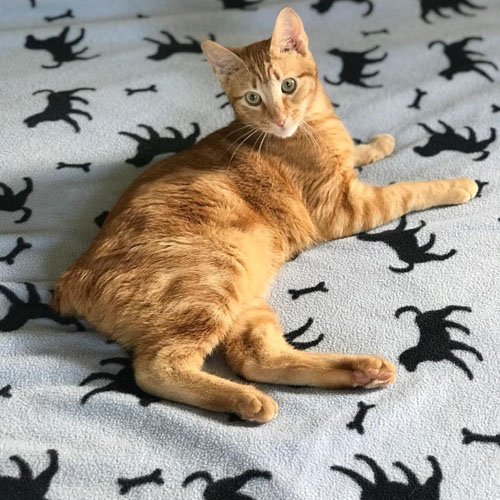 While Sebastian isn't really interested in Heather, preferring the company of other cats to people, she still adores this incredibly resilient boy and his insatiable lust for life. "I love our little baby deer," says Heather. "He is the class clown of the bunch. He always makes me laugh with his goofy ways."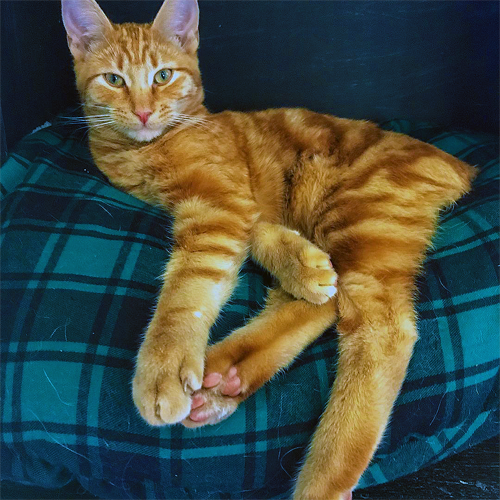 To learn more about this handsome cat, you can follow Sebastian on Instagram.