Rosa Ardito wasn't looking to adopt another cat, but when a sickly kitten appeared on the doorstep of her home in Winter Haven, Florida, in January 2009, she knew she had to help the young feline. "She had crawled there and was very sick with an upper respiratory infection," explains Rosa. "I had planned on just getting her medicine, making her well, and then putting her up for adoption."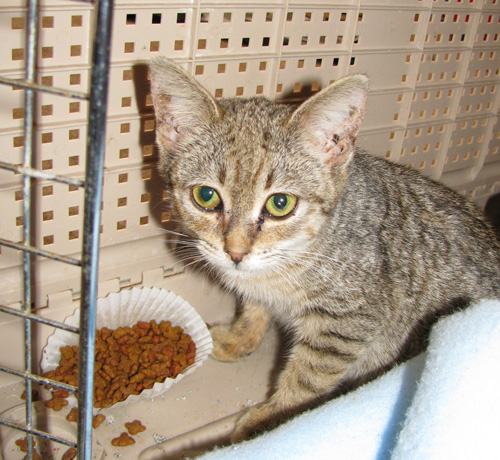 The kitten was just a few weeks old, and Rosa's vet determined she had probably been born in late November 2008. "I'm guessing she was a kitten of one of the stray cats in the apartment complex I was living in at the time, and was probably abandoned by her mother due to the sickness," says Rosa.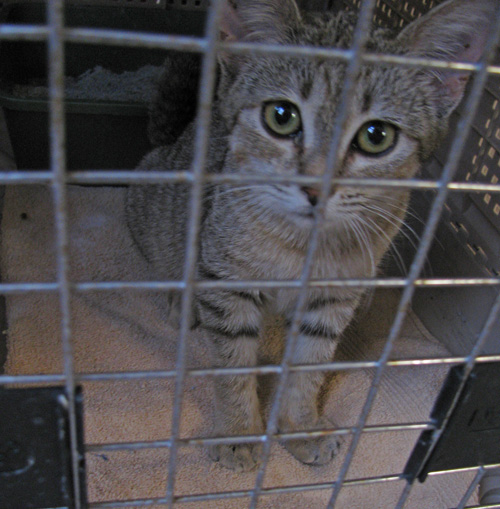 While she was nursing the kitten — who she named Mitsy — back to health, Rosa developed a strong bond with the adorable little feline, and she knew she wouldn't be able to part with her. "I decided to adopt her because she was a stray, and I had one other cat that I thought might like to have a friend while I was at work," says Rosa.
For the next few years, Mitsy was a happy and healthy cat, no longer the frail kitten who had appeared on her mom's doorstep when she was just a couple of months old. However, in 2015, Mitsy began urinating outside of the litter box, drinking more water than usual, and losing hair on her stomach and sides. Rosa was understandably worried, and so she searched online to find the possible cause of Mitsy's symptoms, eventually finding that they were indicative of Cushing's disease.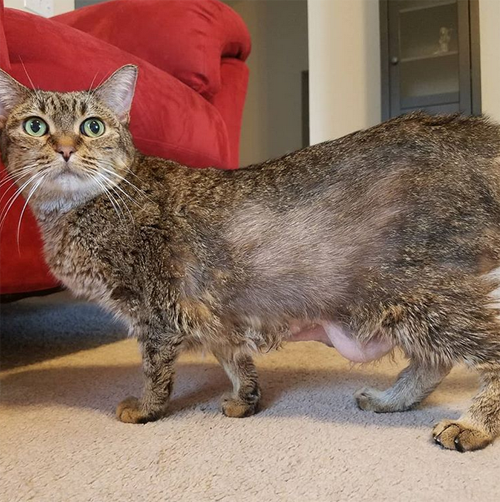 "Cushing's disease is caused by a tumor either in the adrenals or in the pituitary gland," explains Rosa. "Cushing's disease is extremely rare, and studies as recently as 2011 have only cited 100 cases of cats with Cushing's disease." Because Cushing's disease is so uncommon, Rosa had to convince her vet to request a special test for Mitsy, unwilling to accept a diagnosis of diabetes and over grooming.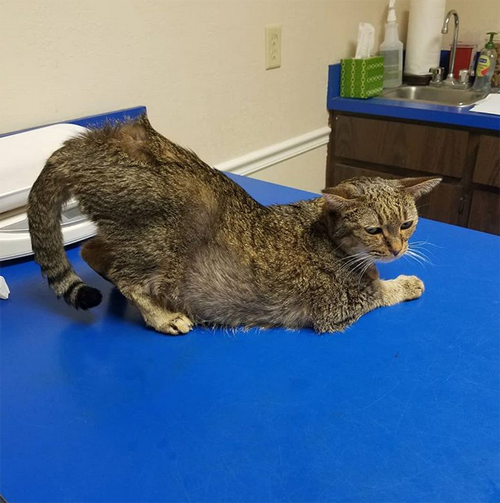 Unfortunately, the results revealed that Mitsy did in fact having Cushing's disease, and Rosa eventually learned that her beloved cat had a tumor on her pituitary gland. "Basically, the tumor causes the over production of cortisol," says Rosa. "My vet said this is the first time he has ever had a Cushing's cat. It is much more common in dogs."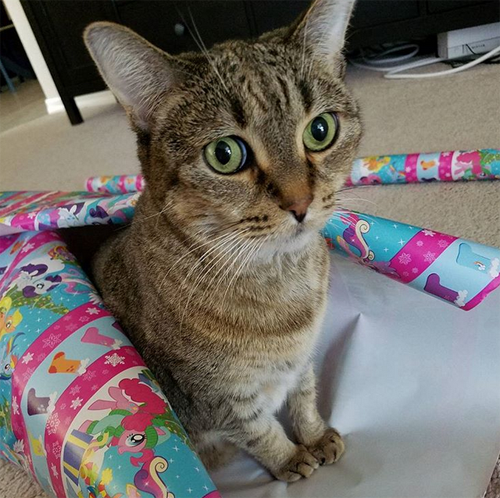 After Mitsy was diagnosed, Rosa learned that there are only a couple of treatment options available for Cushing's disease, including tumor removal, which is incredibly expensive and not a surefire solution. "The surgery is $16,000 to $20,000," explains Rosa. "There is also a good chance that the tumor can grow back after the surgery."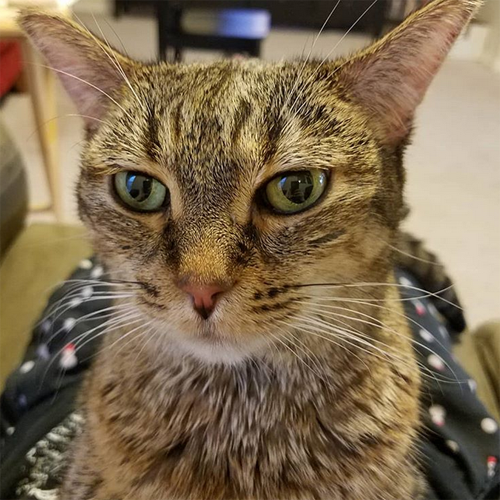 The other option is to use trilostane, a steroidgenesis inhibitor, but the medication is only approved for use in dogs, and it carries a number of potential risks that gave Rosa and her vet pause. Consequently, Rosa and the doctor elected to treat Mitsy for diabetes mellitus, which is a side effect of Cushing's disease, giving her medication and special food to keep her insulin levels in check.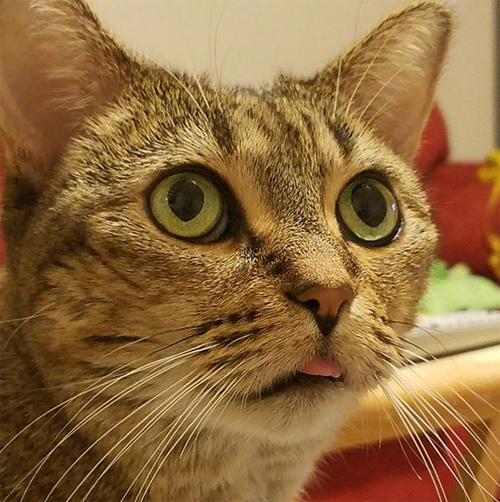 "She has to be on a diabetic diet which means low carb wet food and free feeding to help her regulate her insulin levels," explains Rosa. "She also has to have insulin injections twice daily, and with Cushing's they tend to be insulin resistant, resulting in higher dosages."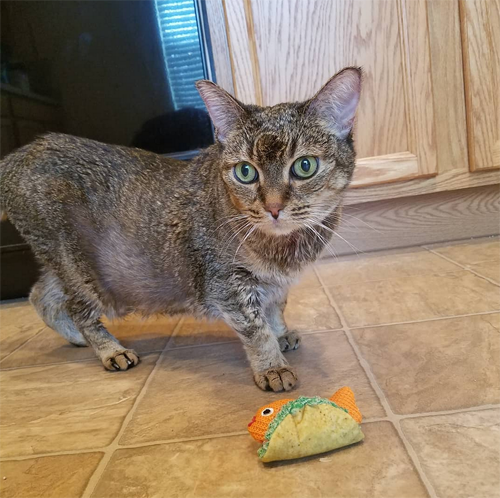 If Mitsy reaches the point where her insulin levels can no longer be controlled through diet and injections, then Rosa will most like give trilostane a try, but she and her veterinarian are hoping to delay this for as long as possible. "The vet is not treating her with the medication yet due to her sugar levels not being erratic enough to outweigh the negatives of the drug," says Rosa. While Mitsy's insulin levels are relatively stable, over the years she has developed a number of other symptoms.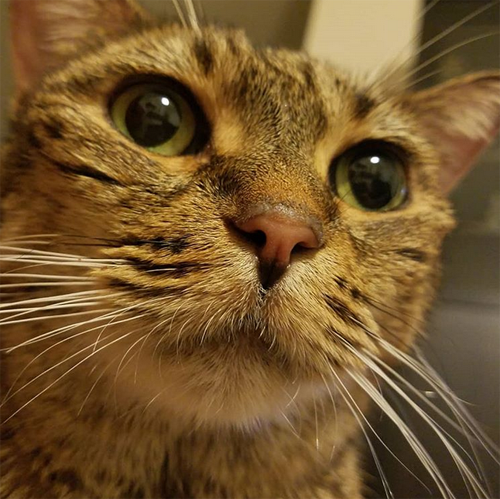 "She has neurological issues from her pituitary tumor, which is pushing on her optic nerve, causing one of her pupils to be larger than the other, and shakiness and forgetfulness," explains Rosa. "She has forgotten how to groom, use the litter box — basically everything a cat does except for eat."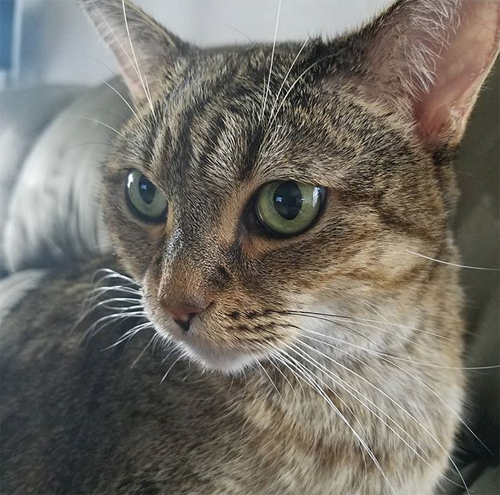 While Misty's bathroom habits might be a major issue for other cat parents, Rosa has taken it in stride, and she remains determined to accommodate this beautiful tabby in any way she can. "Every day I come home from work I have to mop the floor because she just uses it as her toilet," says Rosa.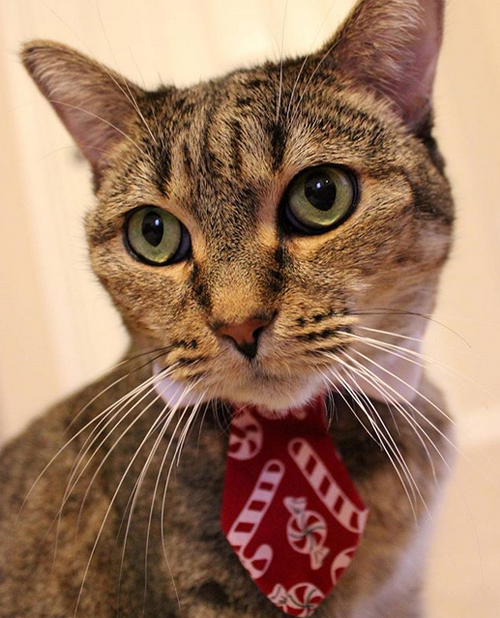 However, Mitsy isn't unhappy, she's just different from the cat she was before she developed Cushing's disease, a result of the tumor in her brain. While she used to be a total lap cat, this 9-year-old girl doesn't cuddle as much as she once did, but Mitsy still enjoys when Rosa pets her and she hasn't lost her love of food. "She loves eating her wet food and she gets lickable treats during her sugar testing," says Rosa.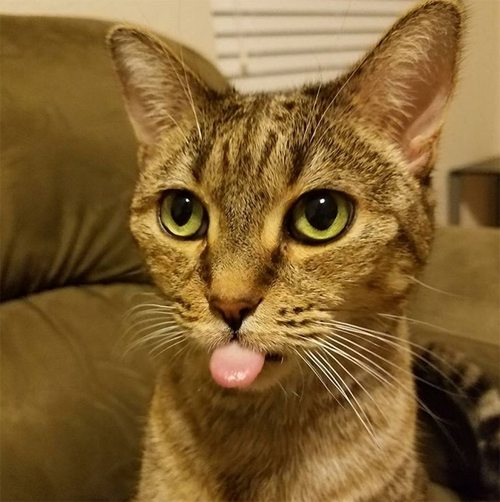 In addition to testing Mitsy's sugar levels by pricking her ears, Rosa often has to bathe her as she no longer grooms herself and often accidentally steps in her own urine. Thankfully, this easy-going tabby doesn't mind her frequent baths, and neither does her mom. "I love her dearly so these challenges don't change a thing," says Rosa. While Rosa has no idea how long she has with this special girl, she's thankful that Mitsy's tumor is slow-growing, something she thinks other people with cats with Cushing's disease should take comfort in.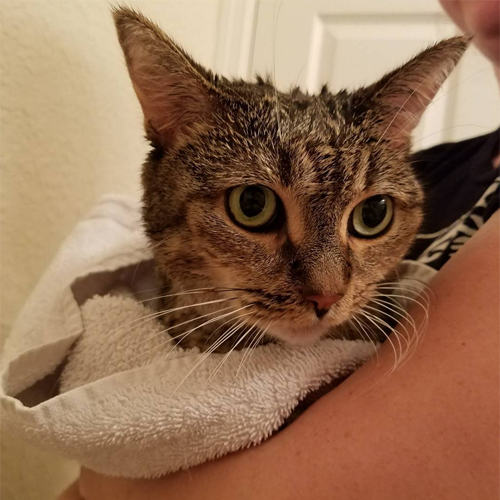 "You can have many years with your kitty even if they have a diagnosis such as this!" says Rosa. Thanks to online resources, including the Feline Diabetes Message Board, Rosa has been able to connect with other people who have special needs cats like Mitsy, providing her with a great opportunity to share her experience, as well as to learn from others who are facing similar challenges.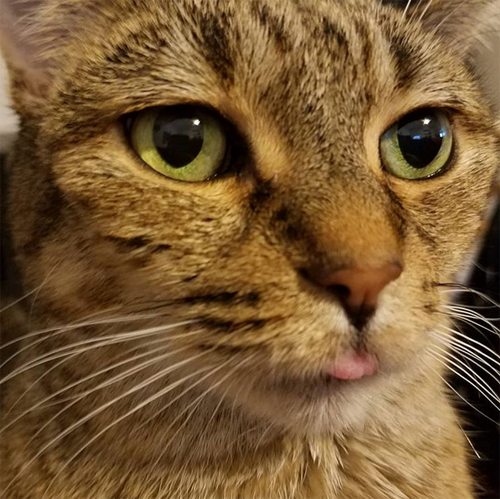 While Mitsy — who began exhibiting symptoms of Cushing's disease three years ago — may not be the same cat she was before she developed a tumor on her pituitary glad, Rosa is adamant that her life is still worth living. "I wish more people knew that special needs are not a death sentence," says Rosa. In fact, Rosa has developed such a unique relationship with Mitsy, she's decided that she's only going to adopt special needs cats in the future.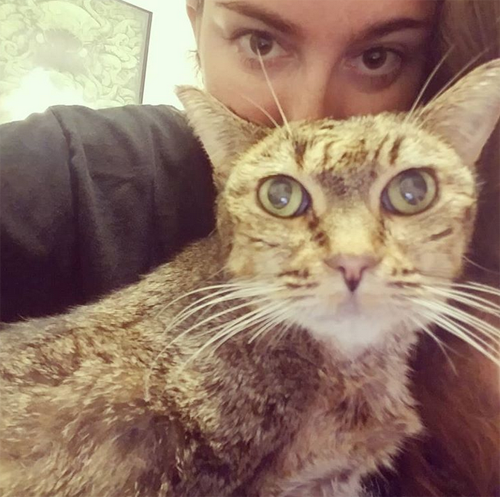 "Not only are they extra friendly and cuddly, it is really rewarding helping them!" says Rosa. While Rosa will almost certainly have another special needs cat in the future, it's unlikely she'll ever find another feline quite like Mitsy. "Mitsy means everything to me," says Rosa. "She has had plenty of medical issues, but she is so friendly and trusting — she really is the perfect cat. She's my little buddy."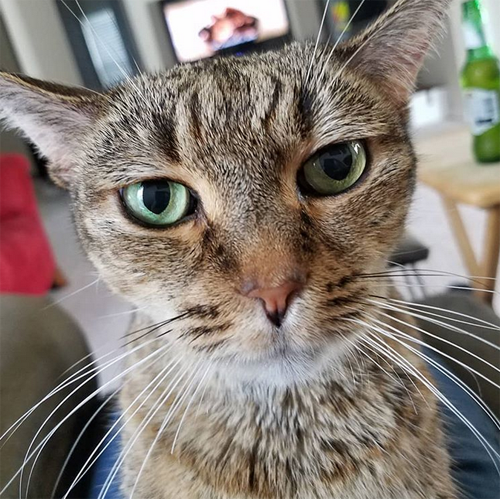 To learn more about this beautiful cat, you can follow Mitsy on Instagram.