When Kelly Duer was volunteering at Nova Pets Alive, an animal rescue near her home in Fairfax, Virginia, she was asked to pick up a pair of at-risk kittens from a rural shelter. "They had been in the shelter's isolation room for a while and their upper respiratory infections weren't getting better," explains Kelly.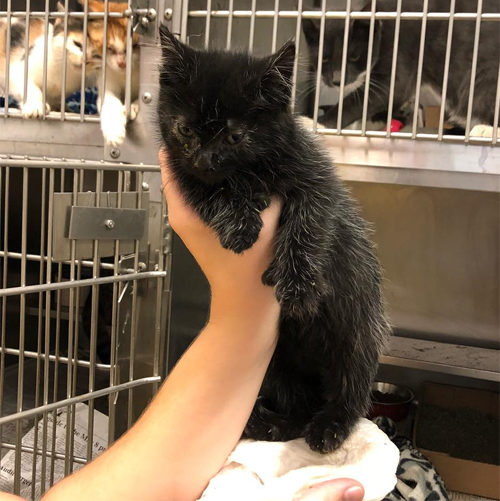 The female kittens, who were named Java and Mocha, were born in July 2018, and they had been living on the streets for their first few weeks of life before ending up at the shelter. Both of the sisters were in desperate need of help, but Java was in particularly bad shape, especially because she was unable to use her hind legs.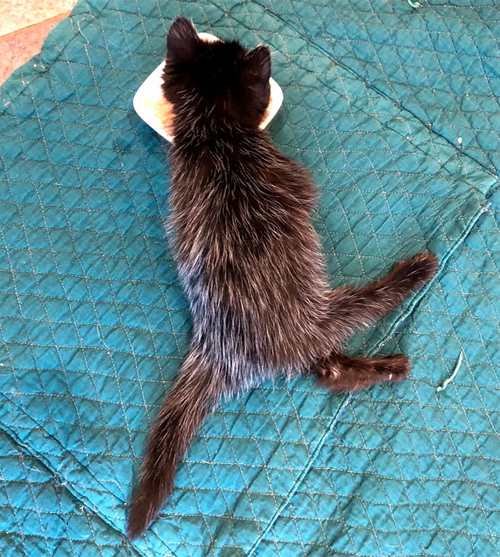 "When I first saw her, she was dirty — she'd pooped and peed on herself in the cage — miserably sick, and somewhat feral," remembers Kelly. "I couldn't help but love her." When Kelly rescued the two-month-old sisters in September 2018, Java also had a fever coat. While the white hairs on Java's black fur made her look like an adorable porcupine, her fever coat was also a sign her mother had been extremely sick when she gave birth.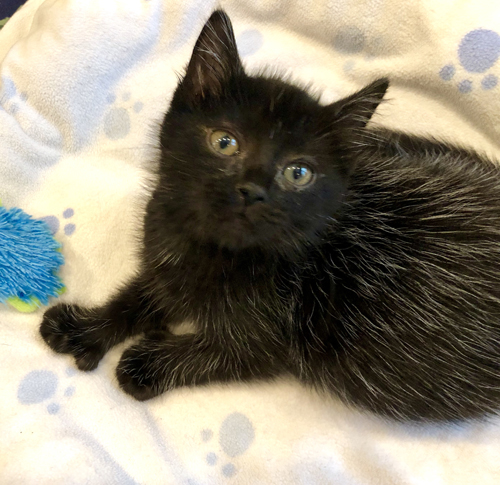 Determined to provide the sisters with a better life than the one they'd had so far, Kelly — who has a degree in special education — agreed to foster Java and Mocha until they found their forever homes. "I strongly believe that every life has value," says Kelly, "and I've always been drawn to the animals and people that need help the most."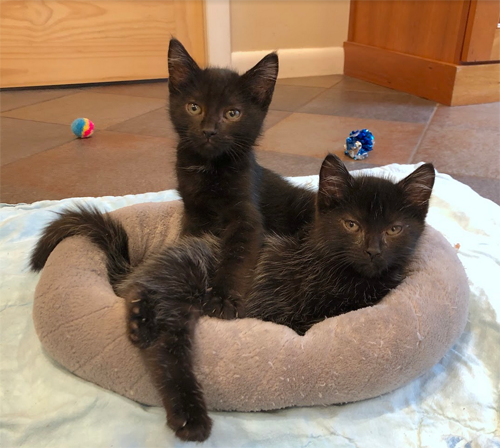 Shortly after rescuing Java from the shelter, Kelly took her to the vet for a thorough examination, hoping to learn more about the cause of this little black kitten's hind leg paralysis and incontinence. "When I first took her to the vet, they suggested that we euthanize her for quality of life," remembers Kelly. "It was really upsetting, especially since she's clearly a very happy cat."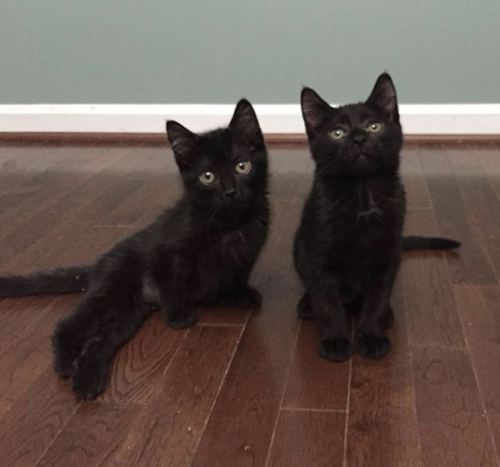 Java was then assessed by a neurologist, and Kelly was even more discouraged when the specialist also recommended putting the paralyzed kitten to sleep. Java wasn't suffering or in pain, so Kelly — the foster care specialist for Maddie's Fund — refused to give up, and she eventually found veterinary professionals who were willing to help her and the sweet special needs kitten.
View this post on Instagram
"My boss is a veterinary behaviorist, and she encouraged me to contact a physical therapist," says Kelly. "We did, and her physical therapist is amazing." An MRI revealed a lesion on the kitten's spine caused by an old fracture, which not only explained the young cat's paralysis and incontinence, but also fit with the story Kelly had heard from the shelter about Java and Mocha's origins.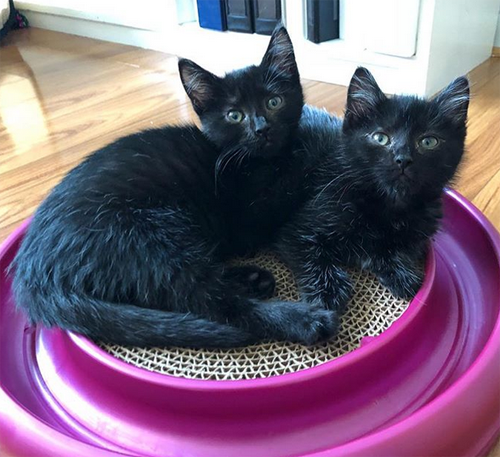 "The person who brought Java and Mocha in saw a child pulling her out of a bush by her hind legs," says Kelly. The physical therapist explained that Java would almost certainly never be able to walk again, although a cart might help her become more mobile, and she would need to have her bladder expressed for the foreseeable future.
View this post on Instagram

'When we saw the vet the first time and she told me Java was incontinent, I started to panic," remembers Kelly. "It seems scary until you try it. A day later, it was no big deal at all." It didn't take long for Kelly to adjust to caring for Java, expressing her bladder multiple times a day, and she and her husband began contemplating the possibility of adopting the adorable special needs cat, having found a wonderful home for her sister Mocha in November 2018.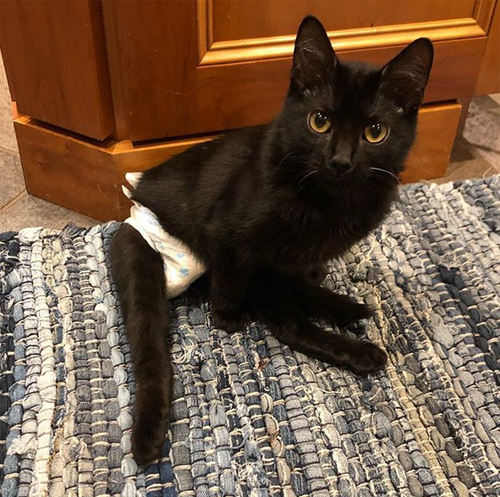 However, Kelly — who spends much of her time traveling all over the United States for work — didn't feel comfortable asking her husband to look after Java and their five other pets in her absence. When one of her friends suggested simply bringing Java with her on business trips, Kelly realized this rather unconventional solution might just be the key to allowing her to adopt the beautiful black kitten. "My job in animal welfare means I can take her with me pretty much anywhere," says Kelly, and because Java had already spent so much of time traveling to and from various vets, she promptly took to life on the road.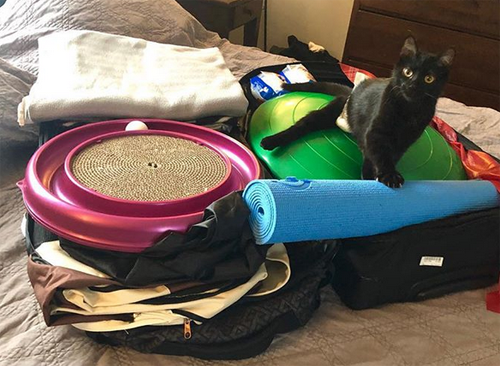 After traveling with Java proved so successful, Kelly and her husband permanently adopted the stunning special needs cat, and months after their first trip, they've had lots of adventures together. "We've traveled together all over the country — to animal welfare conferences and to animal shelters where I teach apprenticeships," says Kelly. "One of the coolest side effects of her traveling with me is that she's able to open peoples' minds about cats with disabilities just by being in the room. Nearly every time we travel, someone in sheltering or rescue tells me how they've been told that incontinent or disabled cats need to be euthanized for quality of life, and that seeing Java so happy has changed what they believe."
View this post on Instagram
While Java is proof cats with incontinence and hind leg paralysis are capable of living full and active lives, a recent health scare nearly brought this remarkable feline's life to an end. In March 2018, Kelly noticed Java was lethargic and had lost her appetite, so she took her to the vet, expecting her to be diagnosed with an upper respiratory infection. "We arrived at the vet's office and the doctor noted that her gums were completely white," remembers Kelly. "She had severe, life-threatening anemia."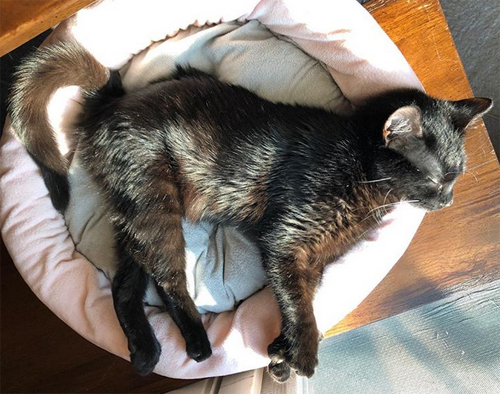 The vet told Kelly she needed to consider putting Java to sleep, but she refused, instead taking the kitten to a emergency veterinary specialist who gave her a blood transfusion. "She had 1/5 of the blood that she should have had, and the vet told us levels that low would kill a human," says Kelly. "It was touch-and-go for about 24 hours, and then she started to perk up."
View this post on Instagram
After multiple tests and another blood transfusion, Java was eventually diagnosed with pure red cell anemia, an autoimmune disease that causes her body to attack its own blood cells. Thankfully, pure red cell anemia can be treated with steroids, and with the help prednisolone, Java's body began producing red blood cells once again. "She may not live as long as other cats, but we have her for now and that's all that matters," says Kelly.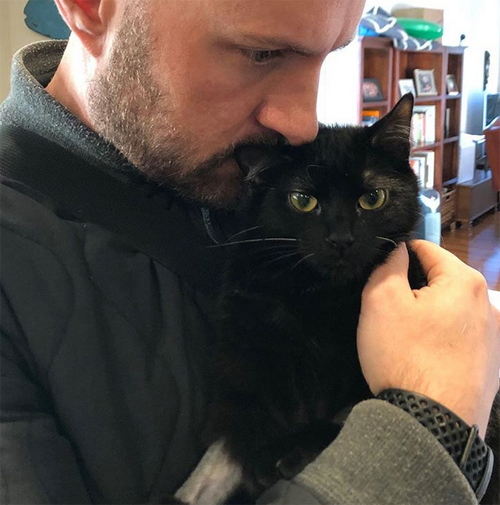 Today, Java is enjoying life: this 9-month-old kitten likes to explore, she'll eat just about anything, and she adores playing with her feline siblings. "Her new favorite thing is watching birds eat at the feeder outside the window in my office and chittering at them," says Kelly. "She also has an adorable habit of making biscuits in every hotel room we visit."
View this post on Instagram
While not everyone would be able to bring their special needs cats along with them on business trips, Kelly has found looking after Java hasn't really been that challenging. In fact, not only has caring for a cat with paralysis and incontinence been easier than she ever expected, it's enriched Kelly's life in ways she never anticipated. "Instead of feeling like work, it's not only easy but it's led to an incredible closeness — probably the deepest bond I've had with any pet in my life," says Kelly. "She means the world to me."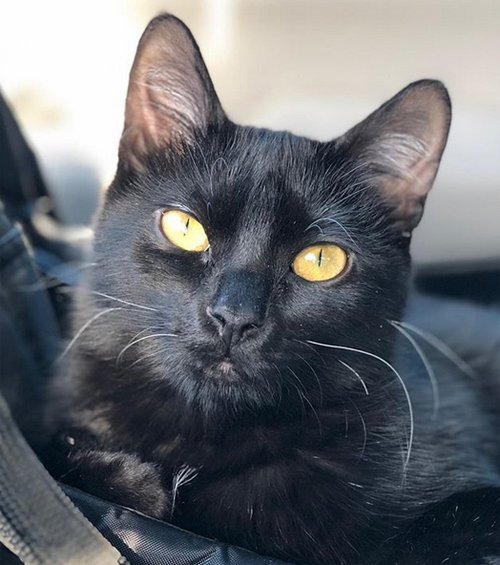 To learn more about this gorgeous cat, you can follow Java on InstagramInstagram.