When the staff at Blind Cat Rescue (BCR) heard about a cat with blindness, cerebellar hypoplasia, and atrophic rhinitis who was at the local animal control facility, they were eager to help the very special female feline who was dubbed Bunny due to her unique nose. "One of our supporters is a veterinarian at this shelter," explains Alana Miller, founder and president of Blind Cat Rescue. "She spotted Bunny and contacted us about her."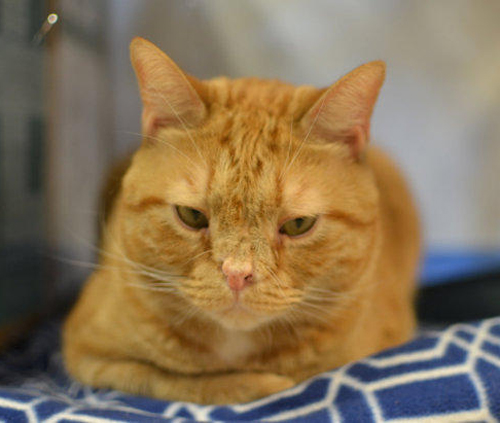 Knowing it would have been very difficult for Bunny to find a forever home, she was saved from the animal shelter in March 2016 and given a permanent place at Blind Cat Rescue, a sanctuary in St. Pauls, North Carolina, that's dedicated to animals who are often deemed unadoptable. "We take cats who are in danger of being euthanized," says Alana. "Because Bunny was blind and had the nasal deformity, she wouldn't have been adopted out. Happily, we had room for her!"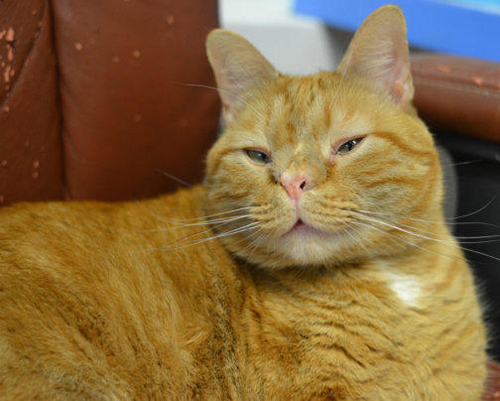 Despite having atrophic rhinitis, a congenital nasal condition that can cause the mucous nasal lining and underlying bone to waste away and decrease in size; cerebellar hypoplasia, a non-progressive neurological condition that affects balance and coordination; and blindness, Bunny quickly settled in to her new home at Blind Cat Rescue.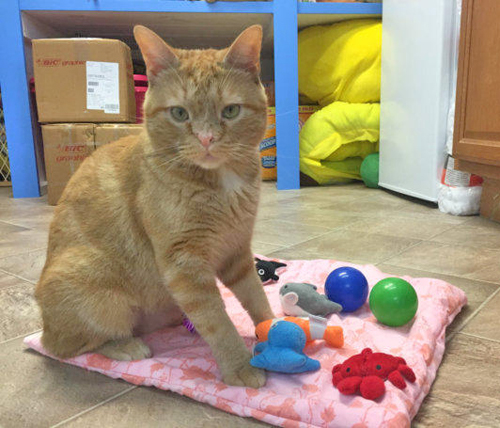 More than three years later, this special girl is thriving, and while Bunny isn't a fan of the other cats at the sanctuary, she absolutely adores people and greets everyone who enters Blind Cat Rescue. "Bunny is one of our lobby cats and her favorite spot is her box with the cushy bed inside it," says Alana. "She loved that box from the second it was in the lobby!"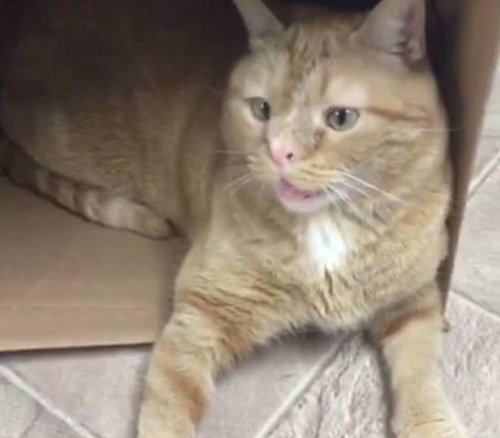 While Bunny may not be able to see, she and the other visually impaired kitties at Blind Cat Rescue are a lot more active than people might expect. "Blind cats do not know they're blind. They know they're cats, and they act like cats," explains Alana. "Humans are the ones who label them as disabled."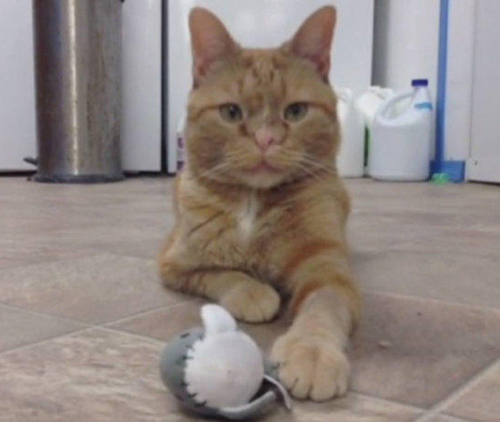 Plus, having cerebellar hypoplasia (CH) — a congenital condition that occurs in utero when a pregnant cat's unborn kittens are exposed to a virus like panleukopenia — as well as atrophic rhinitis, doesn't stop Bunny from enjoying life just like any other cat. "We see every day that blind cats, CH cats — and Bunny with her atrophic rhinitis — play with toys, climb, run, chase bugs, love being petted, and everything else 'normal' cats do," says Alana.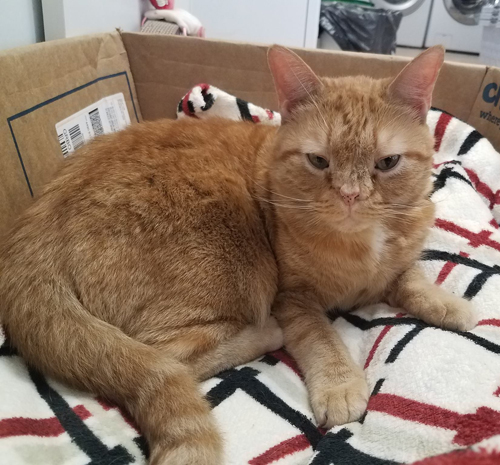 In fact, Bunny is incredibly agile, and one of her favorite pastimes is surprising the rescue's staff and visitors. "She loves to play with shoes and attack ankles and feet," says Alana. "Anyone who walks close by her is guaranteed to feel her tackle their feet at least once!" However, while it's obvious to everyone who meets Bunny that she is capable of having a fun-filled life, special needs cats are frequently considered unadoptable.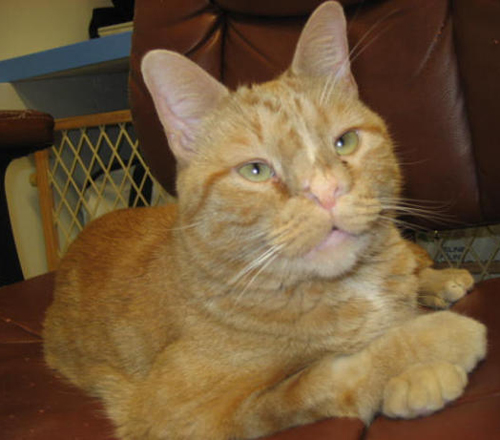 Fortunately, Blind Cat Rescue is determined not only to rescue cats like Bunny, but also to change the way people think about cats who are different, whether they're blind, have atrophic rhinitis, or were born with cerebellar hypoplasia. "Part of BCR's mission is to help educate people about this so that blind and CH cats have a better chance at finding loving homes," explains Alana. "Right now, they are routinely euthanized in shelters because — sometimes by law — they are considered unadoptable. We know better than that and want to spread the message that they can be great family pets."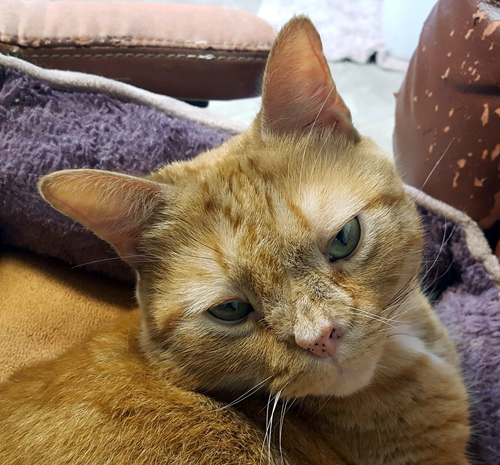 While it's impossible to say what might have happened to Bunny if she hadn't been pulled from the shelter by Blind Cat Rescue more than three years ago, thanks to Alana and everyone else at this North Carolina organization, today, this gorgeous ginger girl is thriving. Even though Bunny — or "Bun Bun" as she is affectionately called by the rescue's staff and volunteers — doesn't have a traditional family, it's hard to imagine a better home for this very special cat.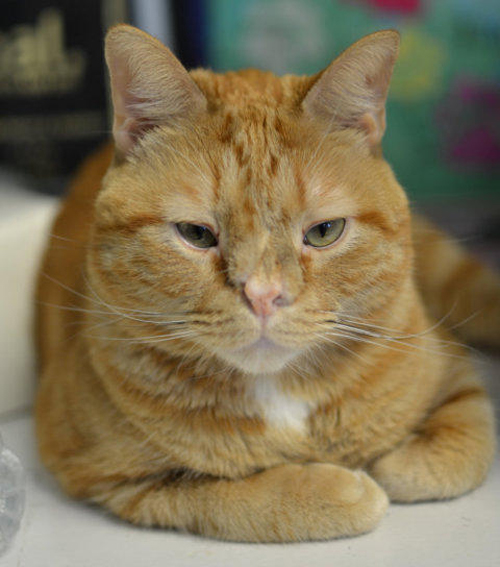 "Everyone loves Bunny and she is a staff favorite," says Alana. "We're happy that she has a stable, safe, and loving home now for the rest of her life. She will never have to be afraid again or to fend for herself on the streets in harm's way. That's what we and those who support us are all about — giving the cats nobody wants a good life."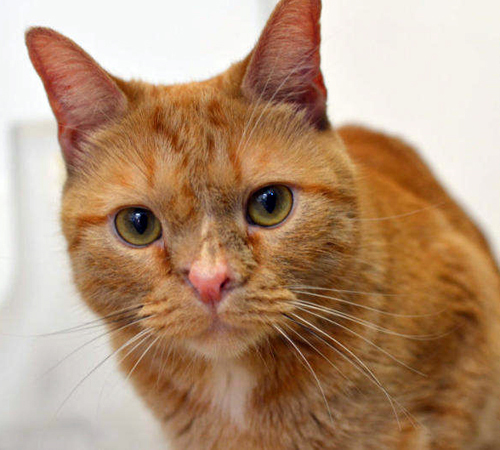 To learn more about this beautiful girl, you can follow Bunny and her friends on Facebook.
To support Bunny and Blind Cat Rescue, you can sponsor this very special cat.