Shortly after Paris Burns purchased her first home, Dan — a handsome ginger and white cat with feline immunodeficiency virus (FIV) — arrived at Cat Haven, the animal shelter where she'd been employed for the past five years. Up until that point, Paris had been unable to adopt any of the animals she'd encountered at the open admission cat shelter in Perth, Australia, because she'd always lived in rental properties that didn't allow pets. "Dan came into the shelter a few days after I bought my own house," remembers Paris. "Everyone at the shelter was telling me I had to go meet him, but I didn't want to rush into adoption."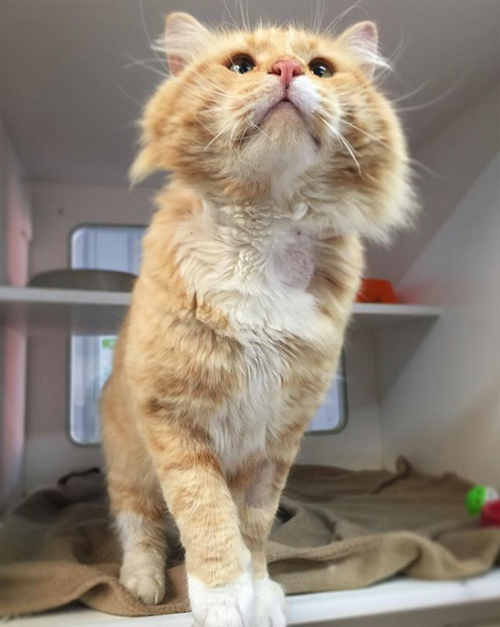 However, it didn't take long for Paris to give into her coworkers's pleas, and when she came face to face with Dan for the first time in May 2018, she immediately fell in love with him! Prior to arriving at Cat Haven, Dan had been living on the streets, and while he had the appearance of a stray who had spent much of his life fighting for food and territory, he had the personality of a social and sweet house cat.
View this post on Instagram

"He was unsterilized, had no microchip, was covered in fight wounds, and was very scrappy looking," says Paris. "But his friendly and confident nature suggests he was definitely owned at some point." Smitten with Dan, Paris adopted him that day, not only because she adored his outgoing personality and expressive face, but also because her years of working at Cat Haven had shown her that cats with FIV often have difficulty finding homes.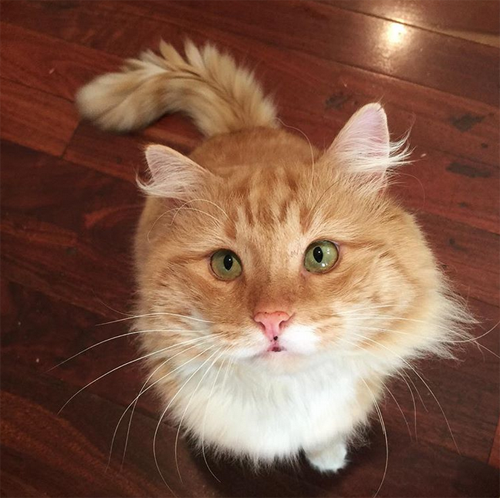 "We always struggled to get FIV+ cats adopted from the shelter and I could never understand why," says Paris. "They always seem to be the most gentle boys. I had always said that when I can finally adopt it'd be an FIV cat."
View this post on Instagram

Cats with feline immunodeficiency virus have weakened immune systems, which makes it harder for them to fight off illnesses, but with adequate nutrition and care, they are capable of having great lives. "I think there's the misconception or fear of them being sick all the time and paying expensive vet bills," says Paris. "But keeping an FIV cat indoors only and up to date with vaccinations will do wonders in keeping them healthy."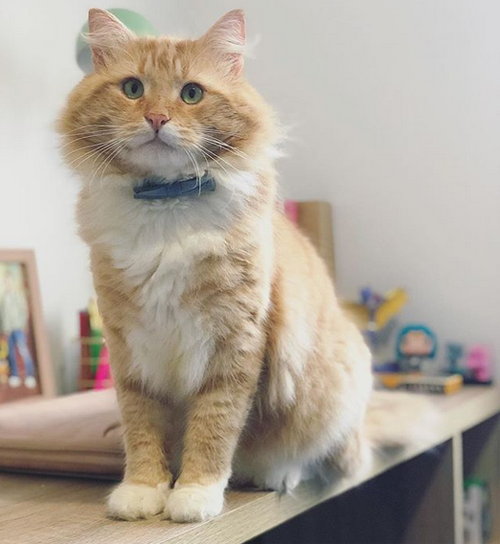 Because feline immunodeficiency virus is usually transmitted via sex or deep bite wounds, cats with the virus are capable of living with those who don't have FIV as long as everyone is sterilized and gets along well. Also, FIV can only be transmitted to other cats, so people and other types of pets aren't at risk of getting the virus.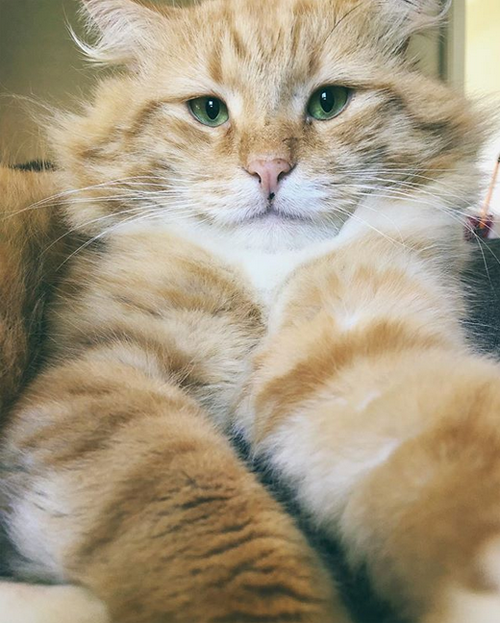 However, in order to minimize health risks, cats with feline immunodeficiency virus shouldn't be allowed outdoors, something Paris thought might be difficult for Dan. "Initially, we were really worried about him being indoors only, considering he's had six years roaming the streets as he pleases," explains Paris. "But he's very settled and never even tries to go outside. I think he realizes how good he has it now!"
View this post on Instagram
Six months after Dan found his forever home, he is loving his new life with Paris and her partner, proving he certainly doesn't miss the outdoors one bit. "He loves being brushed, eating his cat grass plant, and sitting on people," says Paris. "He honestly has to be on or at least touching a human at all times." Not only does Dan give his parents lots of love and affection, he provides them with constant entertainment, making them laugh with his silly expressions.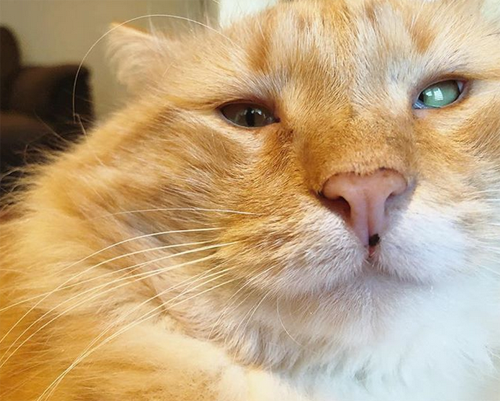 During the first five years Paris was working at Cat Haven — a shelter that receives more 6,500 cats annually — she encountered many adorable felines, none of which she was able to adopt. However, shortly after she bought her first house, Paris met Dan, the goofy and snuggly cat she credits with turning her house into a home, and she hopes other people will consider adopting animals who are often overlooked.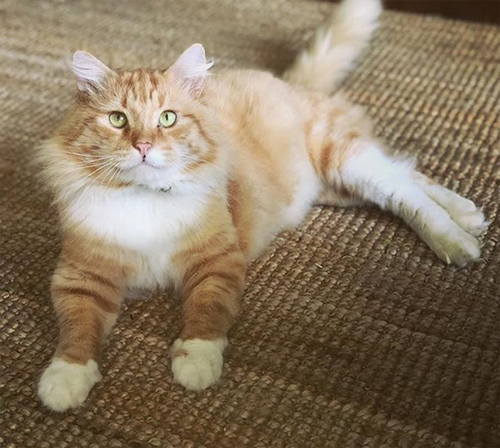 "I wish people knew the joy of rescuing, especially special needs and FIV animals," says Paris. "They will bring joy to you, the shelter workers, and of course, the cats." Thanks to Paris and her partner, Dan will have a home for the holidays this year — and quite possibly for the first time ever — making it a truly special time for him and his family.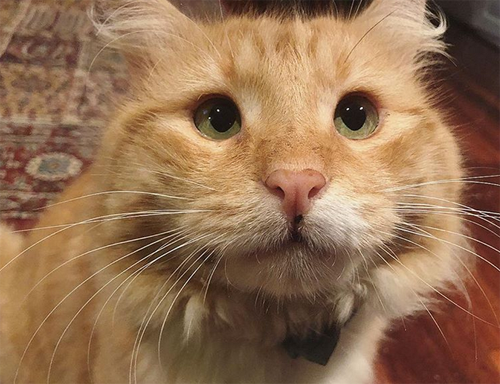 While Dan has spent most of his life just trying to find something to eat and a place to sleep, those days are behind him now and this handsome 6-year-old's future is sure to be much brighter than his past. "Dan is just pure happiness," says Paris. "How could anything be wrong when I have this goofy boy with his chubby cheeks and funny eyes just living in my house?"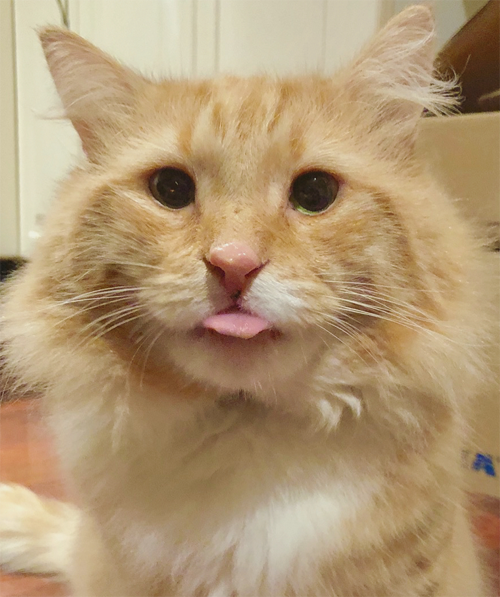 To learn more about this handsome cat, you can follow Dan on Instagram.