When Tara Kawczynski, the founder and president of The Odd Cat Sanctuary, learned about an adorable senior cat who had recently been surrendered to a high kill shelter, she knew she had to help the fluffy feline. "His owner didn't want him any more," says Tara, so she went to the shelter in March 2019, determined to give the 10-year-old tuxedo cat the home deserved. "The first time I met him, he was purring and wanted to be held. I fell in love with him instantly."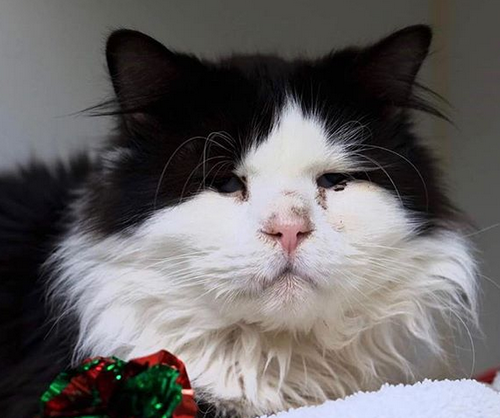 With the help of The Odd Cat Sanctuary's large social media following, Tara gave the senior boy a new name to go with his new life, dubbing him Bishop. "Someone suggested it!" explains Tara. "It just fit and that was his name."
View this post on Instagram
Shortly after rescuing Bishop, Tara took him to the vet, and a thorough medical examination revealed the black and white cat's fluffy coat was extremely matted, indicating he had probably been neglected long before he was surrendered to the shelter. Tara also learned Bishop was practically blind due to a condition known as micropthalmia.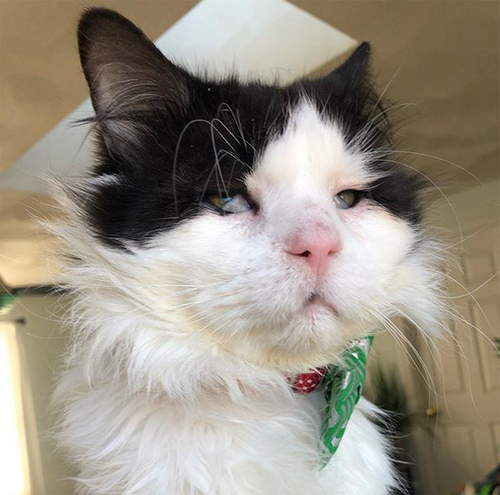 "Micropthalmia is a congenital abnormality where the eyes aren't normal, and they are extra small," explains Tara. "It does impact sight in some cats. Bishop can see a little, but not well, though."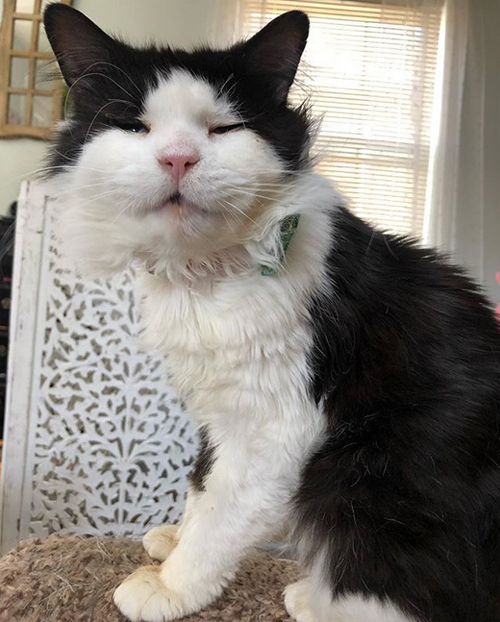 Despite having very limited vision, Bishop quickly made himself right at home at The Odd Cat Sanctuary, a rescue in Salem, Massachusetts, that specializes in helping animals who are often deemed unadoptable, including seniors, feral felines, abuse and neglect survivors, and cats with special needs.
View this post on Instagram
"He fit right in here and gets along well with my other kitties," says Tara. "He and Memphis are best buds!" While he may be 10 years old and practically blind, Bishop is active and full of life. In fact, while people often expect senior cats and visually-impaired kitties to be relatively sedentary, this handsome tuxedo loves to have fun, either with his friends at the sanctuary or on his own.
View this post on Instagram
"He loves his ball track and anything with catnip in it," says Tara. "This boy loves to play." In spite of everything Bishop has had to cope with — from being born with a congenital condition, to being neglected, to being abandoned at a high kill shelter by his former owner — he has remained affectionate and happy-go-lucky, proving just how resilient special needs cats can be.
View this post on Instagram
"He's been through so much, and all he does is purr 24/7," says Tara. "He's just so special — the second you meet him you get it." While The Odd Cat Sanctuary often tries to find homes for the cats they rescue, Tara decided to permanently adopt Bishop, guaranteeing this senior cat will always get the love and care he deserves.
View this post on Instagram

Even though Bishop has a forever home, Tara hopes sharing his story will inspire other people to consider adopting cats who are often overlooked, including those who are older, have been neglected, or have special needs.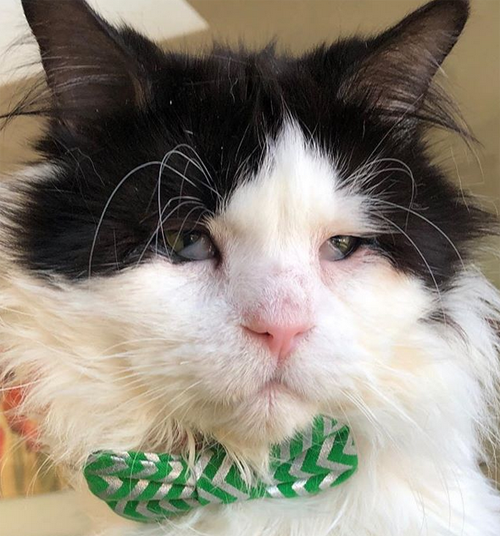 While some people might be unsure about adopting a cat like Bishop, worried they might need more care than the average feline, Tara — who has dedicated her life to helping animals who are often considered unadoptable — is certain seniors and special needs kitties are worth any extra effort they might require. "They are so amazing!" says Tara. "They have been through so much and are so grateful. Take a chance on one, please — you won't regret it."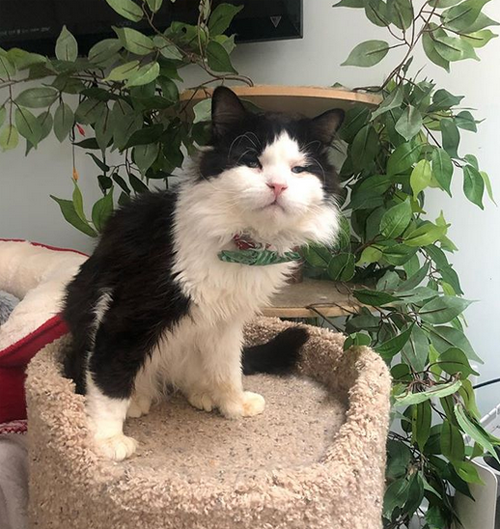 It's been one month since Tara met Bishop for the first time, and over the course of the past four weeks, she's never regretted rescuing this senior boy, not even for a second. "This special guy is one of a kind — I am so happy I was lucky enough to find him," says Tara. "He will never know another day of sadness again. He just loves life and is so happy all the time "